Civilized Bears!
Watch out!
The Civilized Bears™ are coming!‡
But you'll love 'em.
They're the hope of the world…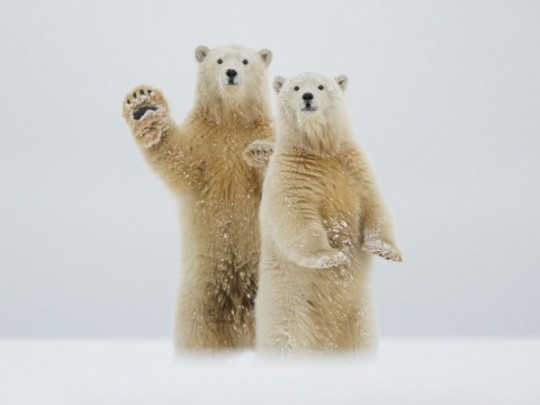 "Where Bears Live, Love & Play!"
WELCOME, FRIENDS! CivilizedBears.com is a Family Friendly Freestead where all visitors are safe to roam!
Except for the occasional zealous Rant against Human cruelty to our fellow animals — and against the willful, depraved destruction of fundamental treasures like our Sacred Earth, and our Spiritual Culture and our precious Freedom hard-won for us by the blood of Our Own (Support our Vets!) —  this is a joyful Celebration of our living Green World, the Wild Places and all who share it.
And of living a life independent and free of the Machine.
We're just a Down-Home family enjoying that freedom.  We do our best to ensure that the language used here is acceptable to most visitors.
We are essentially conservative in our life style and values, but make few political or ideological comments (we take for granted that you love animals and treasure the Wilderness, or you wouldn't be on this page).  Your own views and choices are respected.
If you asked us for our personal philosophy, it would be something like Red Green's "Remember, I'm pullin' for ya.  We're all in this together."  Very Canadian, eh?
And we respect your privacy and safety: we will not plant any tracking cookies or other intrusive elements.  We use SiteLock Secure to protect both you and ourselves.  Your family's security is as important to us as it is to you.
Live Free, Mon Ami!
– Papa Bear (AKA Brian Alan Burhoe)
OK.  So we've told you that "the Civilized Bears are coming."  What's that about?  Here's just a sampling of what we have to offer you…
WOLFBLOOD: A Northwestern Short Story in the Jack London Tradition by Brian Alan Burhoe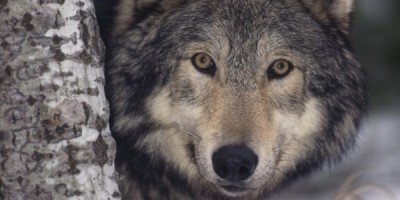 "I JUST READ WOLFBLOOD AGAIN FOR GOOD MEASURE.  ONE FOR ANY WOLF LOVER.  ENJOYED IT BUT WISH IT WAS A FULL LENGTH NOVEL." – Gina Chronowicz @ginachron
"THIS WAS A GREAT SHORT STORY.  MORE PLEASE!"  Make It Beautiful @Create4Ever
"GREAT SHORT STORY!  DOES REMIND ME OF CALL OF THE WILD, WHITE FANG…  I WONDER HOW THOSE BEBÉS GREW UP WITH THE DOG MAMA AND WOLF PAPA?"  Evelyn @evelyn_m_k
Dedicated to the Memory of my father, Albert Chester Burhoe, avid backwoodsman — rifleman in the Algonquin Regiment, Canadian Army in Holland — and wounded POW in Stalag XIB, Fallingbostel, Northern Germany — he served King and Country, asking no reward. He taught me the value of Freedom…
The lone gray wolf padded through the firwoods. He stopped to sniff at a patch of icy snow in the long shadows, or rather the pellets that speckled it. His stomach gurgled. Rabbit! He had eaten well of rabbit since he had entered this valley. Soon he would eat again.
Good hunting and the discovering of new territory hid much of the young wolf's loneliness. He missed his pack, especially his littermates. It wasn't that he had been singled out for exile. The many new pups born this spring had made the pack too big. Discord had driven him out — perhaps to create a new pack.
At times he yearned to go back.  To howl his feelings to his distant pack.  To hear their welcoming chorus.  But he knew better.  They were gone.
Marking the patch with a squirt of urine, he searched about for fresher spoor. The only sounds were the patter of his paws on the leafmould, the whisper of a faint wind in the evergreens, the slowly moving river off to his side. He sniffed the air then dipped his head to muzzle the moist ground. He cast about through the rich aromas of rotting vegetation, mushrooms, sprouting greenery. Foosh! He had caught the hot scent of bigger game — deer!
The wolf scurried about, snuffing noisily. He stopped and stood rock-still, ears cocked for deer-sound, eyes searching the darkening forest, sensitive foot pads feeling the ground for the solid thump of hoof. Deer! He was shaking with excitement. He dropped a scat, sniffed its rabbity odor. Deer! His mouth watered.
And then a new scent struck him. He almost fell back on his haunches. A new scent — a strange scent that made the savage wolf whimper…
To Read the Complete Free Online Short Fiction CLICK HERE NOW!
Time To Write: How You Can Make Money from Writing.  Get Your Free Writers Market Guide for 2018!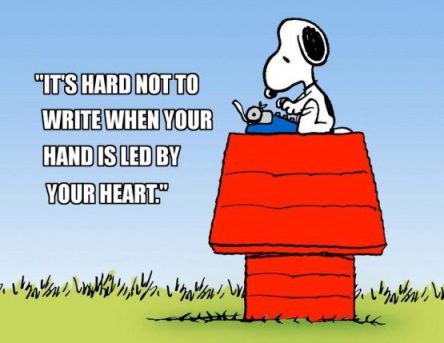 I was 11 when I wrote my first short story: early fanfiction I titled "TARZAN VS CLYDE BEATTY."  I knew even as my story spilled onto the paper that THIS is what I loved doing — writing!
I submitted stories to the popular magazines through my teens and at age 24 I sold my first short story, a science fantasy yarn to IF Magazine that would be picked for a couple World's-Best-SF-Stories-of-the-Year book collections…
Time To Write?  DOWNLOAD THIS FREE WRITER'S MARKET GUIDE For 2018…
"WORKED FOR ME WHEN I NEEDED IT!" – Brian Alan Burhoe
Yes, if you're like a lot of writers, you've had the love of writing for as long as you can remember. Whether you wrote short stories as a child or have always dreamed of being a published author, it's probably always been something you hoped you could do for a living….
To Read the Complete TIME TO WRITE Article CLICK HERE NOW!
Famous Bears – From Gentle Ben to Brutus Bear

From ferocious and dangerous attackers — to loving and carefree friends — real life bears have appeared in Hollywood productions since the first silent movies.  Most famously in Canada, movies like Nell Shipman's silver screen classic of 1924, Trail of the Northwind, filmed with animals from Nell's own wildlife rescue sanctuary, included Brownie, a brown bear she had raised from a cub.
Here are a few of the most famous real-life bears:
1. Bruno, aka Ben.  Bruno, along with his brother Smoky, was rescued as an orphaned black bear and appeared in a number of Ivan Tors features, including Zebra in the Kitchen and Daktari.
Bruno's career blossomed when he was cast as the title character in the televised version of Walt Morey's novel GENTLE BEN.  Author Morey was raised in the Pacific Northwest and set his novels in the cold Northcountry of Alaska and Canada, including his best selling KAVIC THE WOLF DOG.
When Tors adapted GENTLE BEN for the screen, he changed the locale from Alaska to the Florida Everglades, where the producer had a wildlife sanctuary.
Bruno quickly learned to respond to the name "Ben."  And probably became the most famous bear of them all…
To Read the Complete Posting FAMOUS BEARS IN FACT & FICTION Now CLICK HERE!
Dog Intelligence – The Top 10 Most Intelligent Dog Breeds – Is Yours On the Intelligent Dog List?
In the late Spring of 1902, Constable Richard Morris, of the North-West Mounted Police, reported an incident dealing with the native Cree Indians and their dogs.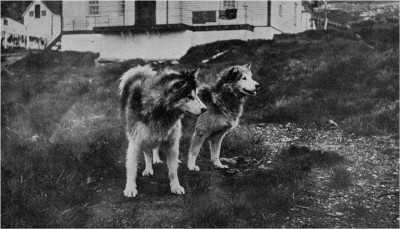 Stationed in a community north of Lake Winnipeg, he noticed that a number of dogs had been staked out in the forest. Each one was left alone and fastened to an iron stake by a chain. When he asked the reason for this, the Crees told him that the dogs were "left for the wolves."
When Constable Morris objected to this treatment, the Crees explained that the dogs wouldn't be harmed by the wolves. The dogs — Ungava huskies — were bitches in heat. Male wolves without mates of their own would be attracted to the bitches and mate with them, resulting in cross-bred puppies with "wolfblood."
Morris said, "Oh, I see. This is so your sled-dogs will be bigger and stronger."
"No," said one Cree. "A wolf can outrace our dogs in a quick dash.  But our huskies, they have much more stamina than wolves and can easily outlast them in a long run. Wolves make poor work dogs."
"Then," concluded Morris, "it's because wolves are healthier."
"No. They are the same."
"Then why?" asked the Mountie.
"Up here," replied the Indian, tapping his forehead.
Father LeBeaux, an Oblate Missionary, later explained, "The Cree people believe that when an animal becomes domesticated, each generation loses in intelligence. That's why wolves are more intelligent than dogs. The Indians say, 'The closer to the wolf, the smarter the dog.' If it is true of domesticated animals, what does that say of civilized Man, eh?"
To Read the Complete Smartest Dog Breed Article CLICK HERE NOW!
The Great Pulp Fiction Mounties: From Corporal Cameron to Sergeant Preston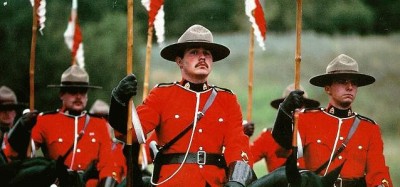 When Ralph Connor published CORPORAL CAMERON OF THE NORTH-WEST MOUNTED POLICE: A Tale of the MacLeod Trail in 1912, he had already become one of the four Fathers of the Northwestern genre, along with Jack London, Robert W Service and James Oliver Curwood.
Most Canadians today don't even know how popular the Northwestern once was.
So listen up, mon ami!
From the appearance of London's THE CALL OF THE WILD in 1903, which gave the world its first exciting view of the Klondike Gold Rush and wild wolf dogs and desperate prospectors and lone Mounties — to 1958, when Sergeant William Preston (the Last of the Great Pulp Mountie heroes) mushed his sled dogs off into the Yukon wilderness one last time ("On, King!  On, you huskies!") — the Northwestern was beloved worldwide in hardcover books, pulp fiction magazines, film, radio, Sunday comics, comic books and television.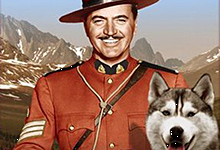 It was well-known in the publishing industry that a "Mountie Cover" would boost the sales of adventure and romance pulp magazines, especially in the U.S.  Titles from the family-targeted Adventure and Argosy Magazine to the wildly successful Western Story Magazine and Far West Stories featured brave members of the Canadian Mounted on their covers (and contents).  The most popular pulpwood magazine was North West Stories, which was the longest lasting Pulp of them all, in continuous print for almost three decades.
Going into the Nineteen Twenties, James Oliver Curwood dominated the best seller lists with titles like KAZAN THE WOLF DOG, NOMADS OF THE NORTH, STEELE OF THE ROYAL MOUNTED…
To Read the Complete Blog Posting, CLICK HERE NOW!
Happy Birthday, Farley Mowat! A Tribute to a Canadian Hero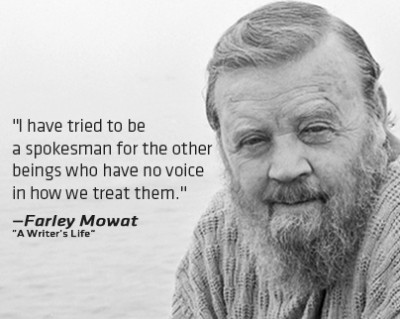 When Farley Mowat first announced that he had written his last book, I was mad at him. "How dare you, Farley?!"
Not as mad as I was when Kurt Vonnegut made the same declaration. Because I believed Kurt.
I didn't know if to believe Farley.
And with reason. Farley has written several last books since. He can't stop writing, God bless him. According to Greg Quill, he's working on another Memoir, in which Farley says he finds himself "on the shores of Sicily in 10,000 B.C., heading north as the glacier retreats. It's not entirely based on fact." Great!
Not that Farley Mowat hasn't earned the right to retire.
Unlike his other writings, I've only read SEA OF SLAUGHTER completely through the once. And then one chapter at a time, interspersed with other, lighter, works such as murder mysteries and post-apocalyptic science fiction. One chapter at a time: SEA OF SLAUGHTER was that painful to read. And yet Farley LIVED with that book.  For how long? I'd always thought that sportswriter Red Smith's "open a vein" line was a bit over the top — but not after reading SEA. It took balls to write that book. It must have cost Farley something…
From the beginning, I hated school. I wanted to live my boyhood Outside — playing softball with friends on a wood chip playing field or cow pasture, earning quarters by walking horses at the local harness racing stables, and prowling old abandoned logging roads deep in the living Canadian Northwoods. But early on I discovered that schoolhouses held ONE Wondrous Thing: Personal Heroes waiting for a young boy to discover them. They hid away in elementary readers and school libraries where even bored teachers couldn't stretch them out to dry on racks like cod fish.
Like Sir Charles G D Roberts, the first writer I was aware of as being an actual person who was telling these magical yarns, wanting to read everything he had written, wandering his Northern Canada forests and meeting his wild animals.  When he was knighted, the king called him "The Father of Canadian Literature."
And then there was Farley. The school library had a shiny new copy of THE DOG WHO WOULDN'T BE and I found a lifelong hero…
THE DOG WHO WOULDN'T BE affected me as it no doubt affected you and just about everyone who grew up with a dog. Farley had Mutt. You had your own. My dog was called Pal. Part Golden. And he wasn't even ours. He belonged to an old couple next door and he decided that I'd be his best friend. He followed me around, stayed with me as long as I kept within sight of his owners' house. That was his only rule. Otherwise it was all about love and companionship…
To read the complete Birthday Tribute to Farley Mowat, CLICK HERE NOW!
A Tribute To Charles Livingston Bull – "America's Premier Wildlife Artist!"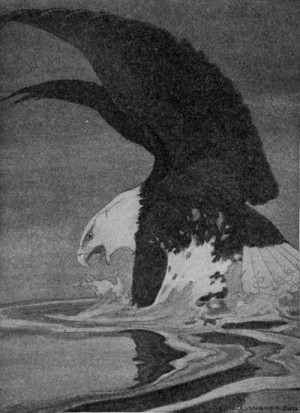 I first saw the fierce, exhilarating drawings of American wildlife artist Charles Livingston Bull in an old hardcover copy of HAUNTERS OF THE SILENCES, by Canadian author Charles G D Roberts.
I had discovered the animal stories of Roberts in our elementary readers, amazed that such realistic (and violent) tales of wild creatures were mixed with otherwise child-centered stories…
I raided the libraries for more of Roberts' books.  THE KINDRED OF THE WILD.  And THE WATCHERS OF THE TRAILS.  And in those thrilling books were also fantastic line drawings by an artist named Charles Livingston Bull.
In fact, as I read more books — some from the Libraries, some given to me by local folks who appreciated my love of these old stories — I came to expect the "Illustrated by Charles Livingston Bull" byline, and thought that those drawings were perfect renditions of the animals and forests that lived right outside our back door.
There was a kind of vitality in those lines of black ink: those animals, whether in lazy repose or savage action, lived and breathed right there on the page.  And his wilderness settings — with their trees, rocks, bushes — I knew those landscapes: I had walked there.
And I began to wonder, "Who is this Bull guy?"
To See the Life and Wildlife Artwork of Charles Livingston Bull, CLICK HERE NOW!
What Is Canada's National Animal? The Polar Bear!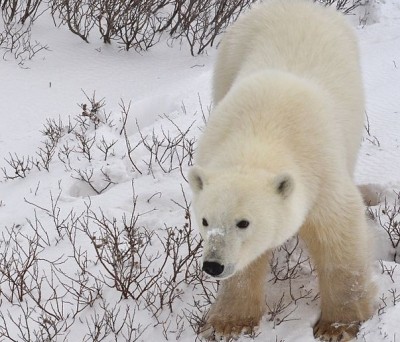 "The polar bear, with its strength, courage, resourcefulness, and dignity is perfect for the part," Nicole Eaton said recently in a speech to the Canadian Senate, when suggesting a rebranding of Canada's national animal from "our furry friend, the beaver."
Referring to the polar bear's "strength, courage, resourcefulness and dignity," she called it "Canada's most majestic and splendid mammal, holding reign over the Arctic for thousands of years.  The polar bear has been and continues to be a powerful figure in the material, spiritual and cultural life of the indigenous people of the Arctic."
I'm with Nicole on this one.
She's drawn some fire referring to the industrious beaver as a "rat — a big rat, that doesn't reflect our new values.  A dentally defective rat … a nuisance that wreaks havoc on farmlands, roads, lakes, streams and tree plantations," but this just reflects her marvelous sense of humour.
Nicole Eaton is well aware of the critical role the beaver plays in the ecology of green lands.  She's well aware that the eager beaver faced annihilation in the middle of the last century ("By the mid-1900s, when fickle fashion trendsetters abandoned fur for silk, the Canadian beaver was close to extinction.") — a tragedy averted in large part by the popular writings of Grey Owl.
We have beavers — and their dams — at the lower corner of our property.  And love to watch them swimming and playing.  If you've ever heard a beaver kit calling out with its comical, human babylike cry, you couldn't help but respond with a warm laugh.
But you must remember that Canadians didn't pick the beaver as our national symbol in the first place.  The Hudson's Bay Company did.  The London-based HBC made its fortune on the furs and skins harvested in colonial Canada, including the rich beaver pelts that were shipped to England to be made into those fashionable beaver felt hats for the well-heeled gentlemen of the age.
Beavers weren't cute, industrious and ecologically essential creatures to the company managers and shareholders of the day; they were raw material.  As an image, the Beaver was really a symbol of foreign corporate greed.
But Polar Bears…
To Read the Complete Polar Bear Article, CLICK HERE NOW!
Animal Rights, Circuses, Tarzan & PETA.XXX
A Remembrance of Boyhood Heroes…
When I was a kid in the late 1950's, I loved the circus. What boy didn't?
When the Clyde Beatty Circus came to foggy old Saint John, it was a youngster's dream come true.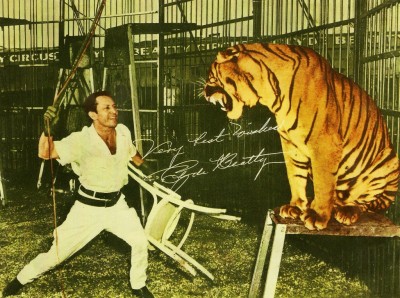 I loved it — the lions and other big cats. The elephants. Snakes. Hyenas. "Get your popcorn here!" The Sideshow: "Alligator Girl" – "Seeing Is Believing!" And the Big Top: The horses and riders in center ring. The elephants and riders in center ring. The high flying trapeze artists. And the finale: my hero, Beatty, dressed in his gleaming white tropical military uniform, with gun on hip, a lone man facing those big cats in the cage. Seeming to stare them down.
Back then, a local radio station used to play old radio shows. No Canadian programs, but every Saturday morning, I would listen in excitement to BBC's JOURNEY INTO SPACE and American shows like THE LONE RANGER, THE CLYDE BEATTY SHOW and — my favourite — Edgar Rice Burroughs' TARZAN OF THE APES.
I had come into a whole package of exam tablets, you know: those long tablets with legal-sized sheets.
After every episode, I would grab a tablet and write down each adventure from memory, complete with dialogue. My own Handwritten Library of Action Yarns.
And then suddenly there were no more radio dramas. Stopped. Over.
I missed them so much, that I wrote my own original adventure. TARZAN VS CLYDE BEATTY. In it, my hero Clyde Beatty entered my hero Tarzan's jungle to catch a new lion for his circus. In the story, Tarzan and Beatty were adversaries – the Lord of the Jungle would not allow any hunter to capture one of his lion friends. No take 'em back alive here. The disagreement heated up. Guns were drawn. Shots were fired, missing. Tarzan pulled out his knife and prepared to jump on Beatty.
I settled the impasse by having Jane arrive to announce that one of the lions had come down with a mysterious illness — the great cat can only be saved if it is given a special medication for life. So Beatty got to take the great golden cat back to civilization, to save its life. The ending was a cheat. But, hey, I was only 11 or thereabouts.  I liked happy endings.
When I wandered around the Clyde Beatty Circus grounds after the Big Top show, I spent more time watching the animals in their cages. And I felt a great sadness. The sadness came from those animals. In their cages. Pacing. Wandering. Lost…
To Read the Complete Remembrance, CLICK HERE NOW!
See Our Whole Family…
*** Mary Lee:  RAGGED ISLAND STUDIO Website – Maritime Folk Art, Teddy Bears, Knit Fashions and see her new WIP personalized site at Ragged Island Folk Art Studio
*** Jennifer:  LESS THAN PURRFECT ILLUSTRATIONS – Cat Art & Others – Original Paintings, Prints, Wearable Art, and More
*** Gregory:  ELVES OF THE WHITE OAKS – "An Exciting New Fantasy Novel in the Tolkien Tradition!" – & Other Writings From Gregory Alan Burhoe
*** To Read More of My Fiction or Articles, THE LIFE AND WORKS OF BRIAN ALAN BURHOE,  Click Right Here, Mon Ami!
THANKS FOR VISITING!  WE APPRECIATE IT.  
‡ CIVILIZED BEARS is a protected Trademark of Brian Alan Burhoe
Copyright © 2012 to 2018 by Brian Alan Burhoe & Mary Lee Burhoe for original material.
DID YOU LIKE THIS PAGE?  
IF SO, PLEASE TELL YOUR FRIENDS…
ARE YOU ON TWITTER?  WE'D LOVE A TWEET!