"Have you heard of Bonnets for Abigail?  Meet Abigail, the puppy who was gifted amazing headwear from fans around the world after her ear was ripped off by attacking dogs."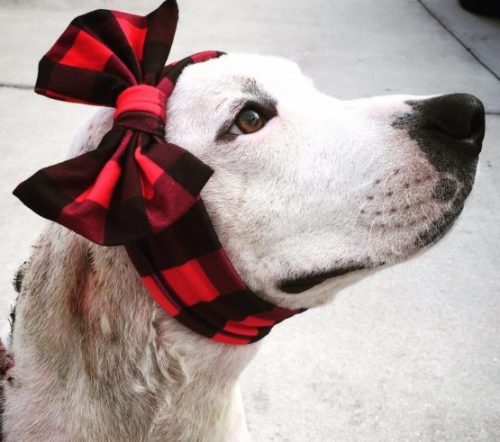 "Bonnets for Abigail — Courageous canine who was victim of dog fighting wins top title of 'American Hero Dog' at the 2017 American Humane Hero Dog Awards®"
It's personal!
When we see human cruelty to animals, we still get shocked.  We feel their pain, quite literally.  Then we get angry.  I think of the Jared Keeso (as Patrol Officer Ben Chartier) line in an episode of 19-2: "We're supposed to be better than this."
We really should be more evolved than this.
When the photos of the deadly condition of the pit bull puppy Abigail first appeared online, there was an emotional burst of anger and love.  Those first images revealed a mangled dog — her right ear ripped from her head, leaving a raw gash, among other dire injuries from dog attacks (I'm not showing those early photos on this post, but you can find them). [1]
And now Abigail is in the news again.  This time in a really good way:
Following nearly a million votes by the American public and the opinions of an expert panel of celebrity animal lovers and dog experts, Abigail, a one-year-old pit mix from Lehigh Acres, Florida has been named this year's most courageous canine, besting 187 other heroic hounds and capturing the top title of "American Hero Dog" at the 2017 American Humane Hero Dog Awards®…
Abigail is a gal that did not ask for the life she was forced to live. She was found in a horrific condition, barely alive, wandering the streets of Miami, and taken to a rescue center where she was examined. She was anemic and infested with ticks. Scars covered her bloody head, neck, back legs, and half her face was missing with the skin ripped off down to the eardrum.
She smelled terrible because of multiple infections, and was covered in dried mud. Experts suspected she was a victim of dog fighting. Her injuries were at least a week old and she almost lost her life.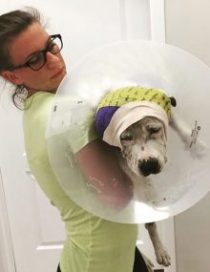 Abigail had several major surgeries and extensive skin grafts. She had weeks of hospitalization and daily bandage changes, which led to the launch of her Mission.
Her vet and her vet tech were changing her bandages, and the way they held the gauze on her head made them look like bonnets…
In solidarity people from all over the world started sending bonnets and now the Facebook page "Bonnets for Abigail" has more than 12,000 followers.
Despite the terrible injuries inflicted on her, Abigail is a heroic example of bravery and overcoming, and is using her public platform to teach forgiveness and bring awareness to the importance of ending dog fighting.
For her extraordinary bravery and good works, Abigail won the American Humane Hero Dog Awards' "Emerging Hero Dog" category for ordinary dogs who do extraordinary things.
A "Galaxy of Stars" Honors Hero Dogs Including Jay Leno and Billy Crystal…
The sold-out, star-studded awards honoring America's most courageous canines were hosted at the Beverly Hilton Hotel last night by television and film star James Denton and model and animal advocate Beth Stern, accompanied by a galaxy of celebrity stars and presenters including Josie Bissett, Lacey Chabert, Danielle Fishel, Vivica Fox, Daisy Fuentes, Carrie Ann Inaba, Bailee Madison, Kellie Martin, Debbie Matenopolous, Cameron Mathison, Danica McKellar, Brandon McMillan, Barbara Niven, Alexa and Carolos Penavega, Mark Steines, Alison Sweeney, Courtney Thorne-Smith, Alicia Witte and more.
Jay Leno and Billy Crystal provided delightful pre-taped video skits. Richard Marx provided the lead musical performances. Before the show, the audience was treated to the artistry of The Alex Donner Band and a special appearance by Hallmark Channel's Goodwill Ambassador Happy the Dog.
"The American Humane Hero Dog Awards were created to honor some of the most extraordinary heroes the world has ever known, the very best of our best friends," said Dr. Robin Ganzert, president and CEO of American Humane, the country's first national humane organization. [2]
"These courageous canines have gone above and beyond the call of duty, saving lives on the battlefield, comforting the ill, aged and afflicted, bringing hope to those who have lost it, and reminding us of the powerful, age-old bond between animals and people.
"All seven category winners tonight exemplify what it means to be a hero, and we hope that their stories – and Abigail's – will inspire people to value our animal friends and to recognize and honor how much they do for us every day." [3]
Did Abigail ever find a Forever Home?  Yes, Abigail was adopted by a Fort Myers couple, Megan and Jason Contreras. Bless 'em!
– Brian Alan Burhoe
Did You Like This Animal Welfare Post?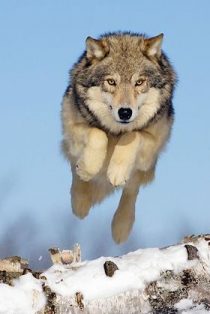 IF SO, YOU MIGHT WANT TO READ WOLFBLOOD — MY MOST POPULAR ANIMAL STORY:
"I JUST READ WOLFBLOOD AGAIN FOR GOOD MEASURE.  ONE FOR ANY WOLF LOVER.  ENJOYED IT BUT WISH IT WAS A FULL LENGTH NOVEL." – Gina Chronowicz @ginachron
"GREAT SHORT STORY!  DOES REMIND ME OF CALL OF THE WILD, WHITE FANG…" – Evelyn @evelyn_m_k
A warmhearted, authentic adventure in the Jack London Tradition of a lone Northern Wolf and it's search for its place in the vast Canadian wilderness.  FREE TO READ ==>  WOLFBLOOD: A Wild Wolf, A Half-Wild Husky & A Wily Old Trapper
[1] What happened?  Who or what had attacked her so savagely?  From all the trauma, it was believed that the young Abigail had been a "bait dog."  What is a bait dog?  A bait dog is tied out alone and helpless by organized dog fighters to train their "sport" dogs to attack and mutilate an opponent.  A terrifying experience.  Especially since bait dogs are usually either trusting pets who have been dognapped or puppies not wanted by dog fighters because the pups are too gentle to make effective fighting dogs.
[2] About American Humane: American Humane is the country's first national humane organization, founded in 1877. For more information, visit www.americanhumane.org.
[3] The seventh annual Hero Dogs Awards is sponsored by the Lois Pope LIFE Foundation, Inc. and will be broadcast nationally on Hallmark Channel October 26 at 8 pm ET/PT, 7 pm Central Time.
Abigail Pit Bull Pup Who Lost Ear In Dog Fight Wins Hero Dog Award
Source: Civilized Bears, American Humane & PRNewswire
DID YOU ENJOY THIS POSTING?  IF SO, PLEASE TELL YOUR FRIENDS.
ARE YOU ON TWITTER?  SURE WOULD APPRECIATE A RE-TWEET!