Bob Dylan Winner of Nobel Prize in Literature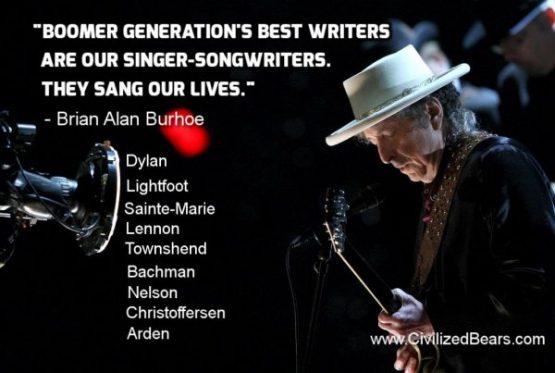 Yes, it's true.  For my generation — us Boomers — most of our great writers are our Singer-Songwriters.  They sang our lives.
So I cheered at the Announcement.
Nobel Prize for Literature for Bob Dylan.
And a week later "the elusive, reclusive artist acknowledged his win" by adding "WINNER OF THE NOBEL PRIZE IN LITERATURE" on his website.
But what was all that indignant muttering about?  Some thought that Bob was just the wrong troubadour, is all — maybe it should be Leonard Cohen.  Others thought that the choice of any singer-songwriter was someone just not "literate enough."
Me, I cheered and sang a few legendary lines and said, "It's about time.  The next ten winners should be the Great Ones.  Our Singer-Songwriters!"  Leonard.  Gordon,  Buffy.  John.  Paul.  Pete.  Elton.  Bruce.   _______.  _______. [1]
As I've said before, most of my boyhood heroes were writers.
Sir Charles G D Roberts, creator of the Realistic Animal Story, who I met in our elementary school readers.  Edgar Rice Burroughs, creator of Tarzan, who I met everywhere else.
Then wilderness writers like Jack London and Grey Owl.
Later, Andre Norton, Will Henry, Ian Fleming, George Orwell, Edgar Pangborn, Farley Mowat, Pierre Berton, Ross Macdonald, Kurt Vonnegut…
Didn't think of it at the time, but I was inspired by writers born before my time, men and women of our parent's and grandparent's generations.  In the case of scribblers like Fielding and Dickens and Twain and Conan Doyle, even further back.
Then (for me) came Lightfoot.  And Buffy Sainte-Marie.  Dylan.  Lennon and Jagger.  Singing about my own life.  Poets of our own time.
Actually, some of these weren't Boomers, but War Babies.  Some remembered the crump of bombings and the nightmare of firestorms.  They wrote about it in differing ways.  One was "born in a crossfire hurricane."  Another said "give Peace a chance."
And Dylan.  "Come gather 'round people wherever you roam and admit that the waters around you have grown…"
And then the younger Boomers.  I'll get on my knees and pray we don't get fooled again.  Old man look at my life, I'm a lot like you were.  Who are you — what have you sacrificed?
YES!  For our generation — us Boomers — most of our great writers are our Singer-Songwriters.
Dylan deserves noble prizes.
That very awarding acknowledges their Métier.  They sang our lives.  Hallelujah!
==>> "The first artists to blow the old stuff off the airways for me, who I was aware of as speaking directly to me about my own life, our own times, were…"  To read more go to Life & Works of Brian Alan Burhoe – All About Us & More
Live Free, Mon Ami! – Brian Alan Burhoe
[1] Add your own favourites…
Title: Bob Dylan Winner of Nobel Prize in Literature
Keywords: Bob Dylan, Boomer generation, Boomers, Charles G D Roberts, Jack London, Leonard Cohen, lyrics, my generation, Nobel Prize Literature, singer-songwriters
DID YOU LIKE THIS POST? IF SO, PLEASE TELL YOUR FRIENDS.
ARE YOU ON TWITTER. LUV IT IF YOU TWEETED THIS!