A Look at the Burhoe Family Tree from One Green Branch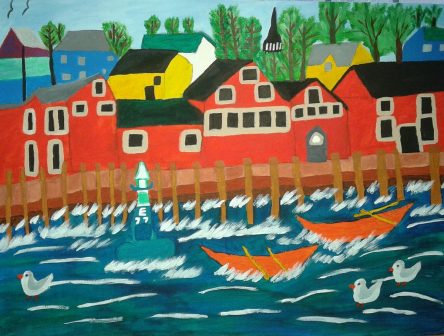 Here's something I've noticed about our family — going right back to the First Burhoe…
We love the Coastlands.  Those areas of forest, farmland, rocks and occasional seaports that run just inland of the northern seas and oceans.  I've found a few Burhoes living way inland, from Calgary to Arizona.  But the greatest number of us live down the Atlantic coast and back up the Pacific shore.
Why?  I'm thinking that it's because the First Burhoe came from generations of Guernsey Islanders — coastlanders all — and settled down to farm a 100-acre lot on Isle Saint-Jean (now Prince Edward Island) in 1783, down by the open water.
So who was that First Burhoe?
As I've written in my "Life & Works" post: "I learned years later that I was supposed to be named 'John.'
"The first-born male of each generation of Burhoes (such as me) was expected to be named in honour of the very first Burhoe: born on Guernsey Island in the English Channel, loyalist Jean Brehaut joined the British Army in 1776 at age 20 (his name being misspelled 'John Burhoe' in the regimental records) and mustered out of the Royal Nova Scotia Volunteer Regiment in 1783 to settle locally, keeping his new name…" [1]
Based in Halifax, the Royal Nova Scotia Volunteer Regiment was a battalion of infantry raised to protect the Colony of Nova Scotia during dangerous times — it was an age of privateers and pirates.  Like a number of other volunteer regiments, they wore distinctive green uniforms with white facing.  John Burhoe was one of a group sent to defend Prince Edward Island and, receiving "six months provisions," he settled there upon discharge to work his granted land.
And the First Mrs Burhoe?  Jane Douglas was born in 1758 at the Fortress of Louisbourg, Nova Scotia.  Her father, Lieutenant James Douglas of the Scottish Highland Regiment, was killed one year after her birth in the battle for the Plains of Abraham, Québec.  Jane's mother died a few months later and the orphaned girl was "taken and looked after by a man named Henry Gouldrup."  As an adult, Jane was widowed with children when she first met our John.
Jane and John married on November 8, 1787 at Frenchford Creek.  They settled on John's Royal grant of 100 acres on York River, a portion of Lot 32, and "built a house and improved near Charlotte Town."  In 1792 they increased their holdings with the purchase of land at Squaw Bay, where they built a new farm.
John and Jane would have six children together: Susannah, John, Robert, William, Richard and James. [2]
John's first cousin, Henry Brehaut, arrived from Guernsey Island in 1805, settling as a farmer in the Murray Harbour area of Prince Edward Island.  The two sides of the family still have many descendants there — Burhoe and Brehaut, thriving on that land of rich farmlands and red-sand beaches. [3]
Other descendants of John and Jane Burhoe wandered south: settling in Nova Scotia and New Brunswick, down the seacoast into Maine, New England, Virginia, Florida, always along the coasts…
Jane Burhoe died in 1854, she was 96.  John Burhoe passed in 1856, age 100.  Long lives — "They were always together."
A handwritten genealogy from New England (circa 1954) I've come into concludes: "The history of the Burhoe family shows that they are long lived, sturdy people, quiet, earnest, deep thinkers and religious…"  I've always heard "loyal, honest, hardworking and bookish."
Reviewing their stories over the generations, we seem to make worthy farmers, carpenters, boatbuilders, soldiers, preachers and teachers.  Good for us!
– Brian Alan Burhoe
SOURCES:  Some of the historic information above is from "An Island Family" by Albert William Wood and historic material sent to my cousin Grace by researchers of the Burhoe/Brehaut Family history in PEI and Maine.
Painting above, "The Sea and Lunenburg, Nova Scotia," by Mary Lee Burhoe at ==>> Mary Lee Folk Art
[1] To read more of Burhoe family history from our own green branch, you've gotta SEE Life & Works of Brian Alan Burhoe – All About Us & More 
And OUT OF MY FATHER'S SHAVING BOX: Dad's War, Algonquin Regiment & Liberation of Holland
[2] "Susannah, John, Robert…"  These would become common Christian names in the Burhoe family for generations to come, as well as names such as Mary, Abigail, Knight, Ingram and Theophilus.
[3] Origin and meaning of the name Brehaut: Most modern sources casually list the meaning of "Brehaut" as French for "House on a Hill."  But the Dictionnaire Etymologique de France says the name goes way back to an early Germanic word "Brek-hari" — literally meaning "broken-army," referring to soldiers returning home after being discharged, war vets.
Although probably of coastal Bretagne (Brittany) origin, the Brehaut family grew and flourished from the early 1300's in the parish of Torteval on the western coast of Guernsey Island.  The most common Brehaut Christian name there has historically been "Jean" — still is.  Although spelled "BREHAUT," in Guernsey the name has always traditionally been given the Norman French pronunciation of "BERHAUT," i.e. Bur-hoe.
Burhoe Family History: the First Burhoe Lived a Long Long Life
Keywords: ancestors and living relatives, ancestry, archives, Brehaut, Brian Alan Burhoe, Burhoe, Burhoe family, Burhoe family history, Burhoe family tree, Canadian, family tree now, first Burhoe, genealogy, genealogy records, Maine, New England, Nova Scotia
DID YOU LIKE THIS PAGE?  IF SO, PLEASE TELL YOUR FAMILY & FRIENDS…
ARE YOU ON TWITTER? WE'D LOVE A TWEET!