Carl Kidwell – Artist & Writer – His Life, Illustrations and Stories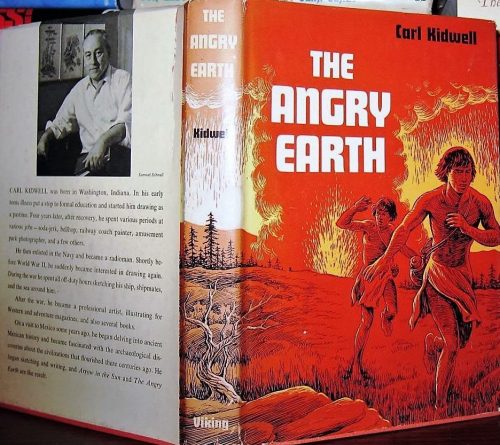 I first came across Carl Kidwell as the illustrator of William Byron Mowery's SAGAS OF THE MOUNTED POLICE.  I'd never heard of Carl, but I liked his book cover artwork and set out to find more about him.
I discovered an interesting artist. [1]
American author and illustrator Carl Edmund Kidwell was born in Washington, Daviess County, Indiana on August 8, 1910.  At that time Daviess County was a thriving farming area, including a number of Amish settlements.  And Carl's hometown was a major depot and repair yard for the Baltimore and Ohio Railroad, which provided local employment.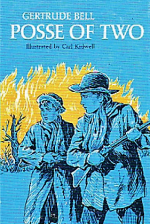 Carl was the eleventh of twelve children from his father's two marriages. He was closest to his brother Logan, last-born and two years younger than Carl — together they used to sit out on the front porch, happily playing music together.  Their music would often draw an audience of family, friends and neighbors.
Due to illness in his teens, Carl missed out on formal education but took the free time to discover his artistic skills.
After he recovered, he entered the work force at a number of jobs, including soda jerk, bellhop, railway coach painter and, for a year, a member of the Civilian Conservation Corps.
It was the Depression, and work was hard to find.
Carl and Logan decided to become travelling photographers.  They bought an old car and a camera, made a passable photo booth and traveled around the countryside.  For the next few years, they would set their booth up at fairs, carnivals and amusement parks.  They developed the photos on the spot.  Charging a quarter for three photos.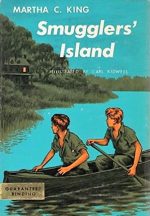 It was Logan who first joined the Navy in the late 30's.
Carl joined next, serving as a radioman.
His first ship was the heavy cruiser USS Quincy, where he joined his brother Logan, already stationed there.
On the Quincy the Kidwell shipmates cruised the Atlantic from the Caribbean islands to the Canadian Arctic, where they thrilled at the sights of huge gleaming white icebergs and swirling Northern Lights.  They even shared shore leave at African ports.  "It was a crowded and eventful year, and I've always been grateful for it," Carl later wrote in a letter.
After Pearl Harbor, Carl was re-assigned to another ship.
On August 9, 1942, the Quincy was sunk, a victim of enemy action off Guadalcanal Island.  Logan was lost in the attack. [2]
Years later, approaching his 80th birthday, Carl wrote, "As long ago as it was, it is still so real and vivid in my mind.  Logan and I were always very close, and even after all this time, I still miss him."
Carl served on three other ships (two of which, including the USS Indianapolis, were also later sunk) before being transferred full-time to the US Naval Training Center in Miami, Florida.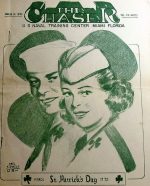 He began to spend most of his off-duty hours sketching the ships, his crewmates and the seascapes around him.
Carl's first illustrations appeared in The Chaser, a monthly newsletter from the Naval Training Center (left: Carl's cover of the March 16, 1945 edition), and in Our Navy, a Standard publication of the US Navy, for public distribution.
Early commercial sales were "Sketched on a Sub Chaser" in the March 20, 1943 issue of the weekly magazine Liberty and "From a Sailor's Sketchbook" in the October, 1943 issue of The Blue Book Magazine.  He sold a few more through the war years and after to Blue Book, including interior art for short stories such as "Sea Serpent, Ahoy!" by Crawford Sullivan (May, 1946 edition).
Living on his own in the challenging postwar years, Carl became a professional freelance illustrator, producing both magazine and book illustrations as well as cover art.
Carl sold artwork to a number of science fiction, mystery and horror titles such as Other Worlds Science Stories, Weird Tales, Startling Mystery Stories and Magazine of Horror.
And created the cover artwork for hardcover books in the adventure, historical and Western fields.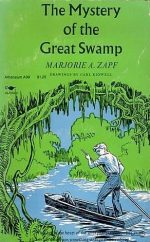 While Carl seems to have begun and ended his commercial career drawing effective pen and ink illustrations for the pulp magazines, his most inspired works were the covers for Westerns and juvenile adventure books.
Like Marjorie A Zapf's THE MYSTERY OF THE GREAT SWAMP, which told the tale of Jeb, a boy who finds "the last survivors of an almost extinct mound-building Indian tribe hidden deep in the Okefenokee swampland."
Jeb learns to understand and feel deep sympathy for these last two of a dying race: an Indian boy his own age and his elderly grandmother.  He will keep their secret.
And POSSE OF TWO by Gertrude Bell, the frontier yarn of Ned Belt and Dave Woods who join ranks to hunt down an outlaw band who stole something from each of them — Ned, a beloved stallion — and Dave, his late father's Hawkins rifle.
And THE BARREL by Ester Wier.  Abandoned by his father as child, and a constant runaway from foster parents, Chance Reedy finally finds his real family: his illiterate Granny and brother Turpem.  They live deep in the swamplands of the Florida Everglades.  There, the two brothers fight, then find a deep bond.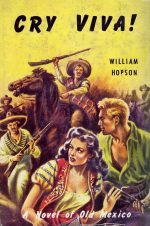 CRY VIVA! by prolific pulp and paperback Western writer William Hopson tells the story of Gringo Don Guillermo, a man handy with a shootin' iron.
Hopson  knew about ranches and his descriptions of Old Mexican haciendas in CRY VIVA! were right on.
It's the time of Pancho Villa, revolution and bad banditos.  Those men have attacked and burned the hacienda of Guillermo's patron, Don Sebastian, who stands his ground.  And then there is Sabastion's proud, passionate daughter, Torcuata…
There's something about the wild places in Carl Kidwell's artwork that really lives — the wild places and the struggle of lost souls to find a family — these are the themes that brought out his best work.
In the late Fifties, Carl Kidwell developed a fascination with early Mexico, its landscape and people of pre-colonial history.  Perhaps he was inspired while researching his painting for the dust jacket art of the Bouregy & Curl edition of William Hopson's CRY VIVA!
He not only sketched and created the illustrations, but wrote two books about Mexico: ARROW IN THE SUN and THE ANGRY EARTH.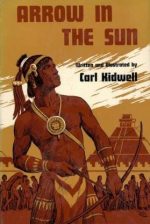 "To shoot an arrow into the sun, one must climb a lofty mountain."  The story of ARROW IN THE SUN (Viking Press, New York, 1961) reminds me of Mel Gibson's Apocalypto.  Although Carl wrote about the Aztecs, not Mayans, the themes were similar.
Hidden in the forest of the Valley of Mexico, Prince Netzah watched the terrible murder of his father, King of Acolhuacan…  What follows is a story of running, hiding, escaping (from being sacrificed to the Fire God), waiting — and vengeance.
Also set in the Valley of Mexico, THE ANGRY EARTH tells the story of Blackwing, a young man captured in a bloody slave raid.  He was sold in the market at The Place of Song and Dance to a farming family.  His mixed feelings for his owners would be tested when an earthquake and volcanic eruption destroys their land.
With these two books, Carl showed he was an original storyteller.
He also wrote and illustrated GRANADA, SURRENDER!  A story about a young man who, hoping to join Columbus on his adventurous voyage, becomes embroiled in the Siege of Granada — the Spanish battle to drive the Moors from Spain.
Carl, who never married, passed at age 92 in New York City.
His artwork survives.
Here's the Kidwell book cover I spoke of: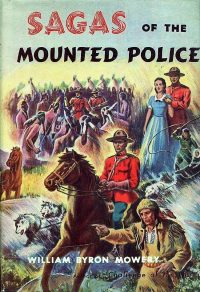 In 1953, Bouregy & Curl Inc published SAGAS OF THE MOUNTED POLICE, collecting eight short stories by best selling Northwestern writer William Byron Mowery.
For SAGAS, Carl Kidwell painted a mutiple-scene cover somewhat in the style of artists who had once painted popular murals and pictorial maps — like Stephen J Voorhies, who had done the cover art for William Mowery's first Mountie collection, THE LONG ARM OF THE MOUNTED.
The upper left corner of the Kidwell's SAGAS cover, for instance, shows an encounter of some Mounties with Sitting Bull's Sioux when the war chief had sought refuge in Canada following the Little Bighorn.  The other scenes blend together in an almost patriotic poster motif of a people looking to the promised future of the West, including a Mountie holding a woman in a blue and white dress.
In his Foreword to this edition, Mowery wrote: "Most of these stories, since their original magazine appearance, have been published in various high-school and college English texts.  I have a suspicion that it was the character of the Police heroes and fascination of the Canadian plains, Rockies and the North…that led to their being selected as examples of the raconteur's art…"
And also because Mowery was one of the finest writers to chose the history of the North-West Mounted as his theme.  Although his mention of that "fascination" also shows the immense popularity that our Canadian Mounties once had in national and in world culture.
Now here's a mystery:
Nine years later, Bouregy reprinted SAGAS OF THE MOUNTED POLICE through its new paperback subsidiary, Airmont Books.  The Airmont line tended to also reprint the artwork from the original hardcovers.  But this paperback edition had a new cover illustration and the artist was uncredited.  Could have been Carl Kidwell, but not certain.  Carl had done a number of Western covers for Bouregy over those years…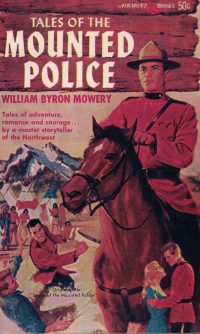 Airmont Books reprinted SAGAS in 1962 as a mass market paperback retitled TALES OF THE MOUNTED POLICE.
As with SAGAS, the cover had a multiple-scene motif, but simpler.  This time one of action (fist fight) and romance (Mountie holding woman in blue and white dress).
On the back cover, over a line drawing of a Mountie gazing at a forest-rimmed lake and soaring mountains beyond it, Airmont stated: "The stories in this book are of the early Northwest Mounted…
"William Byron Mowery knew the Northwest and he knew many of these men.  He met them in the twilight of their lives, at their Calgary reunions and visited them in their homes — and out of the incidents related at these meetings, and the spirit of the men themselves, have come these tales."
Books well worth collecting, mon ami, for the writing and for the artwork.
– Brian Alan Burhoe
Did You Enjoy This Post?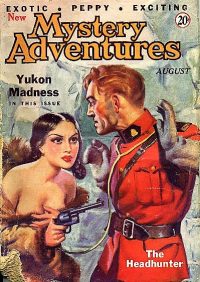 IF SO, YOU'VE GOT TO SEE "THE WRITERS OF THE NORTH-WEST MOUNTED POLICE" — MY MOST POPULAR LITERARY HISTORY POST:
"Thanks for a wonderful in-depth article on Mountie fiction. I'm a big fan of the Mounties and I really enjoyed the amount of details you provided and found many, many more books to put on my wish list." Jack
"I just discovered your blog recently and need to dig deeper into it. That post on Mountie fiction is great." James Reasoner
(Cover art of August, 1935 edition of Mystery Adventures by H J Ward, illustrating "Yukon Madness" written by L Ron Hubbard.)
When our Canadian Mounted Police first arrived in the lawless Wild West, they soon entered our National Mythology.  A look at the many writers who helped create that heroic Mythology.  Including William Byron Mowery.  And richly illustrated with vibrant book and magazine covers.  FREE TO READ ==>  The GREATEST AUTHORS OF NORTH-WEST MOUNTED POLICE FICTION
[1] Books illustrated by Carl Kidwell include: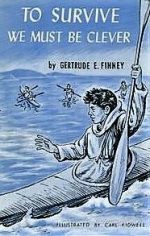 RENEGADE SHERIFF by W C Tuttle
STOLEN BY INDIANS by Dorothy Heiderstadt
SMOKE JUMPERS by Nels Jorgensen
THE BARREL by Ester Wier
ISLAND GHOST by Janet Randall
TRUE ADVENTURE OF SPIES by Manuel Komroff
SMUGGLERS' ISLAND by Martha C King
POSSE OF TWO by Gertrude Bell
THE DARK OF THE CAVE by Ernie Rydberg
BIG LEAGUE SANDLOTTERS by William R Cox
TO SURVIVE WE MUST BE CLEVER by Gertrude E Finney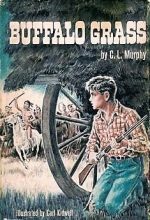 BUFFALO GRASS by C L Murphy
ALFRED AND THE SAINT by Priscilla D Willis
THE RACE BETWEEN THE FLAGS by Priscilla D Willis
SUN EAGLE by Geraldine Wyatt
THE SWAMP FOX by Marion Marsh Brown
WINDS OF REBELLION by Ernest Haycox
CRY VIVA! by William Hopson
THIS RANGE IS MINE by Paul Evan
THE REDBIRDS ARE FLYING by May Nelson
THE MYSTERY OF THE GREAT SWAMP by Marjorie A Zapf
[2] When the Navy Report of Engagement on the sinking of the USS Quincy was later declassified, Carl was able to obtain a copy.  The report described an unexpected attack of enemy shells exploding topside and torpedoes hitting below, "the hanger and well deck blazing inferno, the steam escaping from #1 Stack was deafening, and Battle II in flames."  The report didn't solve Carl's insistent questions about Logan's final hours.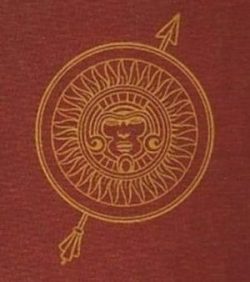 Aztec Cover Design by Carl Kidwell from ARROW IN THE SUN
For more information on Carl Kidwell, see Donald E Thompson's INDIANA AUTHORS AND THEIR BOOKS 1916-1966, Wabash College, 1974
Carl Kidwell – Artist and Writer – His Illustrations and Stories
DID YOU ENJOY THIS POSTING?  IF SO, PLEASE TELL YOUR FRIENDS.
ARE YOU ON TWITTER?  SURE WOULD APPRECIATE A TWEET!