Cats Quotes: Loving & Funny Cat Quotes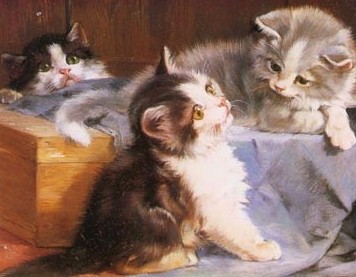 "BOOKS.  CATS.  LIFE IS GOOD." – Edward Gorey
They dance madly around the house, still thinking they're kittens.  And then curl up on a couch or window sill to find sunshine and sleep.  Our cats are dignified clowns.  And sources of purrs and love.
In the Wilderness, our closest relatives — all the other Primates — avoid Cats with screaming warnings.  But we — Humankind — long ago took one little feline species into our ancient rough homes and they've been with us ever since.
Bringing their own mysterious brand of comedy, love and sunshine into our lives.
Here, my friends, are our favourite Cat Quotes:
"WHAT GREATER GIFT THAN THE LOVE OF A CAT?" – Charles Dickens
"HOME IS WHERE I HANG MY TOOTHBRUSH AND WHERE THE CATS HAVE THEIR COMMODE." – Lilian Jackson Braun
"A CAT CAN PURR ITS WAY OUT OF ANYTHING!" – Donna McCrohan
"RUSTY IS ALWAYS UP FOR PLAYTIME, AT TIMES A GOLDEN BLUR, AT TIMES LAZY AND FULL OF LION-LOUD PURRS.  HE'S MY BEST BUD." – Brian Alan Burhoe
"IF THERE'S ONE SPOT OF THE SUN SPILLING ONTO THE FLOOR, A CAT WILL FIND IT AND SOAK IT UP." – Louis Wain
"NOTHING MAKES A HOUSE COZIER THAN A CAT." – Gladys Taber
"DOGS ARE NICE BUT THEIR LOVE IS GIVEN FREELY.  WITH CATS YOU HAVE TO EARN IT, AND I'M A GIRL WHO LOVES A CHALLENGE." – Lissa Warren
"CATS ARE SMARTER THAN DOGS.  YOU CAN'T GET EIGHT CATS TO PULL A SLED THROUGH SNOW." – J Valdez
"IT'S GOING TO FREEZE — THE CAT'S DANCING." – Colette
"KITTIES HAVE BIRTHDAYS, TOO.  MAKE A CAKE FOR YOURSELF AND GIVE THE KITTY SOME REAL LIVE FRESH DEAD SHRIMP." – Max Thompson
"IN THE MIDDLE OF A WORLD THAT'S ALWAYS BEEN A BIT MAD,  THE CAT WALKS WITH CONFIDENCE." – Rosanne Amberson
"ALWAYS THE CAT REMAINS A LITTLE BIT BEYOND THE LIMITS WE TRY TO SET FOR HIM IN OUR BLIND FOLLY." – Andre Norton
"IT'S HARDER TO UNDERSTAND A CAT THAN A DOG.  BUT IT'S FUN TRYING." -Brian Alan Burhoe
"CATS ARE VERY FUNNY,  AND HAVE THE ODDEST WAYS OF SHOWING THEY'RE GLAD TO SEE YOU.   RUDIMAC ALWAYS PEED IN OUR SHOES." – W H Auden
A Fave Cat Quote: "THEIR PITIFUL HUNGRY MEOWS MELTED MY HEART. SOMEONE HAD TO HELP THEM!" – Liz Barton
"A MOUSE IN THE PAWS IS WORTH TWO IN THE PANTRY." – Louis Wain
"FUNNY FACE IS MY ATTACK CAT, AND ANYONE WHO MIGHT TRY TO HARM ME WOULD HAVE TO GO THROUGH HIM.  HERE, PRETTY KITTY.  THAT'S A GOOD BOY." – Vivian Gilbert Zabel
"SHE HAD WHITE CAT HAIR ON HER DARK SUIT.  SHE WAS A DEDICATED CAT HUGGER." – Lilian Jackson Braun
"I MADE UP FOR MY DOG-LESS BOYHOOD BY BRINGING HOME KITTENS.  ALWAYS THE LONELY, LEFTOVER LITTLE KITTEN THAT NOBODY ELSE WANTED.  LIKE HUNTER, A GENTLE AND LOVING (WITH ME) STUB-TAILED GREY MANX CAT, WHO LIKED TO BRING ME MICE FROM THE HORSE BARN NEXT DOOR." Brian Alan Burhoe
"A MEOW MASSAGES THE HEART." – Stuart McMillan
"WHEN YOUR CAT DROPS A DEAD OR DYING ANIMAL AT YOUR FEET, IT'S ACTUALLY THE UTMOST COMPLIMENT.  YOUR CAT IS ESSENTIALLY FEEDING YOU AS ONE OF ITS OWN." – Daniel Martin
"MY CAT DOESN'T TALK AS RESPECTFULLY TO ME AS I DO TO HER." – Colette
"THE CLOCKS IN OUR HOUSE WERE SUPERFLUOUS; WE MARKED OUT TIME BY THE CAT." – Lissa Warren
"HOW MANY MORE SENSES HAVE CATS THAN HUMANS?" – Marguerite Steen
"THE CAT HAS ALWAYS BEEN ASSOCIATED WITH THE MOON.  LIKE THE MOON, IT COMES TO LIFE AT NIGHT, ESCAPING FROM HUMANITY AND WANDERING OVER HOUSETOPS WITH ITS EYES BEAMING OUT THROUGH THE DARKNESS." – Patricia Dale-Green
"PEOPLE WHO LOVE CATS HAVE SOME OF THE BIGGEST HEARTS AROUND." – Susan Easterly
"A KITTEN IS THE MOST IRRESISTIBLE COMEDIAN IN THE WORLD.  ITS WIDE-OPEN EYES GLEAM WITH WONDER AND MIRTH.  IT DARTS MADLY AT NOTHING AT ALL, AND THEN, AS THOUGH SUDDENLY CHECKED IN PURSUIT, PRANCES SIDEWAYS ON ITS HIND LEGS WITH RIDICULOUS AGILITY AND ZEAL." – Agnes Repplier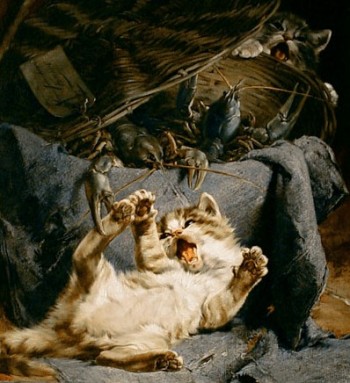 "CATS LIKE DOORS LEFT OPEN — IN CASE THEY CHANGE THEIR MINDS." – Rosemary Nisbet
"IN ANCIENT TIMES, CATS WERE WORSHIPPED AS GODS; THEY HAVEN'T FORGOTTEN THIS." – Terry Pratchett
"I WRITE SO MUCH BECAUSE MY CAT SITS ON MY LAP.  SHE PURRS SO I DON'T WANT TO GET UP.  SHE'S SO MUCH MORE CALMING THAN MY HUSBAND." – Joyce Carol Oates
"THE NAMING OF CATS IS A DIFFICULT MATTER." – T S Elliot
"THE NAME YOU CHOOSE WILL AFFECT PEOPLE WHO HEAR IT IMMEDIATELY, GIVING THEM A POSITIVE IMPRESSION — WONDERCAT, SWEET TOOTH — OR PERHAPS A NEGATIVE ONE — HELLCAT, SHREDDER." – Michelle Ryan
"OVER THE YEARS MY SISTER AND I CAME UP WITH HUNDREDS OF NAMES FOR THIS VERY SPECIAL CAT.  AND OUR CAT GAVE US MANY INCIDENTS OF LAUGHTER, FUNNY MOMENTS AND HAPPY MOMENTS IN A HOME ENVIRONMENT WHICH WAS MOSTLY NOT VERY HAPPY." – Joe Caruso
"CATS ARE INTENDED TO TEACH US THAT NOT EVERYTHING IN NATURE HAS A PURPOSE." – Garrison Keillor
"IF ANIMALS COULD SPEAK, THE DOG WOULD BE A BLUNDERING OUTSPOKEN FELLOW; BUT THE CAT WOULD HAVE THE RARE GRACE OF NEVER SAYING A WORD TOO MUCH."  – Mark Twain
"CATS DON'T FIGHT FOR THEIR RIGHTS; THEY TAKE THEM FOR GRANTED.  THEY HAVE A RIGHT TO BE FED, WATERED, STROKED ON DEMAND AND SUPPLIED WITH A LAP AND A CLEAN COMMODE." – Lilian Jackson Braun
"AS I LISTENED TO HIS GENTLE PURRING IN THE DARK, IT FELT GOOD TO HAVE HIM THERE.  HE WAS COMPANY, I GUESS.  I'D NOT HAD MUCH OF THAT LATELY." – James Bowen
"CATS, AS YOU KNOW, ARE QUITE IMPERVIOUS TO THREATS." Connie Willis
"I MADE EYE CONTACT WITH HER, CLOSED MY EYES BRIEFLY, WISHING FOR HER TO COME OUT.  THEN OPENED MY EYES AGAIN.  AND THE CAT BLINKED BACK AT ME, SLOWLY.  SHE ALLOWED ME TO MOVE HER TO SAFETY.  YEARS LATER I HEARD THAT SLOWLY BLINKING THEN LOOKING AWAY IS A POWERFUL FORM OF CAT COMMUNICATION." – Mieshelle Nagelschneider
"NEVER TRY TO OUTSTUBBORN A CAT." Robert A Heinlein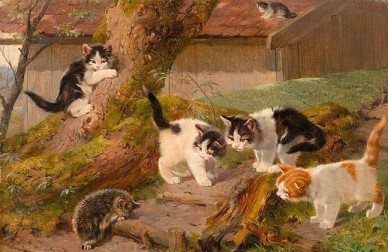 "IF YOU WANT TO WRITE, KEEP CATS." –  Aldous Huxley
"I BELIEVE CATS TO BE SPIRITS COME TO EARTH.  A CAT, I'M SURE, COULD WALK ON A CLOUD WITHOUT COMING THROUGH." – Jules Verne
"PERHAPS IT'S BECAUSE CATS DON'T LIVE BY HUMAN PATTERNS, DON'T FIT THEMSELVES INTO PRESCRIBED BEHAVIOR, THAT THEY ARE SO UNITED TO CREATIVE PEOPLE." – Andre Norton
"I LOVE THEM, THEY ARE SO NICE AND SELFISH.  DOGS ARE TOO GOOD AND UNSELFISH.  THEY MAKE ME FEEL UNCOMFORTABLE.  BUT CATS ARE GLORIOUSLY HUMAN." – Lucy Maud Montgomery
"THE ONLY THING I ENVY ABOUT A CAT IS ITS PURR.  IT'S THE MOST CONTENTED SOUND IN THE WORLD." – Lucy Maud Montgomery
"THE CAT JUMPS UP ON THE BED AND TRIES TO GET ONTO MY HEAD.  IT'S HIS WAY OF TELLING WHETHER OR NOT I'M DEAD.  IF I'M NOT, HE WANTS TO BE SCRATCHED; IF I AM — HE'LL THINK OF SOMETHING." – Margaret Atwood
"AUTHORS LIKE CATS BECAUSE THEY ARE SUCH QUIET, LOVABLE, WISE CREATURES AND CATS LIKE AUTHORS FOR THE SAME REASONS." – Robertson Davies
"THE CAT WAS BEING HARASSED BY MONKEYS IN NEIGHBOURING CAGES.  SHE LOOKED AT ME IMPLORINGLY: PLEASE! TAKE ME HOME.  SHE KEPT HER CLAWS SHEATHED AS I STROKED HER AND AS I WALKED OUT THE DOOR, SHE NUZZLED ME." – Pierre Berton
"A CAT HAS ABSOLUTE EMOTIONAL HONESTY: HUMAN BEINGS, FOR ONE REASON OR ANOTHER, MAY HIDE THEIR FEELINGS, BUT A CAT DOES NOT. – Ernest Hemingway
"I LOVE CATS BECAUSE I ENJOY MY HOME; AND LITTLE BY LITTLE, THEY BECOME ITS VISIBLE SOUL." – Jean Cocteau
"THE CAT DOESN'T OFFER SERVICES.  THE CAT OFFERS ITSELF." – William S. Burroughs
"MY CAT IS COMPLETELY BLIND.  I AM WATCHING HER NOW, SWEET-PEA THAT IS, CIRCLING THE KITCHEN FLOOR AND BUMPING INTO THE KITCHEN CHAIRS.  SHE IS KIND OF LIKE A FURRY BALL IN A PINBALL MACHINE…SHE BUMPS INTO SOMETHING AND THEN JUST TURNS AND MOVES ON…IT MAKES ME SMILE — ALTHOUGH I KNOW IT'S JUST NOT THAT FUNNY.  I THINK I LAUGH BECAUSE WHAT I REALLY FEEL LIKE DOING, IS CRYING." – Jann Arden
"WHEN ZOE DIED, IT WAS REALLY EASY TO EXPLAIN TO PEOPLE HOW MUCH YOU COULD MISS A SWEET, GENTLE CAT THAT WAS NOTHING BUT A BALL OF UTTER LOVE." – Neil Gaiman
"CATS LEAVE PAW PRINTS ON OUR HEARTS!" – Old English memorial stone
"ANOTHER CAT?  PERHAPS.  BUT A FAMILY CAT IS NOT REPLACEABLE LIKE A WORNOUT COAT.  EACH NEW KITTEN BECOMES ITS OWN CAT, AND NONE IS REPEATED.  I AM FOUR CATS OLD, MEASURING OUT MY LIFE IN FRIENDS THAT HAVE SUCCEEDED BUT NOT REPLACED ONE ANOTHER." – Irving Townsend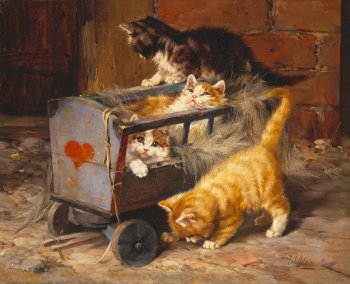 "AS EVERY CAT OWNER KNOWS, NO ONE OWNS A CAT." – Ellen Perry Berkeley
"OF ALL THE CATS THAT HAVE OWNED ME, THERE HAS NEVER BEEN ONE LIKE MY WHITE TOM KITTEN, FOR SWEETNESS, INTELLIGENCE AND AFFECTION." – Marguerite Steen
"AH, MY FURRY FELINE LOVES — SHISHI, NIBO AND IRA — JUST THINKING ABOUT ALL THIS MAKES ME WONDER: EXACTLY WHO HAS TRAINED WHOM!" – Rima Savage
"KITTENS BELIEVE THAT ALL NATURE IS OCCUPIED WITH THEIR DIVERSION." – F A Paradis de Moncrif
"THERE'S NOTHING QUITE LIKE THE PRESENCE OF A CAT IN THE HOUSE TO MAKE YOU FEEL AT HOME, WHETHER IT'S A RUSTIC CABIN OR ROYAL PALACE. " – Theresa Mancuso
"CATS ARE LIKE A LITTLE BIT OF HEAVEN ON EARTH, THEIR PURRING NOT UNLIKE THE STIR OF ANGEL WINGS." – Theresa Mancuso
"PEOPLE WHO HATE CATS WILL COME BACK AS MICE IN THEIR NEXT LIFE." – Faith Resnick
"A CAT DOESN'T KNOW WHAT IT WANTS AND WANTS MORE OF IT." – Richard Hexem
"TWENTY-SEVEN CATS AT ONE TIME HINTS AT MONOMANIA.  BUT IN MANY CASES IT'S SIMPLER.  IF YOU LIKE CATS AND HAVE SOME, YOU GET KITTENS.  AND IF YOU LIKE KITTENS AND ENJOY HAVING THEM ABOUT, THEY GROW UP — AND YOU GET MORE KITTENS." – Paul Gallico
"FAR AHEAD, PICKED UP BY THE HEADLIGHTS, ARE TWO OTHER LITTLE HEADLIGHTS, LUMINOUS, LIKE SEQUINS SEWN IN THE DARKNESS OF THE HEDGEROW. CAT." – Marguerite Steen
"UTTERING HIS HAPPY PRR-OO-OO, HE WILL TROT INTO THE KITCHEN, HANG FOR A MOMENT ROUND THE NECK OF THE BLACK ONE, OR BITE HER EAR, AND FLING HIMSELF INTO THE LAST ANTICS OF THE DAY." – Marguerite Steen
"OF ALL OUR SUNNY WORLD, I WISH ONLY FOR A GARDEN SOFA WHERE A CAT IS SUNNING ITSELF." – Edith Södergran
"AT THAT PRECISE MOMENT TWO BROWN NOSES LIFTED, FOUR BROWN EARS SWIVELED, TWO SETS OF WHISKERS TWITCHED.  SOMETHING WAS ABOUT TO HAPPEN." – Lilian Jackson Braun
"IF YOU WANT A LOVING WIFE – FIND A CRAZY CAT LADY!" – Brian Alan Burhoe
"I THINK I'LL COME BACK AS A CAT." – George Ney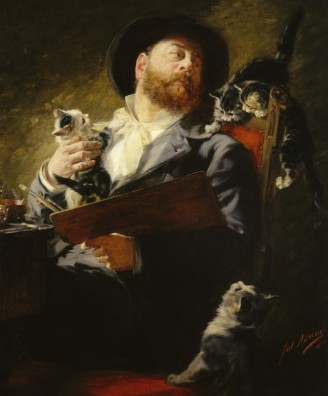 "Self-Portrait With Kittens" by Julius Adam
The five paintings on this page are by Julius Adam, a favourite artist of ours.  German-born Adam (1852-1913) was known as Katzen-Adam ("Cat Adam") because of his popular housecat artwork.  After an early career in Rio de Janeiro working in the family business as a landscape photographer (his father, Julius Senior, was a renowned photographer), he returned to Germany, settling in Munich, where he created his famous cat art.  His most popular canvases featured kittens in a country home setting.
Along with his contemporaries — Holland-born Henriëtte Ronner-Knip (known as the Queen of Cat Artists) and Parisian native Louis Eugène Lambert — Adam created a popular genre that reflected a nostalgia for the passing rural life of the late 19th Century, in reaction to the new ugly industrialized cities.
To see a portfolio of some of his best work, go to Cat Art of Julius Adam II
– Brian & Mary Lee Burhoe
Cats Quotes: Loving & Funny Cat Quotes For Feline Fanciers
Keywords: Caturday, cat art, cat love quotes, cats quotes, Cheshire cat, crazy cat lady, cute cat names, cute cats, famous authors quotes, funny cat quotes, Julius Adam II, Katze Zitate, lol cats, names for cat
DID YOU LIKE THIS PAGE?  IF SO, PLEASE TELL YOUR FRIENDS AND…