Zero Cool Bears – Famous Bears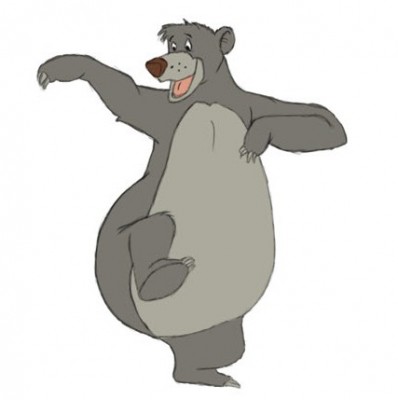 Here's our pick of the Zero Cool Bears.
What does Zero Cool mean?  "Zero Cool" came out of the Jazz scene, meaning you've got absolute cool, man.  Realllly cool.  Hairy zero cool.  Disney portrayed Kipling's Baloo as a jazzy zero cool bear.  Meaning: I'm with it, the music flows through me, I'm what's happening — I am NOW, baby…
We've grown up with Zero Cool Bears.  Still meeting them, eh?  The Civilized Bears are the coolest bears of all — making them hot.
Who are the others?  The oldest mythical bears, the treasured bears of story and song?  The real life bears who have earned our love, laughter — and tears?
Here's a kind of Sitemap of all things Bruin…
Famous Bears in Fact & Fiction – From Gentle Ben to Brutus Bear
From ferocious and dangerous attackers to loving and carefree friends, real life bears have appeared in Hollywood productions since the first silent movies.  And then there's our popular Park Bears…
To See My Complete Posting – FAMOUS BEARS – CLICK HERE NOW!
Bears in Literature
While Sir Charles G D Roberts, who created the Realistic Animal Story, wrote about wild animals of the Canadian Northwoods in the late 19th Century, his bears were true-to-the-wild depictions.  At the same time, Kipling gave the world his talking animal character, Baloo…
To See the Complete Posting, Go To BEARS IN LITERATURE – CLICK HERE NOW!
Muinej The Bear's Cub – A Mi'kmaq Bear Story Retold
And then there was a noise and sunlight spilled into the cave as the boulder was rolled away.  "Ebit! Nidap!" came a deep growling voice. "What is happening? There is the smell of humans here."  And Giju'muin, a big mother bear, crawled into the cave. Snuffing noisily, her hot breath poured onto Mikinawk's face.  "You are dangerous, little human…"
To See the Complete Folktale, Go To Muinej The Bear's Cub – A Mi'kmaq Bear Story Retold
"The Bear That Thought He Was A Dog" A Classic Animal Story by Sir Charles G D Roberts
The gaunt, black mother lifted her head from nuzzling happily at the velvet fur of her little one. The cub was but twenty-four hours old, and engrossed every emotion of her savage heart–but her ear had caught the sound of heavy footsteps coming up the mountain…
To See the Complete Free Story, Go To THE BEAR THAT THOUGHT HE WAS A DOG – CLICK HERE NOW!
How the Bear Lost its Tail & Other Bear Stories
Bears are international, even in animal stories and folk tales.  From the classic "Silver Hair and the Three Bears" (which morphed into the kinder, gentler Goldilocks story) to the realistic, often tragic, animal fiction of Sir Charles G D Roberts, bears have shambled and fumbled and interacted with humans in our literature…
To See the Complete Bear Stories, See OTHER BEAR STORIES – CLICK HERE NOW!
What is Canada's National Animal? The Polar Bear
"The polar bear, with its strength, courage, resourcefulness, and dignity is perfect for the part," Nicole Eaton said recently in a speech to the Canadian Senate, when suggesting a rebranding of Canada's national animal.  And we agree…
To See the Complete Posting, See THE POLAR BEAR FOR NATIONAL ANIMAL – CLICK HERE NOW!
Living With Bears in Highlands, North Carolina
"WE are the newcomers to these mountains. Up here on the Highlands-Cashiers plateau, we do live among a very large population of Black Bears, who have roamed these mountains for ages…"
To See the Complete Posting, Go To LIVING WITH BEARS IN HIGHLANDS – CLICK HERE NOW!
Do Bears Sleep? Bear Hibernation in Montana
Here in Atlantic Canada, wild bears don't sleep all winter.  Those warm wet winds off the ocean will often melt snow, add a few springlike days between days of freezing weather.  And a bear or two will crawl out of its den and wonder…
To See the Complete Posting, Go To BEAR HIBERNATION IN MONTANA – CLICK HERE NOW!
The Great Puppet Bears: Fozzie, Bobo & Ojo Bear
Fictional bear characters dominate out culture.  From our own personal teddy bear to the literary greats and famous bears like Winnie the Pooh and Paddington.  Here, with her own memories, is Joan…
To See the Complete Posting, See BELOVED PUPPET BEARS – CLICK HERE NOW!
Teddy Bears in History
"Okay, I'll take the pink one with the torn ear."  The guy behind the counter scratches his neck, "Are you being serious?"  Her face is stoic, "Absolutely. I never kid about teddy bears." –  Jessica Sorensen
To See the Complete Posting, Go To TEDDY BEARS IN HISTORY – CLICK HERE NOW!
DID YOU LIKE THIS?  PLEASE TELL YOUR FRIENDS!  DON'T MISS OUT ON ANY OF THESE FAVE BEAR STORIES — YOU CAN…