Bears in Literature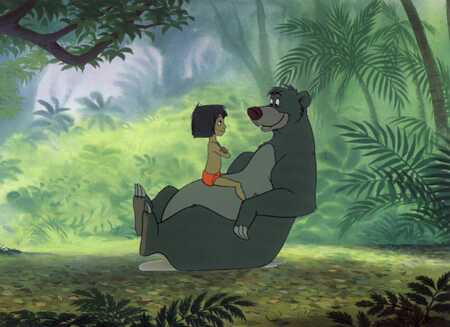 Bears featured as central characters in Celtic and Northern European tales for thousands of years (they also featured in Native American tales).
European folk tales reformatted those old tales for more recent audiences.  And Aesop used bears in his fables.
But, unlike other animals — dogs, horses, cats, foxes — bears as central fictional characters arrived later on the literary scene.
While Sir Charles G D Roberts, who created the Realistic Animal Story, wrote about wild animals of the Canadian Northwoods in the late 19th Century, his bears were true-to-the-wild depictions.  At the same time, Kipling gave the world his talking animal character, Baloo…
On the whole, bears didn't arrive in animal fiction until the 20th Century.
Some where real animals — Civilized Bears — some were living teddy bears.  They were all beloved characters.
Most Famous Bears in Literature
Children's fiction (Kidlit) has been replete with fantastic stories of bears, who transcend their animal status and become actual 'persons' who the children can easily relate to.
Each new generation has grown up on a steady diet of bear tales and handed down the 'bear' legacy to their children, and they to their children.  So much so that even now, bear stories and characters continue to be among the all-time favourite bedtime stories of children around the world.
Here are some of the all-time favourite bears from children's literature:
1. Bears in children's stories
Who can forget Goldilocks and the Three Bears?  Mama Bear, Papa Bear and Baby Bear.
This children's story gained popularity when it appeared as a narrative by English author and poet Robert Southey — first published under the title "Story of the Three Bears," in a volume of his writings in 1837 called THE DOCTOR.  In Southey's version, the intruding human was an old woman with no name.  In later retellings the woman was called Silver Hair.  By the late 1800's, the intruder was a young girl named Golden Hair and, finally, Goldilocks.  In every version, the bears were the victims of a thieving, destructive human, who runs away when discovered.
And then came Baloo.  Baloo was the "sleepy old sloth bear" who helped teach the human boy Mowgli the laws of the jungle in THE JUNGLE BOOK, written by Rudyard Kipling and first published in 1894.
2. Winnie-the-Pooh
Winnie-the-Pooh, commonly known as Pooh Bear or simply Pooh (and also referred to as Edward Bear), is perhaps one of the most famous of all fictional bears.
The creation of A A Milne, Winnie-the-Pooh was named after a teddy bear owned by Milne's own son, Christopher.  Christopher Robin Milne had named his toy bear after Winnie, a black bear the boy was very fond of at the London Zoological Gardens.  The tame bear had been left at the zoo by a Canadian soldier during the First World War, who had to go on to the Front.  "Winnie" was named for Lieutenant Harry Colebourn's home town of Winnipeg, Manitoba.
"Pooh" was a swan Christopher had met while on holiday.
The first book was WINNIE-THE-POOH, published in 1926.  It was followed by THE HOUSE AT POOH CORNER and the worldwide best selling series was launched.
The stories of the Bear of Little Brain have been translated into several languages, including a Latin translation, Winnie ille Pu, by Alexander Lenard. It is the only Latin book ever to have been featured on the New York Times Best Seller List.
3. Paddington Bear
A classic character in children's literature, Paddington Bear has been casting his spell over children of all ages since he was first created by a British writer, Michael Bond, in 1958.
This adorable little bear is actually an immigrant who hailed from Darkest Peru. He hid himself on the lifeboat of a ship and arrived in England, as advised by his Aunt Lucy who had reared him so far.
This polite bear immediately entrenched himself in his young readers' minds with his old hat, battered suitcase, duffle coat and love of marmalade sandwiches. Although he attracted trouble, he also had an almost-human sense of right and wrong and shunned wild adventures.
Paddington bear is extremely polite (he never addresses people as anything other than "Mr.", "Mrs." and "Miss"). He is an adoptive member of the (human) Brown family, and thus gives his full name as Paddington Brown.
Paddington bear books have been translated into thirty languages across seventy titles and sold more than 30 million copies worldwide.
4. Corduroy Bear
Corduroy is a classic heart-warming tale of a teddy bear named Corduroy written by Don Freeman in 1968. It tells the story of a bear that is bought in a department store by a girl named Lisa. Corduroy is considered to be one of the best-loved children's stories of all times.
The story begins at night when the shop has downed its shutters for the day. All is still in the store…that's when Corduroy climbs down from his shelf to hunt for his missing button. Unfortunately, he fails to get back to his shelf by daybreak. In the morning, he is bought by a little girl named Lisa, who uses up all the money she had saved in her piggy bank. She takes him home and gives Corduroy a room of his own. Thrilled to discover that he has finally reached 'home', he decides gratefully that Lisa must be his friend.
5. Rupert Bear
Rupert Bear is a beloved fictional character with children across the UK. Initially created as a comic book character by the English artist Mary Tourtel, he first appeared in the Daily Express on the 8th of November 1920. Rupert Bear also features in a series of books that centre around his many adventures.
Rupert is a humanoid bear and Bill, a humanoid badger, is his best friend. Rupert and his friends have remarkable adventures in magical, faraway lands.
The comic strip has become such an indispensable part of the newspaper that it continues to appear daily even today. Since 1936, each year a Rupert annual has also been released!
(As a lad in England, I practically learned to read in the newspaper adventures of Rupert Bear and the Christmas Annuals.)
6. Little Bear
Growing up with the stories of Hans Christian Anderson in her native Denmark, Else Holmelund Minarik, as a young girl of 4, moved with her family to New York in 1924.
When she first wrote LITTLE BEAR, she took it to Randam House, where an editor told her to change her characters to humans.
"I thought to myself, all children of all colors would be reading the stories," Else later explained. "All children love animals. The bear is fine. I love them because Mother took me to the Bronx Zoo every day, and I fell in love with the cubs. My bears were a family."  She published her small masterpiece in 1957 with Harper & Row.
Written for children just beginning to read, Else Holmelund Minarik's Little Bear picture books were the simplest of ursine stories.  But her beginner reader's prose and the artwork by Maurice Sendak turned out to be a best selling combination.
Her writing by necessity had to be clear and simple.  The result was a prose poem:
"It is cold.
See the snow.
See the snow come down.
Little Bear said, 'Mother Bear,
I am cold.
See the snow.
I want something to put on.' "
Other Little Bear books were FATHER BEAR COMES HOME, LITTLE BEAR'S FRIEND, LITTLE BEARS'S VISIT and A KISS FOR LITTLE BEAR.  Each book contained four separate stories.
Little Bear also appeared in a Nelvana-produced TV series and a movie.
7. Berenstain Bears
In 1962, a fresh set of fictional bears appeared in children's literature. These were the Berenstain Bears, a family of anthropomorphic bears, created by Stan and Jan Berenstain.
They brought out a series of very popular books beginning with THE BIG HONEY HUNT  in '62.
The happy family consists of Papa Bear, who is a woodworker; Mama Bear, a devoted homemaker; and their three children: Brother Bear, Sister Bear, and Honey Bear.  They live in a treehouse down a sunny dirt road.
All the tales are set in Bear Country, exclusively dominated by these furry creatures, with books ranging from picture books to longer children's novels.  This bear society has an economy based on honey, not money.
With the passing of Stan, Jan carried on their beloved characters with new stories such as THE BERENSTAIN BEARS' DINOSAUR DIG.
A teddy bear is often a child's first 'friend'.
And these fictional teddy bears have come to represent that part of childhood that is as yet unsullied by adult cynicism. No wonder they continue to cast a spell over both children as well as adults!
Teddy bears and the art of giving gifts: Personalised teddies rule the soft toys in gifts
There is something infinitely appealing about teddy bears that makes them most people's favourite stuffed toys. They are cute, adorable and eminently huggable as they gaze benignly at the world with their soulful eyes!
If you thought that teddies belonged to the magic dream world of toddlers and children, think again. Market shelves are groaning under the weight of teddies of assorted shapes and sizes as teddies make great gifts for the special people and special moments in your life. A personalised teddy somehow manages to say it so much better than you ever can!
Do people actually ever outgrow their teddy hang-ups? Perhaps not. Somewhere, deep down in each one of us there is still a wistful child who dreams of fairies and stardust and a teddy who will come to life at the witching hour of midnight!
– Steve Sugden. "I am still intimately involved in the gift industry — though thankfully no longer doing it all myself — and 7 years down the line, probably qualify as bit of an expert! Indeed, I have been interviewed by CNN, the BBC and numerous local radio stations in the run up to Christmas and Valentines Day."  Website: Pressies4Princesses
Keywords: beautiful teddy bears, big bears, cute, how did pooh bear get his name, mw3 teddy bears, stuffed, teddy bears drawings, teddy bears images, teddy bears picnic, teddy bears protecting
DID YOU LIKE THIS POSTING?  IF SO, PLEASE TELL YOUR FRIENDS.
ARE YOU ON TWITTER?  A RETWEET WOULD BE GREATLY APPRECIATED!
THANKS!   Tweet