Good News!  Captured Bears Who Were Tortured and Forced to Dance are Rescued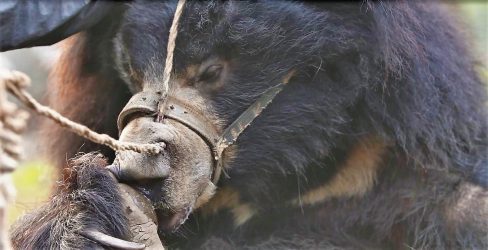 "They are inoffensive, good-natured fellows, who pay not the slightest attention to anybody," Grey Owl once wrote about wild bears.
"Your bear is really a good fellow, and will eat just about anything that you give him, or that you inadvertently leave lying around, just to show you that his heart is in the right place.  He has a humourous outlook on life, and a few minor depredations should not be allowed to detract from his character.  He expects you to be very broad-minded; and why not?"
I love Grey Owl's take on bears.
He told once of a woman he knew who entered her wilderness camp "to find in it what she thought was a large black dog, who was making himself very much at home, and who regarded her entrance with supreme indifference.  Somewhat nettled by this cavalier behaviour, the lady administered a severe drubbing to the intruder first with the flat of her hands and then with the broom, only to discover of a sudden that it was no dog at all, but a middle-sized bear, who behaved with admirable restraint and allowed himself to, so to speak, be swept out of the house…" [From Grey Owl's TALES OF AN EMPTY CABIN chapter "The Bears of Waskesieu."]
I've seen bears in the wild.  They — if you keep your distance — love to play.   Have you ever seen bears rubbing their backs on their favourite scratching trees, with a look of utter satisfaction on their faces?  Smiling — yes, bears smile!  Have you seen cubs chasing dandelion seeds on the wind?  Rolling with delight in blueberry bushes?  I've never seen bears dancing in complete abandon in the wildwood, but I've heard that they do…
I've never seen a bear dance in captivity, either, and never want to.  It's old, that practice.  Worldwide.  Dancing bears are stolen from their mothers and subjected to brutal training techniques to make them submissive enough to perform for tourists.  It's about money, and about cold crass cruelty.
But the times are changing.  Listen!
"A dramatic rescue of two tortured sloth bears took place in Nepal by the Jane Goodall Institute of Nepal, with support from World Animal Protection and Nepali police. The rescued bears were in an extremely distressed state when they were rescued, displaying signs of psychological trauma."
These are the last two known Nepali-owned illegal "dancing bears." Like so many performing animals, Rangila, a 19-year-old male, and Sridevi, a 17-year-old female, were sold to their owner to be used as dancing bears – a cruel, outlawed practice where bears are made to "dance" as entertainment for crowds of people.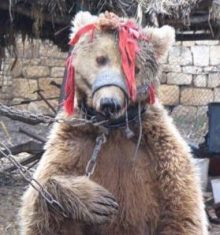 Bears like Rangila and Sridevi are snatched from their mother at an early age and brutally forced into a life of wretched performance for a human audience.
Their owner had pierced each cub's nose with a length of burning hot iron and shoved a rope through it – to retain control of the large animals.
Harsh training methods are then used in order to make them submissive enough to perform for tourists.
With the help of local police, the bears were found in Iharbari, Nepal via mobile phone tracking of the owners. The rescue was emotional for all involved, and the bears were in "an extremely distressed state, showing signs of psychological trauma such as cowering, pacing, and paw sucking."
The two bears were taken for temporary care at the Amlekhgunj Forest and Wildlife Reserve.  Soon they will be in a permanent home and refuge where they will learn about human kindness and love.
World Animal Protection has a 20-year history of working with local partners to bring an end to such cruelty. Having seen an end to bear dancing in Greece, Turkey and India, the NGO is also close to phasing out bear baiting in Pakistan.
Neil D'Cruze of World Animal Protection explained:
"Rangira and Sridevi have suffered for too long in captivity since they were poached from the wild. It's extremely distressing to see animals being stolen from the wild, and the sad reality is there are more wild animals suffering across the world, purely for the entertainment of tourists. I am pleased that for these two sloth bears at least, a happy ending is finally in sight." [1]
Manoj Gautam of Jane Goodall Institute of Nepal reported:
"We are thrilled that the last two known Nepali dancing bears have been rescued from their lifetime of suffering. After a year of tracking them, using our own intelligence and in cooperation with local police, our hard effort and dedication has helped to bring an end to this illegal tradition in Nepal."
The suffering of bears in Asia is still not over, and World Animal Protection continues its campaign to protect bears.
Still more work to do, my friend.
– Brian Alan Burhoe
Do You Agree with this Animal Rescue Post?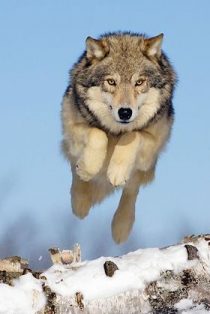 IF SO, YOU MIGHT WANT TO READ WOLFBLOOD — MY MOST POPULAR ANIMAL STORY:
"I JUST READ WOLFBLOOD AGAIN FOR GOOD MEASURE.  ONE FOR ANY WOLF LOVER.  ENJOYED IT BUT WISH IT WAS A FULL LENGTH NOVEL." – Gina Chronowicz @ginachron
"GREAT SHORT STORY!  DOES REMIND ME OF CALL OF THE WILD, WHITE FANG…" – Evelyn @evelyn_m_k
A "delightful, inspiring drama" in the Jack London Tradition of a lone Northern Wolf and it's search for its place in the vast Canadian wildlands.  FREE TO READ ==>  WOLFBLOOD: A Wild Wolf, A Half-Wild Husky & A Wily Old Trapper
[1] Learn more about ending bear dancing at www.worldanimalprotection.ca/our-work/animals-wild/ending-bear-dancing. For more information, including interviews, photos and video footage, contact Carla Pisarro at carlapisarro@worldanimalprotection.us.org.
Title: The Last Known Dancing Bears in Nepal Rescued by Jane Goodall Group!
Source: Civilized Bears, World Animal Protection & PRNewswire
Keywords: animal rescue, bear baiting, bears, black bears, dancing bears, dancing bears rescued, end bear dancing, Jane Goodall, Jane Goodall Institute, Jane Goodall Institute of Nepal, sloth bears, World Animal Protection
DID YOU ENJOY THIS POSTING?  IF SO, PLEASE TELL YOUR FRIENDS.
ARE YOU ON TWITTER?  SURE WOULD WELCOME A TWEET!