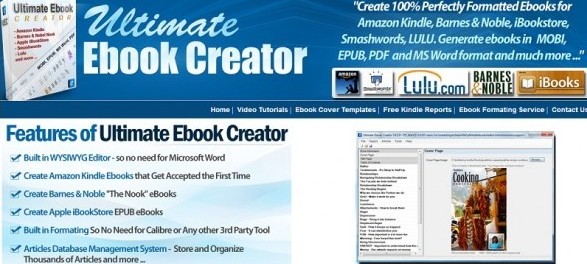 Why eBooks are replacing printed books
Have you ever dreamed of seeing your name on the cover of a real book? How about reading your eBook on a Kindle? Or listening to your own audiobook on an iPod as you run errands or work out
Well, my friend, I never thought it would happen, but it is.
First, newspapers began a sales decline that has seen some of the best ones go under — and others struggle online.
Now the paperback and hardcover book is in trouble as well. Print on demand is making a slow inroad into traditional book formats.  Print as we know it is stumbling down a dark path to its own demise.  And there's nothing we can do about it. Except, embrace it!
So why should writers and authors and smart business professionals be so willing to accept this undeniable fate of the printed word? Well, because there is finally a reliable, affordable and logical solution to the problem we used to have with the potential of losing print altogether.
The Amazon Kindle, an eBook reading device, is now the answer to our screen-reading prayers. And for internet business owners, the Kindle presents an additional revenue stream that was otherwise non-existent. It simply didn't exist and just like the increasing popularity of the PC home computer made the ability to work from home a greater reality for millions of business owners across the globe, the increasing popularity of the handheld, Amazon Kindle is making the ability to read on the go easier and more reliable than ever before.
According to a recent report from the Association of American Publishers (AAP), "Electronic books accounted for 282.3 million dollars of sales in the first quarter of this year (up 28.1% from last year).
"It's the first time that e-book sales account for more than hard copies of traditionally printed books, sales of which accounted for $229.6M, (up 2.7% from last year)."
Although Amazon.ca and Amazon.com reported the same sales trend two years earlier.
Amazon is now selling more eBooks than they are hardcovers. "Excuse me?" said the book-loving librarians and old Luddites (like me) across the world, "nothing will ever replace the actual, tangible, beautiful pages of a bound book."
However, it is true and inevitable that the Kindle and the likes thereof will soon be replacing books as we know them.There are other major electronic publishers, too — Smashwords and Barnes & Noble — although Amazon remains the biggest seller, with the largest customer base.
What does this mean for Internet marketers?
Well, this is great news for those of us in the online business community. We already understand the importance and value of downloadable content. The Amazon Kindle only expands our universe and gives us additional access to our target market. So how do we best benefit from this growing trend and incredibly exciting device?
It's simple. Amazon makes it very easy for eBook authors to quickly become published. All you have to do is login or create an Amazon account if you do not already have one. From there, you will be guided through a step-by-step process of uploading, and publishing your content to be sold as an Amazon Kindle eBook in the Amazon Kindle store.
You may choose to create new eBooks to publish on the Amazon Kindle as a great addition to your product line, or you can repurpose previously created content, including eBooks, reports and articles, to sell in the Amazon Kindle store.
You might have a great work of fiction to give to the world.
At first, my inner Luddite refused to accept the ebook — just as I had dragged my feet in replacing my beat up typewriter with an Acer PC.  But then I was given a Kindle on Father's day…
I quickly became one happy papa bear.
All it takes is a little imagination and a drive to increase your revenue and you will be directly benefitting from the popularity of the Amazon Kindle technology in no time.
For others who may be concerned that they will no longer be able to enjoy the scent, the feel or look of the printed word, do not fear.
The Kindle, while extremely popular and becoming more and more widely acceptable as the new way to read, has a long way to go to replacing entire libraries of books for current generations. However, it is proving to be an extremely lucrative way to create and sell products that may otherwise never have been sold. And that is good for business.
If you can write, you can make money. Sounds too good to be true, doesn't it? Well, it's not. Any writer can publish an eBook and sell his or her own, unique work on Amazon.com and thanks to the Kindle, this is now more lucrative than ever!
Kindle Publishing Cash Code is a truly remarkable guide that shows you in detail how to publish your own digital books on Amazon's Kindle Publishing program. This guide is full of information designed to walk you through all the steps you need to really take advantage of Kindle Publishing for yourself.
Here's exactly what's in this intensive Guide:
Component 1 – Digital Book
This in-depth, step-by-step guide shows you how to create
and publish your e-books through the Kindle Publishing
program. You're then shown precisely how to promote them for
maximum sales so you can dominate the best-seller lists.
Component 2 – Worksheet
The worksheet is a crucial component of the guide that
gives you a deeper understanding of each step of the process
so you don't miss a vital section.
Component 3 – Checklist
This companion checklist for the Kindle Publishing Cash Code system
helps you tick off all the tasks you need to get done. This
helps you make sure you don't miss anything crucial on your
way to success.
Component 4 – Process Map
This colorful flow chart is an exceptionally easy way to keep
yourself on track, and focuses on the next step in building
your business.
Ultimate eBook Creator – eBook Creation Software MOBI, EPUB, Word, PDF – format eBooks and print books for Amazon Kindle self publishing, iBookstore, Android Devices, Smart Phones, Tablets…
 ==>> To Learn All About Writing & Publishing an eBook,  You Can CLICK HERE For ULTIMATE EBOOK CREATOR by INSTANT DOWNLOAD or a CD-ROM
…Includes FREE Lifetime Software Updates!
Keywords: amazon kindle touch, amazon publish ebook, direct kindle publishing, ebook publishing, free ebook, how to publish ebook on amazon, kdp, self publish ebook, publish my ebook on the amazon kindle store