"CIVILIZED BEARS, I LOVE YOUR STORIES!  WHERE CAN I DONATE TO HELP?"
IF YOU'D LIKE TO HELP US WITH OUR ONGOING MISSION OF SAVING WILDLIFE, ANIMAL RESCUE & EXPRESSING IT IN OUR
ART
WRITING
WILDLIFE NEWS POSTS
HANDCRAFTS
…A LITTLE PAY-IT-FORWARD FUNDING WOULD BE GREAT!
WHEN YOU DONATE TO CIVILIZED BEARS, YOU JOIN OUR BELOVED CAUSE OF SAVING WILDLIFE.
AND YOU SUPPORT OUR CREATIVE WORKS.
IT'S EASY.  IT'S SECURE.  AND IT REALLY HELPS.
JUST CLICK HERE NOW…

Why a Donation?
Like you, we love animals.  Our family companions — our cats & dogs.  Our wildlife neighbours.  Sometimes we love 'em more than other humans.
And there's so much to do.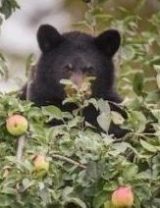 Time's creeping up on these ol' Boomers and we're looking forward to the day when we can work full time on our mission to save our wilderness and all the wildlife that calls it home.
We live in a century-and-a-half-old farmhouse, surrounded by gnarled, aging, fruit-bearing apple trees — so the wildlife comes to us!
Like you, we give when we can (to everything from the Red Cross to the World Wildlife Fund), and spend every available free moment on our "Burhoe Creative Works" — our writing, our folk art and handcrafts dedicated to our CIVILIZED BEARS.
Different folks have asked us, "Love your work!  How can we help?  Where can we donate?"
We looked into Crowdfunding, JustGiving & GoFundMe.  All new to us.  And confusing.
But this seems like the best way to go, eh? *
If you give a little — you help a lot.
PLEASE HELP NOW!
Here's that pesky PayPal button again (Mini-Me version)…
THANKS!
*It's Secure — we won't give out your name and personal info to anyone.
– Mary Lee Burhoe & Brian Alan Burhoe
WANT TO HELP?  EVEN IF YOU COULDN'T DONATE, WE'D SURE LOVE A SHOUT-OUT TO YOUR FRIENDS ON YOUR FAVE SOCIAL MEDIA!
ARE YOU ON TWITTER?  WE'D REALLY APPRECIATE IT IF YOU COULD RETWEET SOME OF YOUR FAVE CIVILIZED BEARS POSTS!
AND TELL EVERYBODY!    Tweet