EDGAR RICE BURROUGHS: A Tribute to Tarzan's Creator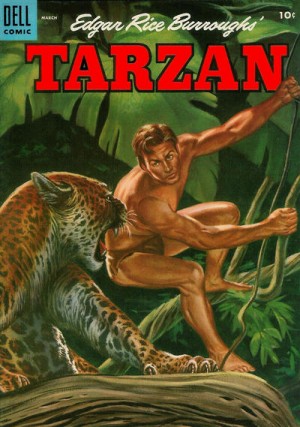 Most of my boyhood heroes were writers.
As I've said before, my first literary hero was Sir Charles G D Roberts. Almost forgotten today, Canadian Roberts was once as popular as Mark Twain and Rudyard Kipling. "Canada's leading man of letters" was published in the same magazines as they were.
More to the point, he created a new literary genre: the Realistic Animal Story — the attempt to write about wild animals as they really lived and felt. Wolves and moose and ravens and bears. Some of Roberts' short stories were reprinted in our Elementary school readers and it was there that I met him. He was telling me stories about the very same New Brunswick evergreen forests that I loved to roam. And I was enthralled. At the time, I wondered why… [1]
I quickly raided the school library where I found some beat up copies of his hardcovers. Books like EARTH'S ENIGMAS and KINDRED OF THE WILD, with wonderful illustrations by Charles Livingston Bull.
And then I found books by other wilderness writers who had followed his trail. Ernest Thompson Seton, Jack London, George Marsh and the masterful Grey Owl. Farley Mowat would arrive later.
But the most renowned writer of Wild Places at that time was Edgar Rice Burroughs.
Tarzan was everywhere. Well, not in the school library — but out there in the Real World.
On the radio — old programs were still being broadcast locally.  Newspaper funnies.  Dell comic books.  Old movies on television. Those wonderful Whitman hardcovers with illustrated pulpwood pages that you could buy (or be given at Christmas) for 69 cents.
The comics were essential. I really learned to read in the newspaper strips (especially the Rupert Bear stories at an early age and then Hal Foster's Prince Valiant) and the Dell Four Colors comic books: Walt Disney's capricious cast of characters, as well as Roy Rogers, Gene Autry, Sergeant Preston of the Yukon, Zane Grey's King of the Royal Mounted, Flash Gordon. And Tarzan. Or, more specifically, "Edgar Rice Burroughs' Tarzan." I saved my money and bought and traded for every issue I could get of Tarzan.
The artwork was supreme. The storytelling always original. Or so it seemed to me.
Getting lost in ERB's mythical Africa with the Lord of the Jungle was a way of finding myself as an imaginative human being.
There's a scene in the full-length book version of TARZAN OF THE APES that shook me to the bone when I first read it.  To me, it's one of the great mythic passages in fantastic literature, the heart of the story:  After the elder Lord Greystoke, John Clayton, has buried the body of his beloved wife Alice in the dark African soil, he sits shaken by grief in the little handcrafted cabin — alone except for his newborn son John, in a cradle.  And then…
"Noiselessly Kerchak entered, crouching for the charge; and then John Clayton rose with a sudden start and faced them.
"The sight that met his eyes must have frozen him with horror, for there, within the door, stood three great bull apes, while behind them crowded many more; how many he never knew, for his revolvers were hanging on the far wall beside his rifle, and Kerchak was charging.
"When the king ape released the limp form which had been John Clayton, Lord Greystoke, he turned his attention toward the little cradle; but Kala (Kerchak's mate, who had until that moment been refusing to accept that the baby ape she carried everywhere in her arms was really dead) was there before him, and when he would have grasped the child she snatched it herself, and before he could intercept her she had bolted through the door and taken refuge in a high tree.
"As she took up the little live baby of Alice Clayton she dropped the dead body of her own into the empty cradle; for the wail of the living had answered the call of universal motherhood within her wild breast which the dead could not still.
"High up among the branches of a mighty tree she hugged the shrieking infant to her bosom, and soon the instinct that was as dominant in this fierce female as it had been in the breast of his tender and beautiful mother — the instinct of mother love — reached out to the tiny man-child's half-formed understanding, and he became quiet…"
And so Kala raised the little man-child, who she named Tar-zan (which in the language of the Great Grey Apes meant White-skin) as her own.
But Tarzan of the Apes wasn't Burroughs' only creation.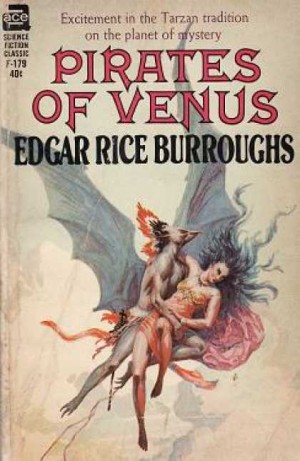 When the Sixties "Burroughs Boom" hit, I was at the Front Line. At the paperback rack in the Kwik Pick, looking for the latest Ace Double Westerns. But there was an exotic cover image of a beautiful wild-haired woman being carried through a clouded sky by a Bird Man with immense grey wings.
I seized the book. PIRATES OF VENUS, it was called. With EDGAR RICE BURROUGHS in big black letters. I didn't need to read the blurb "Excitement in the Tarzan tradition on the planet of mystery" to know who HE was — for years I'd been reading those comic covers "Edgar Rice Burroughs' Tarzan." Smart marketing. Very smart. I knew who he was. He was one of my lifetime heroes.
The cover artist was Roy Krenkel and he remains my favourite fantasy artist. [2]
When I picked up PIRATES, I was already aware of the Science Fantasy genre. I had previously bought Otis Adelbert Kline's OUTLAWS OF MARS, with its own beautiful otherworld cover by Emsh. And then found a used copy of SWORDSMAN OF MARS.
But Burroughs was the best at the genre. Why not? He had invented it way back in 1911 with the All-Story Magazine appearance of his UNDER THE MOONS OF MARS. [3]
Soon, of course, an entire new generation was introduced to ERB's wildly imaginative worldscapes of romance and adventure. Us Boomers.
Most summer days during my teen years, now living in Suburbia, I worked as a caddie at the local golf club. Up every morning at dawn to bicycle to the Pro Shop and put my name on that day's caddie list. Hoping that I got an American golfer — they gave the biggest tips.  Through his character Carson Napier, Edgar Rice Burroughs had this to say about the game that was providing my summer wages: "Golf is a mental disorder."
I saved my caddie money. And every month I got the latest Ace Books catalogue, sending off my orders in the mail for all of the newly released paperback journeys to Amptor, Barsoom, Pellucidar, Caspak… [4]
Ballantine Books were soon publishing the complete Tarzan and Martian series.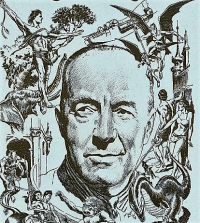 Why such fond memories of ERB's yarns? They were fun to read, of course. That English Victorian morality of honour and loyalty and duty always felt right to me. Still does. ERB had a fantastic imagination and was at his best in makebelieve locales.
And then there's the Romance.  I've read that we boys hated romance in our adventure stories.  Not so!  Every Western ended with our hero — lone marshal who has just shot down the outlaws set on destroying his town or young independent rancher who has defeated the rustlers hired by the crooked banker set on owning every spread in the valley — every hero gathering his true love in his arms for a kiss and promise of marriage.  Guys love tales of eternal love, too.  Back then we expected it.
So Tarzan had his Jane.  Edgar's Uncle Jack had his Dejah Thoris, Princess of Mars.  And Waldo Emerson Smith-Jones, scion of the aristocratic house of the John Alden Smith-Joneses of Boston, who had been reared among surroundings of genteel culture plus ultra-intellectuality in the exclusive Back Bay home of his ancestors, had his Cave Girl.
And here's something else — most of my favourite rereads today are his humourous stories (well, there's a couple exceptions).
They still make me laugh.  TARZAN AND THE ANT MEN. The Venus saga. In fact, ESCAPE ON VENUS almost has the same structure as GULLIVER'S TRAVELS (although that was as much because at that time the magazine publishers were forcing him to think in terms of writing novelettes, which were collected in book form). [5]
Okay, ERB's humour was heavy-handed. His satire over the top.
The problem is this: fast paced pulp adventure can be written at one sitting, with little editing. That's what gave Edgar's writing such raw energy. But humour requires editing. And rewriting. Even so…
…at a time when Hitler still had support in America, ERB's scene of an Amptorian city's sidewalks lined with fanatical Zani Party followers all trying to stand on their heads in a ludicrous heil-fuhrer salute to their Strongman Leader — well, it made a kind of Marx Brothers statement. That scene still breaks me up. I often wonder if there was more to that scene and it was cut by dunderheaded editors.
Beautiful Martian women who lay eggs. Brokol children who grow on trees. "Is dat Johnny Weissmuller?"
Dude had a great sense of humour.
And, as I've said, there are exceptions.  My fave novel of his is TARZAN THE UNTAMED, his darkest and most violent story.  When Lord Greystoke learns that the Great War has started, he rushes home to discover his estates burned to the ground by German soldiers, charred bodies among the ruins.  Believing Jane to have been murdered, Tarzan sets out on a path of bloody revenge, and some of Burroughs' most memorable scenes. [6]
Action, love, loyalty — all in worlds where Nature is still alive, eternally Green (and sometimes red) — and his best work a kind of Groucho reality or H Rider Haggard adventuring… Fondest love and remembrance to you, Edgar!
==>> To Read One Of Charles G D Roberts' Most Popular Realistic Animal Stories, Go To "The Bear That Thought He Was A Dog" A Complete Short Story by Sir Charles G D Roberts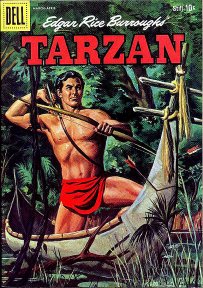 NOTE ON TARZAN COVER ART: The cover artist of Edgar Rice Burroughs' Tarzan #66, March 1955, at top of page is George Wilson.  Inspired by Alex Raymond and Mo Gollub, Wilson painted numerous covers for Classics Illustrated, Dell and Gold Key comics, with titles such as Tarzan, Korak Son of Tarzan, Turok Son of Stone, Mighty Sampson and the original Star Trek — as well as hundreds of paperback covers.
Line drawing of Burroughs and his creations by Al Williamson and Reed Crandall from Richard A Lupoff's EDGAR RICE BURROUGHS: MASTER OF ADVENTURE.
[1] At the time, I wondered why Sir Charles G D Roberts' marvelous adult tales were hidden among the child-level Dick and Jane drivel of school readers. Later, I discovered that Animal Fiction is automatically put on the Child Lit shelves.  And reprinted in school readers.  Jack London's red blooded, tragic stories, for instance. Years later, when I asked a bookstore clerk if they had any books by Charles G D Roberts in stock, explaining that he wrote animal stories, she said, "Oh, like Beatrix Potter?"  I'm not complaining — in the case of Roberts, grownup ignorance allowed his wonderful wildlife literature to reach real boys and girls when we most needed it.
[2] Krenkel's cover for PIRATES inspired my first published short story, "Ornithanthropus" – IF Magazine, Dec, 1971.
[3] And hopefully Disney Inc hasn't buried the Science Fantasy genre with their ill-conceived remake of that story, retitled "John Carter" — there's still news floating around about a PIRATES OF VENUS movie, to be renamed "Carson Napier."
Here's my own two cents worth on what happened with JOHN CARTER.  The original Mars Trilogy was a wildly adventurous journey across one of the most creatively imagined worldscapes ever written.  But in the hundred years since ERB first introduced his swashbuckling Uncle Jack, so many writers have done their own versions (from Otis Adelbert Kline and Alex Raymond to George Lucas and James Cameron) that a modern movie version of the Trilogy will somehow look old and familiar.
Perhaps if some of ERB's own later works — in which Burroughs himself tried to go beyond the genre story lines he had created years earlier — were filmed.  SWORDS OF MARS.  TARZAN AND THE ANT MEN.  And, yes, PIRATES OF VENUS.
[4] Other fave Ace Books writers included Andre Norton, Leigh Brackett, H Beam Piper, Clifford D Simak, Tom West, Gordon D Shirreffs, Giles A Lutz
[5] In a letter to his daughter Joan, Edgar described his final Amptor novelette, THE WIZARD OF VENUS, as "another goofy Venus story," going on to say that the villain was "something of a hypnotist, and he has every one in his valley buffaloed into believing that he has turned all of their friends and relatives into zandars (Amtorian pigs).  One family keeps their daughter in a pen back of the castle…"
[6] It looks like the only thing that director David Yates' 2016 movie version of TARZAN THE UNTAMED has in common with Burroughs' original novel is the title.  Too bad.  Edgar Rice Burroughs was often accused of glorifying violence.  His UNTAMED presented the realities of modern warfare with brutal honesty and historical accuracy.  The first half of his novel reflected what actually happened in colonial Africa during World War I.  The second half showed Tarzan's descent into madness caused by grief and rage.  And then there's that wonderful ending of hope…
UPDATE: Since writing the above, Warner Brothers has announced a title change of Yates' film to THE LEGEND OF TARZAN.  The film stars Alexander Skarsgård as Tarzan, with Samuel L Jackson and Margot Robbie.  Lord and Lady Greystoke are invited to leave their  English estates to serve as British trade emissaries in the Congo of present day Africa.  But treachery is afoot.   As Skarsgård explains, "This is about a man who's holding back and slowly as you peel off the layers, he reverts back to a more animalistic state and lets that side of his personality out."
Nothing wrong with a Tarzan tale in the 21st Century: both Tarzan and Jane had taken life-extending potions long ago in the lost city of Opar.  All of Burroughs' major characters live looooong lives.
Keywords: Andre Norton, David Yates Tarzan, ERB, George Wilson cover artist, Leigh Brackett, Lin Carter, Hal Foster, H Rider Haggard, Legend of Tarzan, space opera, sword and planet, Tarzan 2016
NOTE: If you liked this Tribute to Edgar Rice Burroughs — PLEASE TELL YOUR FRIENDS!
HAVE TWITTER? A TWEET WOULD BE APPRECIATED!