My Fave Atlantic Seafood Recipes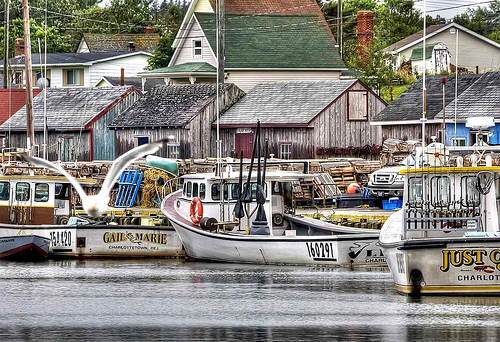 I've been asked, "What do you love to cook at home, Brian?"
Well, I'm a Maritime Canadian.  The Atlantic Ocean is just over there.  I loved cooking seafood in restaurants for years, and still throw together some of the traditional dishes at home.  Here's a few of my fave seafood recipes…
I graduated Prince Edward Island's famous Holland College Culinary Course over three decades ago, training under Chef Leo Leclair, a true gentleman.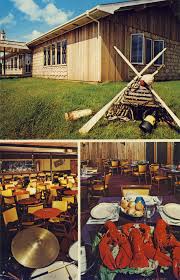 And finished my apprenticeship under Chef Ernie in PEI's North Rustico seafood restaurant IDLE OARS (left) [1], before moving on to Nova Scotia – all the while cooking and tasting the great Atlantic Coast recipes.
To experience seafood at its best, you can get it directly off the fishing boats.
What's better than a fresh-caught, just-cooked red lobster on the plate?  It's all in getting the perfect crustacean.   Hint: Like the Old Fisherman we get our live lobsters from says, "The blacker the shell, the harder the shell.  The harder the shell, the more solid the meat." [2]
But with today's high tech refrigeration, you can also get fresh and freshly frozen fish and shellfish in your local markets that really make for easily-made, delicious meals.
If you want, you can go Novelle Cuisine. Prepare entrees like Tortellini with Smoked Atlantic Salmon, Lobster in Puff Pastry or Mushroom Caps Stuffed with Periwinkles. Great stuff!
If your family loves Seafood, go for the above. But if your family isn't used to the more inventive recipes, I've gathered some of my most popular recipes, both for restaurant and home cooking.
>>> So if you want to prepare a delicious meal to impress family, friends or even a hot date, here are a few of my favourite easily prepared Atlantic Seafood Recipes…
—Charlottetown Lobster Chowder—
4 medium sized potatoes, diced
1 large onion, chopped (Vidalia or yellow onion)
2 C water
4 tbsp real butter
4 C Lobster meat, cut up
2 tsp salt
1/2 tsp black pepper
4 C whole milk
2 C whipping cream
3/4 C butter
Cook potato and onion in water until almost tender.
Melt the 4 tbsp of butter in frying pan at low temperature and add Lobster, cooking until red.
Add fried Lobster meat to the potato-onion mix.
Season with salt and pepper.
Add the milk, cream and 3/4 cup of butter.
Heat just until it starts to boil, then turn back temperature to a simmer.
—Atlantic Scallops au Gratin—
2 tbsp cooking oil
2 tbsp cornstarch
1/4 tsp black pepper
1/2 tsp Worcestershire Sauce
1/2 tsp salt
1/2 tsp dry mustard
1 1/2 C whole milk
1 lb fresh Atlantic scallops
Chopped pimiento (for color)
Dry cracker crumbs
Grated cheddar cheese
Blend together the oil, cornstarch, pepper, Worcestershire Sauce, salt and dry mustard.
Add the milk and cook until it thickens.
Throw in the scallops and pimiento.
Grease a casserole (8 C size).
Add the cracker crumbs (regular unsalted crackers will do, but I like to crush some Ritz Crackers) around the edge.
Sprinkle the grated cheese in the center.
Bake at 350 degrees for approximately 1/2 hour – – or until scallops are done.
Makes 6 servings.
—Baked Stuffed Haddock with Mushroom Sauce—
2 lbs haddock fillets
>> Stuffing:
2 C cracker crumbs
1 tsp Sage or Summer Savory
1 tsp salt
1 tsp black pepper
1 tsp onion juice
2 tbsp melted butter
1/2 C milk
Pat haddock fillets with paper towel.
Mix all dressing ingredients together.
Put half the fillets on greased pan, spread stuffing on top and put other fillets over the stuffing.
>> Mushroom Sauce
3 tbsp butter, melted
3 tbsp flour, sifted and blended into butter
2 C milk
1 tsp sea salt
1 10 oz can Cream of Mushroom soup
Cook until thick in double boiler, stirring constantly with a fine whisk to keep sauce smooth. Add mushroom soup last.
Pour sauce over the fish.
Bake the fish in this sauce in a 400 degree oven. Test for doneness before removing from oven.
Makes 6 servings.
And – Here's a personal favorite that's gaining popularity in the restaurants:
—Macaroni Grill Baked Creamy Seafood—
4 tbsp butter
1 C bay scallops, rinsed and drained (8 oz)
3 tbsp sifted flour
2 cups half and half
1-1/2 cups asiago
2 cups medium, peeled, deveined cooked shrimp
1 6 oz. can clams, well drained
1 to 2 tbsp grated Parmesan cheese
oil, for frying
1/2 12 oz. package won ton.
In a large skillet, melt 1 tablespoon butter. Add scallops and stir fry over high heat until just cooked through; set aside in bowl. In same skillet, melt remaining 3 tablespoons butter over medium heat. Whisk in flour until smooth and bubbly. Cook and stir 1 min.
Whisk in half-and-half and continue whisking until mixture comes to a boil. Boil 1 min, whisking, until bubbly.
Turn off the heat. Add Asiago cheese, stirring until melted. Stir in the scallops, shrimp, and clams. Spoon into a 9″ glass pie plate. Sprinkle with the Parmesan. Bake in a preheated 350 deg. oven for about 15 min., until the top is golden brown. Meanwhile, heat plenty of oil in a deep fryer to 375 deg.
Fry 3-4 won ton skins at a time, a few seconds on each side, until just golden.
Drain on paper towels. Use won tons as chips for dipping into baked seafood appetizer.
Please Note: If you don't feel inclined to fry the wanton skins to make chips, the seafood appetizer is also delicious with tortilla or pita chips or crackers.
Dig In and Enjoy!
[1] The Idle Oars Restaurant was a great place to learn the cooking trade.  It was owned by Vincent Blacquiere and his family.  North Rustico was a fishing village, and we drew on local suppliers to provide truly local cuisine.  The Hook, Line & Sinker Lounge downstairs presented many class acts, including the Halifax-based rock group, Triangle — the amazing Platters — and Ryan's Fancy.  Dennis Ryan and the boys filled the place every night.  Nice guys.
Leo Leclair was an injured combat veteran of WWII.  After the War, he returned to PEI and founded the Fisherman's Wharf Restaurant.  Leo played an important part in popularizing different seafood dishes, including lobster.  His "secret ingredient" in many recipes was canned turtle soup.  He helped create the modern Holland College Culinary Arts program in Charlottetown.  I'm not the only student who liked Leo.  I think we all did.  He was a gentle and knowledgeable chef.
[2] More Hints for cooking live lobster: I once saw a renowned Toronto chef drop 'em in with the rubber bands still on.  Even this ol' cook knows that the rubber can affect the taste.  Take off the bands.  And he dropped them into a half full pot of boiling water.  Way too much water, dude!  You just need a few inches of boiling salted water.  Put them in head-first (more humane) and let 'em steam (more flavour).
When getting fresh lobster right from fishermen (or women), ask them, "Do you use fresh bait or salt bait?"  Mary Lee insists on fresh bait when possible: "Salt bait gives the meat a stronger, slightly fishy smell and taste."  And she's right.
My Fave Atlantic Seafood Recipes: Lobster chowder – Atlantic Scallops au Gratin – Baked Stuffed Haddock