Every Animal Matters!  No More Fur Coats!  New Fur Trade "Best & Worst" Report from Born Free USA…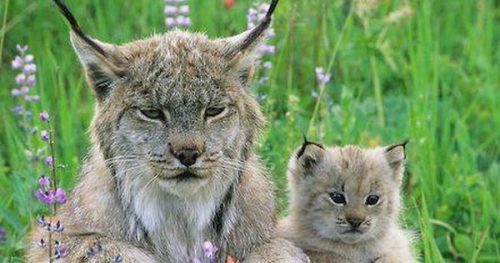 As much as I've prowled the forevergreen forest, I've only seen a wild Lynx up close once. We surprised each other.  And for a long moment we watched each other.  That animal, with its black-tufted ears and deep golden eyes was the most beautiful cat I've ever seen.  And then it was gone…
It's been five years since I first put my most controversial post online.  It said this:
"We have beavers — and their dams — at the lower corner of our property.  And love to watch them swimming and playing.  If you've ever heard a beaver kit calling out with its comical, human babylike cry, you couldn't help but respond with a warm laugh."
Innocent enough, eh?
After all, the Beaver has always been our National Animal.  But then I said this:
"You must remember that Canadians didn't pick the beaver as our national symbol in the first place.  The Hudson's Bay Company did.  The London-based HBC made its fortune on the furs and skins harvested in colonial Canada, including the rich beaver pelts that were shipped to England to be made into those fashionable beaver felt hats for the well-heeled gentlemen of the age.
"Beavers weren't cute, industrious and ecologically essential creatures to the company managers and shareholders of the day; they were raw material.  As an image, the Beaver was really a symbol of foreign corporate greed…"
And the bird poop caught a gust of gale-force wind blowing my way.  Especially when I went on to explain why our Canadian National Animal should now be the Polar Bear! [1]
I've nothing against traditional hunting, fishing and trapping for food and existence.  My father, born on a Nova Scotia farm, did it.  And he did it expertly and humanely.  He taught me how.  I CAN do it — I choose not to.
No, it's the bloody Commercial Fur Trade that has outlived its time and should be hung out to dry.
In Canada, wild animals that are still commercially trapped for their skins include the badger, bear (yes, even grumpy, comical bears), bobcat, cougar, coyote, fisher, fox, hare, marten, mink, muskrat, otter, rabbit, raccoon, skunk, squirrel, weasel, wolves and the wolverine.  Yes, and the beaver, still.  And the beautiful lynx.
South of the border, the list is just as extensive.  But our American friends are doing something about it, bless 'em…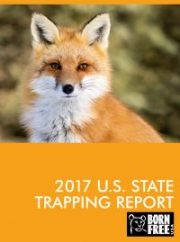 BORN FREE USA, a global leader in animal welfare and wildlife conservation, has released its 2017 Trapping Report, which gives a "letter grade to each of the 50 U.S. states based on the existence and effectiveness of the state's animal trapping regulations on animal welfare, wildlife conservation and public safety." [2]
Prashant K. Khetan, CEO and general counsel for Born Free USA, explained in a news release, "Indiscriminate body-crushing traps are used to capture or kill furbearing animals who are deemed a 'nuisance' or who are valued only for the fur on their backs.
"In many instances, animals are caught in these brutal traps, but remain trapped for days, slowly dying while subject to the elements, other animals, physical pain and emotional torture. And both targeted and non-targeted animals—including household pets and endangered species—fall victim to these traps.
"While our report card applauds the states that are leading the way to end trapping, we must also ask ourselves, 'what kind of a society allows this senseless butchering of our beloved wildlife to continue year after year?' It must end. And end now."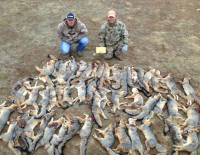 The report card is compiled by "reviewing the laws of each individual state on a variety of different trapping-related topics and then, using a weighted point system, assigning individual letter grades and a final weighted grade to each state.
"Grades also include positive marks for prohibiting the trapping of bobcats and otters, two species native to most states but vulnerable to overexploitation."
According to Born Free USA's analysis, only four states received an "A" grade or better:
California
Colorado
Hawaii
Washington
Conversely, 14 states received an "F" grade:
Alaska
Arkansas
Idaho
Iowa
Louisiana
Missouri
Montana
Nevada
North Carolina
North Dakota
South Dakota
Texas
Virginia
Wyoming
"As the report clearly shows, most states don't have good laws on trapping," Khetan noted. "We're working to shed light on the issue and help the states who are most interested in turning around their legislation."
For those who are interested in standing up against trapping, Khetan recommends that they:
Learn more about the anti-trapping and anti-fur movement here
Write their government representatives to encourage them to enact and enforce better laws, including to prevent trapping on public lands
Support fur free products/retailers
Fur Free!  It's important, mon ami.  The time of the fur coat as a fashion statement has gone.  Every animal matters.
– Brian Alan Burhoe
Do You Agree With This Wildlife Post?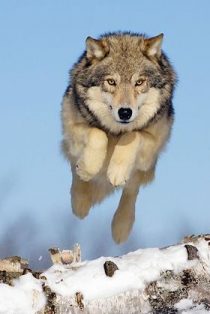 IF SO, YOU MIGHT WANT TO READ WOLFBLOOD — MY MOST POPULAR ANIMAL STORY:
"I JUST READ WOLFBLOOD AGAIN FOR GOOD MEASURE.  ONE FOR ANY WOLF LOVER.  ENJOYED IT BUT WISH IT WAS A FULL LENGTH NOVEL." – Gina Chronowicz @ginachron
"GREAT SHORT STORY!  DOES REMIND ME OF CALL OF THE WILD, WHITE FANG…" – Evelyn @evelyn_m_k
A "powerful, gripping tour de force" in the Jack London Tradition of a lone Gray Wolf and it's search for its place in the vast Canadian forests.  FREE TO READ ==>  WOLFBLOOD: A Wild Wolf, A Half-Wild Husky & A Wily Old Trapper
[1] SEE "What is Canada's National Animal? The Polar Bear! A Patriot's Rant…" at www.CivilizedBears.com/Canadas-national-animal-polar-bear/
[2] About Born Free USA: Born Free believes that every animal matters. Inspired by the Academy Award-winning film, Born Free, we work locally, nationally and internationally on the conservation frontlines, in communities, classrooms, courtrooms and the halls of Congress, to end wild animal cruelty and suffering, and protect threatened wildlife. Born Free USA also operates one of the country's largest wildlife sanctuaries, which provides a permanent home for 600 primates. Many are retired from research facilities, some rescued from inhumane conditions at circuses, zoos and private ownership. They have often endured a lifetime of abuse, neglect and cruelty. But at our sanctuary in Dilley, Texas, they are safe and live free.
Launched in 2002, Born Free USA is inspired by Virginia McKenna and her (late) husband Bill Travers, who, along with their son, Will, founded The Born Free Foundation (UK) in 1984. Their experience in Kenya filming the classic 1966 Academy Award-winning film Born Free, the story of Joy and George Adamson's fight to successfully return Elsa the lioness to a wild and free life, launched the couple's Compassionate Conservation movement, aimed at keeping wildlife in the wild. This movement continues to motivate millions of followers and activists across the globe. In 2007, Born Free USA merged with the Animal Protection Institute.
To view the 2017 Trapping Report Card, as well as the full report, visit http://www.bornfreeusa.org/trappingreportcard.
For a Canadian perspective, go to Barry Kent MacKay's excellent Canadian Blog at www.bornfreeusa.org/weblog_canada.php
More at www.bornfreeusa.org, www.twitter.com/bornfreeusa, and www.facebook.com/bornfreeusa.
Fur Trade Animal Trapping Report Exposes Best and Worst States
Source: Civilized Bears, Born Free USA & PRNewswire
DO YOU AGREE WITH THIS POSTING?  IF SO, PLEASE SHARE IT WITH YOUR FRIENDS.
ARE YOU ON TWITTER?  SURE WOULD APPRECIATE A TWEET!