"The Last Three Northern White Rhinos to Occupy New York City"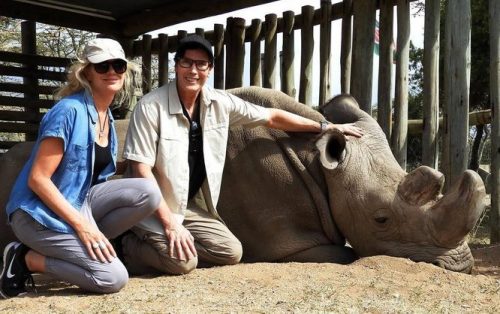 Wildlife Artists Gillie and Mark with Sudan,
the last male Northern White Rhyno, 2017
Watching Sudan, Najin and Fatu, the last three living Northern White Rhinos in the world, walk around, eat, play, has got to be one of the most touching and heartrending sights ever. After all, when they die so do all Northern White Rhinos!
Think of it!  In a few thousand years, Humankind has spread out over an entire planet, slaughtered and gobbled up just about every big animal it's stumbled upon, and now Homo Domesticus is systematically cleaning up as many smaller creatures as we can get our grasping primate hands on — with the help of our many, many machines.
But, maybe…  Maybe if we shed a tear for those last rhinos — maybe we'll somehow find the heart and power to save so many more threatened species.
Australian artists and conservationists, Gillie and Marc, will launch Goodbye Rhinos at Astor Place in New York City with the installation of their "The Last Three" sculpture in January 2018.
The campaign is a valiant effort to raise awareness of, not only those soon-to-be extinct Northern White Rhinos, Sudan, Najin and Fatu, but of all endangered species. [1]
Gillie and Marc will be in New York City in January 2018 for the installation and unveiling of "The Last Three," which will be streamed in a live broadcast by Nat Geo Wild. Visitors are welcome to view the sculpture at Astor Place from January 5, 2018 to April 15, 2018. After April 15, the experience will travel to The Rockefeller Center.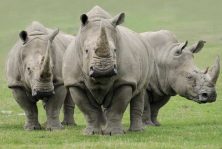 The statue's creators have "traveled to Kenya, Africa to visit Sudan, Najin and Fatu where they live, heavily guarded in their own sanctuary."
They spent time photographing, sketching and filming the docile rhinos from up close to better understand and get to know them. The sculpture will be the largest rhino sculpture to have been created, standing 16 feet tall and will be made from bronze.
The installation will feature three life-size, bronze Northern White Rhino sculptures mounted on top of one another.
By creating a space where visitors can see, touch and interact with the rhinos, Gillie and Marc hope to inspire visitors.
They also encourage visitors to leave their goodbye messages to the rhinos on the Goodbye Rhinos website, which will double as a petition to the United Nations to put an end to rhino poaching. The conservationists' goal is to generate one million signatures on their petition. [2]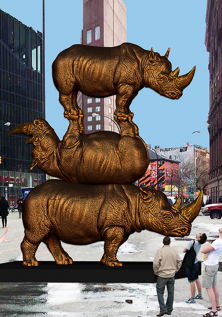 The creation of the sculpture was funded through Gillie and Marc's Goodbye Rhinos' Kickstarter campaign, headlined "Goodbye Rhinos: Goodbye Planet Earth!"
"Help us make the BIGGEST RHINO SCULPTURE IN THE WORLD," said Gillie and Marc on their Kickstarter page. "To build a legacy for the last three Northern White Rhinos and save Planet Earth."
They went on to explain, "A rhino horn is worth more than its weight in gold or diamonds, and to some people money is worth more than a life. Because of this, only three Northern White Rhinos remain and within a few years this beautiful species will be lost forever!"
Gillie and Marc "travelled to Kenya in March 2017 to the Ol Pejeta Conservancy — the second largest conservancy in Kenya with around 90,000 acres — to share time with the last three surviving Northern White Rhinos in the world."
These 3 surviving Northern White Rhinoceroses are "guarded 24 hours a day to protect them from poaching, which is a major problem for rhinoceroses. The protection includes horn-imbedded transmitters, watchtowers, fences, drones, guard dogs, and trained armed guards around the clock."
Gillie and Marc were told that Sudan only has 2 years to live, "so this project has to happen now if he is to live out the rest of his life in peace."
So there's time yet, mon ami, time when we can still say, "Hello Rhinos!"
– Brian Alan Burhoe
Do You Agree With This Wildlife Post?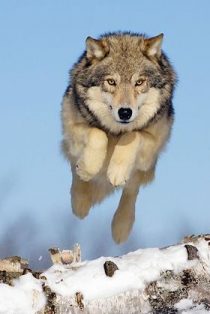 IF SO, YOU MIGHT WANT TO READ WOLFBLOOD — MY MOST POPULAR ANIMAL STORY:
"I JUST READ WOLFBLOOD AGAIN FOR GOOD MEASURE.  ONE FOR ANY WOLF LOVER.  ENJOYED IT BUT WISH IT WAS A FULL LENGTH NOVEL." – Gina Chronowicz @ginachron
"GREAT SHORT STORY!  DOES REMIND ME OF CALL OF THE WILD, WHITE FANG…" – Evelyn @evelyn_m_k
An "exhilarating tale of canine loyalty and love" in the Jack London Tradition of a lone Timber Wolf and it's quest for its place in the great Northern forests.  FREE TO READ ==>  WOLFBLOOD: A Wild Wolf, A Half-Wild Husky & A Wily Old Trapper
[1] "Rabbitgirl and Dogman have a dream." Playful and Loving — Be sure to visit Gillie and Marc on their wonderful website https://gillieandmarc.com
[2] "Leave their goodbye messages to the rhinos on the Goodbye Rhinos website…" https://www.goodbyerhinos.org
Goodbye Rhinos – Last Three Northern White Rhinos Statue
Source: Civilized Bears, Gillie and Marc & PRNewswire
DO YOU AGREE WITH THIS POSTING?  IF SO, PLEASE SHARE IT WITH YOUR FRIENDS.
ARE YOU ON TWITTER?  SURE WOULD APPRECIATE A TWEET!