The Great Pulp Fiction Mounties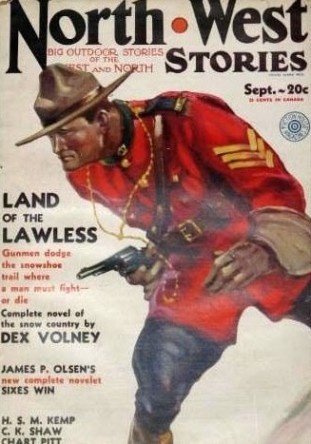 "We want men, and we want men like you. You could enlist as a constable and there is always opportunity to advance."
"It's a great service!" exclaimed Cameron. "I'd like to join."
"Very well," said the Commissioner promptly, "we will take you.  Inspector Dickson, Mr. Cameron wishes to join the Force. Will you administer the oath?"
"Cameron, stand up!" commanded the Inspector.
With a little thrill at his heart Cameron stood up, took the Bible in his hand and repeated after the Inspector the words of the oath:
"I, Allan Cameron, solemnly swear that I will faithfully, diligently, and impartially execute and perform the duties required of me as a member of the North-West Mounted Police Force, and will well and truly obey and perform all lawful orders and instructions which I shall receive as such, without fear, favour, or affection of or toward any person. So help me, God."
"Now then, Cameron, I congratulate you upon your new profession.  The Inspector will see about your outfit and later you will receive instructions as to your duties. Meantime, take him along with you, Inspector, and get those horses."
Men were sorely needed at the Macleod post and the Commissioner had an eye that took in not only the lines of a man's figure but the qualities of his soul.
"That chap will make good, or I am greatly mistaken," he said as Cameron went off to select his uniform…
…And so Scotsman Allan Cameron donned his Red Serge uniform, becoming the First of the Great Pulp Fiction Mounties.
When Canadian Ralph Connor published CORPORAL CAMERON OF THE NORTH-WEST MOUNTED POLICE: A Tale of the MacLeod Trail in 1912 [1], he had already become one of the Four Founding Fathers of the Northwestern genre (also called Northerns), along with Jack London, Robert W Service and James Oliver Curwood.
Most Canadians today don't even know how popular the Northwestern once was.
So listen up, mon ami!
From the appearance of Jack London's THE SON OF THE WOLF: Tales of the Far North in 1900 and his THE CALL OF THE WILD in 1903, which gave much of the world its first exciting views of the Klondike Gold Rush and wild wolfdogs and desperate prospectors and lone Mounties — to 1958, when Sergeant William Preston, the Last of the Great Pulp Fiction Mountie heroes, mushed his sled dogs off into the Yukon wilderness one last time ("On, King!  On, you huskies!") — the Northwestern was beloved worldwide in hardcover books, pulp fiction magazines, film, radio, Sunday comics, comic books and television.
It was well-known in the publishing industry that a "Mountie Cover" would boost the sales of adventure and romance pulp magazines, especially in the U.S.  Titles from the family-targeted Adventure and Argosy Magazine to the wildly successful Western Story Magazine and Far West Stories featured brave members of the Canadian Mounted on their covers (and contents). 
One of the most popular pulpwood magazines was North-West Stories, which was one of the longest lasting Pulps of them all, in continuous print for almost three decades. [2]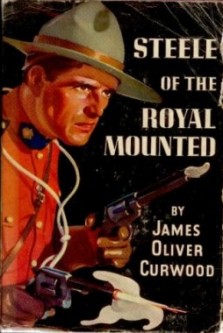 Going into the Nineteen Twenties, American author James Oliver Curwood dominated the best seller lists with titles like KAZAN THE WOLF DOG, NOMADS OF THE NORTH, STEELE OF THE ROYAL MOUNTED, THE RIVER'S END, THE VALLEY OF SILENT MEN, GOD'S COUNTRY AND THE WOMAN, A GENTLEMAN OF COURAGE and THE COUNTRY BEYOND.  He outsold authors of the time like Zane Grey, Sinclair Lewis, Booth Tarkington, Rafael Sabatini, Edith Warton, Daphnie du Maurier and Willa Cather.
Dozens of the over three hundred Hollywood movies featuring Canadian Mounties were based on Curwood's revered novels and short stories, as well as the Canadian-made international box office smash Back To God's Country, starring Canadian actress Nell Shipman.
The first movie my parents took me to when we returned to Canada from Yorkshire was the glorious Technicolor SASKATCHEWAN, starring Alan Ladd [3] as North-West Mounted Police Sub-Inspector Thomas O'Rourke.  Later on, I would learn that the film was essentially a B-Western story set in the Canadian Rockies, with little reference to real Canadian history, or geography, or even our mythology.  But at the time, I didn't know that.  Loved the movie!  
As Pierre Berton wrote in HOLLYWOOD'S CANADA, "Were we actually glued to our seats when redcoated riders dashed past on the screen?  Did our eyes mist up when the White Spirit called and the flawed hero hit the Lone Trail and the Beeg Trapper got Akim Tamiroff by the throat?  You bet we did.  We ALL did." [4]
Once we got a TV, I got to see a lot of the old Northwestern movies.  Cecil B DeMille's North West Mounted Police — starring Preston Foster as Sgt Brett, as well as Gary Cooper and Paulette Goddard — was shown often.  And Errol Flynn's Northern Pursuit.  And The Canadians, starring Robert Ryan.  Pony Soldier, with Tyrone Power.  Mrs Mike, starring Evelyn Keyes and Dick Powell.  And, of course, Rose Marie…
My fave was The Wild North, with Wendell Corey as the real-life Constable Pedley and Stewart Granger as Jules Vincent, the madman (in the movie Granger's character was a trapper charged with murder) he must escort back to Fort Saskatchewan.  Constable Pedley's three week trek through the winter storm-ravaged wilderness was a true classic Canadian story.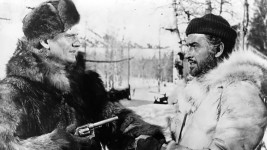 I learned later that the plot twist where Granger's character relents and brings the exhausted, near-insane Mountie back to civilization didn't really happen.  Albert Pedley actually got his man back safely, although it took him six months to recover from the ordeal.  There was a reason the Mounties called those epic thousand mile dogsled patrols "Lunatic Patrols" — a regular item they packed on the sleds was a strait jacket.
But the plot change allowed Hollywood to play around with Canadian iconic storylines.  Besides a midwinter scene where a savage wolf pack attacks the men and their dog team, they got to add a wild springtime canoe trip through surging whitewater rapids. [5]
And the books?
Jack London's novels and collections were readily available.  I had copies of THE CALL OF THE WILD and WHITE FANG, and they're still being reprinted today.
And, back in the day, what Canadian kid didn't know Robert W Service's most popular ballads?  Clancy of the Mounted Police.   The Shooting of Dan McGrew.  The Cremation of Sam McGee.  "There are strange things done in the Midnight Sun…" [6]
But Conner, Curwood, George Marsh, Victor Rouseau, Ridgewell Cullum, James B Hendryx, William Byron Mowery, H A Cody, Samuel Alexander White — writers I'd never heard about until older folk, learning that "young Brian who lives down the road" loved Canadian wilderness writers like Grey Owl and Sir Charles G D Roberts and Ernest Thompson Seton, would freely give me treasured old hardcovers (usually faded blue or red covers without dust jackets, but with wonderful pen and ink illustrations inside, or even "scenes from the photoplay" — black and white photos from long-ago silent movies) — and I read and kept 'em all!
There was a time when these writers lived on bookshelves throughout our beloved Dominion of Canada. 
And what a mythical time it must have been.
In more whimsical moments I still dream of the return of the Pulp Fiction Mounties…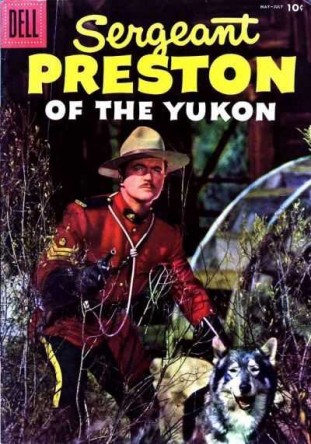 ==>> To learn more about the Most Popular Writers of Mountie Fiction, go to  "The GREATEST WRITERS OF NORTH-WEST MOUNTED POLICE FICTION"
==>> To learn more about the early Mounties in History, go to  "NORTH-WEST MOUNTED POLICE DOGS: Huskies and Other Sled Dogs"
And be sure to read my popular online Northwestern short story…
==>> A WILD WOLF, A HALF-WILD HUSKY, A WILY OLD TRAPPER!   If you want to read my free story in the Jack London & James Oliver Curwood Tradition, Click Here to Read My Popular Online Northwestern WOLFBLOOD! 
Brian Alan Burhoe – God Keep Our Land Glorious and Free!
[1] Allan Cameron would return two years later in Connor's best selling Mounted Police novel THE PATROL OF THE SUN DANCE TRAIL.
"Ralph Connor" was the pen name of Rev. Charles William Gordon.  As Ralph Connor, he had already had international best sellers with BLACK ROCK (1897) and THE SKY PILOT (1899), based on his experiences in the Rocky Mountain area as a minister, and THE MAN FROM GLENGARRY (1901), a classic story of the Canadian North Woods and the wild, rowdy men who lived there.  Each book had sold over a million copies.
In his novels, Connor would create the great Canadian archetypal characters and mythic story lines that other novelists, pulp writers and Hollywood screenwriters would mine for decades.
A believer of Muscular Christianity, his fictional works told stories of strong, red-blooded men and women who thrived in the untamed wilderness.  Jack London said of Connor: "It's hard to believe the impact this man had at one point."
In 1921, Canadian independent film producer Ernest Shipman released a rousing silver screen version of CORPORAL CAMERON OF THE NORTH-WEST MOUNTED POLICE entitled Cameron of the Royal Mounted.  The film quickly became one of the top moneymaking movies of that year worldwide, drawing long line-ups of excited film-goers in every town and city throughout the Dominion — and beyond…  Shipman had already established himself with a series of popular wilderness motion pictures starring his wife Nell.  To read more, go to "Canuck Movies: Mounties, Nell Shipman & the Canadian Spirit"
[2] To quote Bill Pronzini and Martin H Greenberg, "So popular were Northerns in the years prior to World War II that entire pulp magazines such as North-West Stories (later North-West Romances), Real Northwest Stories, and Complete Northwest Novel were devoted exclusively or almost exclusively to 'vigorous, tingling epics of the great Snow frontier.'" – Introduction to THE NORTHERNERS: Rough-and-Tumble Tales of High Adventure from the Frontier Days of the Canadian Northland, 1990, Fawcett Gold Medal, New York.  Of the ten popular writers of Northwestern pulp fiction collected in this anthology, only one, Samuel Alexander White, was really Canadian.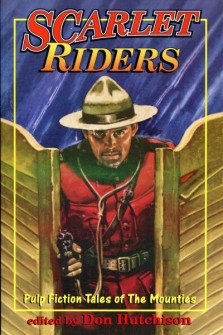 Just as only one of the twelve writers reprinted in Don Hutchison's SCARLET RIDERS: Pulp Fiction Tales of The Mounties — Harold F Cruickshank — was Canadian.
As Hutchinson wrote in his Introduction about the real history of the early NWMP: "In bringing Law and Order to the Vast Lone Land their assignment was not to subdue the Indians but to eliminate the depredations of unscrupulous whites.  Operating with moral rather than physical force, Mountie guts and Mountie justice tamed the wild plains, earned the respect of native tribes and effectively prevented annexation of Canada's western lands…"
That's how a few good men — 275 men — brought the Canadian Law to a region the size of Europe.
Trouble was, by the 1930's, New York editors and Hollywood producers didn't want real Canadian history any more.   They didn't want Superintendent James Walsh, with one other Mountie and a Metis interpreter, facing Sitting Bull and his hundreds of warriors after the Little Bighorn and telling the Lakota leader that his people would be accepted as refugees in Canada — as long as they "kept the Queen's Law."  And for some reason Sitting Bull and the Sioux did obey that handful of Mounties.  No — New York and Hollywood wanted Wild West shoot-outs.
In real life, Mounted Policemen rarely drew their weapons.  If they did, they had to justify the action to their commanding officer.  "Weapon fired" required a detailed explanation for each shell expended.  Mountie recruits spent long hours facing the Boxing Master in the Depot Ring, bare knuckled.  While fictional Mounties were shown almost always with revolver in hand, real life officers solved most problems the Canadian Way: with a calm smile — or a solid right hook.  Your choice.
[3] My parents were fans of Alan Ladd's Wartime movies, seeing them whenever Dad got leave while stationed in England in '44, hence my middle name.
[4] Pierre Berton, HOLLYWOOD'S CANADA: The Americanization of Our National Image, published in 1975 by McClelland and Stewart Limited, Toronto.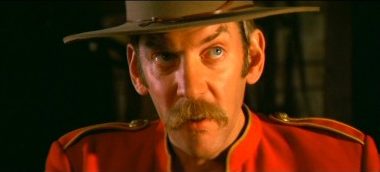 [5] Other personal fave Northwestern/Northern movies include Dan Candy's Law (aka Alien Thunder) with Donald Sutherland, Chief Dan George and Gordon Tootoosis.  Klondike Fever (aka Jack London Story) with Jeff East as Jack London, Rod Steiger as Soapy Smith, Lorne Greene as Superintendent Sam Steele, Gordon Pinsent as Swiftwater Bill and Lisa Langlois as Diamond Tooth Gertie.  Death Hunt with Charles Bronson and Lee Marvin.  Call of the Wild with Charlton Heston.  The Grey Fox with Richard Farnsworth and Jackie Burroughs.  Klondike Annie with Mae West as the title character and Phillip Reed as Inspector Jack Forrest of the Canadian Mounted.  Two classic comedies set in the Canadian Yukon — real faves! — are Charlie Chaplin's The Gold Rush and Road To Utopia with Bob Hope, Bing Crosby and Dorothy Lamour.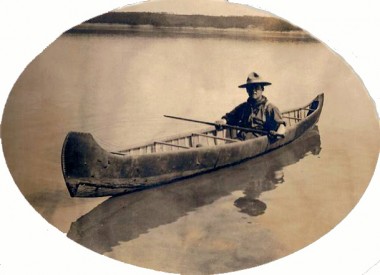 Robert W Service, Yukon River, 1911
[6] What red-blooded Canadian boy didn't once know the taut, emotional ending of Service's Clancy of the Mounted Police?
"Far down the trail they saw him, and his hands they were blanched like bone; his face was a blackened horror, from his eyelids the salt rheum ran; his feet he was lifting strangely, as if they were made of stone, but safe in his arms and sleeping he carried the crazy man.
"So Clancy got into the Barracks, and the boys made rather a scene; and the O. C. called him a hero, and was nice as a man could be; but Clancy gazed down his trousers at the place where his toes had been, and then he howled like a husky, and sang in a shaky key."
And I was really captured by Service's The Men That Don't Fit In.  "There's a race of men that don't fit in, a race that can't stay still; so they break the hearts of kith and kin, and they roam the world at will."
And now? "Who is Robert W Service, say Canadian kids today; there's nothing about him on Netflix — oh, he was only a Canadian, eh?"
The Great Pulp Fiction Mounties: From Corporal Cameron to Sergeant Preston
Keywords: Back To Gods Country, Brian Alan Burhoe, Canada 150 RCMP, Canada150 Mounties, Canadian wildlife writers, Constable Albert Pedley, George Marsh, Grey Owl, Nell Shipman, Pierre Berton, Ralph Connor, Robert W Service, Sir Charles G D Roberts
IF YOU LIKED THIS ARTICLE — PLEASE TELL YOUR FRIENDS!
HAVE TWITTER? A TWEET WOULD BE APPRECIATED!