The GREATEST AUTHORS OF NORTH-WEST MOUNTED POLICE FICTION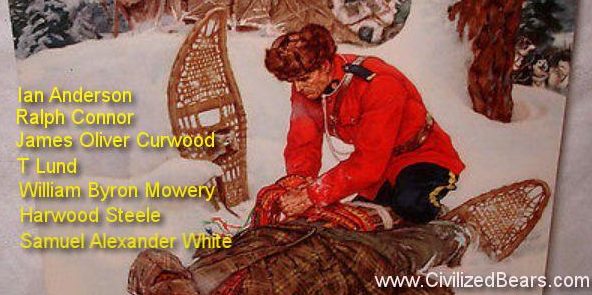 Or WRITERS OF THE SCARLET SERGE
"To the sweet-voiced, dark-eyed little half-Cree maiden at Lac-Bain, who is the Minnetaki of this story; and to Teddy Brown, guide and trapper, and loyal comrade of the author in many of his adventures, this book is affectionately dedicated." – James Oliver Curwood
On July 1st, 2013, Turner Classic Movies decided to celebrate Canada Day by showing "Canadian Classics" like Men of the North, an MGM "Northern" starring Gilbert Roland as the falsely accused trapper Louis the Fox; Rivers' End, based on a 1920 bestselling novel by James Oliver Curwood; Peg O' The Mounted, a parody of Hollywood's vision of Canada written by Bert Sterling and starring child actress Baby Peggy; Rose Marie (of course!) with Jeanette MacDonald and Nelson Eddy; God's Country and the Woman (1937) with George Brent, also based on a Curwood novel [1]; Northwest Rangers, with William Lundigan as the tormented Mountie who must arrest his boyhood friend, played by James Craig; Northern Pursuit starring Errol Flynn as the RCMP officer tracking down Nazi spies; and Cariboo Trail with Gabby Hayes and Randolph Scott.
All of them were Northwesterns, with lots of Mounties, horses, dogsleds and the Great Northwoods…
My favourite Northwestern movie, The Wild North, based on the true story of Constable Albert Pedley, wasn't shown.  And I grumbled about that.
Today, except for Jack London's writings, the Northwestern genre is mostly remembered because of those Hollywood movies.  Over 300 of them.
But it wasn't always that way.
The Northwestern genre first appeared in popular fiction magazines.  Then in published book form.  And it thrived! [2]
The best, like Ralph Connor's CORPORAL CAMERON OF THE NORTH WEST MOUNTED POLICE: A Tale of the MacLeod Trail, sold 100,000's of copies each. [3]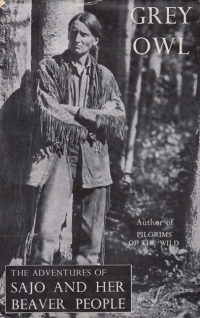 Since early boyhood, I've been given, borrowed, bought and collected the great writers of the Canadian wilderness.  Writers like Sir Charles G D Roberts, E Pauline Johnson, Jack London, Grey Owl, Ernest Thompson Seton (WILD ANIMALS I HAVE KNOWN), George Marsh and (later) Farley Mowat.
When older folks heard of this, they began to give me treasured old copies of books by writers I'd never heard of, such as Ralph Connor, Samuel Alexander White, James Oliver Curwood, H A Cody, William Byron Mowery and James B Hendryx.  Most were tales of our own legendary Mounted Police.  And those red-coated Mounties had heroic adventures that kept you glued to the pages.  I still have most of those books…
And, luckily, there were still authors struggling to keep the bright flame burning…
So here, mon ami, is a look at my personal Top 10, my favourite WRITERS OF THE SCARLET SERGE:
IAN ANDERSON   "By age six, the Australian Ian Anderson had already decided what he wanted to be when he grew up — a red-coated Canadian Mountie. By the age of seven, he also knew he wanted to be a writer." These words began the author's bio in Seal Book's first printing of CORPORAL CAVANNAGH in 1983. With the publication of CAVANNAGH, Anderson had achieved both dreams.
Ian Stuart Anderson was born March 3, 1930, on the outskirts of Melbourne, which lies on the temperate southern tip of Australia.  Amid the bustling city streets lined with Victorian Age stone buildings with "gargoyles and cast-iron lacework" and the "idyllic views across the Yarra River" he lived a typical Depression era boyhood.
He grew up at the height of the Northwestern movie craze: films like Call of the Wild (with Clark Gable), O'Malley of the Mounted, King of the Royal Mounted, Red Blood of Courage, North of the Yukon and Cecil B DeMille's North West Mounted Police packed local theatres in Caulfield and Melbourne.  Ian saw and thrilled at them all.
Besides loving the wilderness and sports, Ian was an avid reader…
Ian began his quest of becoming a Mountie by serving with the South Australian Mounted Police, where he "learned to ride a horse, fight bush fires and battle with sword and bayonet."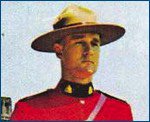 In 1948, age 18, he journeyed to Canada, where a year later he achieved his dream of joining the Royal Canadian Mounted Police (Regimental Number 15812) and donning the world-famous red serge jacket and broad-brimmed Stetson.  His postings were in Alberta: Corporal in Charge of Jasper Detachment in the soaring Rocky Mountains, as well as Lethbridge, Fort MacLeod, Coutts and Medicine Hat — the very settings of the early exploits of the NWMP.  He was a member of the RCMP until 1965.
After serving as a sub-inspector in the Royal Papua-New Guinea Constabulary, including a stint at the Bomana Police College in Port Moresby — Ian returned home to Australia.  There, he and his wife Mary settled into life in Melbourne.  As well as working as a private investigator, he sat down to write.
In 1982, he began writing his Scarlet Riders Series, starting with CORPORAL CAVANNAGH.  "After leaving the U.S. Seventh Cavalry, John Tarlton Cavannagh rides north, where he joins the newly-arrived North-West Mounted Police."  The novel was first published by Seal Books in Canada, who published his next two:
THE RETURN OF CAVANNAGH
and BEYOND THE STONE HEAPS.
When Zebra Books of New York bought the World rights to the Scarlet Riders Series, they republished his first three titles and put out four more up to 1988:
SERGEANT O'REILLY
FORT TERROR
THE FLYING PATROL
and DEAD OR ALIVE.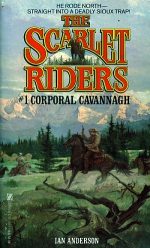 With his Scarlet Riders, Ian took the old Northwestern movie and pulp fiction story-lines he had grown up with and rewrote them with the verisimilitude that came from having served in the RCMP and having visited all the historic settings.  The result was a unique mélange of national myth and personal experience — and just great storytelling.
The series takes place over a thirty-year period, from a year after the arrival of the Mounties in 1874 to 1905, when some of the men who had served in the Boer War returned to the Force.
The first three titles tell John Cavannagh's story, reflecting the heroic battles of the Force's early years.  RETURN OF CAVANNAGH actually dealt with an historic episode rarely dealt with by Hollywood and pulp magazines: the attempt of organized outlaw gangs and whiskey traders to wipe out the newly-arrived Mounted Police.  BEYOND THE STONE HEAPS dealt with arrival of Sitting Bull's Sioux in Canada after the Battle of the Little Bighorn.
Although the other four novels featured different central characters, we still meet Cavannagh, seeing him rise to Inspector then Major.
Ian's best realized character, Hugh O'Reilly, appears in two titles: as a young constable in THE FLYING PATROL and an experienced campaigner returned from the Boer War in SERGEANT O'REILLY.  O'REILLY is Ian Anderson's longest novel, taking on almost epic proportions as the story of one man's determination to Uphold The Right, even if it meant refusing an unlawful order and being charged with desertion: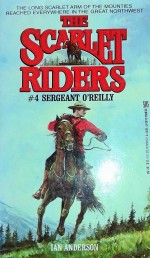 "O'Reilly snapped off a crisp salute, spun around on heel and toe, and marched out of the office.  The moment his spurred boots touched the veranda floor outside, he reached up to the medals on his tunic, unclasped them, and thrust them into his breeches pocket.  All around him deep green forests of pine swept up the sides of towering gray or brown mountains, while the sky was a brilliant blue…"
The character of Sergeant Hugh O'Reilly "who hailed from Halifax… was loosely based on Inspector Fitzgerald — or perhaps inspired would be a better word — of the Lost Patrol of 1911 fame," Ian explained in a letter to this writer.
While working on an article about the friendship between Sitting Bull and Inspector James Walsh of the Mounties for Wild West Magazine, Anderson decided to "broaden the article into a book." The result was SITTING BULL'S BOSS: Above the Medicine Line with James Morrow Walsh, Heritage House, 2000, an excellent study of the subject.  He had first happened upon the story of Major Walsh while visiting the RCMP museum in Regina.  "As for Major James Walsh, I feel as though I knew him personally," wrote Anderson.
Ian passed away on April 10, 2013.  He was 83.  See http://www.rcmpvets.net/obits.htm#15812.
His SERGEANT O'REILLY remains one of my favourite adventure yarns, any genre.  I treasure my well-read copy…
RALPH CONNOR   When Charles William Gordon (1860-1937) first began to publish articles about his experiences in the Northwest during the mid-1890's, he didn't know that he was embarking on a literary career that would make him one of the best selling authors of the early 20th Century.

Educated at the Universities of Toronto, Canada and Edinburgh, Scotland, he was ordained a Presbyterian minister in 1890. After three years of missionary work in Banff, he returned to Winnipeg, where he began to write and publish stories under the pen-name "Ralph Connor."
His stories, published in Westminster Magazine, reflected his belief in "red-blooded Christianity." When they were collected in book-form as BLACK ROCK: A Tale of the Selkirks, he gained an international readership.
His next book, THE SKY PILOT, became a best seller. His life after that was divided between that of writing and of serving Church and Country. During the First World War, he served overseas as Senior Chaplin of the Canadian Armed Forces in France and the 9th Brigade British Expeditionary Force.
It was the publication of three adventure novels that made his reputation as an author.
THE MAN FROM GLENGARRY told of the rowdy Highlanders from the Glengarry region of colonial Ontario — their exploits in the lumber camps of the Northwoods, their fights with wolves and men, the joyful maple-sugar parties, the passionate church meetings… They were men, as he wrote in his autobiography, "as wild as the wild creatures of the forest in which they lived, fearing no man or beast or devil."
The other two adventure novels were
CORPORAL CAMERON OF THE NORTH WEST MOUNTED POLICE: A Tale of the MacLeod Trail (1912)
and THE PATROL OF THE SUNDANCE TRAIL (1914).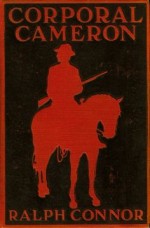 Both told of the exploits of Allan Cameron of Her Majesty's North-West Mounted Police. Connor based the character of Cameron on the real-life Sergeant William Fury. In fact, the first book recounts a fictionalized version of Fury's arrest of the violent railroad strikers at Kicking Horse Pass in 1885.
SUNDANCE TRAIL deals with the unrest of the Blackfoot Nation during the bloody Northwest Rebellion. Connor's technique of using real cases and real Mounties as the basis for his stories became common for Canadians writing about the NWMP.
"Ralph Connor," as Dick Harrison puts it in his BEST MOUNTED POLICE STORIES, "did more to create the literary image of the Mountie than any other writer, probably because he had a gift for telling uncomplicated adventure stories."
Two Canadian-made movies based on his adventure trilogy — Cameron of the Royal Mounted (1921) and The Man from Glengarry (1922) — dominated the box offices worldwide.
In these three classic novels, Conner would establish many of the essential archetypal characters of the Canadian Northwestern: the stalwart red-coated Mountie, the independent heroine, the wild Anglo Saxon lumberjack, the avaricious fur baron, the good hearted French Canadian trapper, the wise old priest, the endangered Aboriginals, the passionate Metis (although these last two groups were ofttimes depicted with little understanding)…
Adding these to the already established Klondike era characters such as desperate prospectors, saloon girls with hearts of gold, ruthless outlaws, devious bankers, crooked Eastern politicians, not to forget the ferocious huskies and wolves and the savage Northcountry itself — and these characters would play out their stories in print and on film for decades to come.
Ralph Connor's autobiography is POSTSCRIPT TO ADVENTURE.
RIDGWELL CULLUM  Englishman Sidney Groves Burghard (1867-1943) had already lived an adventurous life when he arrived in the Canadian Yukon Territory to try his hand at trapping and trading.  In Africa, he had been involved in diamond and gold mining and fought in the Kaffir Wars.  His venture in the Yukon was less successful, almost costing him his life from starvation.  After leaving the Yukon, he tried his hand at ranching in Montana and briefly served in the US Army, where he became embroiled in the Sioux uprisings at the Rosebud and Pine Ridge reservations.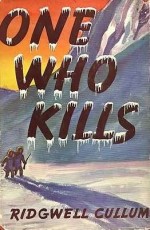 After returning to England in 1904, he began to write Westerns and Northwesterns, using the pen-name "Ridgwell Cullum."  His adventure fiction quickly gained a popular following, mostly in book form with a few early appearances in the pulp magazines The Argosy and All-Story Cavalier Weekly.
His first novel, THE DEVIL'S KEG (released in the US as THE STORY OF FOSS RIVER RANCH), was set in southern Alberta and involved a murder investigation.
His second novel, THE HOUND FROM THE NORTH, was based on his own misadventures in the Yukon.  The opening chapter began dramatically with a man staggering alone under the pallid sun of an Arctic winter, lost and starving: "The poor wretch was swathed in furs; snow-shoes on his feet, and a long staff lent his drooping figure support…  Every now and again he raised one mittened hand and pressed it to nose and cheeks.  He knew his face was frozen, but he had no desire to stop to thaw it out…"  The story caught on with a public eagerly seeking more adventure yarns in the Jack London tradition and a best selling literary career was launched.
Although he didn't create a continuing Mountie character, Cullum's Mountie novels were among his most popular, including:
THE LAW BREAKERS
THE LAW OF THE GUN
THE HEART OF UNAGA
THE RIDDLE OF THREE WAY CREEK
THE CHILD OF THE NORTH
THE NIGHT RIDERS
THE WOLF PACK
THE MYSTERY OF THE BARREN LANDS
THE BULL MOOSE
ONE WHO KILLS
Cullum also wrote traditional Westerns based on his Montana experiences such as TWINS OF SUFFERING CREEK, THE GOLDEN WOMAN and THE WAY OF THE STRONG, which matched bestselling frontier writers of the day like Ralph Connor and Zane Grey in sales.   As well as some stories set in Africa, such as THE VAMPIRE OF N'GOBI.
JAMES OLIVER CURWOOD    When James Oliver Curwood (born in 1879) was expelled from school in his birthplace of Owosso, Michigan at age 16, it was a blessing in disguise. It began a wandering life that took him to the wilds of northern Canada.
He traveled by canoe, by snow shoe and by dog sled, throughout the Peace River country, the Hudson Bay wilderness and the Arctic tundra.
He spent as much as six months out of a year in the Canadian wilderness, even building log cabins to live in.  He enjoyed hunting for meat and for sport, until an encounter with an enraged grizzly bear that could have killed him — but didn't. [4]
First as a reporter, then as a short story writer and novelist, he would spend the rest of his life telling of his wilderness travels.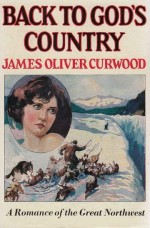 His translation of the Cree meaning of Manitoba — "God's Country" — would become a world renowned phrase.
While best remembered for his masterwork KAZAN THE WOLF DOG, his many other Northwesterns were best sellers in the 1910's and 20's.
His popular BACK TO GOD'S COUNTRY was a collection of many of his best short stories.  Six of them were Mountie stories, including "The Fiddling Man," "The Case of Beauvais," "The Match," "The Mouse" and "Wapi The Walrus."  The last was made into the 1919 box office smash hit Back To God's Country, a silent movie starring Canadian Nell Shipman.
Among his best selling Mountie novels were
PHILIP STEELE OF THE ROYAL NORTHWEST MOUNTED POLICE (later retitled STEELE OF THE ROYAL MOUNTED)
THE HONOR OF THE BIG SNOWS
THE GOLDEN SNARE
ISOBEL: A Romance of the Northern Trail
THE COUNTRY BEYOND
THE RIVER'S END: A New Story of God's Country
THE VALLEY OF SILENT MEN: A Story of the Three River Country (my pick as his best Mountie novel)
and THE FLAMING FOREST: A Novel of the Canadian Northwest.
By 1922, Curwood's writings had made him a very wealthy man.  He lived out a youthful fantasy by building the "Curwood Castle" in Ossasso.  Built in the style of an 18th Century French chateau, his castle overlooked the Shiawassee River.  In one of the home's two large turrets, Curwood built his library and office, where he would do the rest of his writing.
His fiction, Curwood once explained, "is eighty per cent fact so far as country, environment, geography, customs and manners go."
After an adventurous and sometimes arduous life, James Oliver Curwood died in 1927, at the age of 49.  His autobiography is SON OF THE FORESTS.
JAMES B HENDRYX   James Beardsley Hendryx (1880-1963) was born in Sauk Center, Minnesota, an area of rolling hills, woodland and lakes.
A boyhood friend was Sinclair Lewis, who made this early entry in his diary: "I went with Jim Hendryx on his Rural Free (newspaper) delivery route this morning.  Jim was dressed like a 'pony express rider' – broad sombrero, brown flannel shirt open at neck & arms & belt.  His face and hands are bronzed from exposure.  He has always been a great hunter, fisher & trapper.  He hunted birds eggs, fished, hunted, trapped, rode boxcars with Claude (Sinclair's older brother). . ."
About his schooling, Hendryx once wrote: "Attended public school for a vast number of years during which I learned to fish, hunt and trap."  Jim then entered the University of Minnesota Law School for two years where "I absorbed so much of the curriculum that even yet fragments of it work to the surface and have to be carefully removed."  Although he later said that he had soaked up "enough law school to stay out of jail."

From boyhood, he had always had the look of an outdoorsman.  Even in later years: "Jim was a tall, lean, outdoorsy man with a rusty handlebar mustache and keen blue eyes set in a weatherbeaten face — dressed in woodsman's boots, ducksback breeches, a red-checked flannel shirt and Stetson hat."
Hendryx worked as a traveling salesman, insurance agent, tan bark buyer, night foreman on an Ohio River Dam, ran a fruit farm in Michigan and punched cattle near Chinook, Montana — where he met and befriended two members of the notorious Wild Bunch, Kid Curry and his brother Lonny.
And he worked as a cowhand on a Saskatchewan ranch before heading for the rich gold fields of the Klondike in 1898.
Accompanied by a cowpuncher buddy, with a grubstake of $1400 they'd won in a poker game, Hendryx spent over a year in the Canadian Yukon territory, "chopping cordwood, gouging gravel, playing poker and chopping cordwood and chopping cordwood…"
"We didn't make much," he later concluded. "Got there too late and our claims were poor. And living was too high. In Dawson, in '98, eggs went to $2 apiece and flour to $100 a sack."
It was Hendryx's experiences in the Klondike that inspired him to write Northwesterns. While working as a reporter for the Cincinnati Enquirer, he began his career as a fiction writer.
With the publication in 1915 of THE PROMISE: A Tale of the Great Northwest, his career was launched and he "quit punching time clocks forever!"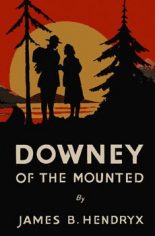 DOWNEY OF THE MOUNTED (1926) gave the world one of the great Mountie characters.  A kind of Byronic hero of the wilderness (he's haunted by a lost love), Corporal Cameron Downey is also persistent, a dedicated lawman, intelligent and capable of moments of kindness.
As well as Corporal Cameron Downey, the author also created Black John Smith, the big, black-bearded leader of an outlaw community on a creek just "half a day's paddling" from the Yukon-Alaska border.  With the recent release of two more Halfaday Creek titles from Altus Press, assembling thirteen previously uncollected magazine novelettes, Hendryx's Halfaday Creek book series is now at sixteen titles.
While Cpl. Downey was based on real Mounted Policemen who the author had met, Black John — a rugged, roguish, grizzled man with a frontiersman's sense of sudden justice and gentle humour — is his most popular character, who I believe Jim Hendryx based on himself.
Told with humour, at times wry, Hendryx's vision of the Northwest was closer to reality, and a canoe-load of fun.
His highly-regarded fiction, both full-length novels and many short stories, was published in the top fiction magazines of the day, including Adventure, All-Star Weekly, Short Stories and Western Story Magazine and then published in hard cover books.
Among his best works of Mountie fiction are:
GOLD AND THE MOUNTED  Constable Kincaid of the Mounted Police solves a murder in the Northcountry
OAK AND IRON: Of These Be the Breed of the North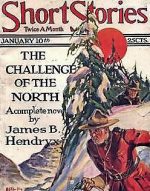 THE CHALLENGE OF THE NORTH  A wandering story first published complete in a 1922 issue of Short Stories.  A melodrama about a fur theft and the pulpwood timber business in which Cpl. Downey appears several times, including in the dark, vengeful finale.
CORPORAL DOWNEY TAKES THE TRAIL  Cpl. Downey and Cpl. Deering chase a man accused of murder to Halfaday Creek.  Downey wants to find the truth of their case, but Deering only wants the long-awaited promotion that getting their man — guilty or innocent — could bring.
BLOOD ON THE YUKON TRAIL
BLOOD OF THE NORTH  Maybe Hendryx's best longer story.  A Cpl Downey yarn involving a killer Downey had arrested, but walks out of court a free man — more murders and vengeance.
THE YUKON KID
EDGE OF BEYOND
LAW AND ORDER ON HALFADAY CREEK
and AT THE FOOT OF THE RAINBOW.
The short story "Routine Patrol," a Cpl. Downey yarn originally published in Western Story Magazine, was reprinted in Dick Harrison's BEST MOUNTED POLICE STORIES.
Throughout his writing career, Hendryx took pride in the authenticity of his work, making a trip at least once a year to the Canadian Northcountry.  He consulted with members of the RCMP, sometimes travelling with them, and obtained the newest government maps of the wilderness areas.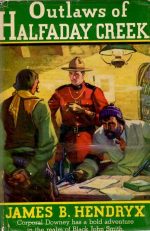 Even so, he once commented: "I go to great pains and trouble to locate every piece correctly.  But I never yet wrote a story of Canada without getting a letter from some constable up on Hudson's Bay or Great Slave Lake saying, 'I liked your story but where the villain sets fire to the teepee and the beautiful Indian girl in the second chapter, the Mackenzie River runs northeast instead of northwest.' Those fellows are hell on their geography."
Once he became a successful full-time author in the 1920's, making up to $50,000 a year, Hendryx worked and lived with his wife Hermione and their three children in two homes in the magnificent Northwoods on both sides of the Canadian-US border.
One home was on 300 acres on Grand Traverse Bay, Michigan (with "no neighbors within rifle range").  And the other one was a wilderness cabin in the Thessalon area of Ontario.  A 1936 story in the Detroit Free Press described his Michigan home as "a rambling house and log studio workshop with its oxbow over the door and a huge trap under the porch roof."
An avid fisherman, hunter and poker player, he still made time to write.
Family members remember the sound of him at work — alternately tapping away on his old typewriter and laughing out loud at a new scene.
"Jim Hendryx was born 100 years too late but made the best of it. He was at heart a mountain man, a fur trader, an outlaw of the plains. He was everlastingly a boy – not a Boy Scout, more a Huckleberry Finn." Lee Smits, a friend.
All in all, James B Hendryx published over 50 books, 36 of them Northwestern novels and story collections.
W RYERSON JOHNSON  Walter Ryerson Johnson (1901-1995) was born in Divernon, Illinois.  He attended the University of Illinois and worked as a coal miner, warehouse manager and seaman, as well as travelling extensively throughout the US and Canada.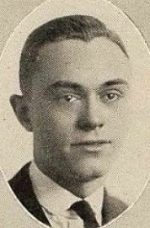 At age 21, Johnson sold his first short story "Nimble Fingers," published in the February, 1923 issue of Detective Tales, a pulp magazine. [5]
Under his own name, he became a prolific author in the western, horror and mystery magazines.  He also published works under the names Matthew Blood, Peter Field, Brett Halliday, Robert Wallace and (with Lester Dent) Kenneth Robeson.
His writing career really exploded when he took the advice of popular Northwestern writer William Byron Mowery to "write Mountie stories!"
Johnson said, "I didn't know a mounted policeman from a uniformed doorman, but Bill loaned me books and I got more from the library. Official Mounted Police Bulletins and a book by Wasburn Pike — The Great Canadian Barren Lands — supplied fundamentals." Soon he published his first Northwestern, the short story "Cougar Kelly Gets a Break" in Wild World Adventures, May, 1930, and his career was picking up.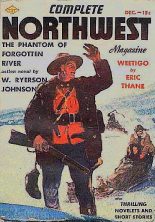 He published a number of Mountie yarns and "Northerns" in the pulp magazines, producing some of his best work.  Among them were "The Avalanche Maker," "The Carcajou and the Loup Garou," "All Trees and Snow," "The Eskimo Express," "The Phantom of Forgotten River" (Complete Northwest Magazine, Dec 1938), "Webs for One," "Caribou Gold," "Back Trail Shadow," "Mountie Trick," "Wood on the Snow" and "The Dangerous Dan McGrew."
You'll find Northwestern stories by Ryerson Johnson, as well as other writers mentioned here, reprinted in THE NORTHERNERS, edited by Bill Pronzini & Martin H Greenberg, and in SCARLET RIDERS: Pulp Fiction Tales of the Mounties, edited by Don Hutchison.
He also wrote a number of Doc Savage novels, under the pen name Kenneth Robeson, including LAND OF ALWAYS NIGHT and THE FANTASTIC ISLAND.
He won the The Jane Addams Children's Book Award in 1963 for his popular children's story THE MONKEY AND THE WILD, WILD WIND.
Ryerson Johnson once described pulp fiction as "A never-never land that existed only in the glowing imagination of the writer and the transient 'suspension of disbelief' of the reader. Bigger than life. Adult fairy stories."
T LUND  Trygve Lund was born in the city of Bergen, on the mountainous west coast of Norway, on September 10, 1886.  Of Norse-Viking descent, he grew up in a military family, becoming a personable, tall, athletic man with piercing grey eyes.  After serving in the 1st Norwegian Dragoons for three years and then training as a civil engineer, he and his young wife Helga sailed to Canada in search of adventure and employment.
Trygve found both when he became a member of the Royal North-West Mounted Police.
With the outbreak of WWI, Lund left the Force to join the newly re-mobilized Lord Strathcona's Horse (of Boer War fame), rising to the rank of Captain.  He shipped out with other members of Strathcona's Horse for Europe in October of 1915, where they joined the battle in France and eventually became attached to the 1st Canadian Cavalry Brigade.  As part of that brigade, the Strathconas took the lead in the victorious "Last Great Cavalry Charge" at the Battle of Moreuil Wood.
His Canadian Army records noted that his conduct and character were "good" although a medical history sheet once stated "Temper."  His paybooks showed that Helga moved from Winnipeg to 2073 Hillhurst Court, Los Angeles, California.
Lund finished off his active military career as a Lieutenant in the Royal Flying Corps, 1918 – 1920, returning to temporary duty in 1922 at the rank of Flight Lieutenant to help establish the new Royal Air Force training centre in the Aylesbury Vale district of Buckinghamshire. [6]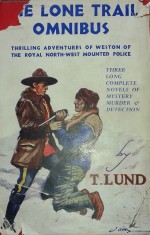 Following that, he settled in the UK for over a decade, spending those years writing well-received Northwesterns.
His novels garnered good reviews in England and beyond:
"Capt. Lund, late Strathcona's Horse, has written a good story of police work in the lumber camps of the North-West." – Times Literary Supplement
"Capt. Lund's characters are thoroughly alive; his dialogue is particularly good; and he vitally suggests the atmosphere of Manitoba…  Adventure and excitement there are in plenty, and Capt. Lund has an ample fund of humour." – Bookman
"IN THE SNOW is a most entertaining description of the life of a trapper in the frozen North-west of Canada by Mr. T. Lund, whose novels of the North-west and the 'Mounties' have earned for him a well-deserved reputation." The Brisbane Courier
Like other former Mounted Police members who had turned to writing fiction based on their own personal careers [7], Lund set his stories in the northcountry where he had actually served — along the northern reaches of the Saskatchewan River and in the Great Northwoods.
And like fellow Norwegian writers Sigrid Undset, Per Petterson, Mikkjel Fønhus and the great Knut Hamsun, Trygve Lund loved and understood the Northlands and the effect that living there had on the human soul.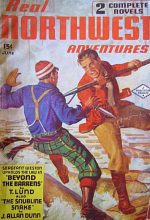 Lund brought a sure knowledge of the day-to-day life and duties of a Mountie to his adventure yarns (unlike many pulp writers who got everything from our police routines to our proud history so wrong).
And his love of the Northcountry, so much like his own Norway, was there in his writing:
"They paddled up lakes, rivers and creeks, which were always bordered by the silent, majestic pine and spruce forests, with a belt of birches, poplars and willows.  They forced the minor rapids and portaged around the bigger ones, but even the hard work involved in packing their outfit and canoe on their heads across those often miles long portages was a delight to Weston.
"He loved the camp at night and the aromatic smell of the camp fire.  He loved the calm, clear mornings when only the ripples made by rising fish disturbed the glassy surface of the water, and when only the weird melancholy cry of a loon would break the vast silence.  Then the sun would rise, and the western banks would be bathed in gold…"
Trygve Lund's series character was Richard Weston, of the Portage Bend RNWMP detachment, who would appear as the central character in eight published novels.  Five of those were hardcover books:
WESTON OF THE  ROYAL NORTH-WEST MOUNTED POLICE
UP NORTH: A Tale From Northern Canada
THE MURDER OF DAVE BRANDON
ROBBERY AT PORTAGE BEND
THE VANISHED PROSPECTOR
In his yarns of Richard Weston, Lund followed the life and adventures of one Mountie from young Constable to seasoned Inspector, in much the same way that C S Forester would later recount the life story of Horatio Hornblower. The first three Weston novels were collected in the eagerly sought-after THE LONE TRAIL OMNIBUS, published in 1936 by T Werner Laurie of London.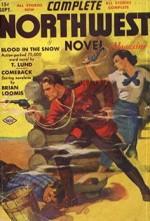 The three other Richard Weston full-length novels (averaging 75,000 words) — BEYOND THE BARRENS, BLOOD IN THE SNOW and RED-COATED LAW — appeared complete in 1937 editions of the American pulp magazines Real Northwest Adventures and Complete Northwest Novel.
Other published books by T Lund are IN THE SNOW: A Romance of the Canadian Backwoods (a story about Northcountry trappers, their lives, loves and battles, in which Richard Weston of the Mounted makes an appearance) and STEELE BEY'S REVENGE, a mystery novel set in Egypt and England.
Lund's last known address was back in Canada, in Hawkesbury, Ontario, in 1934.  Except for his 1937 magazine appearances, nothing is known of him since…
WILLIAM BYRON MOWERY   William Byron Mowery (1899-1957) was known as "The Zane Grey of the Canadian Northwest."
A mentor, naturalist and novelist, Mowery was born in the village of Adelphia, a farming community of Ross County, in the forested Appalachian region of Ohio.  From earliest boyhood William was dissatisfied with what he called his "backwoods" existence.
In an article in a 1933 edition of the Auburn, New York, Citizen-Advertiser, introducing their upcoming serialization of a Mowery Northwesten novel, the paper wrote: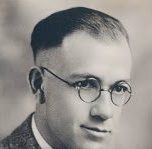 "William Byron Mowery, writer of stories about the woods and out-doors, was himself born in the 'backwoods' country but throughout his childhood wanted to escape from an environment he thought cruel and barbaric. He is the author of the Citizen-Advertiser's serial, FORBIDDEN VALLEY." [8]
"At the age of 11," the article continued, "he left his family's migratory 'chicken-wagon' home and started out to see the world. For eighteen months he tramped about the country…
"After a winter's trapping in the Athabasca north country of Canada, he roamed the United States for another two years and then entered high school at 18.
"His writing career started when he read a 'North Woods' story in which description and details were so inaccurate that Mowery determined he could do better himself. Editors seemed to agree and in three years he produced more than 400 published stories. He did not receive wide recognition as an author, however, until he began taking more time on stories and sharply curtailed his output.
"The Mowery family, headed by the man who once wanted only 'Civilizing Influences,' now spends the major portion of the year in out-door activities, exploring, mountain-climbing and camping."
Mowery served in the Tank Corps during the last year of World War I.
Graduating Ohio State University with a Bachelor of Arts degree, he taught English and creative writing at the universities of Illinois, of New York and of Texas.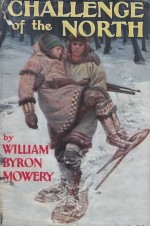 One of his students, Mary Higgins Clark, later described Professor Mowery as "an elfin-sized man who wore a tie so long that it gave the visual illusion of scraping the tops of his shoes." [9]
Clark added that "His talents as a teacher, however, were huge and he set my feet firmly on the path that I had been seeking all my life."
"Take a dramatic situation from real life, one that sticks in your mind," Mowery would advise his students.  "Ask yourself two questions — 'Suppose' and 'What if?' and turn that situation into fiction."  In 1953, Thomas Y Crowell published his PROFESSIONAL SHORT STORY WRITING: An Authoritative, Practical Guide to Basic Problems and Craftsmanship.
Besides the newspapers, Mowery's 450 short stories appeared in a number of popular American magazines.  His first published work was "Be Sure He Is Green" in 10 Story Book, October, 1921.  He also appeared in Argosy All-Story Weekly, Adventure, Munsey's Magazine, The Blue Book Magazine, Short Stories, North-West Stories, Redbook Magazine, The Country Gentleman, Complete Northwest, Liberty and The Saturday Evening Post.
It was his hardcover books that brought him his fame.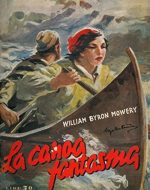 From 1929 to 1948, William Byron Mowery published fifteen novels and short story collections that, as a total work, may be the most literate and realistic of the Mountie genre.  His stories were set throughout the Canadian Northlands, from towns and villages to the wildest places.
Like Canadian wilderness writers from Charles G D Roberts, Grey Owl and Ernest Thompson Seton to Farley Mowat and Candace Savage, as well as fellow American James Oliver Curwood, Mowery's novels were published throughout northern Europe.  Languages include German, Swedish, Norwegian, Hungarian, French and Spanish.
Some of his best novels are:
CHALLENGE OF THE NORTH  Not to be confused with Jim Hendryx's novel of the same title, this is a romantic adventure of a Mountie's spunky granddaughter who sets out to return stolen money.
HEART OF THE NORTH
PHANTOM CANOE
THE BLACK AUTOMATIC (reprinted as a Popular Library paperback and retitled OUTLAW BREED)
VENGEANCE TRAIL
THE GIRL FROM GOD'S MERCIE
PARADISE TRAIL
and RESURRECTION RIVER.
Mowery's THE LONG ARM OF THE MOUNTED (1948, Whittlesey House, McGraw-Hill Company, New York, Toronto) collected four of his Mountie stories: "The Mystery of the Ghost Gold," "Mannikin Talk," "A Relic of the Vikings" and "Shepherd of the Storm."
Thomas Bouregy & Co published a new collection of Mowery's stories in 1953, SAGAS OF THE MOUNTED POLICE, with an introduction by the author.  SAGAS brought together some of the best short Northwesterns ever written, including two stories from THE LONG ARM as well as "The Scout," "Corporal Nat," "The Long Shadow," "The Constable of Lone Sioux," "St Gabriel Zsbyski," and "A Lamb and Some Slaughtering."  Mowery called "Lamb" a "rollicking story…based on a yarn told to me by its actual participant at a reunion of NWMP veterans in Calgary years ago."
The Notes about the Author on the back cover of  SAGAS, by the way, say that Mowery taught at McGill University, Montreal — a fact I've been unable to verify.  They also say that Mowery "shot a bear when he was eight years old but says that he couldn't read or write until he was around fourteen."
A second edition of SAGAS, this time in paperback, appeared in 1962 from Airmont Books of New York and Ryerson Press of Toronto, under the title TALES OF THE MOUNTED POLICE. [10]
HARWOOD STEELE  Harwood Elmes Robert Steele (1897-1978) may have been in the best position of any would-be writer to tell the story of the Mounties — he was the only son of the greatest Mountie of them all: Sam Steele. [11]
Harwood grew up in a household hearing all the adventures and tribulations of being a Mounted Policeman in turbulent times.
He got the inside scoop of Sam Steele's life and character, as well as hearing the stories of police vets and serving members who "took time out for a chat about old days or for a rest from a tough patrol," and later wrote it down in fictional form.
Harwood's own life was almost as adventurous. After growing up in Fort MacLeod, Alberta and in rural Ontario, he joined the Canadian Army, rising from Captain to the rank of Major in the 17th Duke of York's Royal Canadian Hussars during the First World War.  He was awarded the Military Cross for gallantry.
His non-fiction dramatic account THE CANADIANS IN FRANCE 1915-1918 became an essential military history of the Canadian involvement in WWI.  Reflecting some of his own experiences during the Great War, he described our soldiers' part in the deadly battles from the Somme and Ypres to Vimy Ridge, Passchendaele and Mons in taut, immediate prose: "The grey, heavy-winged dawn at last came slowly over the far-flung Canadian line and found a gaunt, haggard little handful of men still making an incredible stand in the path of enormous forces of the Kaiser's best…"
After working as a journalist and as a press representative for the Canadian Pacific Railway, Harwood was part of the historic Canadian Government Sovereignty Expedition into the High Arctic in 1925.
Harwood began seriously writing Mountie fiction in the early 1920's.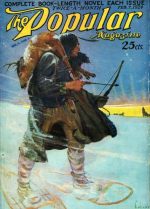 His first published short story was "The Deciding Factor" in Cassell's Magazine of Fiction, July, 1917.
His second sale was "Rufus, the Outlaw," published in the February 7, 1924 edition of The Popular Magazine (shown left), which published five more of his narratives, including one of his best: the novelette "To Effect an Arrest."
During that time, he also published in Ace-High Magazine, Argosy, The Canadian Magazine, The Danger Trail, Golden Fleece, Short Stories, Prize Story Magazine and Top-Notch Magazine.
He would later collect his stories in book form.  One of those books, TO EFFECT AN ARREST, for instance, collected stories like "Horse de Combat," "Storm Child," "Snow Blind," "Rufus, The Outlaw," The Boundary Line," "Old-Timers Played Straight," "The Prestige of the Scarlet," "The Force Can't Fail," "The Ace of Huskies" and others, all of them appearing first in popular American magazines.
Harwood's technique was to take actual police cases and characters and fictionalize them, "to present fact in the form of romantic fiction."
Two novels, SPIRIT-OF-IRON: An Authentic Novel of the Northwest Mounted and THE MARCHING CALL, were based on the life of his father.
Harwood's 1950 novel GHOSTS RETURNING dealt with the early days of the first Mounted Police detachment at Fort MacLeod.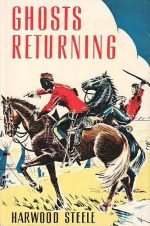 Based on "an almost forgotten official report of the U. S. government" about the forbidden Indian Ghost Dancers, and personal accounts told to Harwood over the years by retired Mounties and Blood Indians such as Chief Joe Bull Shields, GHOSTS RETURNING is the rousing story of the pursuit of a murderer and kidnapper into the Land of the Long Knives.
Sergeant "Scarlet" Grier, Constable John Mayne and ("ex-war chief and medicine man of the Bloods") Mounted Police scout Calf Shirt lead the chase…
Other Mountie novels and collections appeared between 1923 and 1961:
I SHALL ARISE
THE NINTH CIRCLE
TO EFFECT AN ARREST And Other Stories of the Royal Canadian Mounted Police
TALES OF THE NORTH-WEST MOUNTED POLICE
THE RED SERGE: Stories of the Royal Canadian Mounted Police.
Besides THE CANADIANS IN FRANCE, his second non-fiction book was POLICING THE ARCTIC: The Story of the Conquest of the Arctic by the Royal Canadian Mounted Police
In 1973, Harwood self-published his LAYS ON THE LONG, LONG TRAIL: Selected Poems and Drawings, a collection of "poems for Canada from the fur trade to the military."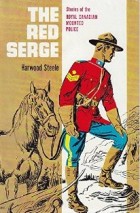 THE RED SERGE contained 16 stories, including dramatizations of the harrowing Northern experience of Constable Pedley ("Lunatic Patrol"), early exploits of the Police Service dogs ("Pal" and "A Dog Won't Lie") and Yukon Gold Rush incidents ("The Race For Molly Scott").
Unlike many of the pulp writers — but like ex-Mounties such as Ian Anderson and Trygve Lund, Harwood wrote realistically and with understanding and sympathy for the First Nations people.
In his Foreword to SPIRIT-OF-IRON, Harwood Steele laid down his philosophy of all of his fiction: "to present the Force as it was and is and not as portrayed by well-meaning but ignorant writers of the 'red love, two-gun' variety, and it is my hope that, through this book, the reader may obtain a clearer conception of the marvellous devotion to duty, the high idealism, the splendid efficiency which have made the Mounted Police famous than any to be derived from these inaccurate romances."
SAMUEL ALEXANDER WHITE  Son of Canadian naturalist James White, Samuel was born in the community of Edmonton (later renamed Snelgrove), Ontario, in September of 1884.
After graduating the Brampton Model School for Teachers, Samuel taught for five years until 1907.   During that time he began to publish song lyrics, poems and short stories in a number of papers and magazines, including The Toronto Mail & Empire, The Toronto Globe, Saturday Night, Outing Magazine, Toronto Star Weekly and later the popular American pulps Adventure Magazine and North-West Stories.
Samuel published his first novel, THE STAMPEDER, in 1910, followed two years later by THE WILDCATTERS.
In 1913, White published his first novel to get good reviews and sales, EMPERY: A Story of Love and Battle in Rupert's Land.  It was published first by Musson Book Co. of Toronto; and was reprinted a year later as LAW OF THE NORTH by Outing Publishing Co. of New York.
EMPERY introduced a common theme and setting in White's work: the Hudson Bay country, the Fur Brigades, wild voyageurs boldly paddling the whitest of rivers ("Vive le Nor'westaire!"), greedy fur company factors — and spirited women.
With these sweeping, thrilling, detailed adventure stories of the savage Northcountry, editors were soon calling White "the Jack London of Canada."
In 1914, he began to sell his stories to Adventure and other popular pulp magazines.  As well as Northwesterns, he started writing short stories and novels in his second major theme: the Sea Story.  He impressed his readership with tales like "The Ocean-Borne" (Adventure, June, 1916), "The Bank's Fleet" (Sea Stories, April, 1927) and "Gold of the North" (Pirate Stories, July, 1935).  Hardcover books in the nautical genre included THE FOAMING FORESHORE and GRAY GULL WINGS WESTWARD.
Some of White's Sea Stories, THE WONDER STRANDS is just one, were set in the Canadian North, combining both of his favourite genres.
He would continue to publish short works and complete novels in magazines including Hunting and Fishing in Canada, Maclean's Magazine, Complete Northwest Magazine, Sea Stories, Western Action and Wild West Magazine.
White's New York literary agent was Otis Adelbert Kline, who represented a number of popular pulp writers of the day, including Robert E Howard.  Kline was also an accomplished adventure author in his own right.  At Otis Kline's suggestion, Samuel began to concentrate more on the "stories that readers really want from Canada."
With NIGHTHAWK OF THE NORTHWEST (Phoenix Press, New York, 1938), Samuel began his third major theme: the North-West Mounted Police.
Although he had long published short stories that featured Mounted Police characters (such as "His Majesty's Mail" in the December, 1910 issue of People's Ideal Fiction Magazine, and "Ambush" in the April, 1918 Adventure Magazine), it wasn't until the late 1930's and through the 40's that he concentrated almost exclusively on Mountie fiction.
NIGHTHAWK OF THE NORTHWEST tells the story of Alex Nash, a former buffalo hunter who joins the newly arrived NWMP as a scout.
White's most popular Mountie novels were:
MORGAN OF THE MOUNTED
NORTH OF THE BORDER
THE CODE OF THE NORTHWEST
NORTHWEST WAGONS
NORTHWEST LAW
CALLED NORTHWEST
NORTHWEST PATROL
NORTHWEST CROSSING
After the death of Otis Kline in October, 1946, White began to find it difficult to sell his adventure stories in the fast-changing post-War market.  All those glorious pulp magazines were suddenly gone, replaced by paperback books.  Mickey Spillane's Mike Hammer was the hot new cultural hero: tough, street-wise, cynical, violent, at times a sadistic killer.  With Hitler and Hiroshima still in the rear view mirror, tales of romance, green wilderness, traditional rural values, chivalry and honour no longer suited the times.  This, of course, applied to the Northwestern genre as a whole.
Samuel's last two published novels in his lifetime were NORTHWEST RAIDERS (1945, a Mountie novel) and FLAMING FURLANDS (1948, a Fur Country yarn).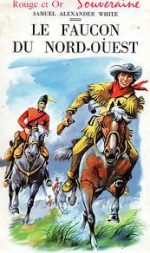 Like a number of other Canadian wilderness writers, White's northwestern novels continued to find a receptive readership in northern Europe, especially France.  His Paris publisher kept reprinting his popular titles through the Fifties and into the Sixties.  They are still avidly collected in French translation today.
Samuel Alexander White died in Toronto, on October 3, 1956, survived by Vennie, his beloved wife for 44 years, as well as their two daughters and two sons.  And the manuscript of an unpublished autobiography with the intriguing title CANADIAN SAGALAND: Wild Editors I Have Met — By Letter, Telephone, Telegraph, Cable, Word-Of-Mouth, and Hand-Shake.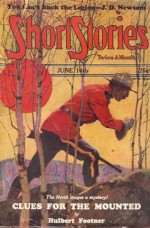 A NOTE: This article, of course, deals with authors who wrote about the historic North-West Mounted, at least in part.  The Mythic Age of our Mounties, if you will.
The many great authors of literature dealing with our modern day RCMP would take another article.  Laurie York Erskine, Jack O'Brien, Charles Stoddard, Alisa Craig, L R Wright, Don Easton, Roy Innes, Mike Martin, come to mind.
There are more.
FOURTEEN FACT-FILLED FOOTNOTES:
[1] God's Country and the Woman.  The 1937 Warner Brothers release shown on Turner Classic was a lesser remake of the classic silent movie version 0f 1916, made by Vitagraph Studios.  Although the Vitagraph offering was the first feature film appearance by Canadian stage actress and script writer Nell Shipman (as "the Woman"), she was such a hit in Hollywood that Samuel Goldwyn offered her a seven year contract.  The independent Nell turned down Goldwyn and set out to make her own Canadian movies.  An act that would lead to both triumph and downfall.  (See Nell Shipman)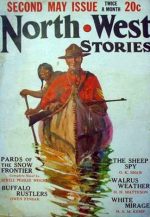 [2] Other writers contributed to the fictional Mountie Myth.
The pulps saw the success of a number of writers who specialized in Northwesterns, making a living at it.  Among them were Victor Rousseau, Robert Ormond Case, Harry Sinclair, George Marsh, H H Matteson, Jack Bechdolt, Leslie McFarlane, A DeHerries Smith, LeRoy W Snell (John G Rowe), Frank Richardson Pierce and Frederick Nebel.
Even Lester Dent, creator of Doc Savage, wrote a series of Northwestern pulp stories featuring Constable Andy Frost and the Silver Corporal.  Science fiction writer Sewell Peaslee Wright occasionally dipped his paddle into the genre with tales like "Pards of the Snow Frontier."
Under the pseudonym Luke Allan, Canadian writer William Lacey Amy (1877-1962) wrote a series of novels about Blue Pete, a mixed-blood former cattle rustler who served as an undercover agent for the Mounties in Alberta and Saskatchewan.  Blue Pete first appeared in a short story in the January, 1911 edition of The Canadian Magazine, entitled "The Sentimental Half-Breed".
Born in New Brunswick in 1872, the Reverend Hiram Alfred Cody at one time matched Ralph Connor in book sales.  As a young minister, Cody served in Whitehorse, Yukon Territory, where he kept copious journals.  Later, he would write and publish 25 books under the by-line H A Cody.  One of his most popular was THE LONG PATROL: A Tale of the Mounted Police.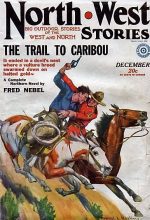 North-West Stories, which specialized in Northern Canadian and Alaskan tales of adventure, first appeared on the magazine stands in May, 1925.
Soon, each issue of North-West Stories was eagerly awaited by thousands of fans.  A typical issue was the December 1929 edition, which included yarns like "The Trail to Caribou" by Frederick Nebel, "Boot Hill's Pilgrims" by W C Tuttle, "Dogs of Doom" by A DeHerries Smith, "Bullets for Breakfast" by Tom J Hopkins, "White Ghost Trail," a serial by Jack Bechdolt, "Rangers Rule" by J Frank Davis, "Dynamite Dangerous" by Cole Richards, "Trail Tales of the North: Sign of the Killer" a short memoir by C A Freeman and "Sled Dogs for All" an article by W Dustin White.
Other magazines were soon created to cash in on the "Northwestern craze."
An example of Real Northwest Adventures is the Table of Contents of the March, 1937 issue, which contained the stories "Red Water" by Frank Richardson Pierce, "The Wolf Trail" by Victor Rousseau, "Roaring Bill" by William Byron Mowery, "White Magic" by Samuel Taylor and "The Runt" by Cliff Campbell.
And the April, 1937 issue of Complete Northwest Novel Magazine, presenting "Red-Coated Law" by T Lund, "Lost Catch" by William Byron Mowery, "In Spring Thaws" by Will F Jenkins and "The Private God" as by Murray Leinster (Will Jenkins).
Popular fiction magazines from Adventure and Argosy to Short Stories and Western Story Magazine frequently featured Canadian-set Northwesterns.
Authors such as Alberta-born Harold F Cruickshank and American Dan Cushman wrote well-received Mountie yarns, but also published stories in many other genres.  While best known for his serious books like THE FIGHTING MEN OF CANADA and his darkly comic MR GUMBLE SITS UP, Canadian professor of literature Douglas Leader Durkin also wrote some well-crafted Northwesterns such as "Haunted Valley" (Action Stories, Dec, 1924) and "Scarlet and Gold" (Flynn's, Jan, 1925).  Ontario-born mystery writer Hulbert Footner published a number of Mountie stories, often based on his own adventurous canoe trips in the Northcountry.
While women made up half the loyal readership of the Northwestern genre — especially of the romances of James Oliver Curwood and Samuel Alexander White — few women published in the genre.
But there were some wonderful Northwestern stories by women.  And one magnificent classic…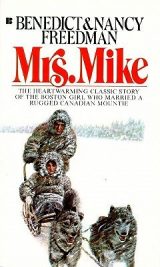 With her husband Benedict, Nancy Freedman wrote the Literary Guild selection MRS MIKE, a fictionalized first-person account based on the real life of Katherine Mary O'Fallon, a Boston woman sent to the Canadian Northwoods to recover from pleurisy.
There, she met and married Sgt Michael Flannigan of the RNWMP, living with him in his northern outpost.
The First Nations people around them were soon calling her "Mrs Mike."  She made friends with many of the natives  — including a tragic girl named Oh-Be-Joyful.  Two sequels are THE SEARCH FOR JOYFUL and KATHY LITTLE BIRD.
American writer Ethel Smith Dorrance published her first short story, "The Lucky Thirteenth," in the August, 1910 issue of Ainslee's Magazine.  Ethel gained some notoriety in 1924 over the risqué content of a screenplay based on her own novel DAMNED: The Intimate Story of a Girl, "a girl who was so beautiful that she meant ruin for any man who beheld her — even for Satan himself."  But her most popular novels were her Northwesterns — such as GET YOUR MAN, BACK OF BEYOND, NEVER FIRE FIRST and LONG ARM OF THE LAW.  Many of her stories were coauthored with her husband James French Dorrance who, after her death, reprinted them under his own name only.
Canadian writer Muriel Denison found success with her novels about young Susannah Winston.  Denison's novel SUSANNAH, A LITTLE GIRL WITH THE MOUNTIES was made into a 20th Century Fox movie starring Shirley Temple.  Sequels included SUSANNAH OF THE YUKON and SUSANNAH RIDES AGAIN.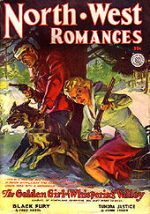 In late 1937, with sales slipping slightly because of the increased competition on the stands, North-West Stories was renamed North-West Romances, ensuring its place as one of the most popular and longest in-print pulps of them all.
The issue shown here is the second under the new title.  Cover art was by Norman Saunders.  Born in "the northernmost wilderness of Minnesota," his mother was part Iroquois.  Saunders was known for his authentic depictions of the Northcountry — and of strong female characters.  His cover illustrates "The Golden Girl of Whispering Valley" by Jack Bechdolt.
While North-West Romances continued to publish men's action yarns, more stories featuring women, romance and undying love were printed.  Writers like Eli Colter (May Eliza Frost), Helen Castle and Donna M Newhart appeared.
North-West Romances was one of the last great pulps, publishing its final issue in Spring, 1953.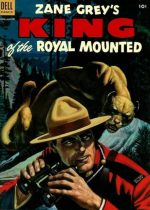 In the genre's heyday, even writers of traditional American Westerns saddled up and rode North of the Border.  Zane Grey, of  course, created King of the Royal Mounted.
And William MacLeod Raine, Charles Alden Seltzer, Max Brand, Les Savage Jr, Luke Short and — later — three of my all-time fave Western writers, Will Henry, Louis L'Amour and Giles A Lutz, all headed north.
Under the pen name Wade Everett, Ballantine Westerns published Giles A Lutz's THE WHISKEY TRADERS in paperback in 1968. THE WHISKEY TRADERS tells the story of "half-breed" Brent Bargen. Conscripted by a US Federal Marshal, Brent is sent as an undercover agent north into the lawless Canadian Northwest Territories to infiltrate the notorious whiskey traders, wolfers and outlaws at Fort Whoop-Up. During the story, the newly-formed North-West Mounted Police arrive. Major James Macleod plays a featured role.  Brent, who had lived a lifetime of being ashamed of his native blood, is surprised at the even-handed and honourable way the Red-coated policemen treat the Native Peoples.
While Ian Anderson may have been the last writer to contribute major works to the North-West Mountie genre, a number of present day authors have helped keep the flame flickering.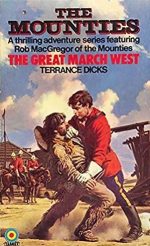 Terrance Dicks, best known as an early writer and script editor on the BBC series Doctor Who, published his North-West Mounted Police trilogy in 1976, starting with THE MOUNTIES: THE GREAT MARCH WEST.
The novel was a fictional retelling of the arrival of the Mounties in the Northwest Territories and their raid on the outlawed whiskey traders of Fort Whoop-Up.
The other two titles were MASSACRE IN THE HILLS and WARDRUMS OF THE BLACKFOOT.
Alberta-born Janette Oke has included Mounted Police in her Christian novels of the Frontier.  WHEN CALLS THE HEART is her modern masterwork.
Another Christian writer is Alan Morris, whose Guardians of the North series was published between 1996 and '99.  The five titles were BY HONOR BOUND, HEART OF VALOR, BRIGHT SWORD OF JUSTICE, BETWEEN EARTH AND SKY and WINGS OF HEALING…
Summer, 1874.  It's the story of Hunter Stone, who loses his home, wife and almost his life to renegades.  He joins the newly created NWMP, but is it to seek vengeance?  Will the young missionary who nursed him back to health, Reena O'Donnell, be able to heal his soul?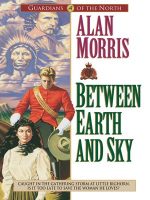 Guardians of the North is actually a well-written and well researched series.  And the easy racism of an earlier generation, found even in the writings of Curwood and Mowery, has been replaced by a more equitable treatment of the First Nations.
A note on broad-brimmed Stetson shown on the Guardians series cover art: the Force didn't adopt those iconic campaign design Stetsons until the Klondike era of late 1890's — author Morris okayed the visual anachronism because "the white helmets described in this novel make the early Police look like early British soldiers."  Which was a "look" the Canadian gov had deliberately adopted, because of the relationship of trust and cooperation the British Army had already established with our western First Nations.
Another recent writer, Tim Champlin, bless him, has appeared with short stories like "Color At Forty-Mile" in Jon Tuska's STORIES OF THE FAR NORTH, Bison Books, 1998 (which also included yarns by Max Brand, James Oliver Curwood and James B Hendryx, among others).  And "Maintien Le Droit" — published in Tuska's ODYSSEY OF THE NORTH: North-Western Stories, Five Star, 2003.  Champlin's full-length novel BY FLARE OF NORTHERN LIGHTS, a Klondike Gold Rush adventure in the Jack London tradition, was published by Thorndike Press in 2001.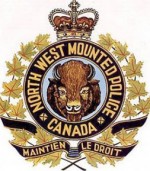 [3] WHAT'S IN A NAME?
A Short History Note:  Shortly after Prime Minister John A MacDonald led the Confederation of our new Dominion of Canada in 1867, he was made aware that Rupert's Land (an area as big as Europe, soon to be renamed the Canadian North-West Territories) was falling into a state of chaos.
Upon Confederation, the small number of red-coated soldiers of the British Army who had patrolled Rupert's Land, keeping peace and good relations with the Native Peoples on behalf of "The Grandmother" (Queen Victoria), were recalled to England.
By 1870, First Nations tribes were being devastated by a smallpox epidemic, losing an estimated fifty percent of family members.  Every village, every tipi, echoed with their death songs as the people suffered fever, delirium and death.
American whiskey traders were moving into the emptied land to build fortified trading posts offering potent trade whiskey for furs, buffalo robes and hides to an anguished, desperate native people.  And then…
Cyprus Hills, June 1, 1873.  A ragtag group of drunken whiskey traders, wolfers, buffalo hunters and outlaws calling themselves the "Spitzee Cavalry" (based in Fort Whoop-Up, in what is now southern Alberta) massacred a band of Assiniboine men, women and children.  When news of the atrocity reached the East, the Catholic Church and Protestant newspapers hotly demanded that MacDonald finally do something.
MacDonald announced that a field force to be named the "Canadian Mounted Rifles" would be created and sent west.
President Ulysses S Grant informed MacDonald that if Canada sent that military field force west, it would be considered an Act of War against the USA.  This was the time of Manifest Destiny — in the late 1860's, Secretary of State William H Seward, who was purchasing Alaska from the Russian Empire, had spoken publicly about "next annexing British North American territories."  American trading posts in the Canadian northwest, including ruthless outposts like the stockaded Fort Whoop-Up, Fort Stand-Off, Fort Slide-Out and Robber's Roost, were already flying the Stars and Stripes.
Prime Minister MacDonald took the Act to Create the Canadian Mounted Rifles out of his desk, dipped pen into inkwell, scratched out some words, and renamed the force the "North-West Mounted Police."  The name change, he explained in Parliament, reflected the non-military goals of the new force, adding that a company of "fewer than 300 brave men" was no danger to our neighbour to the south.  The new force's motto — "Maintien Le Droit" — meant Uphold The Right.
President Grant read his ambassador's report from Canada, then the old soldier looked at the map of US and Canadian western territories.  He knew that he had already sent over 2000 soldiers — infantry and cavalry — just to counter the "Sioux problem" and that he had thousands more troops throughout the Wild West.  US Marshal Charles Hard, based in Fort Benton, Montana  Territory, had reported that "over 5000 American toughs and outlaws" were hiding over the Canadian Line.  And there were thousands of native Blackfoot, Blood, Cree and Assiniboines just as hostile as the Cheyenne and Sioux.
Grant lit up a stogie and watched the rolling smoke thoughtfully.  This Canadian Field Force, or whatever MacDonald was calling it now, had to march over two thousand miles just to get to the Canadian West.  And then fight for control of a wild lawless territory bigger than Alaska.  "Fewer than 300 men," he concluded.  "Let them go.  They will never make it."
The North-West Mounted Police (NWMP) began their historic Long March west to bring the Queen's Law on July 8, 1874.  Besides enough horses and remounts for 275 members and their Metis scouts, they took 73 wagons full of supplies — and two nine pounder cannons, weighing 3800 pounds each.  They reached their goal — the treacherous Fort Whoop-Up — on October 9.  (For more, see "Sam Steele" [11] below…)
In 1904, their heroic achievements received recognition when King Edward VII granted the Force the prefix "Royal" and it became the Royal North-West Mounted Police (RNWMP).
In February 1920, the Mounted Police were amalgamated with the Ottawa-based Dominion Police, which had carried out federal policing and security in eastern Canada, and given their modern name, Royal Canadian Mounted Police (RCMP).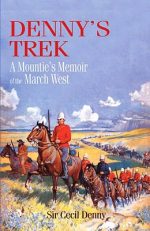 Although initially created to shut down the pernicious whiskey forts and establish Canadian Sovereignty in its own Western Territories, the Mounties soon found themselves expanding their job description.  Patrolling the border to keep out "questionable ruffians," including whisky smugglers.  Setting up customs posts.  Negotiating treaties with the Native Peoples. Protecting the dwindling bison population from foreign hunters.  Fighting miles-wide prairie grass fires.  And policing the settlers who followed the arrival of the "Scarlet Riders."
The more success the Mounties achieved, the more they were needed.
(A Heart-felt thanks to American writers Burt Kennedy, George Sayre, John C Higgins, Gil Doud, Frank Fenton and William Beaudine — all of whom inspired my love of history and true national mythology, and showed me how to write it.)
From their beginning, fictional stories have been told of our Mounties.
John Mackie, who had served as a Mounted Policeman from 1888 to 1893, published popular romances from 1894 to 1913, such as THE RISING OF THE RED MAN, CANADIAN JACK and THE LAW BRINGERS.
Another ex-member, Welshman Roger Pocock, who had served as a Constable in the Force during the 1885 North-West Rebellion, also published early stories based on his experiences, his best being THE CHEERFUL BLACKGUARD (1896), a tale told with barracks humour.  His autobiographies are THE FRONTIERSMAN and CHORUS TO ADVENTURE.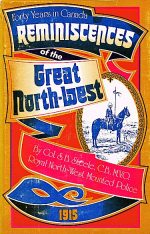 Pocock drew some official fire when he criticized the government for its treatment of the First Nations people.  On his return to England in 1905, Pocock formed the patriotic Legion of Frontiersmen, which proudly survives even today.
It was Roger Pocock who convinced his reluctant friend Sam Steele to begin writing his own memoirs — they were published to much acclaim in 1915 as FORTY YEARS IN CANADA: Reminiscences of the Great North-West by Col S B Steele, CB, MVO, Royal North-West Mounted Police.
Canadian-born writer of historic novels Gilbert Parker, who in the first decades of the 20th Century battled with writers like Edna Ferber and Booth Tarkington for top spot on the New York Times best seller lists, published an early literary work of the Mounties, THE PATROL OF THE CYPRUS HILLS, in 1893.
Robert W Service's ballad Clancy of the Mounted Police ("In the little Crimson Manual it's written plain and clear, that who would wear the scarlet coat shall say good-bye to fear; shall be a guardian of the right, a sleuth-hound of the trail— In the little Crimson Manual there's no such word as 'fail'—") appeared in 1909.
Then came the man who called himself Ralph Connor…
[4] When the bear spared Curwood's life, the avid outdoorsman gave up hunting forever, except with a camera.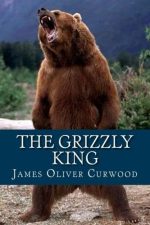 And that harrowing bear encounter in the wilderness of British Columbia inspired his 1916 bestselling novel THE GRIZZLY KING.
In his Preface to THE GRIZZLY KING, James Oliver Curwood wrote: "It is with something like a confession that I offer this second of my nature books to the public — a confession, and a hope; the confession of one who for years hunted and killed before he learned that the wild offered a more thrilling sport than slaughter — and the hope that what I have written may make others feel and understand that the greatest thrill of the hunt is not in killing, but in letting live…"
THE GRIZZLY KING was made into the Jean-Jacques Annaud movie L'Ours (The Bear), released in France in 1988.  Annaud had already achieved international fame with his productions Quest For Fire and The Name of the Rose.  The Bear won four Feature Film awards, including the 1990 Genesis Award.
In 1989, Newmarket Press released a new edition of "this long-lost American classic" THE GRIZZLY KING.  Retitled THE BEAR: A Novel, this edition starts with an Introduction by Jean-Jacques Annaud, who explains that Curwood's story "is not only an adventure of two bears and the men who hunt them, but also a beautifully moving drama about a full range of emotions — that we are used to thinking of as human, but that are, in fact, universal."
[5] Most sources reference "The Squeeze," appearing in the March 20, 1926, issue of Adventure, as Ryerson Johnson's first published short story.  But recent researchers list the 1923 Detective Tales appearance.
[6] discovery.nationalarchives.gov.uk/details/r/D8286353
[7] Such as Ralph S Kendall (1878-1941), a retired Sergeant in the RNWMP, who set his novels in the Calgary area, where he had been posted.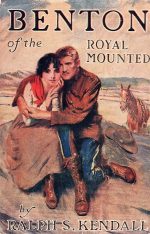 After serving in the Boer War, Kendall returned to Canada and joined the RNWMP (Reg #4351).  In 1910, he left the Force to join the Calgary City Police Force mounted unit until 1924.
Kendell only published two stories: the novels BENTON OF THE ROYAL MOUNTED and THE LUCK OF THE MOUNTED.
BENTON rose to #3 on the Canadian best seller lists, telling the story of Sergeant Ellis Benton and his battle with killers in Alberta's cattle country.  Both novels reflected the powerful, transformative effect that serving in the Boer War had left on the men who returned to Canada — including the many songs they had learned.  Kendell dedicated his books to "My Old Comrades."
Along with Samuel Alexander White's LAW OF THE NORTH, Kendall's two "Mounted" novels were collected in the NORTHERN TRAILS OMNIBUS: Three Complete Novels of Adventure in the Northwest, Grosset & Dunlap, New York, 1920.
[8] The Citizen-Advertiser, Auburn, New York, November 11, 1933.  "FORBIDDEN VALLEY is a story of the Canadian forests, packed with action, drama and a full-sized helping of romance. The first installment will appear in The Citizen-Advertiser Monday, November 13."
[9] KITCHEN PRIVILEGES: A Memoir by Mary Higgins Clark, Pg 85, Simon & Schuster, New York, 2002
[10] To read more about William Byron Mowery's first-rate Mounted Police story collections and to see all three covers, go to "Stephen J Voorhies – An Artist of the American People – and Places" and "Carl Kidwell – Artist and Writer – His Illustrations and Stories"
[11] Sam Steele.  As every red-blooded Canadian knows, Samuel Benfield Steele is one of our true-life mythic heroes, perhaps our greatest.
As a Staff Constable, Sam was one of the 275 original members of the North-West Mounted Police Force, riding with them on their arduous 2000 mile Long March westward to establish the Queen's Law in a lawless land the size of Europe.  His Regimental Number was 2.  Each of those 275 few good men would forever have the honour of calling himself an "Original."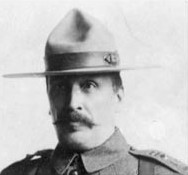 During his quarter century as a Mountie, Sam trained new horses and acted as a riding instructor, arrested whiskey traders in their fortified posts, fought outlaws who hid like rats on the Canadian side of the Medicine Line, met with Sitting Bull when the Sioux sought refuge in "The Land of the Grandmother" after Little Bighorn, tracked down cattle rustlers who raided the ranches that had grown with the Mounties' arrival, patrolled the construction of the Canadian Pacific Railway, led the building of Fort Steele in the Rocky Mountains, and during the bloody Northwest Rebellion, he formed Steele's Scouts —  a cavalry unit of Mounties and volunteer Texas cowboys from local ranches.
He had reached the rank of Superintendent when he led the Yukon Detachment north during the frenzied Klondike Gold Rush in 1897.  He kept Law and Order in Dawson City and the vast, rich goldfields, earning the epithet "Lion of the Yukon."
Sam took leave from the NWMP to take command of Lord Strathcona's Horse, a Canadian mounted unit formed to fight in the Boer War, and stayed after the war to form the South African Constabulary, essentially a mounted police force.  After serving as a Major-General with the 2nd Canadian Division during World War I, he was knighted by King George V for his years of heroic service to Crown and Country.
Sam Steele lived a Life, eh?
[12] "The grass in Canada is not stained with blood." Sitting Bull to Major James Walsh of the North-West Mounted Police.
[13] "I know the history of the early North-West Mounted as much as any man alive, and I have always been impressed by the very human qualities of the men; by their trials, their shortcomings and the truly magnificent things they did as plain humans." William Byron Mowery
[14] "Being a Mountie's daughter means you know that the bad guys aren't just on TV.  You know the good guys are real, too."  Sheree Fitch, ShereeFitch.com
A CONCLUSION OF SORTS:
Since first putting this article online, I've been asked "What would you recommend…" and "What are the best…"
All I can list are a few of my favourites — those books I love to pick up and reread passages from.  You might want to start with one of these…
Ian Anderson – SERGEANT O'REILLY
Benedict & Nancy Freedman – MRS MIKE
Ralph S Kendall – BENTON OF THE ROYAL MOUNTED
T Lund – WESTON OF THE  ROYAL NORTH-WEST MOUNTED POLICE
Harwood Steele – GHOSTS RETURNING
Now this next one's a surprise title.  A lot of the old pulp writers got Canada, our history, our mythology and our Mounted Police routines wrong.  Just plain out wrong!  And that's continued with those more modern paperback action-packed Western series  — as soon as our gun-totin' hero crosses north of the border, he leaves the real world behind.  Basic research doesn't apply.  The author doesn't give a damn.
But a good read that not only gets our Mounted Police history right but is a great old-fashioned frontier adventure (well, a bit steamier) is LONGARM AND THE MOUNTIES (Longarm #16) written by Lou Cameron under the house name Tabor Evans.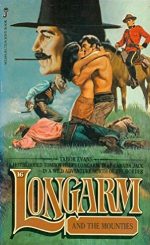 Deputy U. S. Marshal Custis Long, known as Longarm, heads north in pursuit of an owlhoot who calls himself Canada Jack.  Longarm expects he'll have to outfight this Jack's gang of killers and outsmart (again) Sgt William Foster of the NWMP to get his man back to American justice.  Along the way, he meets Flora MacTavish, who is riding her own vengeance trail.
Lou Cameron created the Longarm Series, wrote a bunch of them himself, and brought in some top notch Western writers to contribute the others, including James Reasoner.  (My fave newer Western Series, tho' looks like Ol' Custis retired in 2015.)
Part of this book's charm is, as James Reasoner has said, Lou Cameron's distinctive voice: "it reminds me of the dialogue in the TV series DEADWOOD, without all the cussin'." Rough Edges – JamesReasonerBlogspot.ca
And there are a number of Northwesterns that don't feature Mounties as central characters, but are just downright faves:
James Oliver Curwood – THE GRIZZLY KING
Jack London – THE CALL OF THE WILD
George Marsh – THE WHELPS OF THE WOLF  (See Wolf Whelps & Lead Dogs: Tribute to Wilderness Writer George Marsh)
And if you want to read a passionate non-fiction account of our Mounties and our history, try Pierre Berton's KLONDIKE: The Last Great Gold Rush 1896-1899.  Pierre knew his stuff.  He was born in the Klondike.
So there's my Top Ten Books, mon ami!
If you're thinking that my top 10 books don't match my top 10 writers — that's mostly because some of those writers did their best work in short form: short stories and novelettes.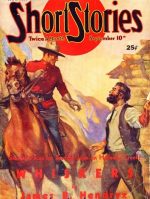 Like Ryerson Johnson's "Webs For One."  And William Byron Mowery's "The Constable of Lone Sioux."
And Jim Hendryx's "Routine Patrol" as well as over a dozen great yarns spread across his many Halfaday Creek books.
Cover scene from Sept 10, 1936 Short Stories illustrates Black John confronting Cpl. Downey in "Whiskers" — a Halfaday Creek Story.  Artwork by Hibbert V B Kline.
– Brian Alan Burhoe
Updated June 7, 2017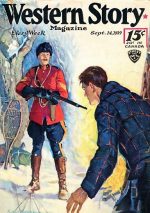 Title: Greatest Writers of Mountie Fiction
Or WRITERS OF THE SCARLET SERGE
Keywords: bear encounters, Bio, Biography, Canadian wilderness writers, Ghosts Returning, Harwood Steele, Nell Shipman, North-West Mounted Police, NWMP, passion for books, pulp fiction mounties, Ralph Connor, RCMP, RNWMP, Samuel Alexander White, William Byron Mowery, William Byron Mowery Biography
DID YOU LIKE THIS POSTING?  IT'S BEEN A LABOUR OF LOVE.
IF SO, PLEASE TELL YOUR FRIENDS!
HAVE TWITTER? A TWEET WOULD BE APPRECIATED!  THANKS!