Farley Mowat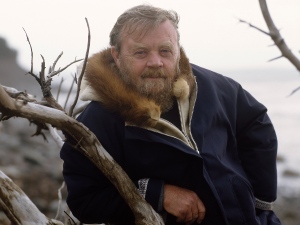 Tribute to a Hero
When Farley Mowat first announced that he had written his last book, I was mad at him. "How dare you, Farley?!"
Not as mad as I was when Kurt Vonnegut made the same declaration. Because I believed Kurt.
I didn't know if to believe Farley.
And with reason. Farley has written several last books since. He can't stop writing, God bless him. According to Greg Quill in an online Star article (Farley Mowat's Legacy: Our Supreme Storyteller), he's working on another Memoir, in which Farley says he finds himself "on the shores of Sicily in 10,000 B.C., heading north as the glacier retreats. It's not entirely based on fact." Great!
Not that Farley Mowat hasn't earned the right to retire.
Unlike his other writings, I've only read SEA OF SLAUGHTER completely through the once. And then one chapter at a time, interspersed with other, lighter, works such as murder mysteries and post-apocalyptic science fiction. One chapter at a time: SEA OF SLAUGHTER was that painful to read. And yet Farley LIVED with that book.  For how long? I'd always thought that sportswriter Red Smith's "open a vein" line was a bit over the top — but not after reading SEA. It took balls to write that book. It must have cost Farley something…
From the beginning, I hated school. I wanted to live my boyhood Outside — playing softball with friends on a woodchip playing field or cow pasture, earning quarters by walking horses at the local harness racing stables, and prowling old abandoned logging roads deep in the living greenwoods. But early on I discovered that schoolhouses held ONE Wondrous Thing: Personal Heroes waiting for a young boy to discover them. They hid away in elementary readers and school libraries where even bored teachers couldn't stretch them out to dry on racks like cod fish.
Like Sir Charles G D Roberts, the first writer I was aware of as being an actual person who was telling these magical yarns, wanting to read everything he had written, wandering his New Brunswick forests and meeting his wild animals.  The library held some of his hardcover collections, with dramatic wildlife illustrations by Charles Livingston Bull.
Then came Grey Owl. And Ernest Thompson Seton. And Jack London. And George Marsh. In the real world, Dell Comics and Whitman Books offered Edgar Rice Burroughs' Tarzan of the Apes.
And then there was Farley. The school library had a shiny new copy of THE DOG WHO WOULDN'T BE and I found a lifelong hero. One Saturday, I walked into Saint John (a three mile walk) and, instead of spending my saved-up paper route money on a Western matinee and fresh popcorn at the Paramount, went to a grownup bookstore and got a copy of PEOPLE OF THE DEER. A few years later, I wrote a book report on PEOPLE and the teacher gave me a D, writing across it, "This is not what it is about!" whatever that meant. And later, I read NEVER CRY WOLF and I knew, yes, this is exactly what it was about.
NEVER CRY WOLF is just one of those essential reads: just you and Farley alone in the North Country with a pack of wild wolves for neighbours.  This book inspired our avid interest in wolf watching and the Save The Wolves movement.
And THE DOG WHO WOULDN'T BE affected me as it no doubt affected you and just about everyone who grew up with a dog. Farley had Mutt. You had your own. My dog was called Pal. Part Golden. And he wasn't even ours. He belonged to an old couple next door and he decided that I'd be his best friend. He followed me around, stayed with me as long as I kept within sight of his owners' house. That was his only rule. Otherwise it was all about love and companionship.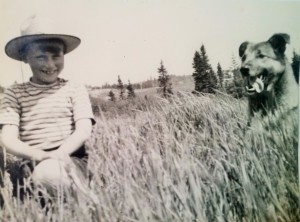 After we moved out of sight of Pal's house, I asked for our own dog. No! Dad's decision. He hated dogs. I couldn't understand why. Dad had grown up on a farm in Nova Scotia. They had dogs on farms, didn't they? Years later, Mum explained that it was because of things that happened during his stay in a quaint little Northern German town called Fallingbostel. Stalag 11B.  Serving in the Algonquin Regiment, Dad had been picked off by a sniper, and came to being treated by a German soldier.  Our Canadian POWs got Red Cross packages and turnips to help battle their gnawing hunger. The starving Russian POWs were abandoned by their own gov. Some of the desperate, starving Russian soldiers went over the wire. Equally desperate guard dogs were waiting for them.
I never blamed Dad. He was a hero of mine. And, as a later hero of mine (another ex-POW) used to say, "So it goes."  [1]
For me, THE DOG WHO WOULDN'T BE is part memory, part what-could-have-been.
And the wolves. Not Jack London's wolves, but more real. Farley and his wolves grabbed hold of me forever.  And Farley himself grabbed our attention when he first appeared in public in his red-bearded renegade in a kilt persona — Front Page Challenge and so on.
Other favourites?
CANADA NORTH. One of dozens of great books put out by McClelland & Stewart for our Centennial. Wise words — glorious photos.
Is it quite right to lable A WHALE FOR THE KILLING as a "favourite"? Not fun reading like OWLS IN THE FAMILY and LOST IN THE BARRENS and CURSE OF THE VIKING GRAVE and THE BLACK JOKE. Just a book that catches all the love and wonder so many of us have for our fellow living creatures. And because the "bad guys" were so familiar: Walt Kelly Pogo-style "they are us" people. That scene, that image, of Farley and Claire in Onie's dory by the bloated whale corpse — it still haunts, still haunts.
At the time, RESCUE THE EARTH! (Conversations With The Green Crusaders) gave me hope for the future. I read it first as a public library lend and have only recently got my own copy. In 1990, Monte Hummel of the World Wildlife Fund spoke to Farley of accomplishing great things in "the next ten years," concluding that it would be "political suicide if you are perceived as being anti-environment" if you were a politician. And now, 23 years later (after eight years of Stephen Harper and the New Right and the old greed), what's been accomplished? The Suits have failed. People of the First Nations speak about their "spiritual connections to the land" and their words dissipate like frosty breath on the air. "Jobs," say the Suits.
But I enjoyed rereading his interviews with Michael O'Sullivan, Michael Bloomfield. Stephen Best, and Elizabeth May. I'd forgotten about Elizabeth's "Gaia Women" which concludes RESCUE. I shouldn't have.
As I got to know my heroes, I learned that some of them were no longer loved by the Grownups. Grey Owl, of SAJO and PILGRIMS OF THE WILD was discovered to be an Englishman named Archie Belaney, not a native "Indian," and fell out of official favour with the Can Lit establishment. Will James, the American cowboy who wrote and illustrated SMOKEY THE COWHORSE was discovered to actually be Joseph Dufault, from Saint-Nazaire-d'Acton, Quebec. Words like charlatan and fraud were tossed around as if they meant something. So what? So they re-imagined themselves… Their stories were true. And in the case of James, the Americans have been more forgiving.
So when things were said about Farley, I said "So what!" Farley gets the final word on the subject: "I've always said, half-jokingly, that I never let facts interfere with the truth."  Subjective non-fiction.
My favourite Farley Mowat quote?  "There is no authentic report of wolves ever having killed a human being in the Canadian North, although there must have been times when the temptation was well-nigh irresistible."
Well, come to think of it, maybe it's: "We have no God-given right to survive forever.  We have screwed up so badly in so many ways so obviously that only an utterly stupid species would consider that we have much of a future."
This month, May 12, 2013, Farley Mowat turns 92. Happy Birthday, Farley. And thanks. You are loved.
UPDATE: Wednesday, May 7, 2014.  While sitting in our family doctor's crowded waiting room, the news came over the radio: "Farley Mowat, one of Canada's best-known authors and a noted environmentalist, has died at age 92."  Mary Lee and I shared an "Oh nooo."  From a fisherman and his girlfriend to our right came, "He was a crazy fool."  From our left came a woman's, "My mother loves his books.  She'll be devastated."  Even on this sad, sad day, Farley's still getting mixed reviews.
– Brian Alan Burhoe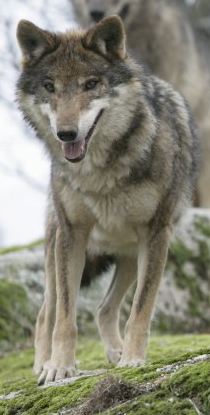 Did you like this posting?
IF SO, YOU'LL LUV "WOLFBLOOD" — MY MOST POPULAR ANIMAL STORY:
"I JUST READ WOLFBLOOD AGAIN FOR GOOD MEASURE. ONE FOR ANY WOLF LOVER. ENJOYED IT BUT WISH IT WAS A FULL LENGTH NOVEL." – Gina Chronowicz @ginachron
"THIS WAS A GREAT SHORT STORY. MORE PLEASE!" Make It Beautiful @Create4Ever
WOLFBLOOD, a Northwestern yarn in the Jack London Tradition, Free to Read ==> CLICK HERE  WOLFBLOOD: A Wild Wolf, A Half-Wild Husky & A Wily Old Trapper
[1] I made up for my dog-less boyhood by bringing home kittens.  Always the lonely, leftover little kitten that nobody else wanted.  Like Hunter, a gentle and loving (with me) stub-tailed grey Manx cat, who liked to bring me mice from the horse barn next door.
Keywords: animal rights, books, canadian north, dog wouldnt be, farley mowat 2013, farley mowat birthday, farley mowat wolf, jack london, never cry wolf, save the wolves