"There are many cats and other animals who haven't eaten for days and may be lost from their homes. We are eager to help the courageous people who are finding and saving these animals."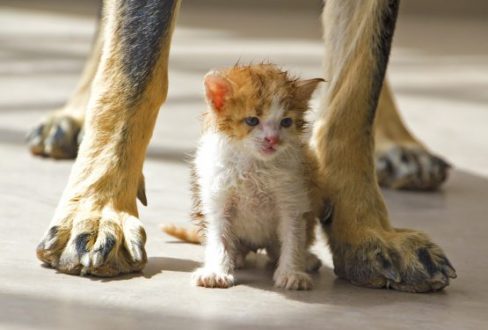 Hurricane Harvey Rescue Cat
One of the more discouraging things coming out of the Hurricane Harvey tragedy for us was being accused of "Loving animals more than people — what's wrong with you radical animal rights cults?" Lot of anger aimed at us because we love animals. And I think the innocent "snowflake" has a whole other meaning for these guys.
Of course our hearts went out to the people of Texas affected by those torrential rains and awful flooding. We know some of those people — have family there.
As always, our own first response was to give what we could to the Red Cross to help those good folks. Cheered when our Prime Minister Justin Trudeau, responding to a request from FEMA, ordered our Royal Canadian Air Force to airlift relief supplies to Texas, including "baby formula, blankets, cribs…"
And it was those people themselves who tore at out hearts with their tearful requests for help in finding their lost pets.
And so we applauded the valiant and caring attempts by such animal rescue groups as the ASPCA, AKC Humane Fund, IFAW Disaster Response Teams, American Humane Rescue Teams, among others…
The story of "Alley Cat Allies" especially caught our attention:
Alley Cat Allies [1] has deployed an expert, bilingual disaster response team and is sending additional resources to help Texas and Louisiana organizations rescue cats and other animals whose lives continue to be in peril because of Hurricane Harvey.
"Many people and animals have been displaced, shelters are overflowing and families were forced to make difficult decisions about what to do with their animals," said Becky Robinson, president and founder of Alley Cat Allies.
"There are many cats and other animals who haven't eaten for days and may be lost from their homes. We are eager to help the courageous people who are finding and saving these animals."
In many cases, community cats, sometimes called feral cats, were left on their own when their human caregivers evacuated as floodwaters rose.
The Alley Cat Allies team will help shelters and caregivers throughout Texas and Louisiana to rebuild programs that were in place to help community cats, including Trap-Neuter-Return (TNR). They will also be forming a network of people to rescue cats, check on colonies, resume feeding them and place new cat houses and shelters as necessary.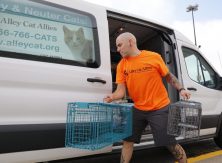 "A member of the Alley Cat Allies Rapid Response Team loads a van with supplies and equipment."
The Alley Cat Allies disaster response team started its work in Spring, a Houston suburb, by assisting the Texas Litter Control (TLC) organization.
TLC requested help as a member of the Alley Cat Allies Feral Friends Network. Alley Cat Allies has brought truckloads of traps, dens and cat carriers, which will all be in high demand. Additional supplies such as leashes, cat food, kitty litter, water, blankets and towels are also being delivered.
In Texas and Louisiana, Alley Cat Allies is offering emergency funds to overwhelmed shelters and organizations. In one such case, the Humane Society of Louisiana (HSLA) has used these funds for two disaster-ready transportation vehicles that are facilitating the rescue of hundreds of animals stranded by floodwaters.
Jeff Dorson, executive director of HSLA, thanked Alley Cat Allies for helping in a second consecutive year, after the organization previously responded to extreme flooding in 2016.
"Once more, Alley Cat Allies has come to our aid in a time of need," Dorson said. "This critical support is helping us to save cats and other animals who need our help. The generosity, partnership and good-will are helping us to get through some very challenging days as we try to do as much good as we can."
Alley Cat Allies will post updates about its hurricane relief efforts on Facebook, Twitter, Instagram and YouTube, and donations to support its work can be made online at www.alleycat.org.
– Brian Alan Burhoe
Did you like this Animal Rescue Post?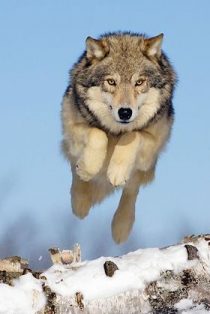 IF SO, YOU MIGHT WANT TO READ WOLFBLOOD — MY MOST POPULAR ANIMAL STORY:
"I JUST READ WOLFBLOOD AGAIN FOR GOOD MEASURE.  ONE FOR ANY WOLF LOVER.  ENJOYED IT BUT WISH IT WAS A FULL LENGTH NOVEL." – Gina Chronowicz @ginachron
"GREAT SHORT STORY!  DOES REMIND ME OF CALL OF THE WILD, WHITE FANG…" – Evelyn @evelyn_m_k
A heartfelt and thrilling tale in the Jack London Tradition of a lone Gray Wolf and it's search for its place in the Great Northwoods.  FREE TO READ ==>  WOLFBLOOD: A Wild Wolf, A Half-Wild Husky & A Wily Old Trapper
[1] About Alley Cat Allies: Alley Cat Allies, headquartered in Bethesda, Maryland, is "the global engine of change for cats. We protect and improve cats' lives through our innovative, cutting-edge programs. We are seen around the world as a champion for the humane treatment of all cats. Founded in 1990, today Alley Cat Allies has more than 650,000 supporters and helps tens of thousands of individuals, communities and organizations save and improve the lives of millions of cats and kittens worldwide." Its website is www.alleycat.org, and Alley Cat Allies is on Facebook, Twitter, Instagram, Google+ and YouTube.
Hurricane Harvey Rescue Cat – Saving Lost Cats
Source: Civilized Bears, Alley Cat Allies and PRNewswire
DID YOU ENJOY THIS POSTING?  IF SO, PLEASE TELL YOUR FRIENDS.
ARE YOU ON TWITTER?  SURE WOULD APPRECIATE A RE-TWEET!