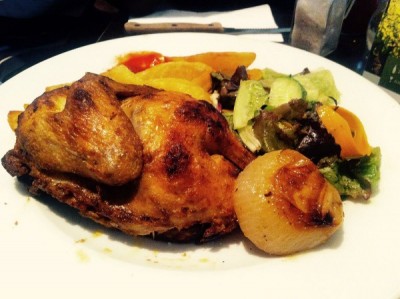 KENNY ROGERS ROASTERS IS MY FAVE RESTAURANT – AND HERE ARE MY FAVE KR ROASTERS RECIPES!
"People know I like to sing," Country music legend Kenny Rogers once said. "What they don't know is I like to cook or better yet, enjoy good food. To me, our ROASTERS chicken is the best!"
Kenny started his down-home Roasters Restaurants in the early 90's, and when one opened in Halifax, it became our favorite eatery when Mary Lee and I visited the Big City.
In just a few years, his menu had expanded to include Kenny Rogers Roasters chicken, cooked in those wonderful wood-fire rotisseries, as well as fresh-made side dishes, rotisserie turkey breast, honey-bourbon barbecue ribs, pita sandwiches, soups and salads. Other popular items included Miami Subs, their incredible Kenny Rogers Fire-And-Ice Chili and their vanilla muffins.
But by the turn of the century, his ROASTERS chain was in financial trouble. Putting out genuine home-style meals in what too many customers seemed to consider a fast-food market, was costing them. In what, to me, is one of the saddest events in the Great Food industry, Kenny was forced to close a whole lot of his outlets in Canada and the U.S.
And here's the kicker: although the restaurant chain lost fans in Kenny's homeland, there are still hundreds of popular much-loved Kenny Rogers Roasters open around the world, where Kenny's music also remains popular.
You'll still find them in the Far East Pacific Region, in Malaysia, Singapore, Indonesia, Philippines, Brunei… In fact, Kenny Rogers Roasters is one of the fastest growing restaurant chains along the Pacific Rim.
Why are they still going great worldwide? Because of the quality! Remember it? Remember that country kitchen smell of real cooking chicken when you walked in the door?
>>> So if you can't travel to Kuala Lumpur for a taste of Kenny's popular "East Meets West" chicken – if you want to prepare a delicious meal to impress family, friends or even a hot date, here are this ol' cook's recreations of Kenny Rogers Roaster's most popular recipes of all time…
–Kenny Rogers Roasted Chicken–
1 whole chicken
1/2 cup rock salt
2 tablespoons calamansi juice (Key Lime juice is a good substitute)
1/4 cup soy sauce
1/4 cup corn oil
2 tablespoons chili ketchup
2 teaspoons well-pounded garlic
1/2 teaspoon pepper mill grind black pepper
1/4 teaspoon mustard
Directions:
Rub the chicken with rock salt. Rinse and pat dry. Place the chicken in a bowl.
Add the rest of the ingredients and let stand in the refrigerator for at least 8 – 24 hours.
Cook slowly, basting with the remaining marinade from time to time.
>> If you don't have a chicken rotisserie, it's actually worth getting one. The electric ones don't cost that much – and the result is healthy and downright delicious. However, you can certainly still cook 'er up proud in the oven! Either way, you're going to get the best old timey Country Cooking can provide.
–Kenny Rogers Roasters BBQ Sauce–
1 cup Applesauce
1/2 cup Heinz ketchup
1 1/4 cups Light brown sugar, packed
6 tablespoons Lemon juice
Salt and pepper
1/2 teaspoon Paprika
1/2 teaspoon Garlic salt
1/2 teaspoon Cinnamon.
Directions:
In heavy saucepan bring mixture to boil.
Stir constantly about 4 to 5 minutes. Turn heat to low and continue to stir (about 3 to 5 minutes) making sure sugar is completely dissolved.
Allow to cook without stirring for 15 minutes on lowest possible heat, uncovered. Transfer to top of double boiler over simmering water if to be used as a basting sauce for ribs or chicken during baking; or cool sauce and refrigerate covered to use in 30 days.
This BBQ Sauce freezes well.
–Kenny Rogers Corn Muffins–
1/2 cup vegetable oil
1/4 cup honey
1 tablespoon Grey Poupon Dijon mustard (if you prefer, honey mustard makes a sweeter substitute)
1 teaspoon ketchup
1 teaspoon granulated sugar
1/4 teaspoon paprika
1/4 teaspoon salt
1/8 teaspoon ground black pepper
1/8 teaspoon garlic powder
1/8 teaspoon onion powder
2 1/2 tablespoons white vinegar
1/2 teaspoon concentrated hickory liquid smoke flavoring
1/4 teaspoon lemon juice
1 egg yolk
1 teaspoon water.
Directions:
Preheat oven to 400 degrees.
Cream together butter, sugar, honey, eggs and salt in a large bowl. Add flour, cornmeal and baking powder and blend thoroughly. Add milk while mixing. Add corn to mixture and combine by hand until corn is worked in.
Grease a 12-cup muffin pan and fill each cup with batter.
Bake for 20-25 minutes or until muffins begin to turn brown on top.
Or Try…
–Kenny Rogers Fire-And-Ice Chili–
1 20-ounce can pineapple chunks in syrup
2 pounds lean boneless pork roast cut into 1-inch cubes
2 tablespoons olive oil
1 medium yellow onion chopped (1/2 cup)
1 clove garlic minced
1 28-ounce can tomatoes cut up
1 6-ounce can tomato paste
1 4-ounce can diced green chili peppers drained
1 green pepper chopped 3/4 cup)
1 medium yellow onion chopped (1/2 cup)
2 cloves garlic minced
1/4 cup chili powder
4 teaspoons ground cumin
1 to 3 tablespoons seeded and finely chopped jalapeno pepper
1/2 teaspoon salt
Chili toppers: sliced onions, sour cream, shredded cheddar cheese.
Directions:
1. Drain pineapple, reserving juice.
2. In a Dutch oven, cook pork, half at a time, in hot olive oil till brown. Return all the meat to the pot. Add the first chopped onion and 1 clove garlic. Cook over medium heat till onion is tender, stirring occasionally.
3. Add the reserved pineapple syrup, undrained tomatoes, tomato paste, green chili peppers, the green pepper, 1 onion, 2 cloves garlic, chili powder, cumin, jalapeno pepper and salt.
4. Bring to boiling. Reduce heat. Cover and simmer the chili for 1 1/2 hours, stirring occasionally. Add the pineapple chunks. Cover and simmer for 30 minutes more.
5. Let diners add their own toppers. Makes 8 to 10 servings. Note: To increase the spiciness of the chili, add 2 more tablespoons of the jalapeno pepper.
–Kenny Rogers Vanilla Muffins–
125g butter
80g sugar
1 tsp vanilla essence
2 eggs
125g flour
2 tbsp milk
50g buttercream
Directions:
1. Cream the butter and sugar till white as the night.
2. Add in the eggs one by one and beat it like you mean it.
3. Sift the flour and fold it in slowly (you can use the beater).
4. Blend in the milk.
5. Add in the buttercream.
Dig In and Enjoy!
Here's a note: if you DO find yourself in the Far East, you can still get those great chicken meals, as well as items like Classic Chicken Focaccia, Beef Bolognaise Spaghetti, BBQ Baked Beans, Home Made Muffins and Chocolate Fudge Cake.
KENNY ROGERS ROASTERS CHICKEN BREAST RECIPES: Best Restaurant Recipes for Home Cooking
Keywords: chicken breast recipes, chicken recipes, chicken recipes quick, easy, in oven, marinade, pot pie, rice casserole, slow cooker