Mystery Writers of America Announces the 2018 Edgar Award Nominations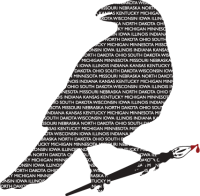 Who doesn't love a Mystery?
Despite the early success of the Western (and Northwestern) fiction in the first years of the 20th Century and the later rise of imaginative fiction — Fantasy and Science Fiction — over the past few decades, I still think that Mystery fiction has been our dominant popular literary form for well over a hundred years.
For me, so long ago, it was (after reading and loving his THE LOST WORLD) Conan Doyle's Sherlock and Watson cases that first captured me.
Maybe I had been conditioned by all those wilderness-set Northwesterns I read and loved as a boy, where Canadian Mounties always investigated and got their man. But policemen and private eyes seemed the natural Good Guys of our times.
Today, I watch for the annual "Best" nominations for the Crime Writers of Canada Arthur Ellis Awards and the Mystery Writers of America Edgar Allan Poe Awards to show me the Mysteries I've missed. Immediately download Free Samples of 'em all on my Kindle — then get the complete stories of the Must-Haves.
So — Listen!
"Mystery Writers of America is proud to announce, as we celebrate the 209th anniversary of the birth of Edgar Allan Poe, the Nominees for the 2018 Edgar Allan Poe Awards, honoring the best in mystery fiction, non-fiction and television published or produced in 2017. The Edgar® Awards will be presented to the winners at our 72nd Gala Banquet, April 26, 2018 at the Grand Hyatt Hotel, New York City."
And the nominees are…
BEST NOVEL
THE DIME by Kathleen Kent (Hachette Book Group – Little, Brown & Co./Mulholland Books)
PRUSSIAN BLUE by Philip Kerr (Penguin Random House – G.P. Putnam's Sons)
BLUEBIRD, BLUEBIRD by Attica Locke (Hachette Book Group – Little, Brown & Co./Mulholland Books)
A RISING MAN by Abir Mukherjee (Pegasus Books)
THE TWELVE LIVES OF SAMUEL HAWLEY by Hannah Tinti (Penguin Random House – The Dial Press)
BEST FIRST NOVEL BY AN AMERICAN AUTHOR
SHE RIDES SHOTGUN by Jordan Harper (HarperCollins – Ecco)
DARK CHAPTER by Winnie M. Li (Polis Books)
LOLA by Melissa Scrivner Love (Penguin Random House – Crown)
TORNADO WEATHER by Deborah E. Kennedy (Macmillan – Flatiron Books)
IDAHO by Emily Ruskovich (Random House)
BEST PAPERBACK ORIGINAL
IN FARLEIGH FIELD by Rhys Bowen (Amazon Publishing – Thomas & Mercer)
RAGGED LAKE by Ron Corbett (ECW Press)
BLACK FALL by Andrew Mayne (HarperCollins Publishers – Harper Paperbacks)
THE UNSEEING by Anna Mazzola (Sourcebooks – Sourcebooks Landmark)
PENANCE by Kanae Minato (Hachette Book Group – Little, Brown & Co./Mulholland Books)
THE RULES OF THE BACKYARD CRICKET by Jock Serong (Text Publishing)
BEST FACT CRIME
KILLERS OF THE FLOWER MOON: The Osage Murders and the Birth of the FBI by David Grann (Penguin Random House – Doubleday)
THE ROAD TO JONESTOWN: Jim Jones and Peoples Temple by Jeff Guinn (Simon & Schuster)
AMERICAN FIRE: Love, Arson, and Life in a Vanishing Land by Monica Hesse (W.W. Norton & Company – Liveright)
THE MAN FROM THE TRAIN: The Solving of a Century-Old Serial Killer Mystery by Bill and Rachel McCarthy James (Simon & Schuster – Scribner)
MRS SHERLOCK HOLMES: The True Story of New York City's Greatest Female Detective and the 1917 Missing Girl Case that Captivated a Nation by Brad Ricca (St. Martin's Press)
BEST CRITICAL/BIOGRAPHICAL
FROM HOLMES TO SHERLOCK: The Story of the Men and Women who Created an Icon by Mattias Bostrom (Grove/Atlantic – The Mysterious Press)
MANDERLEY FOREVER: A Biography of Daphne du Maurier by Tatiana de Rosnay (St. Martin's Press)
MURDER IN THE CLOSET: Essays on Queer Clues in Crime Fiction Before Stonewall by Curtis Evans (McFarland Publishing)
CHESTER B HIMES: A Biography by Lawrence P. Jackson (W.W. Norton & Company)
ARTHUR AND SHERLOCK: Conan Doyle and the Creation of Holmes
by Michael Sims (Bloomsbury USA)
BEST SHORT STORY
"Spring Break" – New Haven Noir by John Crowley (Akashic Books)
"Hard to Get" – Ellery Queen Mystery Magazine by Jeffery Deaver (Dell Magazines)
"Ace in the Hole" – Montana Noir by Eric Heidle (Akashic Books)
"A Moment of Clarity at the Waffle House" – Atlanta Noir by Kenji Jasper (Akashic Books)
"Chin Yong-Yun Stays at Home" – Alfred Hitchcock Mystery Magazine
by S.J. Rozan (Dell Magazines)
BEST JUVENILE
AUDACITY JONES STEALS THE SHOW: by Kirby Larson (Scholastic – Scholastic Press)
VANISHED! By James Ponti (Simon & Schuster – Aladdin)
THE ASSASSIN'S CURSE by Kevin Sands (Simon & Schuster – Aladdin)
FIRST CLASS MURDER by Robin Stevens (Simon & Schuster – Simon & Schuster BFYR)
NEWSPRINTS by Ru Xu (Scholastic – Graphix)
BEST YOUNG ADULT
THE CRUELTY by Scott Bergstrom (Macmillan Children's Publishing Group – Feiwel & Friends)
GRIT by Gillian French (HarperCollins Publishers – HarperTeen)
THE IMPOSSIBLE FORTRESS by Jason Rekulak (Simon & Schuster)
LONG WAY DOWN by Jason Reynolds (Simon & Schuster – Atheneum Books for Young Readers)
THE HATE U GIVE by Angie Thomas (HarperCollins Publishers – Balzer + Bray)
BEST TELEVISION EPISODE TELEPLAY
"Episode 1" – The Loch, Teleplay by Stephen Brady (Acorn TV)
"Something Happened" – Law and Order: SVU, Teleplay by Michael Chernuchin
(NBC Universal/Wolf Entertainment)
"Somebody to Love" – Fargo, Teleplay by Noah Hawley (FX Networks/MGM)
"Gently and the New Age" – George Gently, Teleplay by Robert Murphy (Acorn TV)
"The Blanket Mire" – Vera, Teleplay by Paul Matthew Thompson & Martha Hillier (Acorn TV)
ROBERT L. FISH MEMORIAL AWARD
"The Queen of Secrets" – New Haven Noir by Lisa D. Gray (Akashic Books)
GRAND MASTER
Jane Langton
William Link
Peter Lovesey
RAVEN AWARD
Kristopher Zgorski, BOLO Books
The Raven Bookstore, Lawrence Kansas
ELLERY QUEEN AWARD
Robert Pépin
THE SIMON & SCHUSTER MARY HIGGINS CLARK AWARD
THE VINEYARD VICTIMS by Ellen Crosby (Minotaur)
YOU'LL NEVER KNOW DEAR by Hallie Ephron (HarperCollins – William Morrow)
HE WIDOW'S HOUSE by Carol Goodman (HarperCollins – William Morrow Paperbacks)
UNCORKING A LIE by Nadine Nettmann (Llewellyn Worldwide – Midnight Ink)
THE DAY I DIE by Lori Rader-Day (HarperCollins – William Morrow Paperbacks)
– Brian Alan Burhoe
Did you like this Mystery Fiction Post?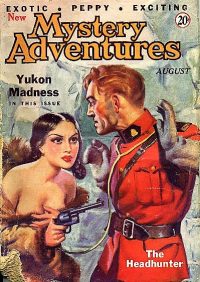 IF SO, YOU'VE GOT TO SEE "THE WRITERS OF THE NORTH-WEST MOUNTED POLICE" — MY MOST POPULAR LITERARY HISTORY POST:
"Thanks for a wonderful in-depth article on Mountie fiction. I'm a big fan of the Mounties and I really enjoyed the amount of details you provided and found many, many more books to put on my wish list." Jack
"I just discovered your blog recently and need to dig deeper into it. That post on Mountie fiction is great." James Reasoner
When our Canadian Mounted Police first arrived in the lawless North-West Territories, they soon entered our National Mythology.  A look at the many writers, from Ralph Connor and James Oliver Curwood to William Byron Mowery and Ian Anderson, who helped create that magnificent Mythology.  Amply illustrated with glorious book and magazine covers.  FREE TO READ ==>  The GREATEST AUTHORS OF NORTH-WEST MOUNTED POLICE FICTION
QUESTION: Which popular Mounted Police Writer was Mary Higgins Clark talking about when she said, "His talents as a teacher, however, were huge and he set my feet firmly on the path that I had been seeking all my life."
The EDGAR (and logo) are Registered in the U.S. Patent and Trademark Office by the Mystery Writers of America, Inc. Link http://www.mysterywriters.org
2018 Edgar Allan Poe Awards, book review, book reviews, Canadian Mounties, Canadian Mounted Police, Edgars, Edgar Allan Poe Awards, Mystery Writers of America, Raven Award
Source: Civilized Bears, Mystery Writers of America & PRNewswire
Title: Best Mystery Stories: Recommended Mystery Reading for 2018
DID YOU ENJOY THIS POSTING?  IF SO, PLEASE TELL YOUR FRIENDS.
ARE YOU ON TWITTER?  SURE WOULD APPRECIATE A TWEET!