Names for Bear: Baby Bear & Teddy Names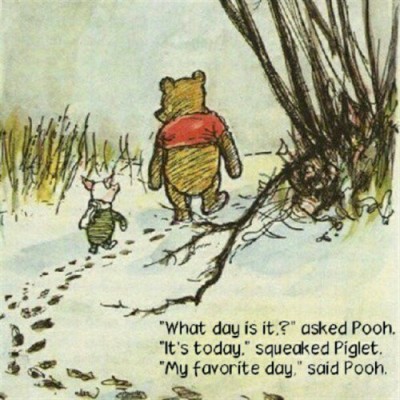 "It must be pretty scary having a bear as a pet! But! Why not? If there are any bear keepers on here, make sure you keep them well away! :)" – Pet Name Zone, www.PetNameZone.com
Winnie the Pooh is perhaps the most well known of all bear names.
On a sunny day in the early 1920's, author A A Milne and his son Christopher Robin were strolling through the London Zoo. Young Christopher spotted a Canadian black bear, "Oh look, Father. I like him." The name plaque identified the black bear as Winnie.
The bear had been left by a Canadian soldier on his way to the fierce French battlefields in World War I. The tame bear had been the regimental mascot of the Fort Garry Horse Regiment, out of Winnipeg, Manitoba, and was named "Winnie" after the city of Winnipeg.
Christopher Robin loved the bear and loved its name, calling his new teddy bear Winnie the Pooh. In 1924, Milne released his first book telling the adventures of his son and his cuddly yellow bear dressed in a red shirt: WINNIE-THE-POOH.
Another famous name is Yogi Bear made popular by the Hanna-Barbera cartoons of this mischievous bear and his pal Boo Boo in Jellystone National Park. And then there are the Berenstain Bears: Mama, Papa, Brother and Sister Bear.
Pet Bear Names? Very few people keep bears as pets, at least not full-grown adult bears.
There was a time when circuses raised and trained bears for performance – but the Animal Rights movement has all but ended this practice, which most often involved inhuman treatment.
Hollywood has seen a number of trained bears, who were kept by their trainers as pets and given loving homes. Bruno was an orphaned black bear who would play the role of TV's GENTLE BEN. Bozo was a rescued circus bear, a loving and gentle female grizzly bear who played next to trainer/actor Dan Haggerty in THE ADVENTURES OF GRIZZLY ADAMS. Today, perhaps the most famous televised bruin is Brutus, who lives with naturalist Casey Anderson.
To learn more, see FAMOUS BEARS IN FACT AND FICTION – FROM GENTLE BEN TO BRUTUS BEAR at  FAMOUS BEARS – CLICK HERE NOW!
Since so few of us keep a bear as a pet, it's unlikely that you'll need any help in naming your pet bear.
Zoos and other organizations that do need to name new bruin cubs often hold a competition in which they ask children to send in suggested names and they choose one of these names through a random selection.
And, of course, there is a problem many families face: naming a new Teddy Bear.
So, what are great baby bear names?
Some of the popular names for bears housed in zoos are:
Ardal
Arthur
Bernard
Bernal
Gregory
Maximilian
Oberon
Osborn
Yosemite
These are all names that reflect the strength and might of a bear. Popular names for female bears in zoos are:
Avla
Bernadette
Calesta
Jerica
Orsa
Ursula
Nadette
As mentioned, for the most part, people choose a bear name for their teddy bear or stuffed plush bear.
They usually try to choose a name that has some significance for them such as a name surrounding the occasion on which they received it.
A white stuffed teddy bear that was a Christmas gift could aptly be named White Christmas, Christmas or Noel. Birthday Bear would be a suitable name for a teddy bear you received as a birthday gift. Some try to choose a name that has a close connection to the color of the bear, which as Whitey, Blackie, or Brownie.
Making their own bear is now a popular activity for children. In this activity Children and adults choose the color and material for their own bear and create it themselves, right down to the outfits. They also choose a name for their bear at the same time, which could be basically any name you can think of.
Since a bear is perceived to be a cuddly creature, many of the names have to do with this feeling. Cuddles and Pookie are examples. However, if you want to choose a name that has a specific meaning, you can browse a list of names and their meanings:
Male Names: –
Asbjorn – Swedish name meaning divine bear
Avonaco – a native American name meaning lean bear
Benat – Basque form of Bernard, which means bold as a bear
Osbourne – meaning god-bear
Nanook – an Inuit name for the polar bear
Edon – meaning rich bear cub
Orson – meaning bear cub
Female Names:
Berengari – meaning bear-spear
Orsola – meaning little she bear
Bernadita – meaning bold as a bear
Giju'muin – native Mi'kmaq, meaning mother bear
There are quite a number of names that mean "little she bear", which would be the perfect name for a small teddy bear. By choosing one of these unusual names, it is very likely that when someone hears the name they will want to know the story behind it.
– Tong Lin. For lots of great bear names, dolphin names and frog names visit www.PetNameZone.com
– Brian Alan Burhoe.  Learn more about popular bears in Fact and Fiction at ZERO COOL BEARS – ALL THINGS BRUIN
Keywords: Cute Bear Names, Girl Bear Names, Teddy Bear Names, The Berenstain Bears Books, Episodes, Bernstein Bears, Berenstein Conspiracy, Polar Bear
Names for Bear: Baby Bear and Teddy Names
IF YOU LIKED THIS POSTING — TELL YOUR FRIENDS!  AND…