Be a Hero to Dogs Young and Old at Your Local Shelter — Adopt a Rescue Dog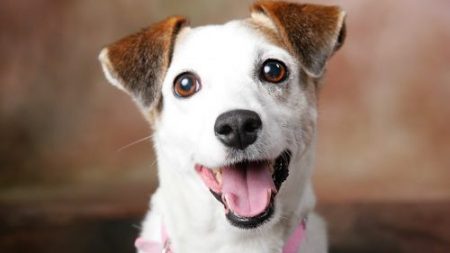 "During Adopt A Dog Month, don't forget to consider older animals who often face the highest risk in animal shelters!"
We know a number of older folks — usually couples — who have said, "Never again!" after losing a beloved dog.
Part of it is the devastation of losing a cherished pet. We really DO love 'em, eh? The love, loyalty and attention that a dog can give to its humans can be amazing. As one friend said to us, "We didn't realize what a loving presence Winnie was in our family. Always greeting us with tail wags. Always aware of us, always watching us with those big brown eyes. She left such a hole in our lives. We can never replace our Winnie."
That relationship is so essential to us. In fact we've known some seniors, usually on their own, who've said "Animals are much more loving and loyal than people." Followed by bitter comments about the Human race. The first time we heard that we were shocked. Now we understand it. We certainly agree with Doris Day's "I've never met an animal I didn't like, and I can't say the same thing about people." [1]
Another part of the "Never again" is that some older couples just don't feel able to handle the physicality of training a dog again through its wild puppyhood. Especially people who love big dogs. The unintentional bites and bruises and constant energy can be too much for folks at a certain stage of life.
But what's happening now is this. After a while they miss that companionship. That attention. That undying loyalty — and love. And they begin to say, "Well, we've been hearing about rescue dogs…"
Here's the answer.
Each October, American Humane, America's first national humane organization and the nation's leading first responder for animals in need, encourages animal lovers to consider adopting dogs from a local shelter or rescue group in honor of its yearly "Adopt-a-Dog Month®." [2]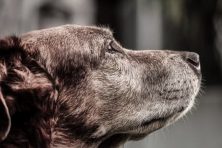 This year, American Humane is "continuing its national initiative to bring awareness to a vital issue: The need to provide safe, loving homes for the thousands of older pets who often face the highest risk in animal shelters."
Each year, they stated in a press release, "an estimated 670,000 dogs are euthanized in the nation's shelters."
Many potential pet adopters overlook older animals — but there are so many reasons why dogs over the age of 6 or 7 make ideal furry family members and friends:
They tend to be less rambunctious than younger dogs.
They're often already house-trained.
They're a great fit for people with busy lifestyles.
They're so grateful for a second chance.
They love you unconditionally.
"It's heartbreaking to think about all the senior animals who had been cherished pets before they suddenly found themselves confused and alone in shelter kennels," said Dr. Robin Ganzert, president and CEO of American Humane. "Far too often this happens to many older dogs through no fault of their own —after their human owners encounter financial troubles, illness, or other life upheavals."
This need is gaining attention across the country. Numerous stories are appearing on the news, and a marvelous book, "MY OLD DOG: Rescued Pets with Remarkable Second Acts," by TODAY.com writer Laura T Coffey and photographer Lori Fusaro, highlights how much senior dogs have to offer. MY OLD DOG shares happy adoption success stories and celebrates the grand times that can be had with shelter dogs past the age of puppyhood.
"Senior dogs who get adopted from shelters just might be the most grateful dogs on the planet," explained author Laura Coffey. "And don't let their age fool you! It's amazing to see how much these dogs still have to offer and teach us."
Your local shelter is the perfect place to find dogs of every type, size, age and personality – all waiting for a loving home. Or if you prefer a particular breed that isn't currently available at a shelter, go online to find a legitimate breed-specific rescue group in need of adopters like you. In fact, why not help build momentum and spread the word by adding your name to our pledge to make your next pet a rescue or shelter animal and "like" us on Facebook and Twitter.
Here are a variety of ways to celebrate Adopt-A-Dog Month:
Adopt from a shelter or rescue group.
When you're ready to open your heart and home to a new best friend, consider dog adoption from your local animal shelter or rescue group. Talk with shelter staff to find the perfect dog for you and your lifestyle, and remember that older dogs make excellent pets too. Adopt a dog for free today.
Spay or neuter your dog.
Have your dog spayed or neutered, thus preventing the possibility of unexpected, and potentially unwanted, puppies. Spayed and neutered animals have been shown to lead longer, healthier lives and have fewer of certain behavioral problems than animals who have not been spayed or neutered.
ID your pet.
By putting identification on your dog, either in the form of a tag, a microchip or both, you will reduce the possibility that your pet will become one of the presumably "homeless" dogs that end up at your local shelter. Only 15 to 20 percent of dogs who enter a shelter are reunited with their owners. Make sure your dog is one of the fortunate few by outfitting him with proper identification!
Support your local shelter.
Show the pets at your local shelter or rescue group that you care by donating time, money or supplies like pet food, leashes, beds and toys. Call the shelter to see what supplies or services are needed most. Even the smallest effort can make a difference.
And really — REALLY — consider adopting an adult dog!
– Brian Alan Burhoe
Do You Agree With This Canine Post?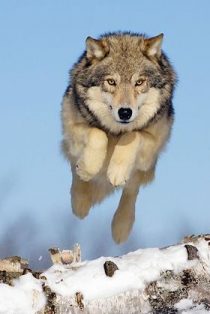 IF SO, YOU MIGHT WANT TO READ WOLFBLOOD — MY MOST POPULAR ANIMAL STORY:
"I JUST READ WOLFBLOOD AGAIN FOR GOOD MEASURE.  ONE FOR ANY WOLF LOVER.  ENJOYED IT BUT WISH IT WAS A FULL LENGTH NOVEL." – Gina Chronowicz @ginachron
"GREAT SHORT STORY!  DOES REMIND ME OF CALL OF THE WILD, WHITE FANG…" – Evelyn @evelyn_m_k
An "exhilarating tale of canine loyalty and love" in the Jack London Tradition of a lone Gray Wolf and it's search for its place in the spreading Northern forests.  FREE TO READ ==>  WOLFBLOOD: A Wild Wolf, A Half-Wild Husky & A Wily Old Trapper
[1] See "Women Pioneers of Animal Rights" at www.CivilizedBears.com/Women-Pioneers-Animal-Rights
[2] About American Humane: founded in 1877, American Humane is the first national humane organization in the US. To learn more visit them at www.americanhumane.org today.
October Is Adopt A Dog Month – Rescue Puppies or Older Dogs
Source: Civilized Bears, American Humane & PRNewswire
DO YOU AGREE WITH THIS POSTING?  IF SO, PLEASE SHARE IT WITH YOUR FRIENDS.
ARE YOU ON TWITTER?  SURE WOULD APPRECIATE A TWEET!