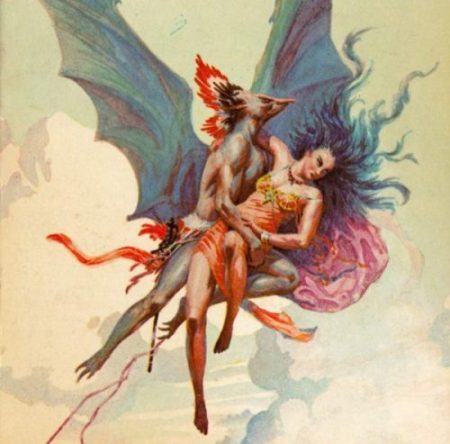 Ornithanthropus – The Winged Human
NOTE: This posting is dedicated to the memory of editor Ejler Jakobsson, with deepest gratitude.
Even though I published my Science Fantasy story "Ornithanthropus" way back in 1971, I'm still getting comments on it.  Back in the day, it was letters forwarded by publishers.  Now it's emails.
In answer to Troy S: I agree, Troy, the Winged Human is one of our most sacred images.   Meaning?  It has some fundamental meanings…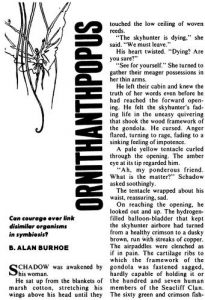 "Ornithanthropus" A short Science Fantasy story published in…
* Worlds of IF Magazine, December, 1971, editor Ejler Jakobsson, illustrator Jack Gaughan, New York, 1971 [1]
* BEST SF: 71, edited by Harry Harrison and Brian Aldiss, New York, 1972 [2]
* BEST SCIENCE FICTION STORIES OF THE YEAR, edited by Lester del Rey, New York, 1972 [3]
* ULLSTEIN 2000 SCIENCE-FICTION STORIES 81, edited by Walter Spiegl, translated by Michael Nagula, Berlin, Germany, 1980 [4]
"Both dreams and myths are important communications from ourselves to ourselves." – Dr. Erich Fromm
"I fly in dreams. I know it is my privilege." – Friedrich Nietzsche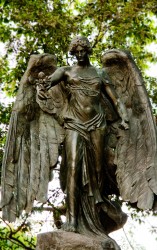 To dream of flying is one of the most auspicious of dreams. It's the ultimate symbol of Freedom. Of success. Of triumph. This is all the more so if you are winged — a Winged Human.
The Winged Human is the symbol of Artistry and Creativity. To dream that you are flying over broken land means you have obstacles to overcome, but that you will succeed. To be flying over green and fertile country is a harbinger of a triumphant and creative life to be lived.
Yet there is a caution, even in this motif. Icarus flew too close to the sun, and fell into the Agean Sea. Willie sings of an angel flying too close to the ground. Even in the limitless Sky, we are told, there is a Middle Path.
The Winged Human is known to all dream studies and Mythologies.  The Egyptians had the god Horus and the Cambodians, the bird-headed Garuda. The Greeks had the human-headed birds called Sirenae, usually women with beautiful voices that attracted men. Later the Sirenae, re-named Sirens, became confused with the Northern myth of mermaids…
In Greek mythology, the gods or their messengers often had wings — such as Selene, goddess of the Moon. The true Ornithanthropus — human head and body with added wings is of Middle East origin, passing through Templar and Alchemist studies, Christian art and dream interpretation study.
The earliest known depiction of Winged Humans in art is on a Sumerian stele showing them flying over the head of the Ruler of Ur (Ur-Nammu), dated about 2300 BC.
Angels (from Hebrew for "messenger") have usually been described in this form. Even today angels in dreams are seen this way.  And depicted in art in this form for centuries.  There are statues — aren't there? — that almost seem alive, certainly capturing an innate spirituality.  Like a favourite image of mine: the Celtic Angel Statue, combining Christian and Celtic imagery, shown above.
My "Ornithanthropus" was inspired by Joyce's Hawklike Man and by Roy G Krenkel's ACE cover of Edgar Rice Burroughs' PIRATES OF VENUS.  That image of the Klangan — the birdman — carrying the sullen princess into the sky is a primal one — it speaks a Truth only the great fantasists can tell.  [5]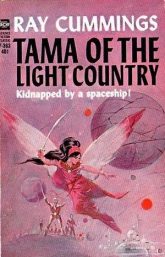 Winged Men and Winged Women have flown alien skies in many literary works, mostly science fantasy, from those of Edgar Rice Burroughs, Ray Cummings [6] and Robert E Howard to Poul Anderson, A.E. van Vogt and Martha Wells.
Even today, some of our top talents are soaring into the clouds.  James Patterson with his Maximum Ride series.  Margaret Atwood's ANGEL CATBIRD graphic novels (with artwork by Johnnie Christmas and colours by Tamra Bonvillain).
And in a few sentences, James Joyce breathed life into the mythic character:
"He seemed to hear the noise of dim waves and to see a winged form flying above the waves and slowly climbing the air.  What did it mean?  Was it a quaint device opening a page of some medieval book of prophecies and symbols, a hawklike man flying sunward above the sea, a prophecy of the end he had been born to serve…
"His heart trembled…and a wild spirit passed over his limbs as though he were soaring sunward…his soul was soaring in an air beyond the world and the body he knew was purified in a breath and delivered of incertitude and made radiant…an ecstasy of flight made radiant his eyes and wild his breath and tremulous and wild and radiant his windswept limbs." [7]
For as long as we strive to be Free, the Myth of Ornithanthropus, the Winged Human, lives! [8]
After a long yarn with popular Fantasy editor/writer Lin Carter, who spurred me on to study the common motifs and meanings of dreams, myths and fantasy fiction, I devised this free DREAM DICTIONARY: What Your 12 Most Common Dreams Mean!
*
==>> To see links to my published Articles & Fiction, as well as a short Bio and Burhoe Family History, go to THE LIFE AND WORKS OF BRIAN ALAN BURHOE  —  Right Here, Mon Ami!
– Brian Alan Burhoe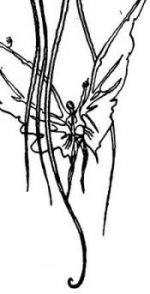 [1] Worlds of IF Magazine was known as "The Magazine of Alternatives."  Editor Ejler Jakobsson wanted to publish the "more contemporary, creative and imaginative end of the SF spectrum."  You might note that "Ornithanthropus" was misspelled "Ornithanthpopus" on the title page of the IF Magazine story.
To read my complete short story "Ornithanthropus" for FREE, you can find it on the marvelous Pulp Magazine Archive of Worlds Of IF Magazine ==>> ORNITHANTHROPUS – Worlds Of IF Science Fiction Magazine, December, 1971 
[2] This Harrison/Aldiss anthology was published in the UK as THE YEAR'S BEST SCIENCE FICTION NO. 5, London, England, 1972
[3] "All I know of B Alan Burhoe is that he picked one of the toughest kinds of stories to write. A story of this type depends on giving the reader a full picture of strange backgrounds and totally alien life modes. Usually, only novels afford the writer the space needed to develop his exotic world, and to make the reader at home with his creation. Rare as this success is in this length, Burhoe has produced a nearly perfect example." — Lester del Rey, on my story "Ornithanthropus"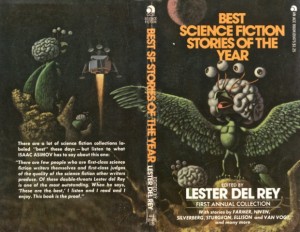 [4]  ULLSTEIN 2000 SCIENCE-FICTION STORIES 81 was a "Best of IF Magazine 1967-1974" collection from the Ullstein publishing group based in Berlin.  This collection also included stories by Isaac Asimov, J G Ballard, Jan Trenholme, Scott Edelstein, Barry Alan Weissman and others.
This was my first translated story:
Schadow wurde von seiner Frau geweckt.
Er erhob sich von der Matte aus muffiger Baumwolle, reckte die Flügel über seinem Kopf, bis sie die niedrige Decke aus Schilf berührten.
»Der Himmelsjäger stirbt«,sagte sie.»Wir müssen fort.«…
[5] A detail of Roy G Krenkel's ACE cover of Edgar Rice Burroughs' PIRATES OF VENUS is shown at top of page.
[6] Cover art for first Ace Books edition of Ray Cummings' TAMA OF THE LIGHT COUNTRY is by Jerome Podwil.
[7] James Joyce, PORTRAIT OF THE ARTIST AS A YOUNG MAN, 1916
[8] And, in a way, my Civilized Bears also symbolize Freedom.  A Freedom close to the soil, deeper, more fundamental.
Updated Feb 17, 2018
ORNITHANTHROPUS: Winged Humans in Dream, Myth & Literature
Keywords: Angel Catbird, B Alan Burhoe, Burhoe Family History, Civilized Bears, dream analysis, dreams, Edgar Rice Burroughs, Ejler Jakodson, flying man, IF Magazine, Johnnie Christmas, read for free, Tamra Bonvillain, winged human, winged man, winged woman, Worlds Of IF Magazine Science Fiction
DID YOU LIKE THIS POST?  IF SO, PLEASE TELL YOUR FRIENDS.
ARE YOU ON TWITTER?  I'D LUV IT IF YOU TWEETED THIS!
THANKS!