Award-Winning Documentary Film "From the Kill Pen," Exposing the Horse Slaughter Pipeline from America to Canada, Now Here…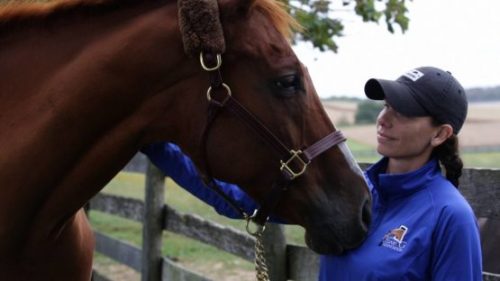 To be practical, I suppose there's no difference between eating horse meat and enjoying chicken, beef or salmon.  No difference between killing an old cayuse and carefully dropping a lobster headfirst into a pot of steaming water.
If you chose to eat meat at all, then you're part of the killing process.  In fact, I'd say there's more honesty and truth in hunting and killing your own dinner than in eating a burger at a fastfood outlet and pretending that you're not cruel to animals.
But here's why I have such an emotional response to the whole concept of rounding up horses for the slaughterhouse: I grew up in Harness Racing Country north of Saint John, New Brunswick.  As a kid, I loved those horses, the barns, the stables, the pastures, hayfields, all the people involved — just being around the big animals was joyful.  Heck, you could earn a quarter for walking a trotter after a race — I'd have paid them for the fun of doing it.
And being a Boomer, I grew up with Westerns.  Every B-Western hero had his noble steed.  Champion, Trigger, Buttermilk, Loco, Silver, Scout.  Sgt William Preston of the Yukon had his dark chestnut Rex for summer patrols.  Even Deputy Marshal Festus Haggan had his ornery ol' mule, Ruth.
Most horses aren't "pets n family" the way our cats and dogs are, but that relationship is there, just as strong, just as loving.  Horses!  We have a history!
There's been talk of banning horse slaughter in Canada as our more advanced American friends have effectively done (due to an underfunding at the meat inspection level).  But as of this writing our new Liberal gov hasn't exactly strained at the bit to get it done.  Even so, there's been a steady decrease in rounding up horses in Canada.  Right now, 60% of horses slaughtered in Canadian meat plants are imported from the States.
And now there's that stirring Doc from south of the border that's kicking up such a fuss…
Los Angeles based Synergetic Distribution has announced the release of the award-winning film, "From the Kill Pen," now available on multiple platforms, including Amazon Video, Vudu, iTunes, and Google Play.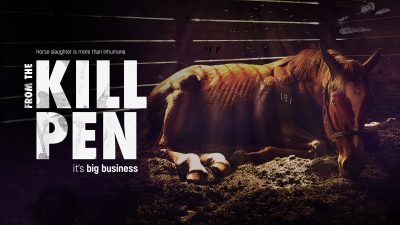 Fact-driven and without gratuitous violence, "From the Kill Pen" exposes the widespread overbreeding and clandestine meat distribution cycle which has allowed tainted horsemeat to enter the human food chain – activity which has been operating under the radar for years.
"Most Americans are completely unaware that while horse slaughter is not happening in this country, approximately 150,000 American horses are still rounded up each year and shipped to Canada and Mexico to be killed and their carcasses sold to international meat distributors," says director Sharon Boeckle.
Horse slaughter is currently technically legal in the United States.  Language in the federal budget, however, prohibits funds from providing required inspections at horse slaughter facilities.  And this prohibition has kept horse slaughter on American soil at bay since it was implemented in 2007, during the President George W Bush administration.
But horse advocates across the nation are growing concerned that the current administration may choose to overturn that in the next federal budget, scheduled for review in the coming months.
"In making this film, Sila Productions has performed an invaluable service to equines and those who love them… By seeing the truth, people will finally be able to judge from a position of knowledge," says John Holland, President of the Equine Welfare Alliance.
"From the Kill Pen" includes in-depth interviews with some of the nation's leading experts on the subject, including: Gov. Bill Richardson of New Mexico; Keith Dane of the Humane Society; Journalist Vickery Eckhoff; and Reps. Jan Schakowsky and Patrick Meehan, co-sponsors of the Safeguard American Food Exports Act, which if passed would install a permanent ban not only on horse slaughter in the United States, but also the shipping of American horses elsewhere for slaughter.
"We applaud this hard-hitting, passionate, and revealing expose," says Sonja Meadows of Animals Angels. "From the Kill Pen is a compelling, intelligent documentary that clearly exposes and lays bare the stark realities behind horse slaughter… it's a must-see film."
"'From the Kill Pen' is the 'Blackfish' for America's horses," says Jane Blais of the Safe Food Safe Horses Coalition, the coalition currently fighting for the passage of the Safeguard American Food Exports Act (H.R. 113.)
The film's release coincides with the upcoming annual federal budget renewal process set to commence soon. The hope is that the film will raise awareness and inform the public on the issue before it's too late.
For more information on the film and its availability, visit www.fromthekillpen.com.
"Horses!  We Have A History!"  Do You Agree With This Post?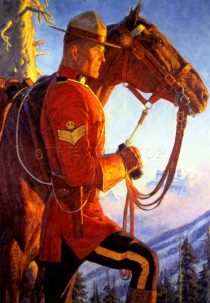 IF SO, YOU'VE GOT TO SEE "THE WRITERS OF THE NORTH-WEST MOUNTED POLICE" — MY MOST POPULAR LITERARY HISTORY POST:
"Thanks for a wonderful in-depth article on Mountie fiction. I'm a big fan of the Mounties and I really enjoyed the amount of details you provided and found many, many more books to put on my wish list." Jack
"Hello! I have a question for you… First though, what amazing, detailed information you've got here, thanks for it!" HG
"Thank you for this excellent list! I've begun collecting Mountie fiction and this will help a great deal."  J F Fournier
When our Canadian Mounted Police first rode their proud Eastern horses West, they entered our National Mythology.  A look at the many, many writers who helped create that Proud Mythology.  FREE TO READ ==>  The GREATEST AUTHORS OF NORTH-WEST MOUNTED POLICE FICTION
Source: Synergetic Distribution & PRNewswire
Title: Horse Slaughter Pipeline from America to Canada
Keywords: Animals Angels, animal rights, horsemeat, horse meat, horse meat burger, Horse Slaughter Pipeline, Mountie fiction, North-West Mounted Police, RCMP, the horse
DID YOU ENJOY THIS POSTING?  IF SO, PLEASE TELL YOUR FRIENDS.
ARE YOU ON TWITTER?  SURE WOULD APPRECIATE A RE-TWEET!