Tom West ACE Double Western Book Reviews: Gallows Gulch & The Man At Rope's End
Tom West: Classic Ace Double Western Writer Remembered & Reviewed
In his 1960 Western novel THE PHANTOM PISTOLEER, after a ranch house, barns, blacksmith shop and wagon shed are burned flat to the ground, we read: "Wal," said the foreman wryly, "there's less cover for the coyotes."  Pure Tom West.
If I were to list my Top 10 Movies of All Time, four of them — Rio Bravo, the original True Grit, The Shootist, and The Good, the Bad and the Ugly — are Westerns. [1]
Why not?  I'm a Boomer and we grew up with 'em.  Most Saturdays, we eagerly lined up outside the Paramount and Strand Odeon theatres to catch the matinee.  "Sure loved them old Westerns!"
Our heroes rode hard and fought hard to bring right and justice to the Old West.  Sometimes they sang about it.  Sometimes they even kissed the girl.
And our libraries and paperback book racks were filled with classic and new fiction by the best frontier authors.
I had already discovered wilderness writers like Charles G D Roberts, Grey Owl, Jack London, Ernest Thompson Seton and Edgar Rice Burroughs.  From there it was a quick jump to Zane Grey and Max Brand.
But the first Western writer I'd say was a true hero of mine was Tom West.  Still is.
As a kid, I saved my summer job money and bought those ACE Double Books.  You know, those great little paperbacks that have a "Complete Novel" on one side, then — after flipping it over — a "First Book Publication" on the other. [2]
With the ACE Double Westerns, I met tale-tellers like Ray Hogan, Giles A Lutz (aka Reese Sullivan), Gordon D Shirreffs, Louis Trimble, Nelson Nye, L P Holmes. But Tom West quickly became my fave.
What really caught my attention, besides the fast action and old fashioned romance, was West's language.  Tom West's typical hero didn't just walk through the swinging doors into a saloon to look for the man who had shot his friend, he "pushed through the batwings to lamp on and plug the deadly sidewinder who'd beefed his pard."
Tom West had something those others rarely showed: humour.
And at that time, I was growing up in harness racing country of New Brunswick amid a mixed crew of old horsemen, blacksmiths, farmers, lumberjacks, highways workers, most of who were war vets.  Three things those guys had in common were a willingness to work damned hard, their own language and a real sense of fun and humour.
And that's where Tom West's novels seemed so real to me.  Later, I would discover the books of Clarence E Mulford of Hopalong Cassidy fame, which had the same reality.
Who was Tom West?  James Reasoner has said that Tom West "was really an Englishman named Fred East."
His few brief bios at the beginning of published works like DEAD MAN'S DOUBLE CROSS say that East had been given an honourable discharge after serving with the British forces on the bloody, barren battlefields of France during the First World War.
"His first literary attempt was a war novel that he had written while convalescing. The manuscript never was published, having met a fiery end. Apparently his mother burned the filthy rucksack he brought home from the army. Everything in it was destroyed, including the manuscript he had stuffed inside." [3]
After that, East travelled through war-torn Europe, then moved to the US.  After working at a number of hardscrabble jobs, including ranching in the Southwest, he went back to his literary dreams, working for years as a reporter, free lance writer and a book editor.
And then he set out to write Western fiction.
In 1944, at age 59, he published his first full-length novel, going on to write at least fifty more.  The Catalog of Copyright Entries for 1944 shows that the novel MEDDLING MAVERICK was written by Fred East (1885-), under the pseudonym Tom West, and published by E P Dutton & Co of New York.  It was followed in 1945 by BUSHWHACK BASIN, also from Dutton.
Fred East also published some early works under other names.  He saw GAMBLER'S GOLD: A Powder Valley Western published by Jefferson House of New York in 1946 under the house name Peter Field.  And three books under the by-line Roy Manning: TANGLED TRAIL and RENEGADE RANCH from Macrae-Smith Company of Philadelphia in 1948, with RED RANGE in 1949.
Other titles as by Tom West quickly followed, including RENEGADE RANGE, TROUBLE TRAIL, SPECTRE SPREAD, GHOST GOLD (Pocket Books reprinted the 1949 Dutton hardcover in 1950), VULTURE VALLEY (1951, later reprinted by ACE), FLAMING FEUD, GUNSMOKE GOLD (1953, his first original printing with ACE Books), LOST LOOT OF KITTYCAT RANCH, BATTLING BUCKAROOS, SIDEWINDER SHOWDOWN, LOBO LEGACY, BUCKING FOR BOOT HILL and BLACK BUZZARDS OF BUENO.
Tom seems to have never written any short stories for the popular pulp magazines.  Two abridged versions of his novels were reprinted in magazines: POWDERSMOKE PAY-OFF (Triple Western, April, 1950, US & Canadian editions) and LOBO LAWMAN (Action-Packed Western, Jan, 1956, and the Australian digest Lone Star Western, same year).
Tom West's GALLOWS GULCH was originally published back-to-back with Barry Cord's THE MASKED GUN (ACE F-250).  And his THE MAN AT ROPE'S END was first published with THE HIDDEN RIDER OF DARK MOUNTAIN by Gordon D Shirreffs (ACE F-292) on the flip side.  The covers shown below are from the 1970 edition (ACE 27276), when they were finally published together.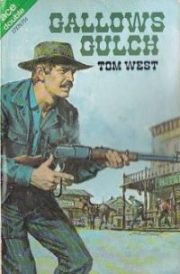 GALLOWS GULCH (1963)
I spoke of Tom West's "humor."  There's nothing to laugh about in this early scene: young Bill Murphy discovers two men "hanging by their necks from the branches of adjoining trees…  Nerves taut, scarce breathing, Murphy moved forward on stiff legs, slid out his bowie knife, reached up and severed the taut rope from which the nearer body dangled.  His father's remains fell with a heavy thud.  Then he cut his brother down."
This is a tale of Texas vengeance, with no quarter given.
The humor is in the language of the story, in the names of places and characters — in the men and women of this scorched, dusty land with their wry outlook on their own lives there.
Deputy Sheriff Baldy Baker, a gaunt, stringy man in faded clothes, a man no more colorful than a weathered old shotgun.  Ma Loran, who packed more lard than a hog, was tougher than a basket of snakes and ran the Applejack Saloon.  Cuss Curwood, the cattle baron who killed his own skunks (he hated nesters and dealt with them his way).  Rio Rucker, the ranch foreman who reminded Bill of a lobo wolf.  Paul the Preacher, "a poor disciple wandering the wilderness."  And then there's Meg Curwood, "pretty as a painted wagon…" but daughter of the man Bill had to kill.
This is a yarn with as many twists and turns as the treacherous trails Bill takes through the bleak, water-starved country.  Prime Tom West.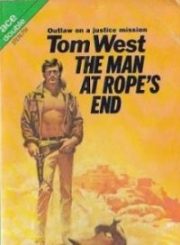 THE MAN AT ROPE'S END (1964)
Tom West didn't write often about heroes who were out-and-out outlaws.  But Mike Mansfield lived large in Mexico and made a rich enough living rustling cattle north of the Rio Grande.
Until he read about the lynching of his brother George for horse theft in Texas.  George was the good brother, straight as a wagon tongue.  George was probably carrying a money belt stuffed with dinero from the sale of the family ranch.  George needed to be avenged.
Mike rode alone into Texas, with no companion except his buckskin horse named Feathers.
Maybe the Law wouldn't know he was coming?  A letter to Sheriff Jake Handley from Señor Mikes's hot tempered Mexican girlfriend, feeling abandoned, took care of that.
So the cat and mouse game began — or lobo and jackrabbit  game — with the roles constantly changing.
There was an hombre known as Red River Rankin, town marshal, a squat, fleshy man with notches on his gun handle — a man Mike quickly recognized as really being Greasy Gleeson, no stranger to backshooting.  Mona Carter, with startlingly blue eyes and a gaze as direct as dagger thrusts, who owned the Triangle spread in Comanche Valley.  Pegleg Pagoni, raw-boned, hard-muscled leader of a bunch of nesters in the Hungry Hills — lost his leg to a Triangle bullet.  Frosty, a wizened Triangle rider with a white mustache and sardonic eyes, as dehydrated as something spawned by the desert — when he did speak, the young punchers listened.
And a passel of hired gunmen who would turn Comanche Valley into a battlefield of whinnying ponies, cursing men and rolling clouds of dust and gunsmoke…
Well worth collecting, mi amigo.
Not certain when Fred East died — one source tentatively says 1983, two years short of his 100th birthday.
The last new published titles from ACE under Tom West's name were LONE GUN and SHOOTOUT AT SENTINEL WELLS, both in 1974, when he would have been age 89.  His last published new work was six years later: HARD TRAIL TO SANTA FE (Zebra Books) in 1980.
The writing in the last few of his published works was somewhat flat — not his rip-roarin' individualist Old West voice.  It's possible that these were written by someone else, using the then-popular Tom West name. [4]
Tom West is mostly forgotten now.  Humour doesn't seem to work for modern editors?  Maybe.  All I know is that Tom — East or West — sure reflected some of the old guys I grew up with.  And that makes him a personal "Best."
Did you like this Western book review?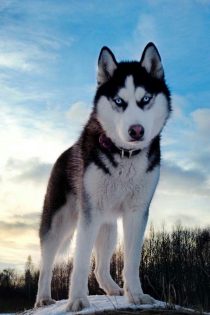 IF SO, YOU'LL LOVE WOLFBLOOD — MY MOST POPULAR ANIMAL STORY:
"I JUST READ WOLFBLOOD AGAIN FOR GOOD MEASURE.  ONE FOR ANY WOLF LOVER.  ENJOYED IT BUT WISH IT WAS A FULL LENGTH NOVEL." – Gina Chronowicz @ginachron
"GREAT SHORT STORY!  DOES REMIND ME OF CALL OF THE WILD, WHITE FANG…" – Evelyn @evelyn_m_k
In the Land of the Northern Lights, a Lone Wolf Walked into a Deadly Snare.  Would it Live to Run Wild Again?  A Tale of Treachery and Fury in the Jack London Tradition!  FREE TO READ ==>  WOLFBLOOD: A Wild Wolf, A Half-Wild Husky & A Wily Old Trapper
Note: Artwork at top of page is a detail from the cover of the ACE Double Western 1970 edition of Tom West's DESPERADO DOUBLECROSS.  If you know who painted that one or the MAN AT ROPE'S END cover, sure would like to credit them.  I've got a couple ideas, going by the style of the artists ACE was using at that time.  The GALLOWS GULCH cover art is by Gil Cohen, who is known for his Mack Bolan, the Executioner cover paintings as well as his dynamic aviation and war art.
[1]  "My Top 10 Movies of All Time, four of them are Westerns…"  If you count Northwesterns (aka Northerns) as Westerns, then you can almost double that number: The Wild North (with Wendell Corey as real-life Constable Albert Pedley), Call of the Wild (Charlton Heston version) and Grey Owl (Pierce Brosnan perfectly caught the character of wilderness author Grey Owl).  And the original Planet of the Apes is almost a Western, eh?  Well, Mamma Mia! and Paul Gross' Hyena Road are probably Easterns, but they fill out my Top 10.
Actually, if I were to add an eleventh, it would either be one of the Star Trek reboots or Paul Gross' Passchendaele or Kiefer & Donald Sutherland's Forsaken, a Western.
Considering that most of my fave TV shows over these many years have been the Comedies, I'm surprised to realise my favourite movies are so serious.  Although Rio Bravo does have those scenes where Walter Brennan happily mimics John Wayne's character — they still break me up.
==>> To read my popular article on the History of Northwestern Fiction, especially the classic tales of our Famous Mounties, go to  "The GREATEST WRITERS OF NORTH-WEST MOUNTED POLICE FICTION"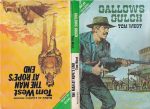 [2]  "After flipping it over…"  This book style is also known in publishing as Dos-à-dos (back-to-back).  It's a format that goes to early 17th Century Europe, when the NEW TESTAMENT was often printed back-to-back with the PSALTER.  So the ACE Doubles were of good origin.  Also a great way for a kid to make his hard-earned summer wages go far…
[3] http://classicpaperbackreads.blogspot.ca/2009/08/no-double-cross-for-reader-with-this.html
[4] To this point, James Reasoner has written: "I can see Wollheim getting some of his other Western writers to pitch in and write 'Tom West' books if there was a problem with Fred East, since the by-line was popular." jamesreasoner.blogspot.ca/2012/07/forgotten-books-buzzards-nest-tom-west
Wal, I gotta drift…
– Brian Alan Burhoe
Source: Part of this posting "Tom West – Classic Ace Double Western Writer…" originally appeared as a personal Comment I put on BestWesternBooks.com.  If you're an old Western fan like me, check 'em out.
Title: Tom West – Classic Ace Double Western Writer Remembered & Reviewed
Keywords: ACE Doubles, ACE Double Western, ACE Double Westerns, book review, Brian Alan Burhoe, cowboy, Fred East, Gallows Gulch, Grey Owl, Jack London Tradition, Man at Rope's End, Mounties, North-West Mounted Police, Tom West, Top 10, Western writer, Western book review, Western movies 2017, wilderness, world book day 2017
DID YOU ENJOY THIS POSTING?  IF SO, PLEASE TELL YOUR FRIENDS.
ARE YOU ON TWITTER?  SURE WOULD APPRECIATE A RE-TWEET!