Justin Trudeau Visits and Champions Rooftop Greenhouse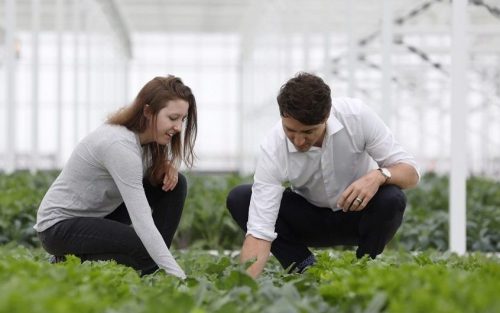 "Lufa Farms' successful example of commercial-scale urban agriculture prompts visit by Canadian Prime Minister Justin Trudeau"
An avid outdoorsman, Justin Trudeau has always spoken of his love of Nature, our wilderness and the need to become Green.
He made news with his support of the Accord de Paris — the historic Paris Accord: the international agreement within the United Nations Framework Convention on Climate Change (UNFCCC) that was our last chance to control greenhouse gases emissions (If it's not already too late!).
He's been questioned lately for his support of tar sands development.  In an age of green technology and solar energy, this looks out of step, Justin.  His basic support of the environment seems to be uncertain.
But Justin's visit to a city-based greenhouse is a good sign, eh?
"With the completion of its 3rd high-tech greenhouse, and its symbiosis with local farmers, Lufa Farms has grown into a compelling role model for sustainable urban agriculture."
A good sign and good news…
MONTREAL, March 24, 2017 – Urban agriculture pioneer Lufa Farms has just finished a third highly automated greenhouse in the Montreal borough of Anjou. The Right Honourable Justin Trudeau was there to see it in full production.
The new 63,000 square foot rooftop greenhouse is a milestone in polyculture efficiency and produces over 40 varieties of urban-grown greens and vegetables, all year round.
Lufa Farms' six years of rapid growth and its successes in rooftop greenhouse design, cooperation with local sustainability-focused farmers, and appeal to thousands of Montreal consumers, make it one of the most successful large-scale urban agriculture models in the world, demonstrating how to sustainably feed entire cities.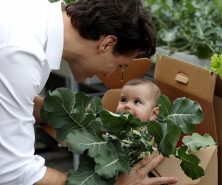 Our Canadian Prime Minister was given a full tour of the new production facility by Lufa Farms founders Mohamed Hage and Lauren Rathmell. He witnessed first-hand the innovative complexity of the rooftop greenhouse, and even took time to harvest a basket of fresh greens for himself and his family.
When Justin "discovered" a baby in the cabbage patch, he even joked "Lufa Farms grows veggies — and other little ones — on Montreal rooftops all year."
The new rooftop greenhouse is a marvel in automation. It was designed by Dutch greenhouse innovators at KUBO, outfitted by Belgian greenhouse automation experts, Hortiplan, and includes advanced horticultural lighting systems from GE.
The construction of the new greenhouse was supported by Quebec financial partners Fonds de solidarité FTQ and La Financière agricole du Québec.
From one rooftop greenhouse to a new paradigm in urban agriculture…
Lufa Farms began operating the world's first commercial-scale rooftop greenhouse in 2011. It was built with the goal of using sustainable irrigation, energy and growing systems for cultivation of pesticide-free produce. The first greenhouse, with 8 employees, produced more than 25 varieties of vegetables and delivered them, weekly, to a few hundred Montreal customers.
The second Lufa Farms' rooftop greenhouse began operation in 2013. With it, the company introduced an online marketplace so that consumers could select and buy fresh Lufa Farms produce together with responsible produce, meat, dairy, bread, and more provided by hundreds of local farmers and foodmakers.
The result is that consumers receive the freshest sustainably-grown goods, local farmers get a viable outlet for their products, and the city benefits from optimized land, water, and energy use.
A disruptive rethink of food production and distribution
The most recent greenhouse caps six years of steady growth and innovation. The Lufa Farms team now consists of more than 140 employees, grows over 70 different vegetable varieties, and delivers more than 10,000 food baskets every week of the year.
"We began this venture because of our passion for rooftop farming. We didn't start out as farmers and I'd never even grown a tomato before," says Lauren Rathmell, Co-Founder and Greenhouse Director of Lufa Farms. "But we did what made sense to us as technologists and problem solvers. Today, we understand that successful urban agriculture requires not only advanced greenhouse technology, but also direct-to-client distribution, and working together with local, sustainable farmers and food artisans. The sum of all the parts, working together, is greater than the whole."
The future of Lufa Farms
Founded in 2009 by Mohamed Hage, Lauren Rathmell, Kurt Lynn, and Yahya Badran, Lufa Farms now has a combined urban growing space of 138,000 square feet. The company plans to continue the expansion of its urban farm projects in Quebec urban centres, and also in select New England locations in the U.S.
For more information about Lufa Farms click here.
Is Justin Trudeau truly Green?
He's been getting mixed reviews lately.  But we stay hopeful.  Justin has promised to pick up where Canada's greenest Prime Minister, Conservative Brian Mulroney, left off.
Mr Mulroney's successes in battling climate change are his biggest legacy to Canada and to the world.  Justin has to step wider than he is to fill those footprints.
– Brian Alan Burhoe
Did you like this Canadian post?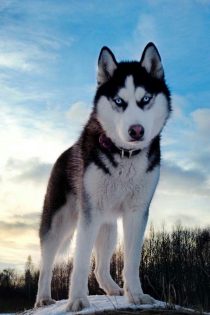 IF SO, YOU'LL LOVE "WOLFBLOOD" — MY MOST POPULAR ANIMAL YARN:
"I JUST READ WOLFBLOOD AGAIN FOR GOOD MEASURE.  ONE FOR ANY WOLF LOVER.  ENJOYED IT BUT WISH IT WAS A FULL LENGTH NOVEL." – Gina Chronowicz @ginachron
"GREAT SHORT STORY!  DOES REMIND ME OF CALL OF THE WILD, WHITE FANG…" – Evelyn @evelyn_m_k
WOLFBLOOD, a heartwarming Northlands tale in the Jack London Tradition, FREE TO READ ==>  WOLFBLOOD: A Wild Wolf, A Half-Wild Husky & A Wily Old Trapper
SOURCE: LUFA FARMS & PR Newswire
Title: Justin Trudeau Visits and Champions Rooftop Greenhouse
Keywords: Brian Mulroney, greenest Prime Minister, green technology, Justin Trudeau, local farmers, Lufa Farms, organic gardening, rooftop farming, rooftop greenhouse, solar energy, sustainable urban agriculture, urban agriculture, urban farm
DID YOU LIKE THIS POSTING?  IF SO, PLEASE TELL YOUR FRIENDS.
ARE YOU ON TWITTER?  A RETWEET WOULD BE GREATLY APPRECIATED!
THANKS!