MY BEST BACKYARD DOG HOUSE by Brian Alan Burhoe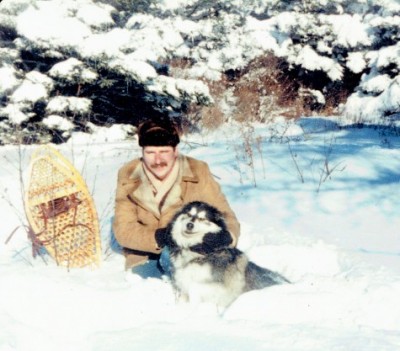 All but one of our dogs have lived indoors, just going out for fun, walks and exercise.  But we've still, over the years, built dog houses out back just to give 'em an easy shelter if they wanted it when they're outside.  A hideaway in the winter, shelter from the sun in summertime.  Dog houses are just part of the family landscape, eh?
But in the case of Yukon King, our husky mix, we needed a real dog house.  King loved coming in to hang out with the family.  He'd greet me happily when I came home from work and we'd have a hike through the woods.  Snowshoeing with him in winter.  After a while, he became a one-man dog — but that's another yarn.
Thing was, King couldn't stand the heat.  Panted overtime on warm days, especially indoors.  A true Northern animal.
And he wanted to sleep outside, even in the harshest winter night.  A real husky — dude even howled like a wolf on occasion, which was unnerving to the neighbours.  Loved the snow.  Death on mice — we'd watch him spring up in the air like a cat to catch them.
So I built him a dog house: big enough for him, comfortable flooring and insulated.  Designed just for a husky.  Size makes a difference and there are differences in the designs of big dog houses and small dog houses.  King's was one of the best dog houses around, I say with pride.
Dog houses can be a necessity for many families.  For others, just a whimsical act of their human love.
Here, from one of our fave pet experts, is a Guest Blog from Ron Ayalon on some of the more unusual dog houses…
Top 6 Celebrity Dog Houses
"Building your own dog house is not as easy as hammering some wood and nails together. You need to take into account materials, insulation, ventilation, positioning, openings, as well as things like what materials and paints are safe to use." – Bill Keene
Some dogs get all the fun, and some just get to live in really weird houses. From the insanely stylish to the bizarrely comfortable, here are six of the most interesting doghouses I've come across.
1. The Cool Pet House: This one is for dogs or cats, or any other animal that weighs up to 26 pounds. It comes with a built-in webcam so that you can watch your pet and let other animal lovers see what they are doing while they sleep, eat, and do the things that animals do when they are alone. The air humidifier and temperature regulation can be controlled remotely, as can the LED lights, so you can maintain a constant environment for your dog, even when you are away.
2. The Celebrity Brick Estate Dog House: For dog lovers with a bit of spare cash, this mansion comes with running water, electric lighting, heating, and air conditioning. Priced at $25,000, the house is custom-made after consultation with the owner, and the total paid varies according to the final design. The builders will even choose materials based on your pet's allergies or other sensitivities.
3. The Town House: How about an indoor doghouse that doubles as a side table? That is exactly what this heavy wood house does. It fits a removable cushion for easy cleaning, as well as a medium-sized dog. Meanwhile, it is sturdy enough to keep your flowers, lamp, coffee, or books on top, without you having to worry about anything falling over when your dog jump up or moves suddenly.
4. The One Jackson Square Dog House: As a one-off structure, this one sold at auction with a starting bid of $15,000. It was designed to mimic the real luxury condos One Jackson Square in New York. It has a planted roof and looks like a nautilus shell. The proceeds from the sale went to the Animal Medical Center of New York in 2008.
5. Paris Hilton's Dog House: This one does not have an official name, because it was built specifically as a smaller version of Paris Hilton's own house. She spent $325,000 on it, and it covers over three hundred square feet. To be fair, her dogs Tinkerbell, Marilyn Monroe, Prince Baby Bear, Harajuku, Dolce and Prada share the space, but they definitely have enough of it, between the living room, balcony, bedroom, and lawn.
6. The World's Most Expensive Dog House: Even Paris Hilton doesn't take the cake on this one. In the middle of the Great Recession of 2008, one UK-based dog owner spent about half a million dollars on a dog house for two Great Danes. It comes with a spa, temperature-controlled daybeds, a sound system worth over $200,000, and many more luxuries that most people can only dream of. The house even has a retinal scanner to make sure that other dogs can't get in.
Love it or hate it, some dogs really do have it made, and so do their owners, apparently. But at the end of the day, there's nothing wrong with being a bit creative with your canine's doghouse, and surely there are less pricey alternatives that can be just as fun.
Whether or not your dog ends up in a luxury condo or a house with a spa, or you build a doghouse just for him or her, the heart of the matter seems to be that you can meet your dog's basic needs for food, health, and comfort without resorting to extravagance that it seems very unlikely that the dog will appreciate.
And remember during the scorching days of summer to keep water out for your dog to prevent dehydration. [1]
Looking for the best Free Dog Training Videos?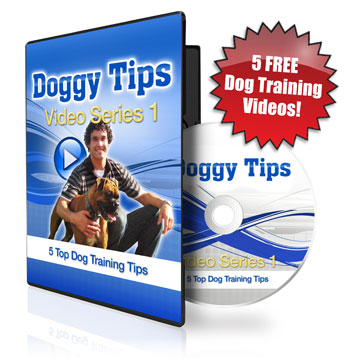 CLICK HERE NOW!
[1] Ron Ayalon is an accomplished Internet marketer and educator, focusing on the pet industry and unique websites for building successful pet businesses on the Internet at www.Petwebdesigner.com.
Best Dog Houses – From Top Celebrity To Backyard Dog House Plans
Keywords: best dog houses, Brian Alan Burhoe, build a doghouse, celebrity dog houses, cheap, designs, dog house plans, husky mix, kits, large dog house, small dog house, the doghouse