Rescued Dogs, Cats, Farm Animals & Others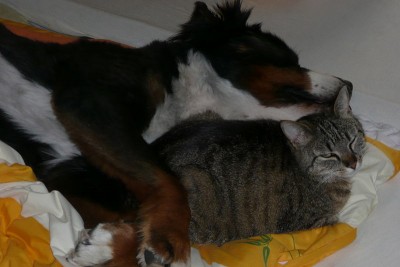 "Tears welled up in both of us when we saw them — all wagging tails and puppy kisses even after being so abused by our 'superior race'.  They were still willing to love us and trust us to keep them safe.  No other species on earth has such a capacity to forgive and to love like a dog.  It never ceases to amaze me the ability of humans to inflict pain on such innocent creatures." – Deborah Eades, EVERY RESCUED DOG HAS A TALE: Stories from the Dog Rescue Railroad
"Give a Rescued Animal a Home!"
The whole idea of taking in abandoned or unwanted animals has taken on a life of its own.  And it's great!
Dogs are the most common rescued animal taken in temporarily as fostered pets or as lifetime family members.  Cats are second.  Although other popular species are also being taken in and given loving homes, including rabbits, hamsters, guinea pigs, assorted birds, fish, reptiles and so on.  Even farm animals — though most families aren't in the position of accepting horses, cows, goats, pigs, chickens…
To a degree, we've been doing it forever.  It's part of a sharing nature so many of us have (or at least folk like you who find themselves visiting a site called CIVILIZED BEARS).  The precepts of Animal Rights may have helped the idea spread.
Here's a Guest Blog from two experts in homing rescued animals, Maria Elena and Ron Ayalon…
ACCLIMATING YOUR RESCUED DOG by Maria Elena
Opening your home to a "rescue dog" [1] is one of the greatest gifts you can give to a dog. Whether it's a puppy or a senior dog, providing a home for them is not only great for them, but it has an awesome effect on the owners.
However, now that they're in their new home, how are they going to act? The one characteristic about rescue dogs is that you seldom know their history. While kennels and shelters do their best to investigate your pup's history (medical, housing, previous lifestyle), they aren't always accurate. In fact, dogs that live in shelters or kennels for long periods of time will often develop different habits that you might not be familiar with. They may have been potty trained, but probably haven't had the opportunity to practice it.
Old habits die hard
One of the most serious issues with a rescue dog is that they may be hyperactive when you interact with them and they won't quite be able to settle back down like most dogs would. It could be because they're just happy to be free and have a home, but the condition often resonates long after they've moved in with you.
Additionally, their new environment may cause them stress. Many shelter dogs have accommodated themselves to living within a small area. Consider making them comfortable by surrounding them with something familiar and then gradually introducing them into a larger home. One of the most effective methods is the crate, and while it might seem contradictory to getting them out of the shelter, it does provide them with a place that is familiar while they are adjusting to their new home.
Another situation is the potty issue. Keep in mind that dog shelters aren't focused on training and working with a dog, especially in this department. Many dogs will potty in their own housings (contrary to their own instincts), which can quickly and unexpectedly become a difficult habit to break. Be cautious about letting your recently rescued dog navigate your home unattended. If you aren't with them, it's best to keep them isolated in a certain location, such as a crate or their own room (make sure they can't jump over doggy gates).
Comfort
Comfort is a big thing for a dog.
While we laugh because they can sleep just about anywhere (and in the strangest positions), dogs are often just looking for what makes them comfortable. The question is: where are they going to eat and sleep? Many shelter dogs are going to be accustomed to eating in the same spot where they sleep, and change can confuse them quickly.
It may be necessary to start feeding them close to their crate or sleeping area, then gradually moving their food back to a designated location (kitchen). This should allow your pup to ease into their new lifestyle, rather than just surprising them with a whole lot of change.
One thing to consider is that shelter dogs are often going to be surprised by new objects, sounds, and even people. In order to provide the ideal comfort zone while they adapt, it's generally good to check your home for anything that would surprise your new dog. This might include loud noises, such as vacuum cleaners, clocks, and other strange noises, that could stress out your dog.
Stress on your dog and how to address it
Keep in mind that stress has a physical effect on a dog as well. The introduction to a new environment combined with a change in diet often results in an upset stomach and even diarrhea. This is simply a fact, so don't be surprised or upset with your pup if he is having stress-related issues, since you'll only make it worse.
The best way to address this is as soon as your dog is introduced to the home, it's time to begin potty training. Take them to a pre-designated location (indoor or outdoor) and allow them to take care of their business there. Be sure that this area is obscured from any outside stimuli, such as the neighbor's barking dog or even elemental factors. The more comfortable and secure they feel in their potty location, the more quickly they'll begin to accommodate themselves to your house rules.
Providing a home, even a temporary one, for a rescue dog is a wonderful thing. You're making their life better by simply giving them a chance to make yours just as good. It might be a puppy, a big pooch, a tiny rascal, or even a senior dog, but what matters the most is that they now have a home and a place in your heart.
Keeping up with your pet supplies can be just another thing you don't want to have to remember. After a long day at work and going to the store, the last thing you want to do is have to go to the store again. Consider home delivery of your pet supplies! [2]
FOSTERING RESCUED ANIMALS – A GROWING TREND RIGHT IN YOUR NEIGHBORHOOD by Ron Ayalon
Foster parents are often people of great strength, caring and sacrifice who understand the need for temporary havens while permanent homes are being found. Perhaps you know a child or two in the foster system. These kids can't seem to catch a break, but sometimes the right foster situation just clicks.
This is certainly the case when talking about kids but we're not talking children here, we are talking dogs, cats and other household pets. Every year thousands of animals are rescued from abusive homes, freed from lives of terror and starvation, disease and neglect. The effects of such horrors are evident and deep, but not necessarily permanent, thanks to the "now" mindset of most animals or the inability to worry about the future or dwell in the past.
These animals often receive treatment for their physical ailments and find comfort in the patience and great care administered to their damaged psyches, but most shelters cannot contain the sheer number of animals rescued; the costs are too high and the amount of space needed for proper housing is insurmountable.
A foster home helps to defray those costs by individuals and families simply offering a warm bed and healing love to an animal that may have never known a kind human touch or long since forgotten it.
While some shelters can help with rehabilitation of mind and body, many foster homes will also take up that challenge, work to socialize an animal that has been isolated by displaying kindness and, most of all, love, perhaps never before shown to an abused creature. Without foster homes, many more of these unfortunate animals would have to be put down for lack of physical space. Fostering rescued animals is a genuine way to give back to the community and gain a sense of accomplishment.
A Foster 'Parent's' Responsibility:
The number of foster homes is directly correlated to the number of animals that can be saved and many shelters will even offer health management, guidance and supplies. They truly need just a place for the animals to live until homes can be found. Animal rescues will often match foster dogs and cats to families in the foster system, working as closely with that family as possible to give them exactly what works best.
Some foster parents take only a single puppy or an entire litter, while others may desire only grown dogs or just cats, or any mix between. Also asked of foster families is the flexibility to allow potential adopters to see the animal or make the animal available for viewing. Sometimes good descriptions for web sites will be asked for, in order to make the eventual adoption process run more smoothly.
Foster families may need to transport the rescued animal to the vet when medical care or shots are needed, to let the shelter know if there are any behavioral problems that need to be addressed, and in the case of dogs, some light training may be requested. More often than not, foster parents are asked to show the rescued animal a little extra attention, a lot of patience and heaps of healing love.
As a foster family, you provide a wonderful 'in-home' rather alternative to 'in-shelter' transition between life then and life after adoption. You provide time for an animal to be placed with a forever home and you provide an invaluable service to your animal shelter and to the animal itself.
And what happens if you fall in love with your foster 'child'? Usually the foster family is afforded first choice of adoption and it happens. This mutual love between foster parent and dog forges a bond that ends up with foster home turning into forever home. While dogs and cats comprise the vast majority of needy creatures, there may be call for housing rabbits and birds, too.
The amount of poor stewardship, abuse and neglect that occurs annually in this country concerning often harmless animals is staggering. You are indispensable in the battle for humane treatment of this planet's furry citizens; they need you to take action for them. Make a difference in your life, the life of a rescued animal and even the life of the family who adopts sweet Rover: consider becoming a foster family for animals and shelters in need. [3]
==>> A WILD WOLF, A HALF-WILD HUSKY, A WILY OLD TRAPPER!   If you want to read my free story in the Jack London Tradition, Click Here to Read My Popular Online Northwestern WOLFBLOOD! 
[1] Note: The term "Rescue Dog" can refer to either a rescued dog given a new home, or a trained Search & Rescue dog, depending on context.  Here, we're talking about endangered or unwanted animals who are rehomed.
[2] Maria Elena has written in affiliation with www.porchpotty.com, a niche product site for dog owners.
[3] Ron Ayalon is an accomplished Internet marketer and educator, focusing on the pet industry and unique websites for building successful pet businesses on the Internet at www.Petwebdesigner.com.
Rescued Dogs, Cats, Farm Animals & Others –  Fostering Or Homing Rescued Animals
Keywords: animal rights, cats, dogs, dogs to foster, foster care animals, foster for dogs, fostering animals, homing, rehomed, rescued dogs, rescued farm animals, senior dog, the rescued