ROYAL CANADIAN MOUNTED POLICE DOGS: The German Shepherd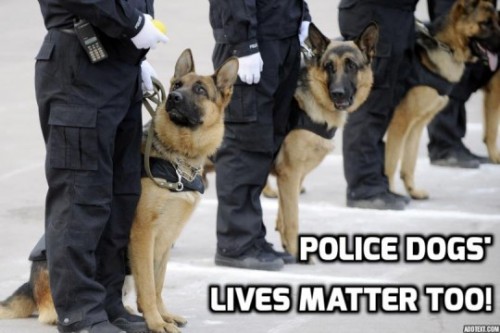 "Police Dogs' Lives Matter Too."  You've probably heard this motto.  It's a heartfelt sentiment, and one that means a lot to those of us who know that animal family members are just as important as humans.  Animal rights, eh?  There's a number of laws being proposed to protect dogs used in police work — and to see that criminals who injure and kill Police Service Dogs are tried and sentenced for the offence.  Yes — Service Dog's Lives Matter Too.
As I wrote in my article "NORTH-WEST MOUNTED POLICE DOGS: Huskies and Other Sled Dogs" — when the days of the legendary dogsled Northern Patrols by our Canadian Mounted Police ended in the early 20th Century, the need for the famous huskies was also gone.
But the Mounties were using dogs for new purposes.
Even in the 19th Century, dogs were used for some search and rescue by the North-West Mounted Police. Bloodhounds and other tracking dogs would be borrowed from local farmers and other folk to help find criminals or lost people.
In the early 1930's, the Mounties, now renamed the Royal Canadian Mounted Police, created their Special Dog Section.
Author Delbert Young described how it came about: "Sergeant Cawsey owned a particularly clever German Shepherd he called Dale. He had trained Dale to retrieve objects, and also to scent out and locate articles he had hidden. The Sergeant was so proud of his big Shepherd that he used to show the dog, taking him everywhere he went so that soon the sight of Sgt. Cawsey in his patrol car with the handsome dog beside him was a familiar sight. A step further and he was employing the dog to assist him in police work. So successful were the first experiments that the Dog Section was formed with Dale as its first member.
"The case of the Sleepy Car Thief was one of several cases solved by the sensitive nose of Dale. A vehicle had been stolen, driven and then abandoned by the side of the road. Cawsey let Dale sniff the car over, then put him on the trail of the thief who, at the time, was five miles away in his bed. Not for long did the man sleep soundly. Dale tracked him to his very door. Sgt Cawsey rapped sharply. Shortly thereafter, a sleepy-eyed crook found himself in custody." [1]
The RCMP Dog Section was officially formed in 1935, with Dale and two other dogs, Black Lux and Sultan. In 1937, Commissioner MacBrien, noting the value of police dogs in his official reports, ordered an RCMP training school for dogs and handlers to be established at Calgary.
In 1940, the RCMP won its first case involving dog search evidence.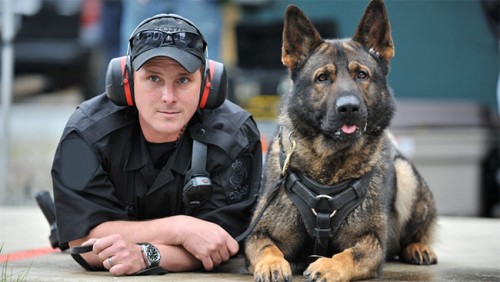 Today's RCMP Police Dog Service Training Centre is at Innisfail, Alberta.  The training staff comprises of one officer in charge, one staff sergeant program manager, one staff sergeant senior trainer, five sergeant trainers, one acquisition sergeant, two corporal pre-trainers and a support staff of six public service employees.
"Our philosophy always has been one dog, one handler.  So from the moment the team is paired, they stay together until the dog or the handler retires," explained Sergeant Eric Stebenne, acting senior trainer at Innisfail, in an interview. [2]
"Regular members of the RCMP who are interested in becoming dog-handlers, on top of their regular duties, go out with the local dog handlers — and start raising dogs for us on their own time.  They do it for love and affection."
Sgt. Stebenne concluded: "Having to retire my previous police dogs was hard.  That would be the most difficult part of this job.  There's always that one dog that you miss.  Also seeing dogs injured or killed in the line of duty is very difficult."
The German Shepherds of the Special Dog Section have become renowned for their successes.
Dogs such as…
JOCKO: On the morning of August 31, 1989, a devastating gas explosion rocked a building in Ottawa, creating considerable structural damage. Much of the building still standing was unusable and in danger of collapsing. Although most of the tenants who were in the building at the time of explosion had been safely evacuated, there were still some people trapped inside.
Members of the hastily assembled rescue party searched desperately for trapped survivors, all the time fearing a second explosion.
Constable Joseph Guy Denis Amyot, a Dog Handler at A Division, Ottawa Airport Detachment, was off duty when he heard the news reports of the explosion.  Volunteering his services and those of police service dog Jocko, he entered the building accompanied by Captain Gerard Patry of the Ottawa Fire Department to search the debris for victims trapped beneath the rubble.
Despite the dangers, they searched the most heavily damaged portion of the building for a missing boy.  Jocko sniffed though the dusty rubble, finding the buried boy, who was still alive.
In recognition of his courage and professionalism, Constable J.G.D. Amyot was awarded a Commissioner's Commendation for Bravery. Captain G. Patry of the Ottawa Fire Department was awarded a Commissioner's Commendation to a Civilian for his courage and assistance to Constable Amyot.
BANDIT: Danger is part of life for a police officer, but when Corporal Rick Mosher was called to apprehend an armed suspect, who had fled from a home in George's River, Cape Breton, he had no idea just what risk he was facing. Nor did he know that he would lose his best friend and partner on that fateful day.
Following the call on the evening of June 25, 2000, Cpl. Mosher and his canine partner, Bandit, caught up with the suspect. Knowing the suspect was armed and possibly dangerous, Mosher gave Bandit the cue to move in to distract and subdue him, which would then allow Mosher to disarm and capture him. As Bandit willingly did his work, he suffered a serious knife wound from a second and unknown weapon the suspect had concealed in his sleeve.
Badly injured, Bandit momentarily retreated, but he leapt into action again when he saw Mosher was about to be attacked.
Unfortunately, he was stabbed a second time. Bandit carried out his subsequent attempt even though the initial knife wound had cut through his shoulder and severed his spinal cord. Bandit's brave action clearly prevented Mosher from being injured and also provided Mosher with the valuable time needed to draw his weapon and apprehend the suspect. Sadly, the additional knife wounds proved fatal for Bandit.
At the cost of his own life, Bandit's loyalty and courage saved Cpl. Mosher's life.
Rick Mosher lost a friend, a partner and a piece of himself on that day. But he and his family are eternally grateful to Bandit.
TRACER: Corporal Joe Arduini of the North Vancouver Royal Canadian Mounted Police detachment still gets emotional when he talks about the natural heroism of Tracer, a German Shepherd from the Police Dog Services Unit, in saving his life and the lives of three fellow officers.
On the night of September 26, 2000, Joe Arduini was sent to a "Man with a gun" call along with two other members of the RCMP detachment.  His detachment had received a report of "a man being chased by another man armed with a semi-automatic handgun."
Constable Christina Hughes and her service dog Tracer were also called in.
When the officers arrived at the scene, they saw, about a block away, a man walking deliberately toward them, carrying what appeared to be a handgun.  Since Cst. Hughes wasn't in her work uniform and not driving a marked police car, she and Tracer were sent closer to the man's location.  Hughes informed the other officers that the man was still walking towards them and that he was carrying a semi-automatic pistol.
The three officers immediately moved closer to the male suspect and surrounded him with their service sidearms drawn and instructed him to drop the weapon.  When the gun man refused to drop his lethal weapon, Cst. Hughes sent Tracer in to subdue the suspect.  Following her training, Tracer clamped her jaws on the gun man's left arm. Ignoring the pain and pressure of the bite, the disturbed male lifted Tracer off her feet into the air.
He then slammed Tracer to the ground and placed the barrel of his gun to Tracer's head and pulled the trigger.
The gun made a metallic snap.  A misfire.  And Christina Hughes called Tracer back.  The suspect ejected the bad shell and pointed the gun at Cpl. Arduini and the other officers. The suspect was fatally shot by the three officers in self defense.
Tracer's heroic actions "made it possible for all officers involved to evaluate the mindset of the suspect and enabled them to protect themselves and the community, including a man being pursued by the suspect."
In 2003, Tracer, with her handler Christina, was inducted into the Animal Hall of Fame.
Tracer went on to serve a successful career and earn a happy retirement.
As of this writing, there are 168 police dog teams across Canada.  Most Mounted Police dogs picked for training are males, but Tracer showed that females can make the grade — and more.
The RCMP needs up to 35 replacement dogs every year. Fortunately, most dogs — just like Tracer — live to a richly deserved retirement age (around 8 years of age), and find a family to care for them and to love — and protect — in return.
==>> The story of our RCMP is, of course, our National Epic.  The very heart of Canadian Culture.  Be sure to see THE GREAT PULP FICTION MOUNTIES: From Corporal Cameron to Sergeant Preston 
– Brian Alan Burhoe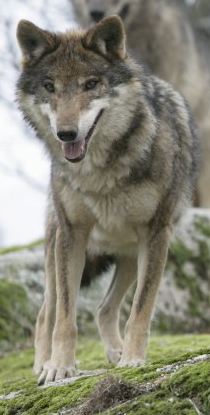 Do you love wild animal tales?
IF SO, YOU'LL LUV "WOLFBLOOD" — MY MOST POPULAR ANIMAL STORY:
"I JUST READ WOLFBLOOD AGAIN FOR GOOD MEASURE. ONE FOR ANY WOLF LOVER. ENJOYED IT BUT WISH IT WAS A FULL LENGTH NOVEL." – Gina Chronowicz @ginachron
"THIS WAS A GREAT SHORT STORY. MORE PLEASE!" Make It Beautiful @Create4Ever
WOLFBLOOD, a Northwestern yarn in the Jack London Tradition, FREE to Read ==> CLICK HERE  WOLFBLOOD: A Wild Wolf, A Half-Wild Husky & A Wily Old Trapper
[1]  From THE MOUNTIES, Delbert A Young, published in 1968 by Hodder & Stoughton, Toronto and London
[2 a]  "Must Love Dogs: Wannabe Police Canine Handlers Must Jump Through Hoops" http://www.darpanmagazine.com/news/national/must-love-dogs-wannabe-police-canine-handlers-must-jump-through-hoops/
[2 b]  And "On The Job With An RCMP Dog Handler" https://www.youtube.com/watch?v=eBjquNpNjlc
[3]  January/February, 2004, issue of PETS Magazine — Exploring the Human-Animal Bond.  Cover photo 0f Tracer and Christina by B Stanley, Canadian Press.
ROYAL CANADIAN MOUNTED POLICE DOGS: The German Shepherd K9
Keywords: animal rights, dogs, german shepherds, k9, k9 dogs, North-West-Mounted-Police, RCMP, Royal Canadian Mounted Police, police dogs, police dogs breed, police dogs matter, watch dogs police
IF YOU LIKED THIS POSTING, PLEASE TELL YOUR FRIENDS! AND…