L Sprague de Camp's ZEI Novels in the Edgar Rice Burroughs Tradition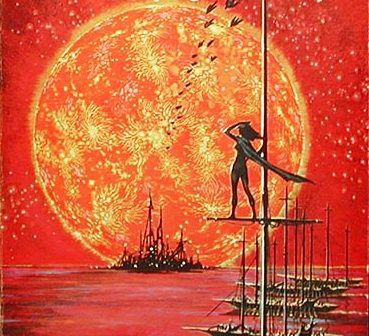 "On a fine clear morning, the sun rose redly over the rim of the Banjao Sea.  The rising sun, which the Krishnans call Roqir and the Earthmen call Tau Ceti, cast its ruddy rays slantwise across a vast floating swamp…"
The Search for Zei/The Hand of Zei by L Sprague de Camp – a Book Review
My rating: 5 of 5 stars
Edgar Rice Burroughs was a favourite fantasy writer in my youth. Besides all that swashbuckling adventuring and exotic worldscaping, I loved the lightness of his story telling, the humour. Not too many could out-do Burroughs, but L. Sprague de Camp accomplished that deed.
De Camp's "The Search for Zei/The Hand of Zei" is his best. Set on the medieval-level planet Krishna, the Zei stories remain a long-time fave. In addition, this Ace Double edition had wonderful cover art by Emsh.
"Twenty-five degrees north of the equator on the planet Krishna lies the Banjoa Sea, the largest body of water on this planet. And in this Sea is found the Sunqar, home of legend and Mystery.  Here under the scorching rays of the hot high sun, the beaked galleys of Dur and the tubby round-ships of Jazmurian slowly rot in the unbreakable grip of a vast floating continent of sea vine."
The writer of these words, Dirk Barnevelt, didn't know that he would soon be venturing across this "barbaric planet" himself.
He was a writer, not a hero.
Rollicking adventure!
– Brian Alan Burhoe
www.CivilizedBears.com
L Sprague de Camp's ZEI Novels in the Edgar Rice Burroughs Tradition
Keywords: Ace Double, Book Review, Emsh, Hand of Zei, Brian Alan Burhoe, L Sprague de Camp, The Search for Zei, Edgar Rice Burroughs