Of Teddy Bears, Grizzly Bears & The National Wildlife Refuge System – A Celebration – Or a Rant?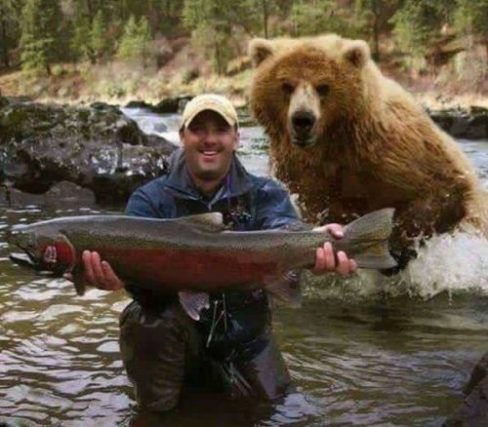 It's been 114 years since President Teddy Roosevelt created the National Wildlife Refuge System, the heroic beginning of the idea of saving our endangered wildlife.  One hundred and fourteen years!
First it was birds.  Then fish.  Soon Teddy was "setting aside forest reserves and public lands as game refuges for the preservation of the bison, wapiti, and other large beasts once so abundant in our woods and mountains and on our great plains, and now tending toward extinction."  So fierce was Teddy that he even ordered a detachment of US Marines to Midway Atoll to "prevent the taking of birds and their eggs by Japanese nationals."  Bully for him!
There are humans who really believe that the Earth, our living Blue Planet, belongs just to them. That every other living thing, from a tiny wild strawberry plant in the woods to a giant (and hungry!) wild bear, is just there to be treated as they selfishly please.
When I find a cluster of small red wild strawberries in the shadowed forest, I sample a few of the sweet berries (more delicious than ANY commercial berry) and leave the rest for other wildlife — or to provide seeds for new plants.
When I meet a bear in the wildwood, I remember Grey Owl's wise words: "Your bear is really a good fellow. He has a humourous outlook on life." And I remember my father's teaching: "Don't be afraid. Never run away from a wild animal." So, humming a happy tune, I saunter off at an angle.
The only exception, said Dad, was "Skunks. Best to run from a skunk." And I've obeyed that directive, too. Especially if it turned around and, lifting its bushy black and white tail, presented tail-gunner position.
If you've read a few of my wandering rants, then you know this about me: I love the forest.
And I love those who have likewise written about it.
"There are no words that can tell the hidden spirit of the Wilderness, that can reveal its mystery, its melancholy and its charm," Teddy Roosevelt once commented.
But I think Teddy did a pretty good job of finding those words: "We have fallen heirs to the most glorious heritage a people ever received, and each one must do his part if we wish to show that the nation is worthy of its good fortune…
"We have become great because of the lavish use of our resources. But the time has come to inquire seriously what will happen when our forests are gone, when the coal, the iron, the oil, and the gas are exhausted, when the soils have still further impoverished and washed into the streams, polluting the rivers, denuding the fields and obstructing navigation.
"It is also vandalism to wantonly destroy or to permit the destruction of what is beautiful in nature, whether it be a cliff, a forest, or a species of mammal or bird. Here in the United States we turn our rivers and streams into sewers and dumping-grounds, we pollute the air, we destroy forests, and exterminate fishes, birds and mammals — not to speak of vulgarizing charming landscapes with hideous advertisements. But at last it looks as if our people were awakening.
"It is an incalculable added pleasure to any one's sum of happiness if he or she grows to know, even slightly and imperfectly, how to read and enjoy the wonder-book of Nature." [1]
You can see why Teddy Roosevelt remains this ol' Canadian boy's favourite US President. Teddy not only found the words, he found the determination, passion and energy to put them into action! Bully for him!
TR's founding of his National Wildlife Refuge System and National Parks are his greatest gifts to our living planet. He later called them "my proudest achievements."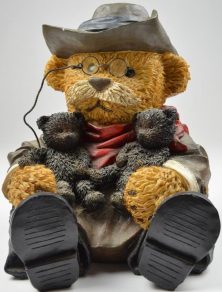 "Just a big Teddy Bear?"
While Roosevelt is best remembered in parts of the world (especially northern Europe and the British Isles) because he once spared a bear while on a hunting trip and had a stuffed toy named in his honour, I think that the message must get out:
There was a time when one tough, ornery man who loved the Wilderness and all of the wild creatures who lived there (including bears!) had the grit to stand up to what he called "Shortsighted persons, or persons blinded to the future by desire to make money in every way out of the present" — and to lead in establishing and popularizing the Conservation movement.
What an achievement!
Although the question remains — what has been accomplished in the 108 years since Theodore Roosevelt was President?
Well, President Richard Nixon created the United States Environmental Protection Agency (EPA) in 1970, bless him.
Remember Acid Rain? Canadian Conservative Prime Minister Brian Mulroney began negotiations with President Ronald Reagan in 1986 on the deadly phenomenon. The Canada-US Acid Rain Treaty was signed by Brian Mulroney and President George H W Bush in 1991. Our Great Lakes are showing sure signs of recovery.  All because three brave men saw a real problem and found a solution.
But now there is this: Jeff Flocken, North American Regional Director for the International Fund for Animal Welfare (IFAW) [2], recently issued the following statement regarding the passage of S J Res 18 in the U.S. Senate and its H J Res 69 incarnation in the House:
"While America is celebrating the 114th anniversary of the National Wildlife Refuge System [3], the U.S. Senate has failed to take a stand for keystone species living on these same public lands. IFAW condemns the passage of S.J. Res. 18 and its House-passed counterpart, H. J. Res. 69, which allow for the killing of iconic animals including grizzlies and wolves — as well as their young — on federal refuge lands across Alaska.
"This lethal legislation will permit the use of barbaric devices like leg-hold traps, which can leave animals struggling and suffering for days, and neck snares that slowly strangle entangled wildlife — all for the purpose of artificially inflating 'game' populations. To call these practices cruel is a vast understatement.
"It is deeply concerning that the Senate has taken this step, placing Alaska's wildlife, habitat and ecological balance in jeopardy. Congress seems intent on doing anything but protecting wildlife on lands that have been set aside for that very purpose.
"Irresponsible policies like S.J. Res. 18/H.J. Res. 69 are not only threatening our native wildlife, but also clearing a path to the reintroduction of extremely inhumane, indiscriminate and unsporting hunting practices on our shared lands," concluded Jeff Flocken.
In a National Geographic article, Jani Actman and Rachael Bale wrote, "If passed, the measure would open the door to aggressive hunting practices such as shooting bears from airplanes, killing wolves and wolf pups in their dens, and hunting mother bears accompanied by their cubs."
If this is true, then we're witnessing something we'd thought we'd never see — the dismantling of Teddy Roosevelt's spectacular National Wildlife Refuge System!
Just one example of the battle now being waged is the valiant attempt to save the great North American Grizzly bear:
"IFAW and The Northern Lights Wildlife Society, in collaboration with the British Columbia Ministry of Environment, are working to give orphaned grizzly bears a second chance," announced the International Fund for Animal Welfare on its website. This is just one story in the ongoing effort to save our wild bears.
"In 1991, Canada's Prairie population of Grizzly bears was declared extinct and their future in British Columbia, Alberta, the Yukon, the Northwest Territories, and Nunavut is in the balance. Human activities have also resulted in the geographic or genetic isolation of several grizzly bear populations — including eight that have been identified in southern British Columbia.
"On July 12, 2008, the first two orphaned grizzly bears in this pilot project, Suzy and Johnny, were released back to the wild. This was the first officially sanctioned grizzly bear release in Canadian history. Both bears were fitted with special satellite collars that allowed researchers to follow them throughout the summer. Since then, two additional Grizzlies were rescued, rehabilitated and released in the summer of 2009. Followed by four in June 2011, bringing the total to eight bears…"
The battle continues, mon ami. Great men and women [4] have gone before us — we've got to find that greatness among us again in these darkening times. The reason is both grand and simple…
As Teddy Roosevelt once said: "Wild flowers should be enjoyed unplucked where they grow."
– Brian Alan Burhoe
Do You Agree with this Wildlife Post?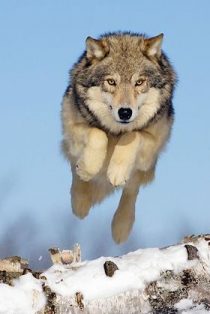 IF SO, YOU MIGHT WANT TO READ WOLFBLOOD — MY MOST POPULAR ANIMAL STORY:
"I JUST READ WOLFBLOOD AGAIN FOR GOOD MEASURE.  ONE FOR ANY WOLF LOVER.  ENJOYED IT BUT WISH IT WAS A FULL LENGTH NOVEL." – Gina Chronowicz @ginachron
"GREAT SHORT STORY!  DOES REMIND ME OF CALL OF THE WILD, WHITE FANG…" – Evelyn @evelyn_m_k
A captivating and entertaining adventure in the Jack London Tradition of a lone Northern Wolf and it's search for its place in the vast Canadian wildlands.  FREE TO READ ==>  WOLFBLOOD: A Wild Wolf, A Half-Wild Husky & A Wily Old Trapper
[1] SEE "Teddy Roosevelt Called it Climate Change in 1908" at www.CivilizedBears.com/Teddy-Roosevelt-Called-Climate-Change-1908/.
[2] Founded in 1969, IFAW saves animals in crisis around the world. With projects in more than 40 countries, IFAW rescues individual animals, works to prevent cruelty to animals, and advocates for the protection of wildlife and habitats. For more information, visit www.ifaw.org. Follow IFAW on Facebook and Twitter.
[3] With the support of fellow members of the patriotic Boone and Crockett Club, Teddy Roosevelt, by Executive Order on March 14, 1903, created the Pelican Island National Wildlife Refuge along the eastern coast of Florida.  This was quickly followed by other wildlife sanctuaries under the umbrella of Teddy's newly established National Wildlife Refuge System.  Today, TR's Wildlife Refuge System stretches over a total of 95 Million acres, including 544 national wildlife refuges, an area bigger than many countries.
[4] "Women have played a fundamental role in creating the entire Animal Rights movement." SEE "Women Pioneers of Animal Rights" at www.CivilizedBears.com/Women-Pioneers-Animal-Rights-Mary-Tealby-Nell-Shipman-Ingrid-Newkirk-Marlice-van-Vuuren.
Teddy Bears, Grizzly Bears & The National Wildlife Refuge System
Source: Civilized Bears, International Fund for Animal Welfare and PRNewswire
DID YOU ENJOY THIS POSTING?  IF SO, PLEASE TELL YOUR FRIENDS.
ARE YOU ON TWITTER?  SURE WOULD APPRECIATE A TWEET!