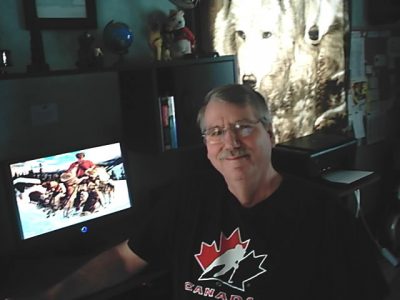 ABOUT BRIAN ALAN BURHOE:
"A Graduate of the Holland College Culinary Institute of Canada, Brian Alan Burhoe has cooked in Atlantic Coast restaurants and institutional kitchens for over 30 years. He has held a Nova Scotia Journeyman Cook's Certificate since 1980.  He is a member of the Canadian Culinary Federation, Canada's largest federally chartered professional chefs' organization.
"Brian lives with his wife Mary Lee on the ragged Atlantic coast of Nova Scotia.
"Brian Alan Burhoe's many published articles reflect his interests in food service, Canadian history, imaginative literature, wilderness preservation, animal rights and our best friends — our dogs.
"His articles have been printed and reprinted on numerous blogs, websites and online magazines, including the popular Ask.com, Before It's News, Connotation Press, eHow, Livestrong.com, Spiritquill, Zoom Info…
"1Canada.ca, Coastal Climate Action, Seacoast Online, WildAnimals-World.blogspot, SaveAllWolves.com, Wildlife-Inforest.blogspot, Wolfservers.com, MilitaryRemembrance.com, Oakheart.net, OutdoorLife.marcumenterpises.com, StudentsWithaVision.org, FourGoodMen.com, CanadianDemocraticMovement.ca, FrenchCanada.com, La Brigade SnW, Politie-Drenthe.nl, VoicesOfSocialWork.org, Zimbio…
"Freelance Gigs, Writers-bloc.net, Cartoondesign.com, CinderBlockGallery.com, Mysterious.net, Filmix.biz, EasyBib Research, Linkroll.com, Helium, Christ Alone Journey, Jamesr23.net, ChristianDevotionalSongs.info, England-Travel-Tips.com, CaribbeanChoice.com, RainDesert.com, TheHeartShapedBox.net, PioneerThinking.com, BigBozz.us, Pearltrees.com, NewbornsHealth.net, GreenAndHealthyLifestyles.com…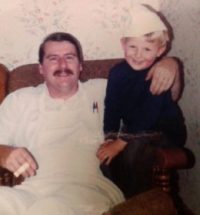 "BestRestaurantRecipes.com, Growing Organic Food, HomemadeFoods.com, HomeCookingTalk.blogspot.ca, Kissing Cooks, Bay Street Cooks, BarbequeSauce.info, CooksNumber1Choice.com, CulinaryArts360.com, CookingAndBaking.info, RestaurantRecipeSecrets.info, NoteCook, Recipe411, Canadianvintners.com, SeekRecipes.com, CaesarSalads.com, Beefs.us, EasyBreezyRecipes.com, FoodBlab.com, GlutonFreeHalo.com, HaddockFarms.com, ItalianFoodRecipes.net, PizzaWinners.com, Frittateria.com, BigAppleRestaurant.com, CaramelSpoon.com, KidneyBeans.in, Mastercookingtips.com, NewCulinary.com, Foodideas.co.za, Lifesrecipes.com, VeganWire.com, VeganGodfather.com, Islandrecipes.com, CookingForWorkingDads.com, Scallops.in, ZeaFoods.com, FoodOfChina.net,  Tablefor2andahalf.com, TruffleSeason.com, PetitChef.com, Pot-Pan.net, Yummycake.com, RoastNow.com, WorldGreatRecipe.blogspot.com, Rezepte.com, TraditionalFood.net… [1]
"Ask Dog Care, YourCompletePet.com, Dogaround Info, Dogsleds.info, Sleddoggin.com, HowlingHuskies.net, TheHollywoodDog.com, Grain Free Dog Food Reviews, EasyGoodDogFood.com, BestTipsForTrainingDogs.com, DogTrainingSchool.com, Living With A New Puppy, Puppy-King.blogspot.ca, PuppiesHealthKit.com, Puppy-stuff.com, Smartestdogforyou.blogspot.com, Mypets-Cats-Dogs.blogspot.com, DogTrainingForIdiots.com…
"ProfessionalHockeyNews.com, Hockeytips.net, NHL-awards.com, Habsfeed.com, HockeyEmpire.blogspot.com, Hab.ca, NHL-Vancouver-Canucks.blogspot.ca, SportsTales, WantHuntingInfo.com, RiverFishingSecrets.com, SkiingSnowboardingUSA.com…
"Article Junction, InfoBarrel, AboutFamousPeople.info, GetRomantic.info, GossipChic.com, Enterprises.org.nz, Popularmusiclyrics.com, The Astral News, DreamWatcher.com, Cherry Sage, Eso-Garden.com, New Age Info, New Age Gathering, Spooks-SpiritualReunions.blogspot.com, WhatIsMetaphysics.com, WomanhoodWithPurpose.com, Knights-Templars.co.uk, Gipsy-info.com, Life in the Spirit and Eagle Ridge News.
"See his About Me page for links to his online stories and online articles."
SOURCE:  Suite 101  – Online Magazine and Writers' Network [2]
Well, that sums it up in some ways.
My earliest memory is of walking behind our house and staring with awe into a shadowed and sun-beamed evergreen forest.
Our home was new and hand built by my father.  It overlooked a place my parents called "that's Glen Falls down there."  I'm told the house stands there still.
And that forest?  It was alive with birdsong and insects floating in the golden sunbeams and a red squirrel running up one tree and leaping over to another one, scolding me for my unsquirrel-like behavior.  And it seemed to me — so small and new and unlearned — that the rich-scented and brown-barked Forest with its bright splashes of green must go on and on forever.
Family stories: like the time I was caught raiding the pea patch.  First one pod, then another.  Opening them and pulling out handfuls of sweet-tasting peas.  Sure looks like I was enjoying 'em, eh?  And then a startling "Brian!"  Mum's voice.  Caught!  I turned around.  But she wasn't glaring at me in anger.  With the bright sun over her shoulder, she was looking down into the viewfinder of her Brownie box camera.  Mugshot and booked — in the family album.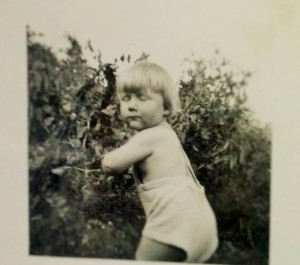 Mum did that a lot.
And there — in those earliest years — despite my precocious pursuit of pea pickin' piracy — I learned that if I worked hard and lived honest and loved the soil that gave me life and valued the freedom won for me with blood — I'd have a life lived large…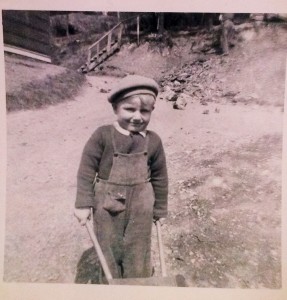 I was born in the foggy old seaport of Saint John, New Brunswick, Canada, on what I'm told was a glorious Thanksgiving Day. [3]
Dad (Albert Chester Burhoe, b. South Brookfield, Nova Scotia) had been a soldier in the Algonquin Regiment, Canadian Army in Holland — a farm boy, lumberjack and carpenter before he enlisted.
Mum (Edna Claxton, b. Hull, Yorkshire) grew up on the family canal boat and worked as a bus conductress on the double deckers during the War — arriving in Canada (at the historic Pier 21, Halifax) on January 7, 1946, with 300 other English war brides on the "Reunion Ship" Stavangerfjord.
When I was 4, my parents sold the house and we moved to West Yorkshire, England, for four years.
Although I missed Canada — those deep conifer forests with all the wildlife, those rolling multicoloured hills of the northern Appalachians — Yorkshire was a fantastic place for a lad.  The wide green fields in summer with swaths of blue everywhere — the bluebells.  The calm shining canals ("Don't fall in the canal, Brian," Mum would always say.  And being a dutiful son, I never did).
Visiting my grandparents.  A native of the Isle of Man, Gran was filled with welcoming hugs, fantastic folktales and old beliefs.
Being sent to the local Fish & Chip shop to carry home that traditional English supper wrapped in newspaper — savouring that hot delicious smell all the way home.  Stopping at a sweet shop, where Mum would pass me the coins for a bag of fresh Liquorice Allsorts from a kindly old lady: "That'll be tuppence ha'penny, Luv."  The aroma of hot mincemeat pies still brings back memories of our Olde English Christmastimes.
Travelling on double decker busses and steam-driven trains. To places with names like Ravensthorpe, Castleford, Huddersfield, Knottingly, Saddleworth, Heckmondwike and the wild, windswept Yorkshire Moors.
Stone buildings. Old castles, often in ruins, always haunted…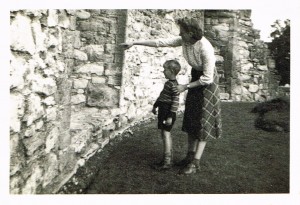 "I saw the Green Lady right in there when I was a little girl.  She's been protecting something — or someone —  in this castle for centuries…"
And old churches, abbeys, cathedrals — for some reason I loved the churches even more than the castles.
We only visited York Minster Cathedral (the largest Gothic cathedral in Northern Europe) one time.  I had never dreamed that such a place, with its soaring square bell towers, immense stone ceilings, carved statues and fantastic sun-fired stained glass windows, even existed.  But it seemed as a boy that I had somehow been there before, years earlier. It was an event that stirred a religious sense that has stayed with me.
York was my favourite town…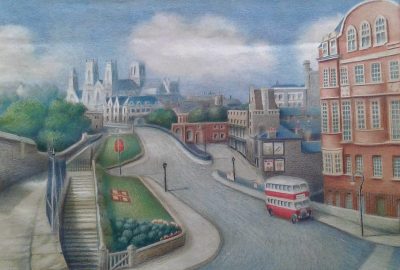 That day, we walked along the immense stone wall that surrounded Old Town and Mum pointed out the streets that the bus she conducted took during the War.  Shaking her arms, she described keeping drunken soldiers in line on the upper deck ("But the Canadians were always gentlemen, and would help me with the rowdies.  That's how I met your Father").  And the near hits the bus had (in York and along shire roads) during nighttime Blackouts.
After being in York Minster, we walked along the narrow cobblestone streets of the medieval Shambles, where dark timbered houses spread out over us.
I loved roaming, as we did every summer, through green rural England.  The English countryside is a world of its own — one I later rediscovered in Tolkien's Shire.  "I am in fact a Hobbit in all but size.  I like gardens, trees and unmechanised farmlands…"
Every December we took the train to Heckmondwike — the big Christmas tree in Market Square always reminded me of Canada.
Dad worked at the Ledgard Bridge Boat Yard in Mirfield.  As a carpenter, he was one of the twelve-man work crew building wide beam canal boats.  Constructed in the traditional West Country keel style going back centuries, they still used oak timbers and planking for the hull, pine boards for decking, all caulked with shredded hemp and tar.  I got to see all of the boats that Dad helped build on launch days.  Boy, I loved those dramatic launches!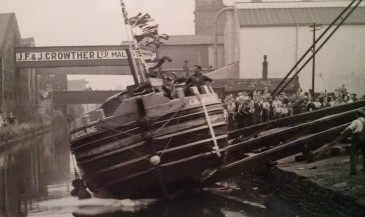 I was there to watch the Gwendoline (shown in this old snapshot) go down the slipway on a warm August day in '53.  Recently restored  by the National Waterways Museum at Ellesmere Port, Cheshire, the Gwendoline is the last surviving wooden canal boat built in Mirfield.
There were friends made there, by our stone row house on Shillbank Lane, outside Dewsbury ("The bus is ten miles north on the Dewsbury road and they're having a lovely time!").  My best mates were Barbara, next door, and Barry, across the lane.
A knock on the door.  "Can Brian come out to play?"  And we spent the day making the new world our own.
Kicking an ancient brown soccer ball about with wild enthusiasm.  Trainspotting: ignoring the new and lifeless diesel engines, but thrilling at the passing of  those old living metallic dragons — the Steam Trains.  Saying hullo to the happy pigs in the farm next door.  Sneaking into a local textile mill, where grim-faced workers bellowed at us over the noisy clattering machines.
That mill had a brick chimney that seemed to rake the clouds.  "We watched it almost catch a buzz bomb during the War," said Mum.  Daily, the chimney poured out dense black smoke that no doubt added to the occasional swirling smog bank that hid the English sky and tasted bitterly of sulphur.
On rainy days we stayed indoors, reading (and learning to read on) comic strips like Walt Disney and Dan Dare, Pilot of the Future.   And — my favourite — the Rupert Bear Annuals.
On Guy Fawkes Night in November, every family from the row house gathered around the big bonfire in the yard to roast potatoes, throw a Guy dummy on the fire and set off a great display of fireworks.
Age 6, I was taken to see Walt Disney's Peter Pan, which sparked an immediate love of fantastic adventure tales.  We kids lived out that movie on the playgrounds for months after.
While in England, I experienced the Coronation of Queen Elizabeth, an event that made me a confirmed Royalist.
And then the return to Canada.  Through London Paddington Train Station with its rows of ancient huffing trains — and onto the awesome ocean liner Empress of Australia for our week-long voyage.
Maybe she wasn't as elegant as the Queen Mary, but the Empress was a grand adventure of exploration (we kids launched constant expeditions across damp decks and into every "No Passengers, Please" corner below decks), dining (waking up to a voice outside our stateroom door, "First call for breakfast!"), music (four years earlier, going to England, the band seemed to be always playing the Third Man Theme, coming back, it was Three Coins In A Fountain), laughing until the tears rolled the night of a fierce Atlantic storm when, watching the movie It Grows On Trees, a woman slid in her chair across the tipping floor in front of the big screen saying, in a most proper Upper Class voice, "Oh my, Oh my, DO something!"  We applauded.
Back in the Dominion of Canada, I grew up in harness racing country northeast of Saint John — lots of horses, stables, fields and forests. You could earn a quarter by walking a horse after a race at Exhibition Park Raceway.  Early next morning after a race night, we kids used to crawl under the grandstand seats, searching for lost coins among the torn betting slips, candy wrappers and chip bags.
Along with paper route money and the two cents each you could get for collecting pop bottles along the roads, I made my own allowance.
Well, once I lost my Evening Times-Globe tally book in a rainstorm.  Word must have gotten around and grownups would look me in the eye and say, "Brian, I paid you for our papers last Saturday."  I knew they hadn't.  No answer to my knock last week when I'd put their Weekend paper between their doors.  But, Bless 'em, they were teaching a ten-year old boy a necessary lesson in life.
With friends: playing softball, climbing big hardwood trees to the top (getting back down was the challenge — remember?), prowling the Northwoods trails (mostly abandoned logging roads) and watching Westerns were our passions. Sure loved "them old Westerns."
In the darkening summer evenings, when the cows were in the Queen family barn, we got together — boys and girls — to play softball in the lower pasture.  Dried cow patties made excellent bases – usually.  Sometimes those patties weren't completely "cured."
In haying season, we used to help out by pitchforking hay up onto a horse-drawn wagon, and riding the piled hay back to the barn.  No pay — we did it just for the joy of doing it.
I was reminiscing with my brother, Ray, the other day about boyhood days on the Golden Grove Road, and I said, "Most Saturdays, I used to take the bus into Saint John — or walk if I didn't have enough money — and meet friends in King Square.  We were all just getting televisions back then and going to the movies was still the big event in our lives.
"For 25 cents each, we could see the Afternoon Matinee at the Paramount or the Strand Odeon Theatre — usually Disney or a Western.  John Wayne was a personal hero — one of the few non-writers in life to earn that title.  If you've never seen Rio Bravo, catch it.  And Gordon Scott was Tarzan then.  Stuff like that.
"Favourite movie from that time?  That would be Disney's White Wilderness, I guess.  The Nature doc filmed in the Canadian Arctic.
"It was always an event when a Disney film came to town.  And the excitement over this one was in the air — as real as the smell of fresh buttered popcorn.  Even the big colourful movie posters were part of the adventure.
"Hundreds of us lined up to get in, from the bright glass doors under the big marquee of the Paramount Theatre, around the corner of the old Dominion Stores and down Sydney Street.
"Loved that movie!  I went again the next Saturday.  Extra early to get in first, so I got a seat right in the front row.  Always watched it later when it was shown on our little black and white TV.  Didn't know at the time that the rumour was that those lemmings were being tossed over the cliff — the human hands were kept out of the shot.  Makes that scene doubly disturbing.
"You may remember old John Thomas and his sidekick Red — remember, John bought, sold, traded and stabled horses in the barn next door? An old horse trader in every sense of the word.
"Some of those horses were gentle as cream-fed kittens.  Some were wild and surly — they'd crowd or kick you if you weren't firm with them.  Occasionally, one would break through John's barbed wire fences — usually a big work horse — and get into our vegetable garden.
"There was that night when two stallions got into a fight in the upper pasture.  We found one next morning under a crabapple tree with its throat torn open.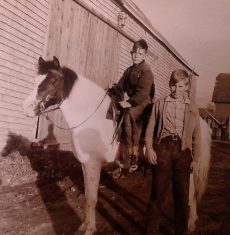 "John and Red were sometimes so drunk or hung over that Donnie Queen and I volunteered to clean out the stalls, fork down fresh hay from the loft and tend the horses.
"We loved doing it.  Hung around there anyway.  Those horses…  And, yes, John had a beautiful pony — which I guess was our payment.
"Donnie was amazing with horses — his dream was to spend his life working with 'em.
"No, I never learned Red's last name.  He lived in the little bunk house next to the barn, where he kept a worn western saddle and a bull whip. He seemed like a character out of the Old West.
"The ghost?  Yes, I saw it twice.  The first time I woke up to see it leaning over your crib.  Found it interesting.  No sense of danger, just curiosity.  Though I'm sure that on occasional nights something else dark and vicious came up out of the marshy corner of the pasture outside our bedroom window.  Saw that too.  Donnie told me that we had rented that little house longer than other families; stories were being told of hauntings.  Maybe I'll revisit all that someday in fiction.
"I was thirteen when we moved from there.  We moved around so much in those years — seems like I was always making and saying goodbye to friends.
"Last time we were back in New Brunswick and visited the Golden Grove Road — it was all gone.  All the pastures, green fields, barns, horses, woodlands — devastated by machines and replaced by rows and rows of cold streets and lifeless lookalike dwellings.  A big apartment building stands now where we used to live.  I wonder if they've seen the ghost.
"Glen Falls schoolhouse?  At least they tore that old brown building down long ago, didn't they?  Or maybe it just collapsed in a cloud of choking dust from dry rot.  Funny thing is," I concluded, "I never think of those dear old golden rule days, although I'm sure that I went to school once in a while. Yes, I must have, because I came home enough times with hands sore and swollen from another strapping…" [4]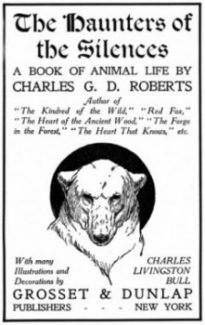 Well, my time served in that institution wasn't a complete loss. It was in our elementary readers and school library that I discovered the wild animal stories of Charles G D Roberts, my first literary hero.
Sir Charles took me into the very same New Brunswick forests that lived right outside those dull classrooms and told me stirring stories of wolves and bears and ravens and eagles and lynx and moose.  His books had naturalistic animal illustrations, mostly by Charles Livingston Bull.
Other literary heroes found me over the next few years: Grey Owl, Jack London, Edgar Rice Burroughs, Hal Foster, Ernest Thompson Seton, E Pauline Johnson, Robert W Service, George Marsh, Otis Adelbert Kline, Andre Norton, Leigh Brackett, Tom West, Will Henry (aka Clay Fisher), Farley Mowat and Pierre Berton.
Dad worked then for the Provincial Department of Highways.
Sometimes, on hot summer days, I used to go over to the Highways yard in Coldbrook to hang out. The yard smelled of new lumber, creosoted timbers and old oil.  The guys had lots of yarns to tell an eager kid.  Men like Harry Norris and Burpee Saunders and Art McQuade and Henry Bouchard.
Most of the Provincial workers back then were war veterans.  Dad had been involved in the Liberation of Holland, and — after being picked off by a German sniper in the bloody battle of Hochwald Forest [5] — he was in Stalag 11B, northern Germany.  Other guys had been in Holland.  At least two more had fought in Normandy. Other men in Italy and Korea. They were the nicest bunch of guys I ever knew.  Honest and true and kind as only combat veterans can be. [6]
And then we moved to Suburbia, which is no place for a country boy…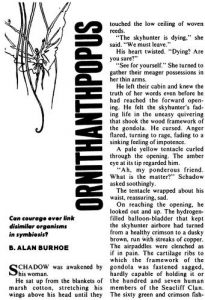 My first published work was a Science Fiction short story, "Ornithanthropus," way back in '71 – IF Magazine, Dec, 1971, illustrated by the immortal Jack Gaughan and edited by Ejler Jakobsson.
It was reprinted in a couple World's Best Science Fiction stories of the Year anthologies (edited by Brian Aldiss/Harry Harrison and Lester del Rey). [7]
Strange thing is, I continue to get emails from people who vividly remember that story, many saying how it inspired them to write their own Winged Man yarns.  And to draw scenes from the story (like Scott E, who wrote, "I must have drawn hundreds of them all over Jr. High School papers and notes.")
And recently, I had an email from the Rights Center saying they had a client interested in the movie-TV rights.
If you're a fan of imaginative literature, and want to read my online tale "Someday There Will be Centaurs,"  Click Here.
I sold other stories through the 70′s, including a yarn in Fantastic Stories that got me in trouble with Robert E. Howard (Conan the Barbarian) fans: "His Last and First Women" in FANTASTIC STORIES/Science Fiction & Fantasy, March, 1974, illustrated by John T Swanson II, edited by Ted White.
"His Last and First Women" introduced the Fantasy world of Witagg.  To see a selected narrative set in Witagg, go to WITCH CHILD Part 1: A Girl Named Feef… 
I've also had a passion since childhood for Northwestern lore, history and fiction: Mounties, huskies, wolves, and the Great Northwoods.  Be sure to read my popular online short story WOLFBLOOD, a Northwestern yarn in the Jack London Tradition ==> WOLFBLOOD: A Wild Wolf, A Half-Wild Husky & A Wily Old Trapper
"THE BOY WHO WAS RAISED BY BEARS! A MI'KMAQ STORY RETOLD & FREE TO READ…"  To See My Complete Folktale, Go To ==>> Muinej The Bear's Cub – A Mi'kmaq Bear Story Retold
My exploration of the common motifs of dreams, mythology and fantasy fiction came out of a long conversation with writer/editor Lin Carter at Detroit Tri-Con in August, 1972.  That fascination with imaginative literature has led to a lifelong interest (and articles) on dream study, Christian mysticism, and modern mysteries. [8]
My wife, Mary Lee, delivers the rural mail down back country roads for Canada Post; she's been doing it for over thirty years now.  She's a proud member of CUPW (Canadian Union of Postal Workers) and has served as president of her Local.  When she finds the time, she works on her popular  RAGGED ISLAND STUDIO Website – Maritime Folk Art, Teddy Bears, Knit Fashions, which includes her acrylic paintings of Lighthouses, Seascapes and Animals — as well as Waldorf Doll clothes, hand knitted teddy bears and popular crocheted toddlers bear scarves.  Her recipes published in Canadian Living still bring positive feedback.
Mary Lee's the true love of my life and my happiest days have been with her, including…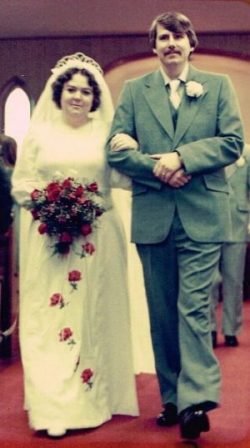 Our kids, Gregory and Jennifer, get home when they can — "don't forget to call your mother."
Jennifer has built a popular following with her Cat Art and is expanding her subject matter.  See a portfolio of some of her artwork at HAIKU ART SHOP – Original Whimsical Art.  See her latest work at LESS THAN PURRFECT ILLUSTRATIONS – Cat Art & Others – Original Paintings, Prints, Wearable Art, and More
Greg is finding time for his creative writing, first publishing his SciFi novel SECTOR STORM.  See his latest projects at ELVES OF THE WHITE OAKS – "An Exciting New Fantasy Novel in the Tolkien Tradition!" – & Other Writings From Gregory Alan Burhoe
They've grown up, of course, but like a doting father — or just doting — I treasure earlier times of not that long ago…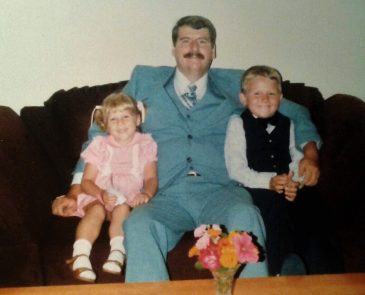 An owner of dogs like huskies and German shepherds, I've written numerous articles on canine history, training and feeding — we prepare our shepherd's meals from scratch.  For a history of the Realistic Dog Story, including the historic wolfdog, from its creation as a literary form by Charles G D Roberts, its popularization by Jack London to the latest published works, I've written Mountie Dog Stories & More – Evolution of the The Realistic Dog Story.
This interest led to my creation of North-West Mounted Police: Canadian Mounties in History, Literature and Hollywood [9]. This study of the Great Writers of Mountie Fiction and Northwestern Literature has drawn a lot of feedback and links from University and Research sites, including Wikipedia.
With the RCMP Veteran's Association, I am part of the creative team putting together "SCARLET GLORY: Honouring the Heritage of Canada's Mounted Police" — a multi-media project created and produced by Mel Shaw of Nashville. Mel started out as the manager/producer of the Western rock band, THE STAMPEDERS. He is the Founding President of the Canadian Academy of Recording Arts & Sciences and the Juno Awards.  With his wife, Fran, Mel now runs Mel Shaw Music Platforms (MSMP), Nashville, Los Angeles, New York and Toronto.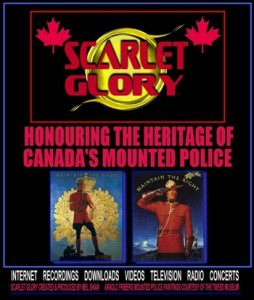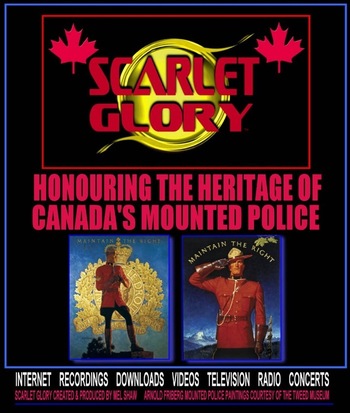 SCARLET GLORY is a natural continuation of Mel's previous DREAMS OF GOLD: THE KLONDIKE Project — See Mel's original Intro to the DREAMS OF GOLD Project at http://www.youtube.com/watch?v=7DDBTsg7mkI
To get a taste of what I've been doing for the SCARLET GLORY tribute, see THE GREAT PULP FICTION MOUNTIES: From Corporal Cameron to Sergeant Preston 
I'm also writing a Mounted Police novel, when I can steal a little time from my Civilized Bears Yarns.
So there's something of myself.
Looking back, I see common threads and themes.
I've made a living as an honest workingman (Working Class and proud of it!), including Highways labourer, Dairy worker, Rural Mail contractor and Down-home cook.  And a constant writer.
I've always wanted to be close to the living forest.  There's joy in those cool clean woodlands, even spirituality.  I am born of a people who lived along the Northern Coastlands: the wild seas to one side, and the Eternal Forest to the other.  It's in my blood, ancient, timeless.
And written stories — about wildlife and wilderness adventurers and country-born heroes.
A Beloved Boyhood Literary Passage?
"The flowers and the trees were good and beautiful.  God had made them.  He made the other creatures, too, that each might have food upon which to live.  He had made Sheeta, the panther, with his beautiful coat; and Numa, the lion, with his noble head and his shaggy mane.  He had made Bara, the deer, lovely and graceful.
"Yes, Tarzan had found God, and he spent the whole day in attributing to Him all of the good and beautiful things of nature; but there was one thing which troubled him. He could not quite reconcile it to his conception of his new-found God.
"Who made Histah, the snake?" – Edgar Rice Burroughs, JUNGLE TALES OF TARZAN
Favourite Songs?
"A Song is a Short Story.  It might have been my buddy Harlan Howard, a writer I met in Nashville in the sixties, who first said a song ain't nothing but three chords and the truth." Willie Nelson
We early Boomers grew up with the family radio nearly always on.  Yes, playing the soundtrack of our young lives, or at least pleasant background music.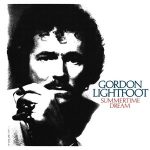 The first artists to blow the old stuff off the airways for me, who I was aware of as speaking directly to me about my own life, our own times, were the singer/songwriter folkies.
Gordon Lightfoot was my first superhero: he knew about where I came from.  Early Mornin' Rain.  Song For A Winter's Night.  Canadian Railroad Trilogy.  "The green dark forest was too silent to be real…"
Ian Tyson and his wife Sylvia.  Joni Mitchell.  Buffy Sainte-Marie.  Freewheelin' Bob Dylan.
Almost overnight, Rock hit: Lennon & McCartney, of course, though I didn't respond to their earliest stuff.  Mick and Kieth, from the first song.  Pete Townshend.  Elton John.  Randy Bachman and Burton Cummings.  Neil Young.  Bruce Cockburn.  Wondering Where The Lions Are.  Rock Spirituals: Godspell and Jesus Christ Superstar.  Who are you?  What have you sacrificed?
Then Rock lost its soul and the Country Outlaws picked up the torch: Waylon, Willie and the Boys.  Angel Flying Too Close To The Ground.  Why Me, Lord?  A Country Boy Can Survive.  I Got It Honest.
Today, it's still Country — old trailhands and new.  The times, of course, they just keep on a-changin'.  It's All Going To Pot.  Where A Farm Used To Be.  Today I'm Gonna Try And Change The World.  Life's About To Get Good.  And Celtic Rock — Rant & Roar, there's a great big sea on, boys!  Black Rum And A Fiddle Tuned Right!
Though a fave is Jann Arden, with her crazy-arsed sense of humour and lyrics that tear your heart out.
There are exceptions, of course — Stephen King and Terry Pratchett, just two — but I believe that the great writers of our Boomer Generation have been our singer-songwriters.
A Favourite Novel?
I was 18 when I first read Edgar Pangborn's DAVY, which may have been the perfect age to discover Pangborn's gentle, sentimental and oft-tragic worldscape, I don't know. Standing there in the narrow newspaper, magazine and tobacco store next to the SMT bus terminal on Saint John's King Street, I wasn't at first sure if this book from the paperback rack was worth 75¢. Not the kind of realistic cover art I usually demanded, even for science fantasies. But this wasn't science fantasy. Wrong Edgar.
The blurbs compared it to HUCKLEBERRY FINN and Fielding's TOM JONES, both of which I loved. Phrases like "warmth and humor" beckoned me. Robert A Heinlein was "delighted all the way through." Standing in the bookstore, I read Pangborn's Note on the copyright page: "The characters in this novel are fictitious in a limited sense — that is, they won't be born for several hundred years yet." I was hooked. And then I read the opening lines: "I'm Davy, who was king for a time. King of Fools, and that calls for wisdom." Hooked and reeled in, I began reading the novel on the bus ride home. I almost missed my stop.
DAVY told of a New England of a future time after a nuclear war.  DAVY told of a time of medieval ignorance and superstition, of spreading green forests and sheltering villages, of mutant children and wild tigers.  DAVY told the tale of a young rogue, an inn boy who wants to see more.  And in his own fumbling words, tells us his tale…
Since then, I've gathered all of Pangborn's available works, favourites including, "Angel's Egg," THE JUDGMENT OF EVE and STILL I PERSIST IN WONDERING.  Everything except his historic novel A WILDERNESS OF SPRING, which only had one printing in 1958, and owners display their wisdom and love by never selling.
If it was Sir Charles G D Roberts who first showed a young boy the power of the written story — then it was the two Edgars who informed a young man what the written story can achieve: Burroughs, the power of imagination; and Pangborn, the Humanity.
For more on the most influential and important writers in my life, see:
"The Bear That Thought He Was A Dog" A Complete Short Story by Sir Charles G D Roberts
Wolf Whelps & Lead Dogs: Tribute to George Marsh, Wilderness Writer
Edgar Rice Burroughs: A Tribute to Tarzan's Creator, A Personal Hero
Happy Birthday, Farley Mowat! Tribute to a Hero
NOTE ON IMAGES: Coloured pencil drawing City of York 1944 by Edna Burhoe.  Old posters from my rediscovered friend Rick Steeves.  Photos on this page are from our family albums — wedding picture by Cliff Bangham, Little Harbour, Nova Scotia.  "SCARLET GLORY" graphic by Mel Shaw Music Platforms (MSMP), Nashville, Tennessee.
JOTTINGS: Footnotes, Afterthoughts & Scraps of Burhoe Family History…
[1] Do I still cook at home?  Not like I used to — I spend more time at the keyboard now than the stove.  But I've still got my fave recipes, and turn on the stove to prepare 'em once in a while.  What are my favourites?  Where did I learn to cook them?  SEE: My Fave Atlantic Seafood Recipes: Lobster chowder – Atlantic Scallops au Gratin – Baked Stuffed Haddock 
[2] Forced to retire from commercial cooking when I was diagnosed with RADS (Reactive Airways Dysfunction Syndrome) occurring at my workplace, I became a writer full time.  (My ensuing long battles with Nova Scotia Worthless Comp and the insurance company defalcators — or is the word defecaters? — is a common enough story, I guess.)
If you want to make an income from writing articles at a journalist level, I recommend joining Demand Studios.  Worked for me when I needed it!
[3] I learned years later that I was supposed to be named "John."  Family pressure was on.
The first-born male of each generation of Burhoes (such as me) was expected to be named in honour of the very first Burhoe: born on Guernsey Island, loyalist Jean Brehaut joined the British Army in 1776 (his name being misspelled "John Burhoe" in the regimental records) and mustered out of the Royal Nova Scotia Volunteer Regiment in 1783 to settle locally, keeping his new name.
But Dad, being the rascal of the family, settled on "Brian" instead.  In a letter to Mum, my Manx Gran apparently had said it was a "good Celtic name," going back to Brian Boru, King of Ireland, and the Druids before that.  Dad went with it.  When I got to England, Gran told me that, on her side, we were descended from Druids and told me old tales I've never come across since.
You'll find my Alan namesake elsewhere on this site.
[4] Not that I was a young criminal.  Back then, being caught using a ball point pen was a strapping offence — we still had to use fountain pens.  Talking in class?  Strapping.  Asking questions?  Oh yeah.  Laughing out loud was a major offence.
But at least I knew my offences.  In England, age 6, I had been taken to the headmaster's office and given a proper caning.  I never did understand my crime (something to do with talking like a Canadian, eh?  Though I must have sounded summat like a real Yorkshire lad by then — I certainly did two years later back in Canada.  Or maybe he just wanted to look at my wee bonny bum).  But I began to comprehend why British schools were surrounded by high stone walls topped with wrought iron spear heads.
I've heard that moving from place to place in your formative years is supposed to be great at bringing out your inner Outsider, maybe even sparking creative urges.  Don't know about that, but I learned early on that the new kid with the strange accent always draws the ignorant skulking gangs.  The worst skulkers were the teachers, the daft wazzocks!
But I never showed them my pain.  The more the strap stung, the more the fire burned my palms, the more I knew that by the time I got home I wouldn't be able to pick up anything, the more I stared them in the eye, You'll never break me.
NOTE: Since writing the above, I've been asked, "Didn't you like ANY school?"  Had some angry responses.
Well, yes.  Sunday school.  Friends took me to every Sunday school around, every denomination.  They seemed to think I needed it.  Thing is, they weren't taught by teachers who were just putting in time, but by Mothers.  And Mothers who seemed to have an interest in things Biblical.  I was given little pamphlets with interesting passages and illustrations.  And when I asked questions, I received smiles.
Somewhere in there I got a fascination with the Sermon on the Mount.  The Meek part sounded a bit unworldly, but the Merciful and Peacemakers made Christian sense.  A good foundation to build a civilization on.  And I liked the praying-in-secret part.  The Sermon intrigued me and I once asked, "Why did Jesus give the Sermon on the Mount?"  And the Mother answered, "Because it was high on a mountain so everybody could see and hear Him."
And, when I was around 11, our music teacher (a separate breed) decided that I was a boy soprano with an "angel's voice."  With Mum's agreement, she trained me and took me to a number of young musicians competitions, with recitals in Saint John and the finals in Fredericton.  I didn't mind singing, because I loved the music ("Maria Gratia plena…"), but quickly discovered I didn't like standing alone on big stages in bigger auditoriums.  And the nighttime competitions always made me sleepy.  While the women and men on the adjudication panels always said nice things, I was glad the next year when my voice began to change.   Though I still get goosebumps when I hear Ave Maria and wish I could still sing it.
And later — after nearly a decade in the real world — I was accepted for the Holland Collage Culinary Course, training under Chef Leo Leclair, a genial and talented master cook.  So I can truly say that I enjoyed my last year of school.
[5] The Battle for the Hochwald Gap is known as one of the "Greatest Tank Battles" — not a good place to be for infantry soldiers like the Algonquins.
As I said to my brother Ray, "Dad's discharge paper, under Marks or Scars, says 'two small scars back of neck.'  Actually they were a nickle-sized round scar on the front, over his collarbone, and a bigger jagged scar on his back, where the German sniper's bullet exited with bits of bone.  I can still remember him hitting his own left arm in growling frustration when it would 'freeze' on him when he was trying to work — damage from his shattered collarbone and hasty first aid from a German on the battlefield (must have been a bad feeling – waking up and looking up a guy in a grey uniform and that distinctive coal scuttle helmet!)."
To read more, see OUT OF MY FATHER'S SHAVING BOX: Dad's War, Algonquin Regiment & Liberation of Holland
[6] I had the good fortune of working with most of these guys years later — my first grownup job was working for the New Brunswick Dept. of Highways, and I loved it.  Hard work but easy duty.  Outdoors, hardhat, lots of heavy equipment and those guys.  Still the same great crew I knew as a boy, filled with aches and pains and good humour.
Sometimes, when they had enough drink in, they gave you grim glimpses of War you'll rarely read about and almost never see in the movies.  To a man, they had all been banged up one way or another by War.  But not one, including Dad, received any pension.
The Liberal Mackenzie King government had set up demob boards whose entire purpose was to deny a pension to as many returning soldiers as possible.  Often, the vet was given a cursory medical exam and "No complaints" was just written in his records without the vet's knowledge.  If you're Working Class, get back to work — no pension, disability benefits or VLA loans for you.  Those were for men with brief cases and connections.
Thus I also learned about a common Canadian character: the Forgotten Soldier.
Support Our Veterans!  And their families!  It's never too late, eh?
[7] My '70s works were written as by "B Alan Burhoe" and a number of pen names.  Most of my later fiction and non-fiction has been written and published as by Brian Alan Burhoe.  You can see more about my first story at ORNITHANTHROPUS — the Winged Human in Dream, Myth & Literature
[8] To read more about that yarn with Lin Carter, and its influences on me, go to DREAM DICTIONARY: What Your 12 Most Common Dreams Mean
[9] My RCMP In Story & History Website ( "NORTH-WEST MOUNTED POLICE: Canadian Mounties in History, Literature and Hollywood") was hosted for free by 00Server, who placed their own banner and popup ads on my website.  I've deleted direct links to that site and am planning on republishing the most popular articles on a new paid website.  Meanwhile, you can SAFELY view my Mountie & Canine articles through WayBackMachine's Web Archive:
NORTH-WEST MOUNTED POLICE: Canadian Mounties in History, Literature and Hollywood
Thanks.  Live Free, Mon Ami!
– Brian Alan Burhoe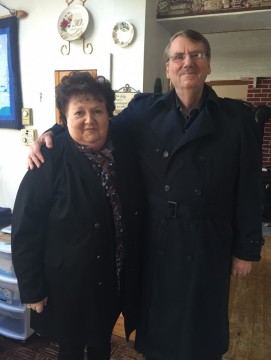 "You're always welcome, eh?"
DID YOU LIKE THIS PAGE?  IF SO, PLEASE TELL YOUR FRIENDS AND…
ARE YOU ON TWITTER? WE'D LOVE IT IF YOU TWEETED US!