A TOM WEST BIBLIOGRAPHY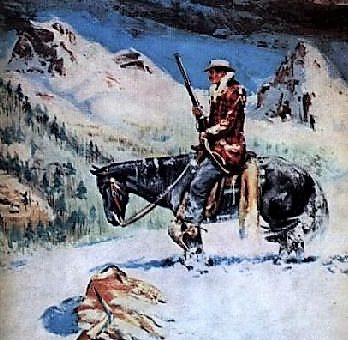 Tom West – The Man Who Wrote His Western Stories In Gunsmoke
Early in his novel RATTLESNAKE RANGE, Tom West introduces us to his protagonist:
Home was to Brick Riley any spot where he spread his soogans. When he was knee-high, his parents had been butchered in a Comanche raid. With no more roots than a tumbleweed, he drifted where the winds of chance wafted him, knowing no friends beyond his horse and gun, and craving none. Blocky, belligerent, sinewy as a range colt, with square features and a stubborn jaw, Riley took life as he found it — and found it good.
But Brick Riley, hired gun, soon found himself in a new kind of battle.  READ ON…
The newcomer, his long jaw working on a chaw, dismounted and stumped toward him. "The name's Saxon, Bill Saxon," he volunteered. "What in hell's the idea of fencing our water?"
"Your water, hell!" returned Riley. "Circle C claims Granite Wells and hired me to watch it." He tapped his holster.
The nester stood chewing, his faded eyes traveling over Riley. They dwelt on the white stars that decorated the tops of Riley's boots. "You from Texas?"
"Sure am!"
"Shake! I was raised outside San Antone, in the Brasada country." He thrust a hand through the barbed wire.
Riley gripped it. "They call me Brick," he said.
The nester leaned down and yanked up his right overall leg. The limb was severed, the knee cradled in a leather bucket from which protruded a wooden stub. "Lost that leg fighting for the South," he commented, "fighting for freedom. What you fighting for, Brick?"
"The iron that pays me," returned Riley, a trifle tightly.
"And I reckon you're mighty slick with that gun," observed Saxon thoughtfully.
"Tolerable."
"Wal," said the nester as his eyes dwelt reflectively on the young Texan. "I got a woman down in the basin, and two gals, all dehydrated and panting for a sip of water, but I ain't trading lead with no fellow Texan." Sorrowfully, he eyed the murky run-off from the Wells dribbling under the fence. "Can't even git the mules to stomach that alkali water we got," he mourned, "but I guess my gals got no choice."
With a sigh, Riley stepped to the gate, lifted the wire loop and swung it open. "Fill your doggone churns," he invited, "and quit breaking my heart."
No sooner had Saxon and his mules disappeared down canyon when the squeal of ungreased hubs told of another approaching vehicle. A decrepid wagon hove into view, mule-drawn, a lone woman with stringy hair holding the lines.
"Sorry ma'am," he shouted. "No water."
Reins slack in her workworn hands, she sat eying him, lined features stamped with the stoic, somber cast of the pioneer woman. "Mister, we just got to get water!"
The woman reached down and lifted a heavy buffalo gun…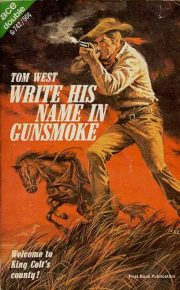 I first discovered Tom West about age twelve.
It was after a Western matinee movie, checking out the latest Dell comics and paperback books in the small bookstore and newsstand next to the old Saint John City Market main entrance.
I picked up a book with exciting covers on both sides. It was probably the cover of Paul Durst's KANSAS GUNS that caught my attention — a gun-shot hombre falling from a big horse coming right at you. I loved horses. Flipped over the book and there was a second novel, THE CACTUS KID by someone called Tom West.
Well, 35¢ — I could get three comic books for that, and still have a nickle left for popcorn next Saturday's matinee. But I had saved my summer jobs money. That day I could afford it. I'm gettin' it! Home, I read 'em both. THE CACTUS KID was a yarn and a half.
Tom West became my favourite Western writer. Still is.
I'm not the only one. Folks loved his Westerns, packed with action of course, but giving us a cast of cantankerous case-hardened careworn characters the like of which we may have met in real life, but rarely in fiction — well, until Clint Eastwood's Man With No Name later wandered a similar kind of a sunbaked Southwest. Remember Piripero, the grizzled old coffin-maker from A Fistful of Dollars? Right out of Tom West's reality.
And here's the good news, my friend — with 67 known novels, I'm still finding new Tom West books!  Meeting new Tom West characters.  Life is good.
HERE'S MY COMPLETE & UNABRIDGED
TOM WEST BIBLIOGRAPHY: 
Meddling Maverick (1944)
Bushwack Basin (1945)
Gambler's Gold* (1946)
Trouble Trail (1946)
Renegade Range (1946)
Six-gun Showdown (1947)
Tangled Trail** (1948)
Powdersmoke Pay-off (1948)
Renegade Ranch** (1948)
Spectre Spread (1948)
Red Range** (1949)
Six Gun Sheriff (aka The Desperado Code)** (1949)
Ghost Gold (1949)
Flaming Feud (1951)
Vulture Valley (1951)
Ghost Gun (1952)
Gunsmoke Gold (1952)
Lobo Legacy (1954)
Outlaw Brand (1956)
Beware Of This Tenderfoot** (1956)
Torture Trail (1957)
Draw And Die!** (1958)
Lead In His Fists (1958)
Slick on the Draw (1958)
The Cactus Kid (1958)
Twisted Trail (1959)
Nothing But My Gun (1960)
The Phantom Pistoleer (1960)
Side Me With Sixes (1960)
Double Cross Dinero (1960)
Killer's Canyon (1961)
The Gun From Nowhere (1961)
The Buzzard's Nest (1962)
Battling Buckeroos (1962)
Dead Man's Double Cross (1962)
Triggering Texan (1963)
Lobo Lawman (1963)
Gallows Gulch (1963)
Don't Cross My Line (1964)
The Man at Rope's End (1964)
Sidewinder Showdown (1964)
Bushwack Brand (1965)
The Toughest Town in the Territory (1965)
Battle at Rattlesnake Pass (1965)
Lost Loot of Kittycat Ranch (1965)
Rattlesnake Range (1966)
Hangrope Heritage (1966)
Bitter Brand (1966)
Showdown at Serano (1967)
Crossfire at Barbed M (1967)
Bandit Brand (1967)
The Face Behind the Mask (1968)
Write His Name in Gunsmoke (1968)
Black Buzzards of Bueno (1969)
Renegade Roundup (1969)
Scorpion Showdown (1969)
Desperado Doublecross (1970)
Bucking For Boot Hill (1970)
Lobo of Lynx Valley (1971)
Sweetgrass Valley Showdown (1971)
Corral This Killer (1973)
Lone Gun (1974)
Shootout At Sentinel Wells (1974)
Payoff at Piute (1977)
Sagebrush Showdown (1979)
Trigger Tyrant (1979)
Hard Trail To Santa Fe (1980)
* As written by Peter Field
** As written by Roy Manning
Tom only published one non-fiction title:
HEROES ON HORSEBACK: The Story of the Pony Express, by Tom West, Four Winds Press, New York, 1969; Blackie & Son, London and Glasgow, 1972
On a number of occasions, Tom donated some of his published manuscripts to the University of Wyoming American Heritage Center for their Western Writers archives.   They were sent directly to the university from ACE Books offices in New York City.  The Tom West Collection ("circa 1950 – circa 1970"), Accession Number 00528, is stored in two containers at the Heritage Center.  "There are no access restrictions on the materials for research purposes, and the collection is open to the public." [1]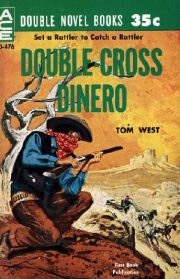 WHO WAS TOM WEST?
If you've never read his Bio, you're in for some surprises, my friend.
Want to learn more about Tom's great Western novels?
SEE my most popular Western Post, my heartfelt tribute: "Life and Works of Western Writer Tom West"
==>>TOM WEST – Classic Ace Double Western Writer Remembered & Reviewed
Was Italian filmmaker Sergio Leone influenced by Tom Brown?  To learn more about this and see two new Tom Brown ACE Book Reviews, Go Now To ==>> Tom West ACE Double Western Book Reviews: NOTHING BUT MY GUN & TRIGGERING TEXAN!
From the beginning, Tom's Westerns were quickly reprinted in softcover.  Some of his earliest hardcovers from Dutton —  including MEDDLING MAVERICK, BUSHWHACK BASIN and SPECTRE SPREAD — appeared in Hillman Publication Western Pulp Magazine Digest format as full length novels.
Before he became an almost ACE exclusive author, he had works reprinted as paperbacks by Pocket Books, Prestige Books, Pyramid Books, Magnum Books and Lancer Books.  The last Tom West published novel was HARD TRAIL TO SANTA FE, from Kensington Publishing's Zebra Books paperback imprint in 1980.
Tom West's stories were also published in England, Canada and Australia. And, in translation, Mexico, Denmark, Germany, Spain, Portugal, Argentina.  His books were sold throughout Europe.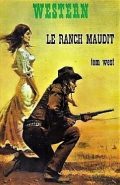 From the early 60's to 1977 the Librairie des Champs Elysées, Paris, published 18 of Tom's titles, such as RATTLESNAKE RANGE (as L'OR DU CIRCLE C), LOBO LAWMAN (as LE JUSTICIER DU RIO GRANDE) and LOST LOOT OF KITTYCAT RANCH (as LE RANCH MAUDIT — "The Cursed Ranch").
Librairie des Champs Elysées released them as part of their bestselling "Le Masque Western" paperback imprint. They are still collected today.
Created by French publisher Albert Pigasse in 1927, Le Masque Western series also produced Westerns by Louis L'Amour, Gordon D Shirreffs, Elmore Leonard, Clifton Adams, Clay Fisher, William Hopson, Ray Hogan, Giles A Lutz and Lewis Byford Patten.  Cover art was by some of the top American illustrators (in order of publication): Norman Rockwell, Gerald Powell, Frank McCarthy, Stanley Walter Galli, George Gross, Vic Prezio and the evocative Mort Künstler.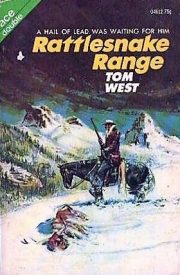 NOTE ON ILLUSTRATORS: Image at top of page is a detail from the painting used to illustrate the 1972 ACE edition of RATTLESNAKE RANGE, cover art by Gerald "Jerry" McConnell.
Born in New Jersey in 1931, Gerald McConnell illustrated over 2000 paperback covers in his lifetime.
Although he worked in a number of genres, such as the 1966 ACE edition of Ursula K LeGuin's science fiction novel ROCANNON'S WORLD, most of his published works were in the Western field. McConnell later taught at the Pratt Institute School of Design and, in 1981, was given the Society of Illustrators' Hamilton King Award.
Gerald McConnell also illustrated Tom's DOUBLE-CROSS DINERO.
The cover artist of Tom West's 1968 ACE edition of WRITE HIS NAME IN GUNSMOKE was Victor Prezio. Passing at only age 52 in 1976, Vic Prezio didn't leave a large legacy of cover artwork. Although he did some Comic Book cover illustrations (DELL Comics Space Man and CLASSICS ILLUSTRATED Robin Hood), most of his paintings were for the popular Men's Magazines and paperbacks of the 50's and 60's. Vic's acrylic, gouache and oil paintings still sell at art auctions. [2]
[1] Among other Western writers included in the American Heritage Center Western Writer collections are Jack Shaefer, William Colt MacDonald, Cifton Adams, S Omar Barker, Matt Braun, Merle Constiner, Will Cook, Dan Cushman, Harry Sinclair Drago, L L Foreman, Norman A Fox…
[2] ILLUSTRATORS: Often, ACE Books used the same cover painting for different titles, different authors. So the illustrations didn't always reflect scenes from the stories. I suppose the cost of paying for two novels and two illustrations for every new printing was prohibitive.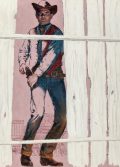 And sometimes the cover artist has been forgotten.
The image to the left of an hombre reaching for his sidearm behind a broken white fence was originally used as the cover illustration for Tom West's THE CACTUS KID, 1958 ACE edition, the book I had discovered so long ago.
The painting — "mixed media on board" — recently went up for sale through Heritage Auctions.  The painting is not signed.  "Artist unknown."  And not sold.  Lost forever — except on old pinewood bookshelves, eh?
– Brian Alan Burhoe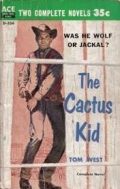 Tom West – The Man Who Wrote His Western Stories In Gunsmoke
First Web Publication of Tom West's Complete Bibliography
ACE Doubles, ACE Double Western, ACE Double Westerns, ACE Tall Twin Western, bibliography, book list, book review, Brian Alan Burhoe, Fred East, Gerald McConnell, Rattlesnake Range, Tom West, Tom West Bibliography, Tom West book list, Western writer, Western book review, Write His Name In Gunsmoke
DID YOU ENJOY THIS POSTING?  IF SO, PLEASE TELL YOUR FRIENDS.
ARE YOU ON TWITTER?  SURE WOULD APPRECIATE A TWEET!