Tom West ACE Double Western Book Reviews: NOTHING BUT MY GUN & TRIGGERING TEXAN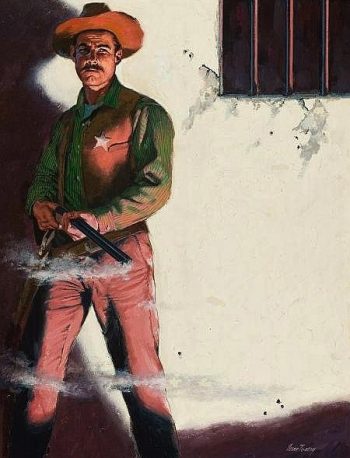 TOM WEST – Western Writer Who Influenced Sergio Leone and Clint Eastwood's Man With No Name
As I've written elsewhere, Tom West is my favourite Western writer.
And that's saying a lot, considering how many talented writers lit the 20th Century up with their mythic frontier fiction. Writers who became my personal heroes — besides Tom — include Giles A Lutz, Will Henry, Louis L'Amour, Max Brand and Nelson Nye.
Tom West had well over sixty Westerns published in his lifetime. Mostly by ACE Books, first as reprints from hardcover editions, then as first book publications. Titles like BOTCHED BRAND, THE CHALLENGER, THE BUZZARD'S NEST, CROSSFIRE AT BARBED M, THE FACE BEHIND THE MASK, HANGROPE HERITAGE, LEAD IN HIS FISTS, LOBO OF LYNX VALLEY, DON'T CROSS MY LINE, SHOWDOWN AT SERANO, SIDEWINDER SHOWDOWN, SCORPION SHOWDOWN, CORRAL THIS KILLER, TWISTED TRAIL and THE TOUGHEST TOWN IN THE TERRITORY.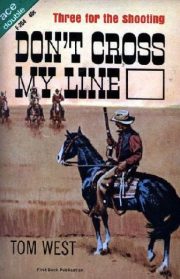 Loved those ACE Doubles. "Turn Over Book for 2nd Novel!" Two for the price of one. By pairing an established author with a newcomer, editor Donald A Wollheim was able to help establish the careers of a number of new writers — though in the early years, to a kid like me, they were all new.
The Doubles were published from 1952 to 1973. Sales may have been dropping by '73, when they introduced the "ACE Tall Twin Western" with a different look and full-sized format.
And here's the good news for an old time Western fan like me: since Tom West published well over sixty novels — there's still some rare ones out there to collect.
I just got my paws on a new (for me!) Tom West ACE Double. Two Tom West novels.
Here's a look at 'em…
Tom West's NOTHING BUT MY GUN was first published as an Ace Double Western in January, 1960 (ACE D-418) with C S Park's THE QUIET ONES on the flip side. THE TRIGGERING TEXAN first appeared in May, 1963 (ACE F-200) back-to-back with THE BIG SNOW by Frank Wynne (Brian Garfield).
They were published together for the first time in 1973 under the revamped "ACE Tall Twin Western" format (ACE-58878) — the covers shown here are from this new edition.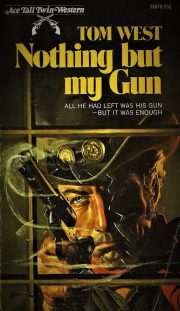 NOTHING BUT MY GUN – 1960
Shunned as a known outlaw's son, his only home burned to the ground by cattlemen who thought him nothing but a squatter, "Smiler" Bill Kieth owned only three things: a horse, a saddle and a gun.
So he jogged his buckskin into the border town of Mesquito, burst through the batwings of the Silver Saddle Saloon, slammed his walnut-butted .45 on the bar and said, "This gun's for hire!"
Silver Saddle owner Curt Hogan was quick to respond. Dressed in gambler's black, Hogan was a bulky man with an empty smile. But he was hiring.
So the next day Kieth found himself stepping through a fly curtain into a Mexican cantina to introduce himself to an hombre named Pedro Hernandes Gonzales, the man who ramrodded the biggest gang of cattle rustlers along the Rio Grande.
Gonzales was dressed in bright clothes like a patron and wore a heavy gunbelt — a pearl-handled pistol on one side, long bone-handled knife on the other. He gazed at Kieth with sharp, piercing eyes as mean as a sidewinder snake's.
And soon he was headed north again with Gonzale's bunch of hardened vaqueros and Yanquis. Turns out one of men, who called himself Cheyenne, had ridden the owlhoot trail with Bill's father. Cheyenne knew the few surviving men of the outlaw bunch, naming one as the black-coated Curt Hogan. No, he couldn't identify the lousy bounty hunter who had shot the elder Kieth in the back. Didn't know what happened to the outlaw band's reputed cache of stolen loot. And they rode north.
For Smiler Kieth, it became a time of treachery, backstabbing and hot lead…
Attracted by circling buzzards, Molly Burgess, graceful even in flannel shirt and stained Levis, pulled her horse off the trail. She expected to find a fallen steer. She found Bill Kieth, gunshot and bloody on the ground. The proud cattleman's daughter hated what Bill had become — but her pulse still quickened when she was around him. She got him to an empty line shack. Tended Smiler's wounds. And secretly brought food and supplies to him over the next days.
It took him over a week to heal enough to move around, but time came when Bill Kieth was able to ride back to town. For a reckoning.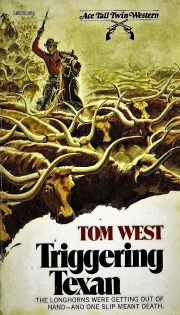 TRIGGERING TEXAN – 1963
The South might have fallen, but Craig Carter, still wearing his tattered gray Confederate uniform was damned if he was.
"Your money's no good here" had a different meaning to the soldiers returning to San Antonio, Texas in the early summer of 1866. When Carter went to pay for a beer with Confederate cash, the barkeep snatched the mug back saying, "We only handle rattling money, mister."
And then a bad hombre called Buck Hobson made matters worse. Hobson had avoided serving in uniform during the war and made an easy fortune running cattle to New Orleans. Eyes as hard as onyx, face pockmarked and knife-scarred, the hardcase snatched up the bill, "Look at this! Confederate money, fit for nothing but to wipe your arse!"
Carter dropped him with a sledgehammer blow. Before Hobson staggered out the batwings, taunted by the crowd, he said, "Reb, this ain't finished!" Enemy.
And then there's Pete Corrigan, a stranger who paid for Carter's beer. A wiry vaquero, Irish and Mexican, with hatchet features and devilment in eyes as blue as bottle glass. Friend.
Tom West could always tell an action packed yarn. With great hardass characters. And something else — the author knew the American Southwest. He travelled it often. Listen:
"In the freshness of early morning the rolling swales, clothed thick with mesquite, reflected a delicate green that seemed to pervade the entire horizon. As they pushed deeper into the brasada, the prickly pear formed thorny ramparts, hackberry clumped thick and yuccas raised distorted arms…"
Tom West wrote about these lands, barren and beautiful, and brought them to life in over sixty novels. Mostly, he wrote about a kind of mythic time, an Eternal West where the characters and the land they lived in were the whole story.
But TRIGGERING TEXAN is almost unique in his canon, dealing with an actual moment in American history. In this case, the rise of the great Cattle Drives. The creation of the mythic Cowboy.
Craig Carter signed on as trail boss of a restless herd of longhorns, and set out on a trail just being discovered, the wild trail from destitute Texas to a brand new cattle town in Kansas.
And Tom West takes us on that journey with almost day to day detail. Wild rivers. Storms. Stampedes — and more stampedes. Thirst. Desperate Indians. Ruthless Jayhawkers. Wide open frontier towns. Spanish Fever and Kansas Deputies.
Oh, and did I mention Jumbo, who Carter knew was "the most valuable man on his crew." The Cook, of course.
This is a classic, pard.
If there's a moral to this novel, chew on this: if you work hard and fight hard and live true, you'll get your herd to railhead — and get the girl. Or maybe it's this: if you ever get the drop on a gang of Jayhawkers out to bushwhack you, don't let 'em go — string 'em up!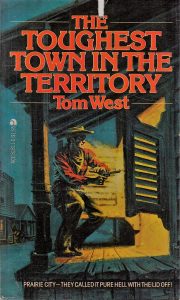 WHO WAS TOM WEST?
If you've never read the Bio of the man who called himself Tom West, you're in for some surprises, my friend.
SEE my most popular Western Post, my heartfelt tribute: "Life and Works of Western Writer Tom West"
Want to learn more about Tom the man and his great Western novels?
SEE ==>>>TOM WEST – Classic Ace Double Western Writer Remembered & Reviewed
How many books did Tom publish in his almost four-decade career?  In how many countries (counting translations)?  What European country translated 18 of his Westerns — and still avidly collects them?  What American university has a Tom West Collection?  To answer that — and much more — See MY COMPLETE & UNABRIDGED TOM WEST BIBLIOGRAPHY, Go Now To ==>>  TOM WEST – The Man Who Wrote His Western Stories In Gunsmoke !
More to the point, Tom West's novels of a violent sun-broiled American and Mexican Border Country were sold throughout Europe in the early 1960's. Enter the young Italian film producer Sergio Leone, who in 1964 gave us Per un pugno di dollari (A Fistful of Dollars).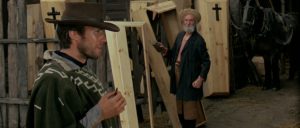 In my intro to MY COMPLETE & UNABRIDGED TOM WEST BIBLIOGRAPHY, I mention Tom's "cast of cantankerous case-hardened careworn characters the like of which we may have met in real life, but rarely in fiction — well, until Clint Eastwood's Man With No Name later wandered a similar kind of a sunbaked Southwest. Remember Piripero, the grizzled old coffin-maker from A Fistful of Dollars? Right out of Tom West's reality." Did Sergio Leone read Tom West? Gotta feeling, folks…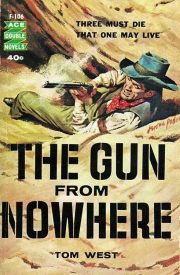 NOTE ON ILLUSTRATIONS:
Painting top of page is by Verne Tossey, used in the original 1960 ACE edition of NOTHING BUT MY GUN. Verne Tossey (1920-2002) was known for his Western art, both commercial cover illustrations and fine paintings. He always said that he owed much of the authenticity of his paintings to his wife Mary, "a Wyoming rancher's daughter who helped me to really see the West and understand its ways."
DON'T CROSS MY LINE cover art by Gerald McConnel. "Jerry" McConnel was a mainstay in ACE's illustrator corral. He painted covers for both science fiction and Westerns, including a number of Tom West's books. Read more about Gerald McConnel at "Tom West – Classic Ace Double Western Writer Remembered & Reviewed…"
The artwork for both covers of the "ACE Tall Twin Western" edition of NOTHING BUT MY GUN and TRIGGERING TEXAN was created by George Gross. Born in 1909, George Gross lived a long creative life until age 94. He worked for the top publications of the century, from early pulp fiction magazines (Adventure to North-West Romances) to later paperback books, including the Nick Carter Killmaster series.
THE GUN FROM NOWHERE cover is by Jerome Podwil. Podwil made his bones as a popular ACE cover illustrator. Graduating from the Pratt School of Art and Design in 1960 at age 22, Jerome Podwil established a career with his colourful, playful, imaginative cover art for the ACE Books science fiction and fantasy line. A fave of mine is his cover for the 1966 ACE edition of William L Chester's HAWK OF THE WILDERNESS. But his Western covers had their own rugged grace, as solid and true as sun-scorched stone.
Live Free, Mon Ami! – Brian Alan Burhoe
"The Western is Forever!" WWA – Western Writers of America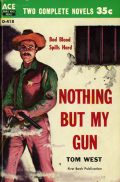 Title: TOM WEST – Western Writer Who Influenced Sergio Leone – Clint Eastwood
Tom West ACE Double Western Book Reviews: NOTHING BUT MY GUN & TRIGGERING TEXAN
Keywords: ACE Doubles, ACE Double Western, ACE Double Westerns, ACE Tall Twin Western, book review, Brian Alan Burhoe, Clint Eastwood, Fred East, Gerald McConnell, George Gross, Jerome Podwil, Nothing But My Gun, Sergio Leone, Tom West, Tom West Bibliography, Tom West book list, Tom West checklist, Triggering Texan, Verne Tossey, Western writer, Western book review, who was Tom West
DID YOU ENJOY THIS POSTING?  IF SO, PLEASE TELL YOUR FRIENDS.
ARE YOU ON TWITTER?  SURE WOULD APPRECIATE A TWEET!