Top 10 Maigret Novels: What is the Best Maigret Mystery?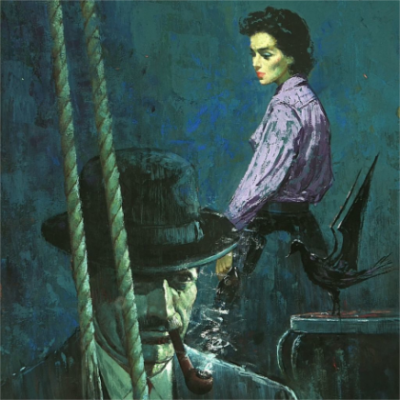 What is the best Maigret mystery?
I must have been 16 when I first discovered Georges Simenon's Inspector Jules Maigret.
That day, I picked an Ace Double off a book rack. You know — one of those smaller two-in-one paperbacks that had one novel on one side and (after flipping it over) a second on the other.
Ace put out Science Fiction, Westerns and some Mysteries that way. Since my income consisted of what I saved from caddying at the local golf course every summer — I was cautious what I spent my hard earned pay on. Through the year, I haunted Saint John City's book racks and sent to Ace for their monthly catalogs.
This one fooled me.
I had just about finished (and shelved) every Sherlock Holmes collection and novel Conan Doyle had written — and wanted more Holmes and Watson type of mystery. This Double had two mysteries by a guy named Simenon: Maigret and the Reluctant Witness and Maigret Has Scruples.
The cover painting of Witness showed a mustached guy smoking a pipe (must be this detective named Maigret) — the scene appeared to be on the deck of a fogbound sailing ship, or so I thought. Aha! Victorian England, for sure. Sir Arthur Conan Doyle territory! And the cover blurb for Scruples had a quote from a man I knew as a good Science Fiction/Mystery reviewer, editor and author, Anthony Boucher: "One of the high points of the entire Maigret series." (exact quote — I still have that book).
So I spent the 40¢ and took it home.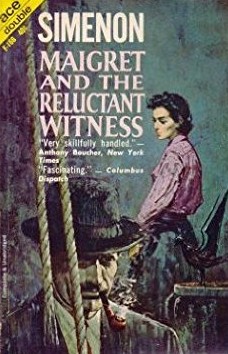 Began reading Witness on the bus — and gradually discovered that I wasn't in foggy old London. It started with a domestic scene involving his wife seeing him off to work — "Have you forgotten your umbrella?" — but then Maigret got on a bus. Not 1890's. Office at Police HQ. Empty refrigerator. So it was at least mid-20th century. Seems to be set in France. Seine River? Ah, Paris.
The story was slow, plodding. Not the usual action adventure a 16 year old loves.  After all, the Edgar Rice Burroughs Boom was on and I was avidly collecting all of those.  Or maybe I should have looked a little harder for a Double Western…
But I couldn't stop reading. This author Simenon — this detective Maigret…
I liked the realism — Maigret reminded me of men I knew — my father, for instance. Simenon had created a world both familiar and unique. I read Witness in one afternoon and evening. Scruples the next day.
It was maybe eight years before I bought my next Maigret. By then I was in my early 20's and hooked on Ross Macdonald and John D MacDonald. I picked up a Penguin edition of Maigret Mystified and became a fan for life.
There's a noticeable difference between those Maigret mysteries written in the 1930's and those written after World War II and the German Occupation.  The prewar novels are a bit more detailed, more plotted à la manière des romans policiers.  Maigret is more aggressive at times, more apt to punch someone — "You've been fighting again!" said Madam Maigret.
After the War, Maigret is more plodding, more thoughtful, more sentimental.  Probably Simenon's response to the dark national tragedy of that time.  There's little direct mention of the War in the mysteries — no mention of what Maigret did during the Occupation.
Although published in 1942, Maigret and the Hotel Majestic was finished in 1939.   There's no hint of the dark clouds of war over Europe in the novel, in fact it has some of Simenon's best comic moments, including the running gag, "What's he saying?"
So — what is the Best Maigret Mystery?
Well, it's whatever you like the most.
All I can do, mon ami, is list some of my own faves…
Here's a list of my personal favourites.
My Top Ten Maigret Mysteries:
1. Maigret and the Hotel Majestic (Les Caves du Majestic)
2. Maigret's War of Nerves (La Tête d'un homme)
3. Maigret in Society (Maigret et les vieillards)
4. The Patience of Maigret (La Patience de Maigret)
5. Maigret on Holiday (Les Vacances de Maigret)
6. Maigret Has Scruples (Les Scrupules de Maigret)
7. Maigret and the Tavern by the Seine (La Guinguette à deux sous)
8. Inspector Maigret and the Strangled Stripper (Maigret au "Picratt's")
9. Maigret in Court (Maigret aux assises)
10. Maigret Takes a Room (Maigret en meublé)
If you came on this posting because you are new to Simenon and want to know where to start, you couldn't go far wrong by sampling some of these titles.
– Brian Alan Burhoe
NOTE: The illustration at the top of this page is a detail from the cover art of Maigret and the Reluctant Witness, Ace Books, New York, painted by Lou Marchetti.
UPDATE: March 29, 2016.  And now Rowan Atkinson is Chief Inspector Jules Maigret on the new British ITV television series.  Rowan Atkinson?  Simenon described the Maigret we know and love as a "mountain of a man" and "a bear."  First thought was that Rowan couldn't bring that physicality to the role.  But then Rowan is one of my fave actors: Mr Bean, Blackadder, Inspector Raymond Fowler.  He's quoted as saying, "I have been a devourer of the Maigret novels for many years and I'm very much looking forward to playing such an intriguing character, at work in Paris during a fascinating period in its history."  It's about capturing character and gravitas.  Un grand accomplissment, mon ami!
Keywords: auberge simenon, autor von maigret, commissaire, commissario maigret, de maigret, maigret simenon, maigret tv series, rowan atkinson, simenon, simenon ebook, simenon georges