The Walter Lantz Story: Woody Woodpecker, Andy Panda, Chilly Willy & the Beary Family – A Tribute
"Guess who?  Ha-Ha-Ha Haaa Ha!"
"Everybody thinks I'm crazee-ee-ee.  Yessiree, that's me, that's me.  That's what I'm cracked up to be.  I chop a hole in ev'ry tree-ee-ee.  Knock on wood.  Well, knock on wood-ood-ood.  So I'm crazy.  So what, what can I do?  So are you!" Woody Woodpecker
"Anything for a laugh. That was the kind of picture we used to do, the kind I've always done. We never tried to do a cartoon that was abstract, or arty, or difficult to understand, or with some kind of hidden message…  All we ever wanted to do, all I ever do want to do, is make 'em laugh." Walter Lantz
Robin Meets Woodpecker: "On behalf of the Academy, I'd like to give you this award for doing strange and wonderful things with a laughing bird." Robin Williams, on presenting an Honorary Academy Award to Walter Lantz at the 1979 Oscars.
A recent trending hashtag on Twitter — "#MyFavChildhoodCartoon" — sure brought back memories.  Folks young and old had sent out hundreds of wonderful heart-felt postings.  I had to throw in my own Tweet: "LONG TIME AGO, I LOVED KINDLY OL' WALTER LANTZ'S INTROS TO HIS OWN CREATION WOODY WOODPECKER."
Yes, stirred memories.
Way back when, I learned to read on Dell comic books.  Walt Disney's Comics & Stories.  Walter Lantz New Funnies.  Walt Kelly's Pogo Possum.  Edgar Rice Burroughs' Tarzan.   Zane Grey's King of the Royal Mounted…  Dell even put out a version of my fave Weekend Comics colour feature: Hal Foster's Prince Valiant.
And also learned from the beginning that all those characters were created by real people, even the capricious cartoon characters.  The creators — writers and artists — enchanted me.
We met kindly ol' Walter Lantz on the original Woody Woodpecker TV Show.  I was fascinated as a kid by those "Moment with Walter Lantz" clips when he would talk about creating his characters, even show us the drawing and animation process.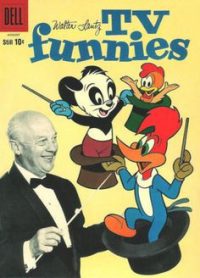 And his animated folk.  There was Woody the Woodpecker, of course.  And Woody's rambunctious niece and nephew.  Remember their names?  Allll right! [1]
And Andy Panda.  Oswald the Rabbit.  Chilly Willy.  Charlie Chicken.  The big bully Buzz Buzzard.  Homer Pigeon.  Wally Walrus.  Gabby Gator.  Elmer the Great Dane.  Sugarfoot the Horse.  Maw and Paw the Humans.
And, among my later favourites, the bear family named Beary — do you remember their names? [2]
And those fond thoughts made me wonder if Walter had ever written his own memoirs.  Or had anyone penned a full bio?  Well, yes.  Look there.  THE WALTER LANTZ STORY: With Woody Woodpecker and Friends.  Published by Putnam in 1985, while Walter was still alive (Walter Lantz lived to be 95, Bless him).  Hardcover, 254 pages.  "Copiously illustrated with photographs and drawings."  Written by Joe Adamson, who had also authored TEX AVERY, KING OF CARTOONS and BUGS BUNNY: 50 Years and Only One Grey Hare.  Joe Adamson knows his stuff. [3]
So I logged onto Abebooks and sent for my own used copy (ex-library) through Better World Books.  It arrived in the trustworthy mail the other day.  Yup, it's out of print, but here's my GoodReads Book Review telling you some of the reasons why this wonder-filled book should be newly reprinted…
The Walter Lantz Story by Joe Adamson – a Book Review
My rating: 5 of 5 stars
Have you ever wondered, like me, who voiced that joyous, rascally, in-your-face Woody Woodpecker Laugh? Film historian Joe Adamson answers that — and more.
If, also like me, you love memoirs and biographies of creative men and women, then I recommend THE WALTER LANTZ STORY. With input from Walter Lantz himself, Adamson has written an astute study of a great artist and the moving life of a warm and kind man.
At age 12, Walter Lantz dropped out of school to work for his father at a mining company commissary deep in the green Northwoods of New England.
While he enjoyed hunting and fishing, he still yearned to educate himself.
Wanting to follow his artistic dreams, the young Walter enrolled in two correspondence courses. One was in the popular field of newspaper cartooning. The other course was in a new art form, "something called Animation."
Walter Lantz literally started his career at the beginning of animated motion picture shorts — his story is the history of the feature cartoon. And it's all here in this book — complete with photos and artwork on nearly every page.
And the kindness I spoke of… While Walter lost his mother at an early age, and his father lost the use of his legs, and it became a family struggle just to make a living, Walter kept his warm sense of humour and his deep love of family and friends.
From his early days drawing cartoons for Randolph Hearst's newspapers to his creative experiences in the newly formed Hollywood animation studios, Walter built a career.
When he first arrived in Hollywood, the animated silent cartoon had fallen on hard times and Walter found himself starring in short two-reel live-action comedies. Working first for Hal Roach, then Canadian Mack Sennet, Walter learned the basics of movie comedy: slapstick and gags.
When the arrival of sound and a young Walt Disney made cartoons a hot item again, Walter Lantz was ready.
First came Oswald the Lucky Rabbit, voice provided by a kid named Mickey Rooney.
Then Andy Panda — inspired by the sudden love affair of North Americans in the Thirties with the Chinese Panda.
And then Woody Woodpecker — inspired by an obnoxious woodpecker tapping noisily on the roof of the lakeside cabin where Walter and his new bride Gracie were attempting to enjoy their honeymoon.
Followed by Chilly Willy, Homer Pigeon, Wally Walrus…
Oh, yes. Who performed Woody's voice? In 1940, it was Mel Blanc. By the Fifties, Mrs. Gracie Stafford Lantz did Woody's voice — and that famous laugh.
Yup, I recommend THE WALTER LANTZ STORY.
Five Out of Five BEAR HUGS!
==>> To see another Tribute to a boyhood hero, see Edgar Rice Burroughs: A Tribute to Tarzan's Creator, A Personal Hero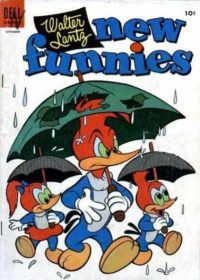 Footnotes & Monikers:
[1] Splinter & Knothead.
[2] The put-upon papa bear was Charlie Beary, with mama bear Bessie Beary.  And big Junior and his little sister bear Suzy.  Ah, the memories.
[3] Joe Adamson has also written GROUCHO, HARPO, CHICO AND SOMETIMES ZEPPO: A Celebration of the Marx Brothers & a Satire on the Rest of the World.  And a number of interviews and articles in Film Comment magazine (like "Well, For Heaven's Sake! Grown Men!") and The American Animated Cartoon ("Interview With Chuck Jones"), among other television and movie-related projects.
Note on Artwork: Colour photo of Walter Lantz at top of page is a detail from the front jacket of THE WALTER LANTZ STORY, drawing and design by Frank McSavage.
Title: The Walter Lantz Story: Woody Woodpecker, Andy Panda, Chilly Willy & the Beary Family
Meta Description: Read a loving write-up about the well-lived life, worthwhile works and wonderful wacky worlds of Walter Lantz, creator of Woody Woodpecker — and Wally Walrus!
Keywords: animated cartoon, book review, cartoon, Dell comics, Edgar Rice Burroughs, fav childhood cartoon, Joe Adamson, Robin Williams quote, Tarzan, Walt Disney, Walter Lantz, walter lantz cartoons, walter lanz, woody the woodpecker, woody woodpecker episodes, woody woodpecker laugh, Woody Woodpecker song lyrics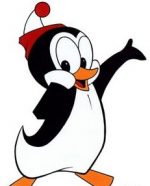 DID YOU LIKE THIS POSTING?  
IF SO, PLEASE TELL YOUR FRIENDS.
ARE YOU ON TWITTER?  I'D LUV IT IF YOU TWEETED THIS PAGE.  
THANKS!