Bornean Baby Orangutan Born at Tampa's Lowry Park Zoo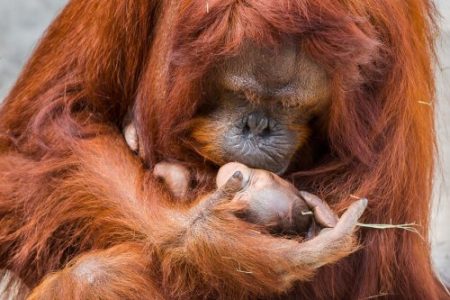 "Admiral, there be whales here!" Montgomery "Scotty" Scott
I have mixed feelings about zoos. Some zoos and aquariums are just a notch above circuses, whose time has gone. Others are serving partly as sanctuaries for genuinely endangered species — animals disappearing in the wild.
And sanctuaries are essential. Maybe we can save — and even increase through new births — those species on the brink of disappearing forever. Keep them until — like future Humankind in STAR TREK: THE VOYAGE HOME — we outgrow our ignorance and learn to make way for all the wild creatures. Release 'em all back into the wilderness.  Rewilding them all, including whales and orangutans.
So here's great news from a Zoo…
"New year, new zoo baby! Tampa's Lowry Park Zoo welcomes 2018 with the birth of a rare Bornean orangutan baby."
The endangered primate was born in the early morning on January 6th, 2018, to experienced mother Dee Dee, weighing in at an estimated 3 pounds. There are fewer than 100 Bornean orangutans in 24 AZA-accredited institutions in North America, making this birth very significant for the species and the Tampa community.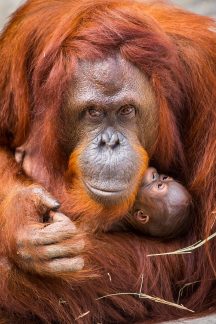 Dee Dee is quite the experienced mother, already giving birth four times successfully and this will be father, Goyang's third baby at the Zoo.
In October, a human pregnancy test confirmed that Dee Dee was pregnant. The Zoo's animal care team and veterinary staff worked closely with Dee Dee to voluntarily participate during ultrasounds.
"Dee Dee continues to do well with her female baby. As an experienced mother, she didn't show any signs of any possible issues. We determined that Dee Dee's baby had turned during one of her regular ultrasound exams," said Dr. Ray Ball, VP of Medical Sciences at Tampa's Lowry Park Zoo.
"Careful monitoring and pre-natal care are important, but so is privacy. With veterinary medicine, the baby determines the day of birth, but the mom determines the time. With no signs of a high risk pregnancy, we let her take care of the labor naturally — she determined when it would be time to deliver her baby."
The Zoo is currently home to a group of seven endangered orangutans and participates in the Bornean Orangutan Species Survival Plan (SSP). The program of the Association of Zoos and Aquariums (AZA) protects wildlife species at risk of extinction. The baby will be the tenth Bornean orangutan born at the Zoo. [1]
"This is a significant birth for the entire critically endangered Bornean orangutan population," said Chris Massaro, General Curator at Tampa's Lowry Park Zoo. "It's important to have the community along for this journey. We hope Dee Dee's story inspires the public to become advocates for this incredible species and learn about the perils they face in the wild."
Native to Malaysia and Indonesia, the longhaired red great apes can be found on the islands of Borneo and Sumatra. The species is considered endangered in the wild due to critical habitat loss, increased use of palm oil, poaching and pet trade. The population declined more than 50% during the last 60 years.
But as long as we continue to rescue them, continue to shelter them, then hopefully they will continue to survive — until that future day when all of endangered wildlife can make their voyage home.  Home to Mother Earth.
– Brian Alan Burhoe
Do You Agree with this Endangered Animals Post?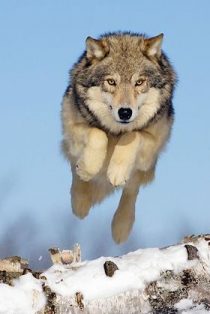 IF SO, YOU MIGHT WANT TO READ WOLFBLOOD — MY MOST POPULAR ANIMAL STORY:
"I JUST READ WOLFBLOOD AGAIN FOR GOOD MEASURE.  ONE FOR ANY WOLF LOVER.  ENJOYED IT BUT WISH IT WAS A FULL LENGTH NOVEL." – Gina Chronowicz @ginachron
"GREAT SHORT STORY!  DOES REMIND ME OF CALL OF THE WILD, WHITE FANG…" – Evelyn @evelyn_m_k
An "engaging, uplifting narrative" in the Jack London Tradition of a lone Timber Wolf and it's search for its place in the wild Northern forests.  FREE TO READ ==>  WOLFBLOOD: A Wild Wolf, A Half-Wild Husky & A Wily Old Trapper
[1] To learn more about Tampa's Lowry Park Zoo, go to lowryparkzoo.org.
Photos and B-roll can be found at this link: https://www.dropbox.com/sh/n43t6urlgozxlvk/AAD5P7W2Vx8DWHIGt03B9Bzja?dl=0
Title: Of Whales & Orangutans: Rewilding Endangered Species
Source: Civilized Bears, Tampa's Lowry Park Zoo & PRNewswire
Keywords: animal rescue, Bornean orangutan baby, Bornean orangutans, orangutan baby birth, Dee Dee, endangered primate, endangered species, longhaired red great apes, rewilding, Tampa's Lowry Park Zoo, wildlife
DID YOU ENJOY THIS POSTING?  IF SO, PLEASE TELL YOUR FRIENDS.
ARE YOU ON TWITTER?  SURE WOULD WELCOME A TWEET!