Passionate Wildlife Photographer Laura Crawford Williams Takes Nature Lovers on Enthralling Visual Journey Through South America in Her Newly-Released Book WILDLIFE IN WILD LANDS: Photography for Conservation in Southern South America.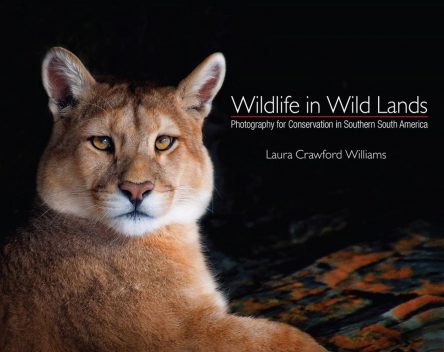 "IT'S UP TO THOSE OF US WHO KNOW WE CANNOT LIVE WITHOUT WILDLIFE TO INFORM THOSE WHO FOOLISHLY BELIEVE THEY CAN." Wildlife Photographer Laura Crawford Williams
This Year's current Deer hunting season in Nova Scotia must be a resounding successful one — for the hunters.  Those hunters have been laying out their big bags of apples and carrots in the woods for weeks, checking their game cams, trading up to bigger four wheelers and side x sides, shaking bottled doe urine on bushes to turn their stands into "kill plots" — this year they were even allowed by the provincial gov to hunt Sundays…
We live on an old farmstead.  Lots of gnarled, aging apple trees still dropping small but sweet apples on the ground.  Attracting lots of deer and other wildlife.
Well, the last couple weeks — not a single deer.  But we've seen a small bear.  Raccoons.  Rabbits.  Even a red squirrel rolling a big russet apple into the bushes.  Two juvenile bobcats sniffing around our deck.  Two foxes — a red one and a rare silver fox.  But the deer, even the little ones, are gone.
We love Wildlife.
And wildlife art.  Ever since I was a kid, my favourite artist was book illustrator Charles Livingston Bull, who drew magnificent artwork for fave writers like Sir Charles G D Roberts, Jack London and George Marsh.
Today, those classic illustrators are mostly replaced by skilled wildlife photographers doing beautiful work, showing us the wildest of places and the free, often endangered animals that live there.  Photographers like Laura Crawford Williams.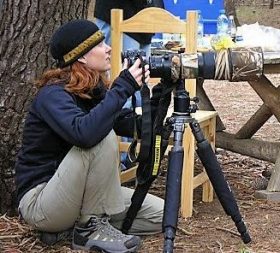 In three languages, English, Spanish and Portuguese, PR Newswire has just announced this exciting book publication:
"Wildlife photographer Laura Crawford Williams invites you to take a walk with her on the wild side and behold her breathtaking photography captured during her eight-year journey through South America's most robust landscapes."
Her book WILDLIFE IN WILD LANDS: Photography for Conservation in Southern South America, a stunning collection of unique animals in dramatic landscapes, is available now.
An internationally recognized and award-winning photographer, Williams captures and shares her inspiring journey within 244 vivid pages, accessible in both English and Spanish.
In WILDLIFE IN WILD LANDS, she commemorates her colourful career. The exclusive images in this table top book resonate with a strong theme of conservation, allowing readers to connect to a world in need of exposure thousands of miles away.
"It's been an amazing adventure, ten years in the making," explained Laura. "It's my sincere hope that WILDLIFE IN WILD LANDS may influence others to care more about the unique, fragile and irreplaceable beauty of our world. It's up to those of us who know we cannot live without wildlife to inform those who foolishly believe they can."
Since 2007, she and partner German Ambrosetti traveled together as photographers and videographers, beside scores of conservation-minded individuals and organizations. Together they helped to protect threatened species in Argentina, Chile, Bolivia, and Brazil. Their dedication to conservation is poignantly reflected in this inspiring book.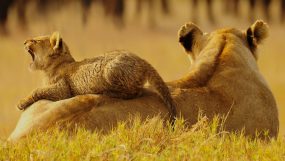 Laura began her photographic career while walking her dog through the forests and prairies around her own home.
Her passion ignited, she began to take wildlife pictures further afield, from bears and snowy owls to lions and Rockhopper penguins.
Her love of photography came naturally and led her to success in many areas.
Laura's work was soon being published and recognized by such magazines as National Geographic, National Wildlife, The Nature Conservancy and Nature's Best.
With WILDLIFE IN WILD LANDS: Photography for Conservation in Southern South America she hopes to "inspire intellectual curiosity and invite others to share the same excitement and awe that I experience when working with wildlife in the field."
The book was created in conjunction with Fundación Parques Nacionales de Argentina (Buenos Aires) and sponsorship from the Tompkins Foundation, Aves Argentina, and Guyaki Mate Company. Argentinian President Mauricio Macri has written the Foreword.
To quote TransMedia Group President Adrienne Mazzone, "every one of the 244 pages, featuring 113 beautifully captured species, inside Laura's magnificent book is rivetingly poignant and beautiful."
A Masterwork of the Wild Places.
– Brian Alan Burhoe
Did you like this Wildlife Art Post?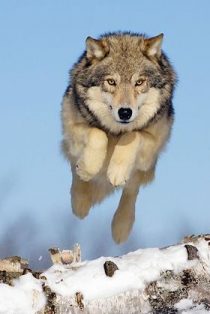 IF SO, YOU MIGHT WANT TO READ WOLFBLOOD — MY MOST POPULAR ANIMAL STORY:
"I JUST READ WOLFBLOOD AGAIN FOR GOOD MEASURE.  ONE FOR ANY WOLF LOVER.  ENJOYED IT BUT WISH IT WAS A FULL LENGTH NOVEL." – Gina Chronowicz @ginachron
"GREAT SHORT STORY!  DOES REMIND ME OF CALL OF THE WILD, WHITE FANG…" – Evelyn @evelyn_m_k
A "warm, authentic, enchanting tale" in the Jack London Tradition of a solitary Gray Wolf and it's search for its place in the Great Northwoods.  FREE TO READ ==>  WOLFBLOOD: A Wild Wolf, A Half-Wild Husky & A Wily Old Trapper
To see a thrilling sample of Bull's illustrations, go to A TRIBUTE TO CHARLES LIVINGSTON BULL, "AMERICA'S PREMIERE WILDLIFE ARTIST!"
About Laura Crawford Williams: Laura is a professional wildlife photographer and wildlife conservation advocate (lcwphoto.com). She's earned multiple national and international awards for her photography and continues to make headlines. Her educational and professional background has provided her with a unique blend of scientific knowledge, technical expertise, visual skill and sensitivity. This diverse mix has helped her become successful in the competitive world of professional photography. It's her mission to make a difference through her photography, while encouraging others to explore their own wildlife worlds!
To learn more about Laura and her book, see some of her magnificent wildlife photos, and even get a free screensaver featuring some of her images, go to wildlifeinwildlands.com.
Laura's Big Cat, Little Cat photo above was taken in Duba Plains, Botswana, Africa.
En español: La fotógrafa de la vida silvestre Laura Crawford Williams le invita a recorrer con ella el lado salvaje y contemplar sus impresionantes fotografías, tomadas durante su viaje de ocho años por los paisajes más imponentes de América del Sur. FAUNA EN TIERRAS SILVESTRES: Photography for Conservation in Southern South America, una colección abrumadora de animales únicos en paisajes sensacionales, ya se encuentra en venta.
Em português: Laura Crawford Williams, fotógrafa de animais em seu habitat natural, convida você a fazer um passeio pela vida selvagem e contemplar suas fotografias de tirar o fôlego, tiradas ao longo de oito anos nos cenários mais robustos da América do Sul. VIDA SELVAGEM EM TERRENOS SELVAGENS: Photography for Conservation in Southern South America, uma maravilhosa coleção de animais únicos em cenários incríveis, já está disponível.
WILDLIFE IN WILD LANDS Book Review: Wildlife Photographer Laura Crawford Williams in South America
Source: Civilized Bears, Laura Crawford Williams & PRNewswire
Keywords: book review, conservation, endangered species, German Ambrosetti, Laura Crawford Williams, wildlife, wildlife in wild lands, wildlife 2018, wildlife photography, wildlife photographer of the year
DID YOU ENJOY THIS WILDLIFE POSTING?  IF SO, PLEASE TELL YOUR FRIENDS.
ARE YOU ON TWITTER?  SURE WOULD APPRECIATE A TWEET!