Women Pioneers of Animal Rights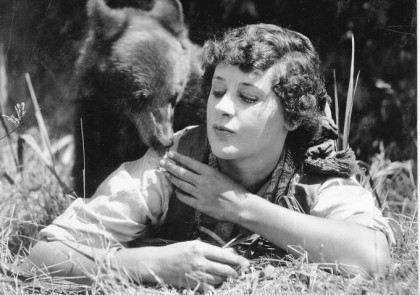 Nell Shipman & Brownie
"Nature and her wild children would act for me — not as animated puppets but living, breathing images of wilderness, purity at its Divine source…" Nell Shipman
"Animals have never betrayed me. They are an easy prey, as I have been throughout my career. So we feel the same. I love them." Brigitte Anne-Marie Bardot
"Compassion for animals is the mark of a civilized and healthy society." Laureen Harper
Women have played a fundamental role in creating the entire Animal Rights movement.
It started in Britain.  In 1840, Queen Victoria gave her full support to the Royal Society for the Prevention of Cruelty to Animals.  And with women like Mary Tealby, who — after opening a temporary dog shelter in an abandoned stable — founded the much-honoured Battersea Dogs' Home.  And Frances Power Cobbe, who fought valiantly to establish the revolutionary Anti-vivisection movement.
Northern Europe, with it's traditional conservative connection to soil and forest, produced a number of avid animal welfare activists, like Swedish anti-vivisectionist Lizzy Lind af Hageby.  From there, it was a short jump to the New World…
In 1869, Caroline Earle White formed the Women's Pennsylvania Society for the Prevention of Cruelty to Animals.   With its all-women board of directors, the WPSPCA established America's first animal shelter, helping every distressed animal from cats and dogs to horses.
A personal heroine of mine is Nell Shipman, "Queen of the Dogsleds," a Canadian star of the Silent Movie Era, who not only acted in, wrote, directed and produced popular Northwestern movies, but rescued domestic and wild animals and housed over a 100 of them in a private sanctuary.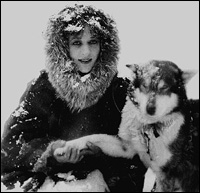 When the Hollywood establishment refused to accept the independent Nell as an equal, the talented "Northern Girl" made her own films, doing her own thrilling stunts and using her own sled dogs, horses, wolves, bears (eventually, she had 15 bruins), bobcats, beavers, marmots, muskrats, raccoons, elk, deer, eagles, a cougar and other rescued animals.
Her movies played to packed houses around the world, but she was still given a cold reception in Hollywood and Manhattan.   As she wrote, "It was Louella Parsons who once objected to my appearance at an Algonquin luncheon in my tam and Hudson's Bay blanket coat."
Nell found her personal refuge in the wilderness, "the one spot in all God's world where I belonged.  The forested mountains seemed to cascade down the slopes and carry me to their shining heights, cradle me in topmost boughs, soothe me with song."  There, she wrote, "Nature and her wild children would act for me — not as animated puppets but living, breathing images of wilderness, purity at its Divine source…"
As one reporter explained: "Her communication with animals was legendary, and in her movies these wild animals come and go freely, often crawling into her lap or walking up her chest as she sleeps."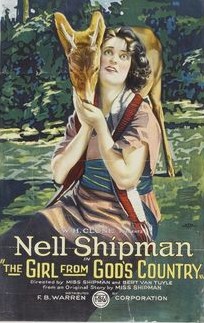 After gaining international success starring in hits like BACK TO GOD'S COUNTRY (the 1919 blockbuster that included her controversial nude scene), made with her then-husband Ernest, Nell found herself on her own.
Her independently made movies included THE GIRL FROM GOD'S COUNTRY, THE GRUB-STAKE, THE TRAIL OF THE NORTH WIND, THE LIGHT ON LOOKOUT MOUNTAIN, WHITE WATER, WOLF'S BRUSH and THE GOLDEN YUKON, all dealing with strong adventurous female characters in movies actually filmed in wilderness locations, the first ecofeminist art.
Nell spoke often of the necessity of protecting the welfare of show biz animals and of wild animal rights, fiercely defending her right to provide refuge to unwanted creatures.  One of her favourites was Brownie, a tame and gentle brown bear she had raised from an orphaned cub.
She loved her animals and the wild land.  Her adventures there inspired her writing, and her movies often seemed to enter her real life.  Once, when Bert Van Tuyle (her co-director and romantic partner) collapsed, she had to take him to town by canoe over a frozen lake, chipping at the surface ice to slowly make headway:
"Have you ever traveled two miles by inches?" Nell later wrote.  "With a passenger bound for the hospital to whom speed meant life or death?  Chip-chip — bit-by-bit.  Drive ahead a foot and back up three.  What does it matter?  It's all a nightmare anyway and we shall wake up soon, or the movie will flicker to a fade out and a happy ending!  Another heave-crack-plunge."
But, despite her hard work, her dedication, her loving fan base and the popularity of her movies (and of the worldwide fascination with the Canadian-set Northwestern genre as a whole), her finances went south.  The Hollywood-based studio bosses were aggressively driving the independent movie makers out of business.  First Nell lost her distributors — and then her financial backers.
She was driven out of her beloved God's Country.
Three years before her death in 1970 at age 77, Nell vowed that her life would have a "death-with-your-boots-on finale."   At that time she wrote in a letter that "memories are our greatest treasure, cannot be taken by rust, by the dream-killers, or the 'so what's?'  Our only sure possessions!"  Her unpublished Autobiography was found among her papers.
Fittingly, those memoirs, which she had titled THE SILENT SCREEN & MY TALKING HEART, ended at the point when she had given up her wilderness home due to bankruptcy and been forced by a judge's decision to "sell" her rescued animals to a zoo, including Brownie — breaking her heart.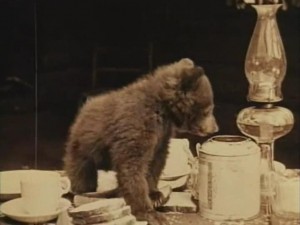 Nell's son Barry described her as a "strange, hungry, brassy, courageous girl, bravest of Mamas."[1]
In modern times, another Canadian heroine of mine is Laureen Harper, wife of Stephen.  Born Laureen Ann Teskey, she's believed in animal welfare from earliest girlhood when growing up on a ranch in the Rocky Mountain foothills of southern Alberta.  She remains an excellent horsewoman.
Laureen has described how she, sometimes with her father's help, would rescue assorted endangered animals and take them home: "We would end up with old chickens and you name it, old animals that just deserved to live out the rest of their lives in comfort and safety. There is nothing sadder than an animal that has been thrown away like a piece of garbage.  We had a pet sheep that had been mauled by dogs and we had to feed it out of a little bottle.  Dad and I bought a goat when other people were bidding on it to eat it."
As she said, "Any animal with a hard-knock story ends up here, or where I was growing up."
While living at 24 Sussex Drive, Ottawa, she "fostered more than 160 cats, with three permanent rescue cats, Cartier, Gypsy and Stanley."  Thus earning the nickname "Cat Palace" for the Conservative Prime Minister's official residence during that time.
For her work, the Humane Society of Canada honoured Laureen Harper's "exceptional animal welfare efforts" with their 2011 Heroes for Animals Lifetime Achievement Award.
"Fostering animals from shelters and rescue groups is an essential component to an animal's recovery and adoption into a loving home," said Michael O'Sullivan at the award ceremony. "The Humane Society of Canada thanks Mrs Harper for setting an example for all Canadians by helping animals and helping to further build and sustain a truly humane society. She is an inspiration in action."  Right on!
"Compassion for animals is the mark of a civilized and healthy society," said Laureen in her acceptance speech.  "Canada's true heroes are the thousands of staff and volunteers who work in animal welfare. They protect, they shelter, they rescue and they adopt animals across the country. I feel truly fortunate to be in a position where I can assist them by supporting their work." [2]
"Like most people, I don't want to support cruelty to animals, whether it's forcing horses to race for our amusement or scalding chickens alive for our plate. We have to be more evolved than this." Pamela Anderson
"I've never met an animal I didn't like, and I can't say the same thing about people." Doris Day
Other modern heroines include Christine Stevens (Animal Welfare Institute).  Ingrid Newkirk (PETA).  Singer Doris Day (Doris Day Animal League).  Canadian activist Pamela Anderson (Pamela Anderson Foundation).  Naturalist Jane Goodall (Jane Goodall Institute), whose work with chimpanzees revealed so much about them — and about us.  French actress, animal rights activist and conservative patriote Brigitte Anne-Marie Bardot (La Fondation Brigitte Bardot).
And Namibian conservationist Marlice van Vuuren.
Marlice — known as "N/Aisa" by "her second family the San," was born and raised in the African bush country of Namidia, which the native people call "The Land God made in Anger."  Discovered in 2002 by Angelina Jolie, Marlice van Vuuren's rescue work with local cheetahs made N/Aisa a popular conservationist.  Her work with big cats, including endangered lions, continues to keep her work in the news.
To read a Guest Blog by Peter Horsfield on the extraordinary life of Marlice van Vuuren, Go To Marlice van Vuuren – Cheetah Rescuer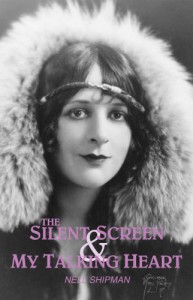 [1] To see clips of Nell's silent movies, search for her on YouTube.  A complete version of her box office smash hit of 1919, BACK TO GOD'S COUNTRY, is available on DVD.
Two books well worth reading are THE SILENT SCREEN & MY TALKING HEART: An Autobiography by Nell Shipman — and LETTERS FROM GOD'S COUNTRY: Nell Shipman Selected Correspondence and Writings, 1912 to 1970.
And THE GIRL FROM GOD'S COUNTRY: Nell Shipman and the Silent Cinema by Kay Armatage is an excellent study of our Nell and her work.
[2] Laureen Harper Honoured for Outstanding Commitment to Animal Welfare by The Humane Society of Canada: https://www.humanesociety.com/index.php/news-releases/3408-laureen-harper-honoured-for-outstanding-commitment-to-animal-welfare-by-the-humane-society-of-canada
Keywords: Back To Gods Country, Ecofeminist art, Laureen Harper nature, Nell Shipman, Northern Girl
IF YOU FOUND THIS POSTING INTERESTING — PLEASE TELL YOUR FRIENDS!
HAVE TWITTER? A TWEET WOULD BE APPRECIATED!