Canada's Fairy Tale Romance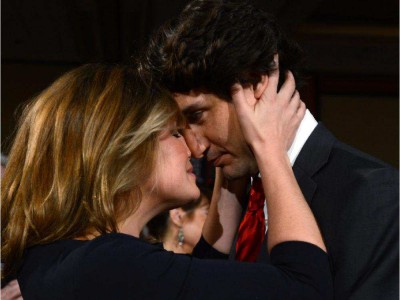 Justin and Sophie Trudeau – A Cultural Conservative Looks At The New Hope They Bring To Canada
"Change happens because people come together." – Sophie Gregoire-Trudeau
"Sophie is a phenomenal mother, a fearless partner, and a committed advocate for issues facing women and girls.  Sophie inspires me to be better, and to work harder, each and every day. I would not be here in front of you tonight without her leadership and her example." – Justin Trudeau
We've seen them and been touched by them.  The "fairy tale romances."
They're fun to watch, even inspirational.  Couples dancing in the bright cameralight.  They last forever — some of them.  Some stagger and hurt under the public pressure.   We hurt with them, don't we?
Yet we still celebrate the latest Romantic Couples.  Like Prince William and Kate.
And now in the Dominion of Canada we're celebrating Justin and Sophie.  Justin and Sophie Grégoire Trudeau.  With his election as Canada's newest Prime Minister, Justin and his beloved wife step onto the world stage.
Some are calling it a return of Trudeaumania.
For us early Boomers from the True North, this brings back bright, colourful memories and feelings.
We remember Pierre Elliot Trudeau.
But he arrived in different times.  Better times for Canada, eh?  The Late Sixties.
Expo67.  We were a country wildly celebrating our 1967 Centennial and our youthful exuberance.  We were a nation with our own thriving Culture.  Singer-songwriters like Gordon Lightfoot, Ian & Sylvia, Neil Young, Joni Mitchell, Buffy Sainte-Marie, David Clayton-Thomas all sang our stories.  The Stampeders and the Guess Who rocked us.  Poets and writers like Leonard Cohen, Margaret Laurence, Alice Munro, Robertson Davies, Pierre Berton, Farley Mowat inspired us.  A young Margaret Atwood was surfacing.
The CBC gave us all-Canadian radio and television programming, including the good ol' hockey game on Saturday nights.  And laughter: Wayne & Shuster, Paul Kligman, Max Ferguson, Rich Little, Billy Van, David Steinberg, Gordie Tapp, Don Harron (aka Charlie Farquharson). [1]
Canadian publishers gave us new nationalistic publications and reprinted older ones, like (a personal fave) FORTY YEARS IN CANADA: Reminiscences of the Great North-West by Sam Steele of the Royal North-West Mounted Police — back then our Mounties were still central to our cultural identity. [2]
Outside forces stormed over our unprotected borders and entered our Northern psyche: the Cold War, Hollywood, the British Invasion (Beatles, Stones, Who), the Sexual Revolution, Women's Lib, Vietnam, the Space Race, racial tensions, Rachel Carson…
Into this stepped Pierre Elliott Trudeau.  Even though I'm conservative by nature, I voted for him in my first election.  So, in a later election, did my own Mary Lee, then a province away.
To us Boomers, the older Pierre seemed one of us.  He spoke of a Just Society, loved the heroic, stand-your-ground philosophy of Edmond Rostand and was something of a prankster.
A man for our New Times.
We elected him.  Celebrated his changes to our great Dominion.  Saw him marry Margaret Sinclair.  Watched his family of three sons grow.  Were troubled when his marriage with Margaret fell apart.
As Justin has since explained, "They loved each other incredibly, passionately, completely. But there was thirty years between them and my Mom never was an equal partner in what encompassed my father's life, his duty, his country."
And then the Sixties ended and the Seventies brought our October Crisis.
FLQ (a radical group with communist and PLO connections) terrorist attacks struck Quebec.  Funded by brutal bank robberies and armed with stolen weapons and tons of dynamite, the FLQ began a reign of terror.
They bombed the Montreal Stock Exchange, injuring 27 women and men.  Casually dropped their bombs in Montreal mail boxes and in front of buildings, which exploded with withering regularity.  Killing Wilfred Vincent O'Neil, 65, a night watchman at an Army recruiting centre.  Killing Thérèse Morin, 64, a secretary at a shoe workshop.  Killing Jeanne d'Arc St.-Germaine, 42, a cleaning lady and single mother with two daughters.  And badly wounding Sergeant-Major Walter "Rocky" Leja, a Canadian soldier trying to dismantle another bomb when it blew up in his hands.  A total of 95 bombs exploded in the city, including a CNR train station, City Hall, RCMP and Canadian Forces buildings.
The victims of these inhuman attacks were just ordinary people, working folks, so our members of Canadian Parliament were remarkably silent — all parties sat comfortably in their seats.
Then came our Crise d'Octobre.  When the FLQ terrorists struck by kidnapping British diplomat James Cross and Quebec Minister of Labour Pierre Laporte (they released Cross and murdered Laporte with his crucifix chain), the conservative in me cheered when Prime Minister Trudeau finally invoked the War Measures Act, calling out an unprepared military to protect Montreal from our first home-grown terrorists, who the police tracked down. [3]
The Press and the Left attacked Trudeau for calling out the troops, to which Pierre replied: "Well there are a lot of bleeding hearts around who just don't like to see people with helmets and guns. All I can say is, go on and bleed, but it is more important to keep Law and Order in the society than to be worried about weak-kneed people who don't like the looks of…"
Pierre steered Canada through good times and bad times.
And over the years we watched Justin grow up, travelling the wild Northcountry on foot or by canoe, working as a white-water rafting guide, a snowboarding instructor, sparring in the boxing ring — and becoming a teacher.
We saw him as he and his father mourned the death of Justin's adventure-loving brother Michel.  As Justin wrote: "While I had been standing at a blackboard, an avalanche had swept my brother and one of his buddies into Kokanee Lake. They had been traversing the steep incline above the lake…"
And two years later, we watched him give that heartrending eulogy over the Canadian flag-draped coffin of his father at the state funeral, ending with a tearful "The woods are lovely, dark and deep. He has kept his promises and earned his sleep.  Je t'aime, Papa." [4]
It was during that address in the Notre-Dame Basilica that Justin partially explained the roots of his old-fashioned gentlemanly Sunny Ways: "But at age 8, I was becoming politically aware. And I recognized (in a restaurant) one whom I knew to be one of my father's chief rivals.  Thinking of pleasing my father, I told a joke about him. A generic, silly little grade school thing.  My father looked at me sternly, with that look I would learn to know so well.  And he said: 'Justin, we never attack the individual. We can be in total disagreement with someone, without denigrating them as a consequence,' and, saying that, he stood up, took me by the hand and brought me over to introduce me to this man.
"He was a nice man, who was eating there with his daughter…"
Justin made no apology for choosing to become a teacher instead of the expected role of a lawyer: "I'm a teacher.  I'm a convenor.  I'm a gatherer.  I'm someone who reaches out to people and is deeply interested in what they have to say…"
And then, of course, Justin met Sophie at a Montreal Grand Prix charity ball in 2003.  Sophie Grégoire was an arts and culture reporter for local media — brilliant, compassionate and honest about her concerns.  Like her personal struggle with bulimia and concern about gender equality.
In an interview with her friend Erica Diamond, Sophie described her feelings about Justin: "I had this weird feeling, like I was meant to be with him and didn't know why. I told my Mom, and she laughed and said, 'You and every other girl Sophie! You know how many girls think that?'
"One year later, I co-hosted a charity function, and Justin was coincidentally my co-host. When we met again, I reminded him that I knew his brother, Michel. There was definitely a physical and emotional connection. We flirted. But I sent him an email the next day, and he never replied.
"Three months later I bumped into him on the street.  He apologized that he never wrote back.  'Can I have your number?' he asked.  'No,' I replied.  I wanted him to work a little! Well, he found my number and called me.
"We then went for dinner and on our first date, our very first date, he looked into my eyes, and said, 'I've been waiting for you 31 years.  You're going to be my wife.  We're going to have a family together.'" [5]
About motherhood, Sophie said, "Motherhood has taught me to be more connected to other human beings. All mothers everywhere, we are all responsible for each other. We're not different, but rather more similar than you think– so if you're fighting a battle alone, choose not to fight it alone."
Perhaps her most popular quote is "The Sacred Feminine is on the rise."
Sophie explained her passion for gender equality: "I hosted the UN Women's Gala for gender equality and violence against women.  I think that we have developed a lack of respect for the womb of humanity.  We're paying a high price for it — it's created a huge imbalance.  There is still much violence towards women around the world.  It's still happening too often in our society.  Many basic rights are still being taken away in parts of the world for one reason — because they are a woman."
She has no doubt influenced Justin's decision that his Cabinet will have equal numbers of men and women, a first in the British Commonwealth.
So is Justin's election as Prime Minister the sign of Trudeaumania II?
Not really. [6]  These are different times.  Canada has just endured its Dark Decade.
We've watched as mean-spirited, lowlife forces have played havoc with our home and native land.  We've watched as international interests have ripped our economy, our culture, the very land that gave us birth — ripped it apart.  In the election just gone, we watched the worst in us emerge… [7]
But out of this came Justin Trudeau and his message of "Real Change" and "Sunny Ways".
It's encouraging to hear that, of the four major international summits coming up, the one he most wants to attend is the United Nations Climate Change Conference in Paris.  After the total abandonment of our forests, land and waterways during the Dark Decade, Justin promises to pick up where Canada's Greenest Prime Minister, Conservative Brian Mulroney, once took us. [8]
Canada is still a young wilderness nation.  Our stories, our culture, our national identity, come out of the Wild Places.
As Laureen Harper so perfectly said it: "Our country — the land we live in — is an important part of our identity as Canadians. Our outdoors is our history and its our future, its our workplace, our storehouse and our playground.  Because this land is so central to who we are as Canadians, it's so precious and it must be protected."
Justin is eager to speak up for our endangered living world and join other enlightened nations in its protection.
We'll all see Justin and Sophie walk hand-in-hand on the world stage.
And smile with love and pride.
God give them the strength for the battles ahead.
We need them.
– Brian Alan Burhoe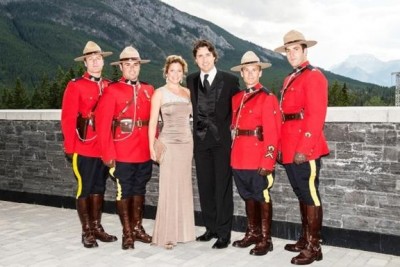 Sophie, Justin & Four of Canada's Finest
==>> To See The Very Latest News & Daily Hot Pics of Justin and Sophie Trudeau, Follow Them On Twitter! CLICK HERE NOW: JUSTIN & SOPHIE 1 — Celebrating Canada's Couple – Justin and Sophie Trudeau
Note: We didn't create the @JustinSophie1 Twitter account as a political statement (although we all have personal issues: ours are the Environment, our Sacred Land and our Forgotten Veterans — we have expectations of the present government).
But we created that account as a Cultural Celebration.  There's a new feeling of Sunshine and Renewal in Canada.  A feeling that it's time to dream and create and tell our own stories again.  A time of inspiration.  There's a joyful feeling that our own Canadian creativity will be accepted again — at home and away.  And best of all — there's laughter in the wind again.  And it's all because of Sophie and Justin.
[1] The PM Pierre Trudeau Era would soon see the rise of the All-Canadian Comic Cavalcade of such comedians as Roger Abbott, Dan Aykroyd, Dave Broadfoot, John Candy, Tommy Chong, Jayne Eastwood, Don Furguson, Luba Goy, Ron James, Eugene Levy, Mike MacDonald, Howie Mandel, Rick Moranis, John Morgan, Katherine O'Hara, Martin Short, Dave Thomas, Scott Thompson.  In downtown Toronto, Yuk Yuk's Comedy Club was rocking with laughter at the impressions, pratfalls, goofy jokes and boyish smiles of a young Jim Carrey…
[2] To get a sense of the exalted place our Mounted Police once had in Canadian Culture, see THE GREAT PULP FICTION MOUNTIES: From Corporal Cameron to Sergeant Preston
[3] The October Crisis would remain our lone homegrown terrorist attack on Canadian soil for four decades, until June 4, 2014, when a gunman dressed in camouflage and armed with high powered guns shot five members of the Royal Canadian Mounted Police in Moncton, New Brunswick.
Three of the officers were killed: Constable David Joseph Ross, Constable Fabrice Georges Gevaudan and Constable Douglas James Larche.
The regimental funeral was broadcast live across Canada.  As the National Post wrote: "Dog handler Ross' K9 partner, Danny, whimpered by the side of his partner's casket during Tuesday's emotional funeral, moving many Canadians across the country to tears.  Danny didn't stray far from the hearse carrying the casket of Ross during the funeral procession and was photographed sniffing Ross's stetson."
[4] To see Justin's complete eulogy for his father at the Notre-Dame Basilica in Montreal, see the Globe & Mail's archived transcript Je t'aime, Papa: Justin Trudeau's eulogy to his father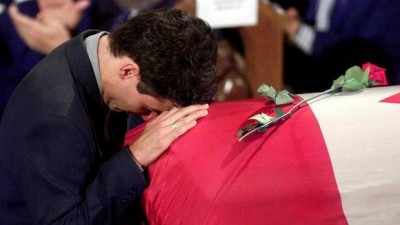 [5] EXCLUSIVE INTERVIEW: Erica Diamond Sits Down With Sophie Grégoire-Trudeau:  Interview with Sophie Grégoire-Trudeau
[6] Although with women tweeting things like "super hot good looks!" and "pmilf" — whatever that means — Trudeaumania could be building, this time internationally.
[7]  "We watched the worst in us emerge…"  You can read my personal rant on this at  Old Stock Canadian vs Newcomer: A Patriot's View
[8]  Yes, Conservative!  It was former Conservative Prime Minister John Diefenbaker, referring to the "tremendous energy, enthusiasm and initiative of young people concerned about pollution," who drove the official creation of Environment Week in Canada, observed each year in the first week of June.  Under the Liberals, John Diefenbaker's Environment Week has been almost forgotten.
And Brian Mulroney's proactive environmental legislation and international treaties will be his greatest achievement.  Remember Chlorofluorocarbons?  Remember Acid Rain?  It's the hard work and international treaties of Prime Minister Mulroney, President Ronald Reagan and President George H W Bush that began to get control of those deadly, destructive forces.  (And what thanks have they got?)
Prime Minister Jean Chrétien gave us hope when we signed the Kyoto Protocol in 1997, followed by three 2002 environmental laws, including the The Species at Risk Act which fulfilled promises made by Mr Mulroney at the 1992 Earth Summit.  And then Jean dropped the ball.  Paul and Stephen just kicked it around in the Dark Decade.  So Justin's solemn promise to pick up where the man who earned the title of "Canada's Greenest Prime Minister" — Brian Mulroney — left off must be kept!
It will be the entrepreneurial free enterprisers who will put in the hard work and reap the rewards of our new Green Economy.  For a look at these issues from a Conservative voice,  SEE  Global Climate Change Facts: COP21 Climate Change Conference Paris 2015
Justin and Sophie Trudeau – Canada's Fairy Tale Romance
Keywords: Brian Alan Burhoe, Fairy Tale Romance, Justin and Sophie, Justin Trudeau, Laureen Harper, North-West Mounted Police, Prime Minister Trudeau, Sophie Trudeau interview, Trudeau quotes
IF YOU ENJOYED THIS POST, PLEASE TELL YOUR FRIENDS!
ARE YOU ON TWITTER?
WE'D LUV A RETWEET.  THANKS!