Kindle Writer vs Ultimate Ebook Creator – Which Is Best?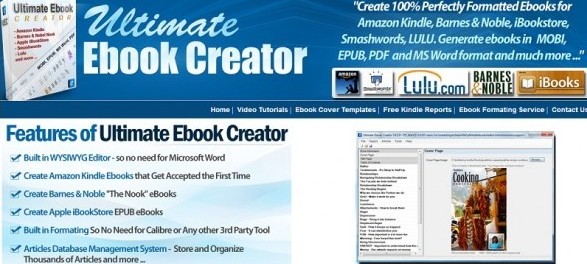 Yes, Brian. Kindle Writer vs Ultimate Ebook Creator – Which IS Best?
Of the number of Kindle Writer Software programs now out there, these are the Top Two by far — the two getting all the best reviews.  So it comes down to: which is the best one?
Well, the answer is – I like 'em both. They're both top notch and good at what they offer.
I've made a tentative decision and it's based on what I needed the most.
My ambitions were always more literary than culinary, so when this old chef gradually morphed from cook back to writer, I happily embraced the new reality of online publication.
First with articles and website content about cooking (including recipes) and then quickly to other areas of interest — dog training and behavior — natural and human history — animal rights — our endangered Wilderness — helping freelance writers…
Through Demand Studios, I sold articles over a wide range of subjects. Put some free short stories out there, too.
At the request of many old-time pulp fiction fans, my articles on the literature of our Canadian Mounties and the dog stories that came out of classic Mountie fiction, as well as my short science fiction, fantasy and animal stories (such as "Wolfblood" — a Northwestern yarn in the Jack London Tradition), were gathered together to become CivilizedBears.com.
Not to mention some of my most popular published recipes — to see those, go to Recipes…
But when the time came to tell some stories of my Civilized Bears in a full-length novel format, I needed top notch Kindle writing software, so I looked at the two most popular Kindle writing programs.
KINDLE WRITER 2 ("Software to write Kindle with…") is divided into a number of modules, including a plain text word processor that allows you to write your book one chapter at a time. Another module is a Cover Maker which I really like. Downside is that the word processor still needs an end usage of HTML.
ULTIMATE EBOOK CREATOR has a WYSIWYG plain text processor. Just type in your text and let the software format it for you! But not much in the way of a Cover creator. Although since they are constantly updating the software, that may soon be coming.
Their spiel goes like this: "Professional Built In Wysiwyg Editor Allows You To Craft 100% Accurately Formatted Ebook For Amazon Kindle (mobi), Barnes & Noble Nook (epub), Sony Reader And Any Other Ebook Reader Device! No Need For MS Word, Calibre Or Any Other 3rd Party Tool."
I decided to go with CREATOR since, although I've learned to work with HTML, this is a long manuscript and I wanted to focus completely on the creative process — let their Kindle writing software do the behind the scenes work…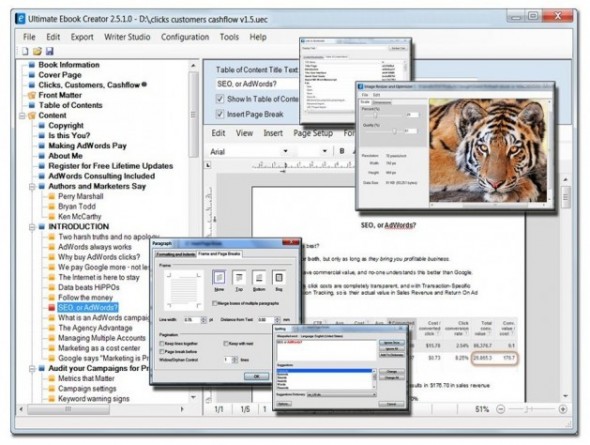 Ultimate eBook Creator – eBook Creation Software MOBI, EPUB, Word, PDF – format eBooks and print books for Amazon Kindle self publishing, iBookstore, Android Devices, Smart Phones, Tablets…
…Includes FREE Lifetime Software Updates!
NOTE:  ULTIMATE EBOOK CREATOR DOES link to a Cover Designer, with plenty of templates, but it's a separate site: Ebook Cover Templates – 30 Professional Photoshop Templates and I'm seeing other Cover Designers that look as promising.
– Papa Bear – aka Brian Alan Burhoe
Kindle Writer vs Ultimate Ebook Creator – Which Is Best?
Keywords: amazon author central, amazon kindle, ebook creator review, ebook kindle, kindle books, kindle writing software, kindle writer review, top books, writing kindle books