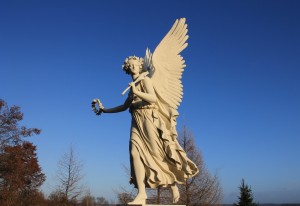 The Best Writers of Christian Fiction
As I write this, Christian fiction continues to sell.  And continues to grow in readership.
The #1 Christian bestseller on Amazon is SOMEWHERE SAFE WITH SOMEBODY GOOD: The New Mitford Novel by Jane Karon.
Others in the Top 10 include THE CHRONICLES OF NARNIA Boxed Set by C S Lewis, ANGELS WALKING by Karen Kingsbury, AD 30 by Ted Dekker, THE SECRET OF PEMBROOKE PARK by Julie Klassen and THE RED TENT by Anita Diamant.
The rise of fiction written for and embraced by men and women of the Faith continues to stump many purveyors of modern culture.  Considering the almost deadly stranglehold that modern media has taken on Western culture, spreading its own amoral codes of greed, materialism and selfish conduct on the world scene, this search for a life based on timeless spiritual values, family loyalties, honour and loving relationships confounds this dark dominant culture.
But a kind of Spiritual Revolution IS happening.  And at its forefront are older and newer writers who are giving us imaginative, soulful, sensitive writing that just keeps increasing in popularity.
Who are these writers?  What have they written?
C S Lewis.  Born on November 29th, 1898, in Belfast, Ireland, Clive Staples Lewis gained world fame for his Christian-based writing. Although his non-fiction, such as "Mere Christianity," "Miracles" and his autobiography "Surprised By Joy" continue to be published, it's his works of fiction that have made him a worldwide sensation. Some of his ideas of Christianity and mythology came out of discussions with other members of the Oxford literary group called the Inklings (which included his close friend J R R Tolkien).
His Chronicles of Narnia continue to be best sellers and the basis of a series of movies. Narnia titles include "The Lion, the Witch and the Wardrobe," "Prince Caspian," "The Voyage of the Dawn Treader" and "The Last Battle."
Lewis' Ransom Trilogy was a science fiction sequence written for adults and dealing with theology in a more serious tone. Set on Earth, Mars and Venus, the stories told the adventures of Elwin Ransom (based on Tolkien). The second novel, "Perelandra," presents a new Garden of Eden on Venus, and gives us one of the most picturesque visions of another planet ever written.
.
Janette Oke.  Janette Oke (nee Steves) was born on February 18th, 1935, in the Canadian western community of Champion, Alberta. She grew up on the vast Canadian prairies, steeped in its folkways and history (including the revered history of the Royal Canadian Mounted Police). She also grew up with the independent, conservative values of the time and place, becoming a committed Evangelical Christian. She graduated from the Mountain View Bible College in Canada.
Her first novel was "Once Upon a Summer." Published in 1981 by Bethany House, it was a Christian novel that blended history, romance and faith.
Her second novel was "When Calls the Heart" — the first in her Canadian West Series — and a bestseller. "When Calls the Heart" told the story of teacher Elizabeth Marie Thatcher who arrives from the cultured East and faces a rougher place and culture than she had expected. Her faith is tested. But she meets her Mountie. The novel was a success.
She has gone on to sell millions of titles and is considered the originator of modern faith-based Christian fiction. Other titles include "A Bride for Donnigan," "A Quiet Strength," "A Woman Named Damaris," "Another Homecoming," "Beyond the Gathering Storm," and "Prairie Dog Town." Many of her books are available in boxed sets.
Janette Oke has received the 1992 ECPA President's Award and the 1999 CBA Life Impact Award for her "significant contribution to the Christian book industry." She has also won both the Gold Medallion Award and the Christy Award for fiction. Janette and her husband, Edward, still live in Alberta, Canada.
.
Frank Peretti.  Called "America's hottest Christian novelist" and "a sanctified Stephen King," Frank Peritti is a top selling Christian author, with millions of sales.
Born in the Canadian western town of Lethbridge, Alberta, in 1951, Peretti grew up in Seattle, Washington. After a stint of playing banjo in a bluegrass group and studying English, screen writing and film at UCLA, he assisted his father in pastoring an Assembly of God church and began a writing career.
Following his first sale, a fantasy novel entitled "The Door in the Dragon's Throat," Perretti published "The Present Darkness" in 1986. Considered the first of the new Christian fictional revival, it is considered his masterpiece and still continues to sell and draw new fans to his published novels. Other literary works include "Piercing the Darkness," "Prophet," "The Oath," "House" (coauthored with Ted Dekker) and "Illusion" (published in 2012).
.
Karen Kingsbury.  Born in 1963, Karen Kingsbury lives with her husband, Donald, and six children in the Pacific Northwest state of Washington, close to the Canadian border.
With millions of sales, her series of Christian novels include her Firstborn Series, Redemption Series, Red Glove Series, 911 Series, Women of Faith Series,and her newest, the Sunrise Series. One of her first Faith-based books, "Deadly Pretender," was made into a CBS Movie-of-the-Week retitled, "Every Womans Dream" for broadcast.
Called "the queen of Christian fiction" by TIME Magazine, Karen said, "Fans say that they are closer to God and each other after reading the stories the Lord has given me to write."
.
Terri Blackstock.  Terri was born in Belleville, Illinois, on Dec 7, 1951.
With over 30 titles published, Christy Award winner Terri Blackstock's book sales are in the millions. Her Christian fiction novels include "Last Light, Restoration Series #1," "Dawn's Light, Restoration Series #4," "Sweet Delights," "Double Minds," "Predator," the Christy-winning "Intervention," and "Downfall, Intervention Series #3."
Terri's advice for aspiring authors is: "Don't get it right, get it written. I used to spend weeks writing and rewriting the first three chapters, until I heard this bit of advice. Now I write the first draft without judgment, and rewrite extensively on the subsequent drafts. Just having the book on paper-even if it's terrible-makes the rest of the job seem easier."
.
Ted Dekker.  Ted was born in 1962 in the wilderness of Netherlands New Guinea.  His parents were Canadian and American missionaries.   In an interview, he said, "I grew up in one of the darkest places in the world you can imagine, in the jungle, with cannibals…we're talking about animism, heavy spiritualism, tremendous amounts of fear.  Co-workers of my parents were killed and eaten. By cannibals…"
Now living in Austin, Texas (with his wife and two of their daughters), Ted Dekker has published over 40 novels. He writes Christian fiction in the Thriller/Suspense genre. With titles on the New York Times Best Seller lists, his novel "The Bride Collector" was nominated for a 2011 Christy Award.
Other novels include "Immanuel's Veins," "Boneman's daughters," "Adam," and, coauthored with Tosca Lee, "Forbidden, Books of Mortals Series, #1." His novels have been published in eBook format, Spanish eBook, audiobook on CD, MP3, paperback book and Large Print version.  His next work will be published in 2015: titled AD33.
And new voices are joining the chorus every day.
Brian Alan Burhoe is the author of numerous articles and stories reflecting his interest in our spiritual connections to our Sacred Land – from his first short story ORNITHANTHROPUS – to his latest yarns of Civilized Bears.
==>> To see more, go to The Life & Works of Brian Alan Burhoe
Note: The above image is a fave of mine: the Statue of the White Angel holding a laurel crown at Schwerin Castle in Schwerin, Mecklenburg-Vorpommern, Northern Germany.
SPIRITUAL WORDSMITHS: The Best Writers of Christian Fiction – A Christian Book Review