Trail of the Elk: Discovering the Northcountry of Mikkjel Fønhus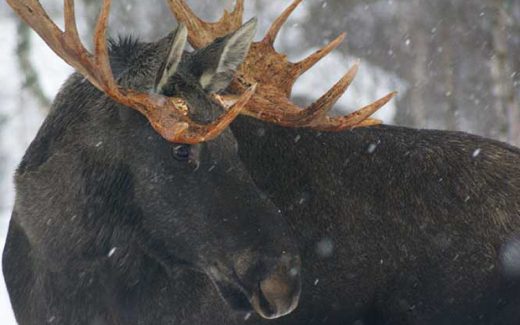 "This is the story of a wizard elk — Rauten, as people called him.  He was a human being in animal guise…"
The Northcountry in literature has captured my heart from earliest boyhood.  Why not?  My earliest memory is of the green living forest of fir and spruce and white birch behind our newly built house in the rolling Appalachian hills of New Brunswick.  And of all the creatures of fur and bright feathers who moved through it.
I first discovered the wild animal fiction of Canadian writer Sir Charles G D Roberts in our elementary readers and school library.  And found my first literary hero.  He told yarns of the very same New Brunswick woodlands that I was growing up in.  In the 1890's, Roberts created what would be called the "Realistic Animal Story."  And matched writers of his time like Mark Twain and Rudyard Kipling in sales and popularity, in the same international magazines.
As Roberts said about his realistic animal fiction, "It helps us to return to Nature, without requiring that we at the same time return to barbarism. It leads us back to the old kinship of earth…"
And my own youthful quest soon took me on the trail of writers who had been inspired by Sir Charles and had followed him themselves.  Ernest Thompson Seton.  Jack London.  Grey Owl.  George Marsh.  Henry Williamson.  And, eventually, Farley Mowat. [1]
The wildlife genre, especially with the success of Jack London, found popularity worldwide, achieving an almost spiritual connection with readers throughout North America, the British Isles, Northern Europe and beyond.
Recently, Norwegian author Mikkjel Fønhus' THE TRAIL OF THE ELK has been re-released in English translation.  And I'm here to celebrate it.
Norwegian literature today seems best known for its mystery writing.  Stieg Larsson.  Jo Nesbo.  Karin Fossum.  They're perhaps more easily understood than earlier Norwegian authors — mystery fiction has a more modern urban story structure and sentiment, if not setting.
But my favourite Norwegian writers to date are Knut Hamsun and Trygve Lund.  Older writers.  Northern writers.  Writers born with the ancient wilderness in their blood.
Hamsun, I read over four decades ago: GROWTH OF THE SOIL deeply caught me up at the time and never left me alone.  I discovered Trygve Lund (born September 10, 1886) one novel at a time in old book stores.  A Norwegian who traveled Canada and served in our North-West Mounted Police — he wrote and published his major works in England, as T Lund.  He moved back to Canada, and then his trail vanishes.  Both men had a deep love and feeling for the Northland and it came out in their writing. [2]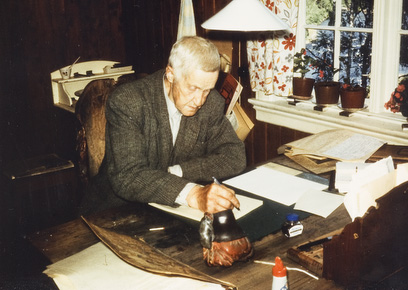 Norwegian Mikkjel Arnesen Fønhus (1894-1973) was renowned as a short story writer and novelist, writing of his native land's forests, mountains and their wild inhabitants, making him a literary heir to Charles G D Roberts and Jack London.  He wrote 77 books.  But few made it into English translation.
Just one book for me so far, this TRAIL OF THE ELK, but I certainly count Fønhus in the same company with Hamsun and Lund.  And have begun the hunt for more of his works in English.
Fønhus grew up among the family farms and forests in the Valdres Valley of inland Norway, with roots going back for long centuries.  He listened as a child to the traditional storytellers and the folk tales of his people.  Drawing on that life, which included hunting and fishing as well as a joy in watching the arrogant freedom of wild animals, he began to put his feelings on paper.  His early writing reflected that love and that romanticism of the wild places.
His first novel, SKOGGANSMAND (THE OUTLAW), the story of a man seeking freedom in the wilderness, was published in 1917.  Danish author Johannes V. Jensen praised it in his book review: "Mikkjel Fønhus makes his debut as a fully qualified writer. It is Norwegian air, Norwegian rough and inexhaustible nature. A new man who understands it, has it in him and can express it, has now come forward." [3]
But the new century was changing the land.  Mikkjel saw the spread of ugly industrialism, life replaced by cold machines.
His fourth novel would reflect some of the darkness he foresaw.
Fønhus published that fourth novel, TROLLELGEN, in 1921.  It was reprinted next year in Germany (DER TROLL-ELCH) and England (THE TRAIL OF THE ELK).
It's the story of the Northcountry Ré Valley, its mountains, forests and waterways and wildlife.  And a man known as Gaupa (The Lynx), his deer-hound called Bjönn (Bear) and a majestic male elk called Rauten.  Gaupa "does not walk like other people, he is always half on the run. When his path is barred by a fallen tree or such like he does not stride across it, he jumps…"  Gaupa believes that the giant elk Rauten is a human wizard reborn.  And Gaupa is a hunter of elk.
With TRAIL OF THE ELK, we are in the Northcountry of old beliefs — and not so long ago.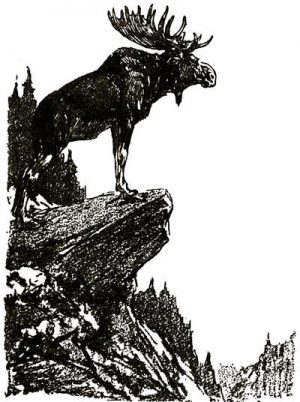 "Still the bull elk on Bog Hill did not move a muscle. His head stood out clearly against the dawn which flooded the eastern sky like a lake of yellow light. His antlers resembled young bushes…
"It was no mortal animal standing there; it was a ghost from dead generations, an animal spirit from the eternal hunting-grounds.
"Daylight grew more and more while the elk stood still.  A bird chirped a while and then became silent again, like a life that dies just as it is born.
"Then the elk's head turned, quite slowly from west to north. In his slightly curved muzzle there was the dreaming melancholy of wooded dells…"
This is a story of lives and years in the riverside Lynx Cabin and the ancient Northcountry.  The beliefs and folkways of the people.  What Tolkien called the "Northern Thing."
It's the story of an elk hunter who lives alone with his dog, but could tell enthralling stories of their homeland to his neighbours.  And play wild tunes on his fiddle.
And it builds slowly to the Chase – a chase years in the making.  Elk, dog and man — racing finally for 4 long days and nights — and for 7 short breathtaking chapters…
Down into the dark trees and across a river and up a mountain glowing white with the small soft snowflakes of a late summer storm, down again into the dense spruce forest and across a lake, Bear the dog swimming fiercely in the giant elk's wake…

…in what has got to be one of the most exquisite, hot-blooded chase scenes ever written.
But the story doesn't end with the chase.  There's tragedy.  And then old age.  Then myth and legend and the deep truths of the Northcountry.
Read it, my friend.
– Brian Alan Burhoe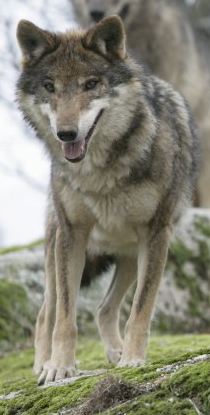 Did you like this Wilderness Literature posting?
IF SO, YOU'LL LOVE "WOLFBLOOD" — MY MOST POPULAR ANIMAL STORY:
"I JUST READ WOLFBLOOD AGAIN FOR GOOD MEASURE. ONE FOR ANY WOLF LOVER. ENJOYED IT BUT WISH IT WAS A FULL LENGTH NOVEL." – Gina Chronowicz @ginachron
"THIS WAS A GREAT SHORT STORY. MORE PLEASE!" Make It Beautiful @Create4Ever
WOLFBLOOD, a Northwestern yarn in the Jack London Tradition, FREE TO READ ==> CLICK HERE  WOLFBLOOD: A Wild Wolf, A Half-Wild Husky & A Wily Old Trapper
[1] To learn more about the inspired, visionary animal fiction of Charles Roberts, go to "The Bear That Thought He Was A Dog" A Complete Short Story by Sir Charles G D Roberts
[2] To read more about the Life & Works of Trygve Lund, go to  "The GREATEST WRITERS OF NORTH-WEST MOUNTED POLICE FICTION"
[3] Danish author Johannes V. Jensen quote from "Rolf Brandrud, MAN IN NATURE: Changing Attitudes to Nature – as seen through the life and authorship of Mikkjel Fønhus" (English Translation):  rolfbrandrud.com/articles/80-novels-about-the-life-in-the-wilderness-1917-1973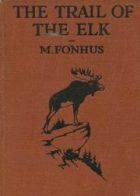 Note On Artwork: The two line illustrations above are by Harry Rountree, from the original 1922 Jonathan Cape, London, edition of THE TRAIL OF THE ELK.
Born in New Zealand, Rountree moved to London in 1901, age 23.  He quickly caught on as a talented animal illustrator, even writing some of his own books.  His cartoons appeared in Punch magazine, and he illustrated the top authors of the day, including Arthur Conan Doyle and P G Wodehouse.
This edition was translated by Sara Helene Petersen Weedon.  I don't read Norwegian, of course, but take for granted that some of the magic of this book is due to Sara Weedon's own ability to handle the English language.
UPDATE.  Note On Illustrated Animal Above: Since putting this book review online, I've had a number of emails saying, "That's not an Elk, Brian, that's a Moose!"
Bit of confusion, eh?  Actually the illustrations above DO show a European Elk, what we in North America affectionately call a Moose.  When Europeans first arrived in the New World, they renamed the magnificent antlered animal that the First Nations people called the Wapiti (meaning "light-coloured deer") an Elk.  Why, I don't know.  Wapiti is a beautiful name for a beautiful animal.  Although we did adopt the First Nations' word Moose.  Why not?  Nothing looks more like a moose than a moose.
The Wapiti (Cervus canadensis) and Moose (Alces alces) are both big members of the deer family.  Through a lifetime of wandering the Northwoods, I've met Eastern deer and moose (even bears) — moose are the biggest and meanest.
Trail of the Elk: Discovering the Northcountry of Mikkjel Fønhus – a Book Review
Keywords: book review, Charles G D Roberts, English translation, George Marsh, Grey Owl, Jack London tradition, Mikkjel Foenhus, Mikkjel Fønhus, Mikkjel Fonhus, Northern Thing, Rolf Brandrud, Tolkien Northern Thing, Trail of the Elk, Troll-Elch, Trollelgen, wilderness, wildlife
Updated Dec 16, 2017
DID YOU ENJOY THIS POSTING?  IF SO, PLEASE TELL YOUR FRIENDS!
ARE YOU ON TWITTER?  WOULD LUV A TWEET!