New Initiatives at Manatee Lagoon Featured for the 2017/2018 Manatee Season – Including Live Manatee Cam!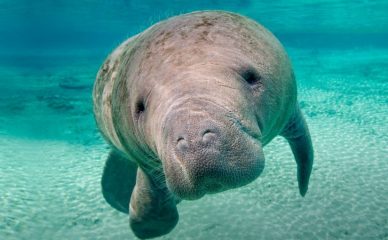 I tell ya, for a Northerner like me — from Atlantic Canada — those manatees are almost mythical beings.  Like mermaids, manticores and minotaurs.
Never seen one.  But knowing that wild manatees still swim free in the seas, alive and no longer on that dark list of human-endangered species (but still threatened) — fascinating stuff, my friend.
Those Gentle Giants of the Sea have been a protected species in American waters since 1903, when President Teddy Roosevelt, bless him, established the first National Wildlife Refuge at Pelican Island, Florida. [1]
And now it's Manatee Season again!
So at least I can watch them on videos — and live online cams….
With just hours before the Sunshine State heralds the season that brings Florida's favorite marine mammal migrating through state waterways, Manatee Lagoon – An FPL Eco-Discovery Center™ is set to make a splash. New features will greet visitors as cooler temperatures prevail with the countdown to the 2017/2018 manatee season, Nov. 15 through March 31. [2]
"Anyone who has visited Manatee Lagoon and seen wild manatees in the refuge is sure to have a 'manatee moment' they can recall that personalized their experience," explained Pam Rauch, vice president, external affairs and economic development for Florida Power & Light Company.
"Those experiences make it critical to continue with the mission of educating everyone about the importance of protecting manatees and the ecosystems they inhabit. That's why Manatee Lagoon's mission is so special."
As water temperatures around Lake Worth Lagoon dip to 68 degrees or colder, manatees, also called sea cows, form their own aquatic meet-ups in the clean, warm-water discharge area of FPL's Riviera Beach Next Generation Clean Energy Center. From the vantage point of the adjacent Manatee Lagoon facility, visitors have access to several viewing locations to see the immense creatures up close.
Additional initiatives to expand environmental stewardship this manatee season at Manatee Lagoon complement a full roster of Lake Worth Lagoon-themed art classes, lagoon-front wellness classes, environmental lectures, Junior Aqua Labs, and include:
Enhanced recycling with additional systems in place to separate, transport and dispose of recyclable items such as paper;
Reduced waste by eliminating straws, replacing the gift store's plastic water bottles with recyclable boxed water and replacing the gift store's single-use bags with reusable bags available for sale;
Starting a Floridian Native Garden with mangrove planters to integrate native flora into the center's design to further highlight the ecological value native plants play in the environment;
An underwater cleanup event featuring Manatee Masters divers on Nov. 9 to remove trash from the surrounding waterway, particularly in the outflow area and along the shoreline. This event is used to educate the public about the importance of properly disposing trash on land to avoid garbage accumulation in waterways;
Installation of light-reducing window shades, which limit ultraviolet radiation and lower temperatures, decreasing impacts on the facility's heating ventilation and air conditioning (HVAC) system;
A 215-gallon aquarium, which provides an up-close look at the smaller aquatic residents of Lake Worth Lagoon; and
New Manatee Masters team members recruited at Florida Atlantic University to provide additional guided tours including those for school and camp groups and lead programs and activities including Junior Aqua Labs and the Manatee Tales storytime series.
Wildlife officials encourage those who enjoy our waterways to watch out for manatees swimming in Florida's rivers, bays or coastal waters and obey posted boat speed zones. Another option to check for manatee activity in the Lake Worth Lagoon area is to pay a visit to Manatee Lagoon's manatee cam at http://www.visitmanateelagoon.com/manatee-cam.
– Brian Alan Burhoe
Did you like this Wildlife Post?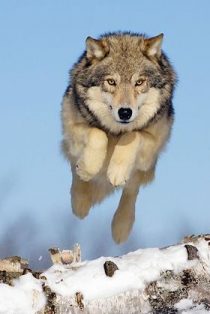 IF SO, YOU MIGHT WANT TO READ WOLFBLOOD — MY MOST POPULAR ANIMAL STORY:
"I JUST READ WOLFBLOOD AGAIN FOR GOOD MEASURE.  ONE FOR ANY WOLF LOVER.  ENJOYED IT BUT WISH IT WAS A FULL LENGTH NOVEL." – Gina Chronowicz @ginachron
"GREAT SHORT STORY!  DOES REMIND ME OF CALL OF THE WILD, WHITE FANG…" – Evelyn @evelyn_m_k
A heartfelt and thrilling tale in the Jack London Tradition of a lone Gray Wolf and it's search for its place in the Northern Wilderness.  FREE TO READ ==>  WOLFBLOOD: A Wild Wolf, A Half-Wild Husky & A Wily Old Trapper
[1] Are Teddy Roosevelt's magnificent National Wildlife Refuge System and National Parks in danger of being dismantled?  SEE Teddy Bears, Grizzly Bears & The National Wildlife Refuge System
[2] About Manatee Lagoon – An FPL Eco-Discovery Center™
Manatee Lagoon – An FPL Eco-Discovery Center™ features free admission and provides visitors engaging opportunities to learn about the threatened and unique Florida manatee and the Lake Worth Lagoon ecosystem it inhabits. The center hosts field trips for science programs, offering site-based enrichment and educational activities. Visitors will also understand the role power plants play in sustaining the species. The warm-water outflows from the adjacent FPL Riviera Beach Next Generation Clean Energy Center attract hundreds of manatees each year during cold winter months. The waterfront facility provides opportunities for the public to learn more about these marine mammals and what is needed to protect their environment. The 16,000-sq.-ft. center is open 9 a.m. to 4 p.m., Tuesday through Sunday, and is closed on major holidays. It offers two levels of exhibit and meeting space, a boardwalk to observe manatees in the Lagoon, picnic area, pavilion and gift shop. Manatee Lagoon hosts field trips and myriad educational and recreational activities from yoga and art classes to a Junior Aqua Lab and an environmental lecture series. For more information, go to: VisitManateeLagoon.com.
Source: Civilized Bears, Florida Power & Light Company and PR Newswire
Wild Florida Manatees Return To Manatee Lagoon – See Manatee Cam
Keywords: 2017, 2018, endangered species, Florida manatee, manatee cam, Manatee county, Manatee Lagoon, manatee season, online cams, sea cow, sea cows, snooty the manatee, watch manatees live, webcam, wildlife, wild manatees
DID YOU ENJOY THIS POSTING?  IF SO, PLEASE TELL YOUR FRIENDS.
ARE YOU ON TWITTER?  SURE WOULD APPRECIATE A TWEET!